Video
Backstage On The Macklemore Heist Tour With Owuor Arunga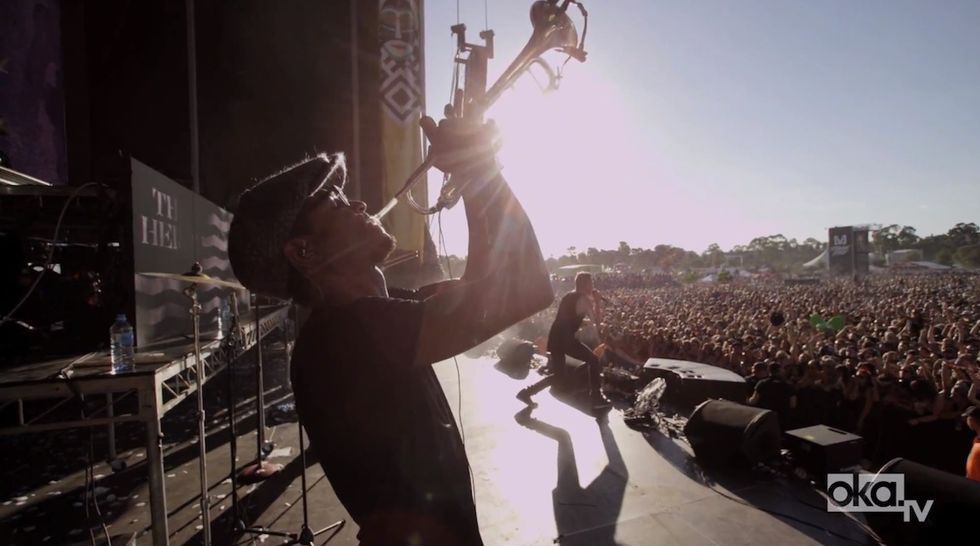 Armed with a GoPro, the Sultan of Swag, Owuor Arunga, took Okayafrica TV backstage on The Heist tour with Macklemore and Ryan Lewis.
---
The official trumpeter for The Heist album and tour and an esteemed member of Seattle's hip-hop community in his own right, Owuor Arunga has played just about every note along the way of Macklemore and Ryan Lewis' historic rise. And it was just about a year ago that Okayafrica first found out the "Sultan of Swag" hails from Kisumu, Kenya. Since that fateful day, Macklemore and co. have continued their meteoric takeover with a show-stopping performance at the VMA's and a massive tour of Europe under their belt.
Luckily, Okayafrica TV had behind-the-scenes access to these moments and more along the Heist tour. Armed with a GoPro, "Hip-Hop's Dizzy Gillespie" took us backstage for an exclusive look at life on the road with Macklemore and Ryan Lewis. Somehow in between trotting the globe Owuor even found time to visit his pops in Cairo. When all was said and done, the Heist's orchestral renaissance man turned out to be quite the candid filmmaker (his sneak peak of Chance The Rapper tap dancing backstage in Paris is pretty convincing proof, right?). After three months of traveling with the GoPro in tow, Owuor caught up with us to assess the footage and answer some questions we'd been dying to know. When did he and Macklemore meet? Who was the troublemaker and who was the "square bear" of Seattle's legendary Garfield High? How did he end up jamming with kids in Cairo? And of course, how stoked is he to bring the Macklemore tour to Kenya? (The answer to that last one is a resounding YES) And so without further adieu, get to know the Heist's Owuor Arunga as he takes us backstage in the latest episode of Okayafrica TV.
Videographers:
Allison Swank
Imani Lindsey
Editor:
Lance Steagall
Music by: