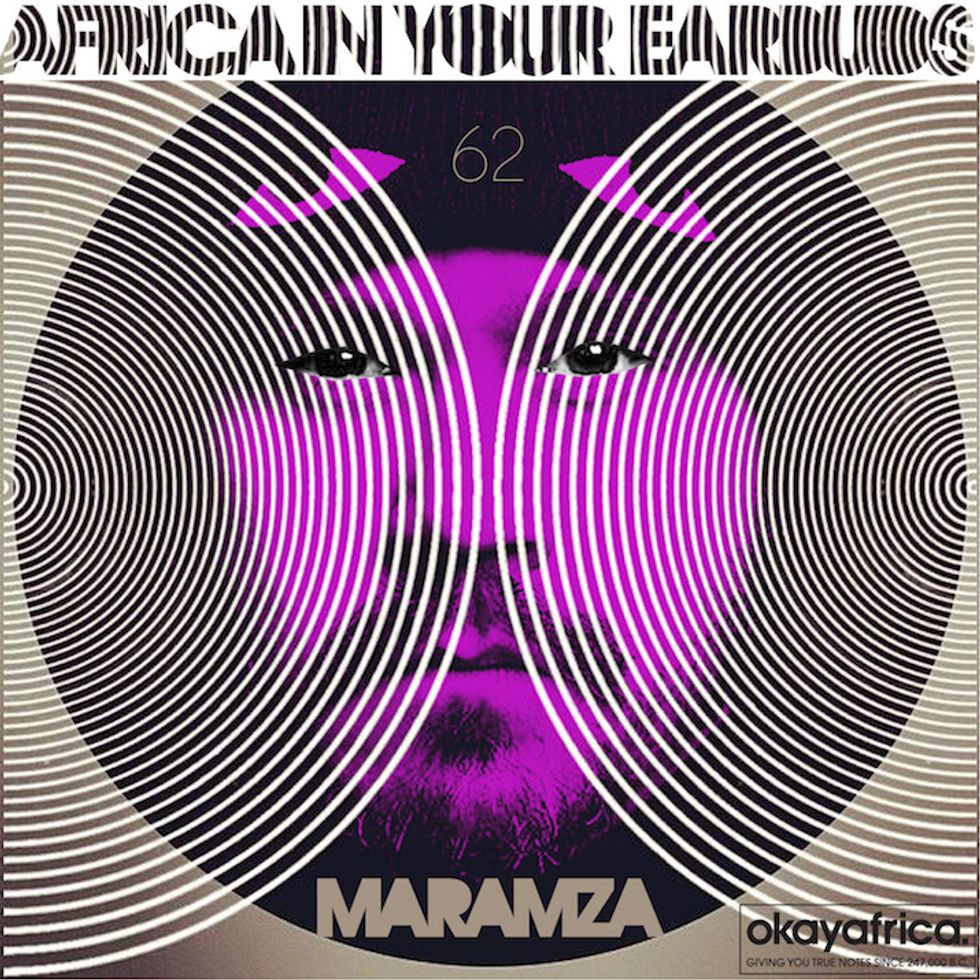 ---
Cover Artwork by Underdog.
South African global future bass producer Maramza launched his music career as Richard The Third, crafting hip-hop beats for Tumi Molekane and producing a large batch of the tracks on Spoek Mathambo's 2010 debut album. Under his Maramza moniker, the Cape Town-based beatmaker looks to shed his underground hip-hop roots and dive into the SA sounds of kwaito, gqom, and Mzansi rap.
Those sounds are all present in Maramza's 50-minute installment of Africa In Your Earbuds, which the producer describes in an e-mail to Okayafrica as "an all South African mix of Cape Town bass, Jozi hip-hop and Durban kwaito, with sprinklings of gqom, Soulection-style turnup & iKapa rap." On his mix, Maramza kicks things off with Sibot and Okmalumkoolkat's "Nice Shandees," then runs through a host of booming SA joints and his own remixes of Uhuru, Jumping Back Slash, Riky Rick, PHFat and many others. "[This is] Basically some of the music I've been playing," he writes, "and some of the music I will be playing at gigs around the country, from day time outside jams to sweaty late night club sets."
Stream and download AIYE #62: Maramza below and follow the producer on Souncloud / Twitter / Facebook. Check out the mixtape's full tracklist, plus our previous Africa In Your Earbuds releases listed underneath.
Get more African mixtapes from Africa In Your Earbuds:
DOOKOOM — MIKAEL SEIFU — GARTH TRINIDAD — DJ SPOKO — CAPTAIN PLANET — THE HAPPY SHOW — CLAP! CLAP! — DJ GIOUMANNE —ALEXIS TAYLOR OF HOT CHIP— CARLOS MENA — ZACH COWIE — ELIJAH WOOD — KOOL A.D. — SOL POWER ALL-STARS — DJ NUNAS — NIC OFFER OF !!! — LARRY ACHIAMPONG — KYLA-ROSE SMITH OF FRESHLYGROUND— THE GTW — RADIO TANZANIA — JON THEODORE — DESMOND & THE TUTUS — MATHIEU SCHREYER II — YOUNG FATHERS — BBRAVE OF AKWAABA — OLD MONEY — DJ NEPTUNE — SAHEL SOUNDS — BEATENBERG — M1 [DEAD PREZ] — BODDHI SATVA — L'AFRIQUE SOM SYSTEME — NOMADIC WAX —  THE BROTHER MOVES ON — LV — BEN ASSITER [JAMES BLAKE'S DRUMMER] — JAKOBSNAKE — CHRISTIAN TIGER SCHOOL — SAUL WILLIAMS — TUNE-YARDS — MATHIEU SCHREYER — BLK JKS — ALEC LOMAMI — DJ MOMA — AWESOME TAPES FROM AFRICA — PETITE NOIR — OLUGBENGA — RICH MEDINA — VOICES OF BLACK — LAMIN FOFANA — CHICO MANN — DJ UNDERDOG — DJ OBAH — SABINE — BROTHA ONACI — DJ AQBT — JUST A BAND — STIMULUS — QOOL DJ MARV — SINKANE — CHIEF BOIMA