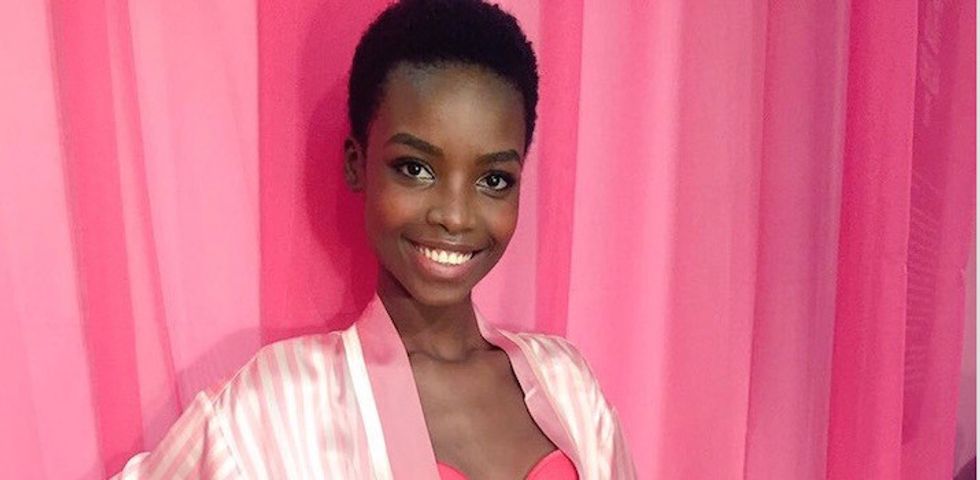 ---
Photo via @IamMariaBorges
Angolan supermodel Maria Borges made history at last night's Victoria's Secret Fashion Show when she strutted onto the catwalk wearing something no other Angel had worn before: a coily, cropped Afro.
"AFRICA, this one is for you! I LOVE YOU," she wrote in an Instagram caption, adding the hashtags #MBmakinghistory and #afrohair.
The 23-year-old had actually debuted the stunning hairstyle earlier this fall during Fashion Week, but was not sure how Victoria's Secret would welcome her drastic change for their televised event.
Borges told her agent she "wanted to walk in the Victoria's Secret show with [her] natural hair," reportsEssence. "I was nervous, but I had to do it," she said. "When they said 'Yes' I didn't expect it, but I was so happy!"
And who exactly convinced Borges to undergo what the natural hair community commonly refers to as "the big chop?" None other than Givenchy Artistic Director Riccardo Tisci. The renowned Italian fashion designer reportedly encouraged the supermodel to ditch her hair extensions and embrace her own.
"He asked me to change my hairstyle," Borges reportedly told Style.com. "He had asked me last season as well, but I had booked an H&M campaign that same week and at the time I wasn't feeling as comfortable with change. This season I finally felt ready, and I'm glad that I did."
Viewers eager to watch Borges break fashion barriers can tune in to The Victoria's Secret Fashion Show 2015 on CBS, Tuesday, December 8 at 10PM ET. In the meantime, check out these 10 other times Maria Borges has and her TWA (natural hair talk for "teeny weeny Afro") have slayed the runway, the sidewalk...basically every place she's graced with her presence.
Lady in Red! A photo posted by Maria Borges (@iammariaborges) on