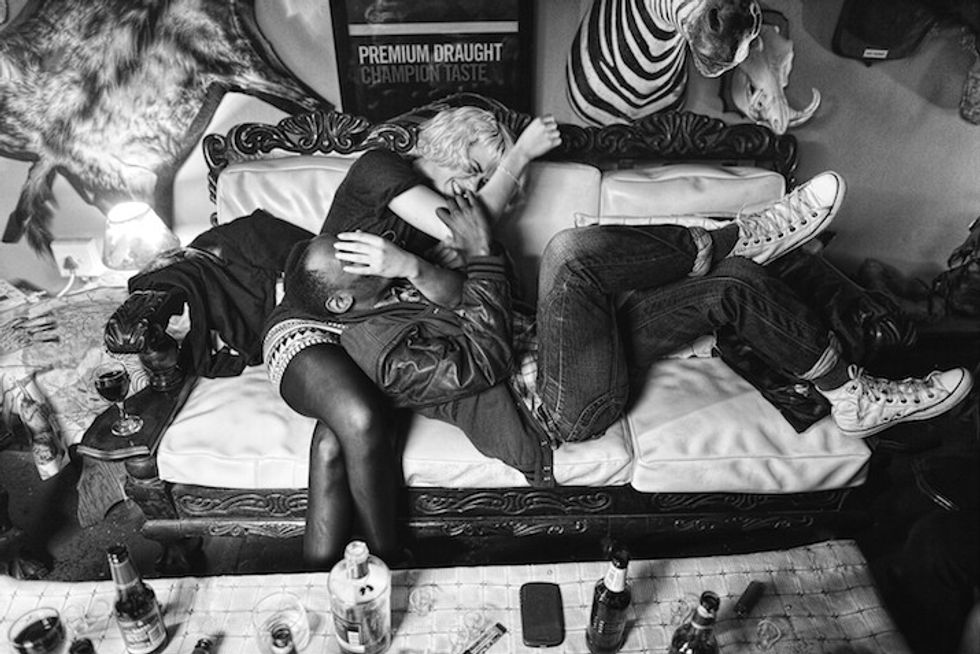 ---
Sibs Shongwe-La Mer's 'Necktie Youth' (Image courtesy of Matatu Film Festival)
"We're fighting to keep the arts relevant in a rapidly changing Oakland," Matatu Film Festival organizer and founder Michael Orange wrote in an email to Okayafrica. Orange's festival– which takes its name from the privately owned and oftentimes decorated minibuses that operate in Kenya and neighboring East African countries– returns to the Bay Area next week for its third edition.
Themed The Spectacular Walk of Ordinary People, this year's festival begins Wednesday night with a two-part event that features a performance by Saul Williams and the second-ever U.S. screening of Necktie Youth, 23-year-old South African indie filmmaker Sibs Shongwe-La Mer's black-and-white portrait of disaffected youth in the affluent suburbs of Johannesburg.
Senegalese political documentary Incorruptible, which looks at an artist-led youth movement that formed during the country's tumultuous 2012 presidential election, will screen Thursday evening at The Flight Deck.
On Friday, Ethiopian-Israeli filmmaker Bazi Gete's stunning debut feature, Red Leaves, is playing at The Flight Deck, while Asni: Courage, Glamour & Passion in Ethiopia– a documentary that chronicles Ethiopian jazz diva Asnaketch Worku's rise to stardom– screens at Starline Social Club.
Ethiopia's "first post-apocalyptic sci-fi film," Crumbs, will show Saturday at The Flight Deck.
Closing out the festival on Saturday night, BLK JKS guitarist Mpumelelo Mcata's Black President– a film that concentrates on the notion of 'black guilt' through the plight of young Zimbabwean artist Kudzanai Chiurai– will be making its North American premiere. The screening will be preceded by Alonzo King LINES Ballet dancers in an excerpt of Rasa.
Of course, these are just a few film highlights from a four-day series that also includes music, food and other cultural events. For more information on the third annual Matatu Film Festival– taking  place in Oakland, California, September 23-26– visit the festival's official website.