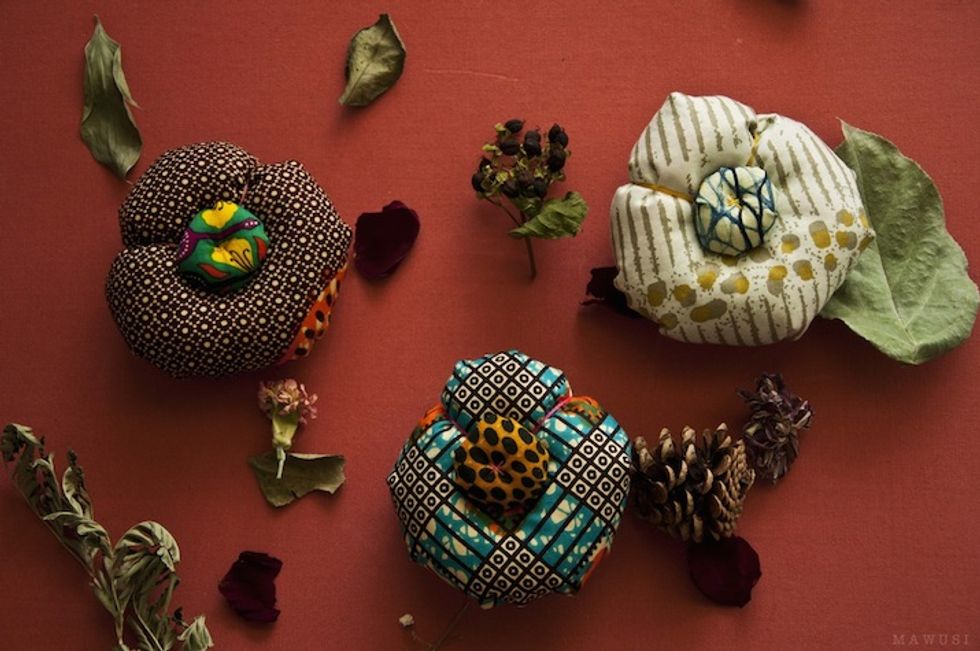 Ghanaian-American label Mawusi hair accessories
Ghanaian-American designer Jane Odartey holds all creative positions and oversees the direction behind her line Mawusi. Named after her mother, the label is composed of hand-made accessories and knits inspired by Odartey's Ghanaian heritage and love of abstract art. "My inspirations come from my own fashion taste. For Mawusi I make things that I will be excited to wear. The sort of things that I am always on the lookout for but never seem to find anywhere," she dishes. Being self-taught enables Odartey to  express the essence of her unique aesthetic which she relays to all her clients. Her ideal Mawusi client is "a conscientious person who, though matured and responsible, chooses to remain playful and as carefree as possible... they don't shop for seasons, they haunt the unique and timeless piece."
---
Mawusi hair accessories are constructed out of wax prints from Ghana and designed into wearable works of art. "Several prints hold personal memories for me, so when I design something with them I aim to do something new [that] can still support what the wax print means to my people. For instance, when I designed the Mateko hair piece, I was thinking of young Ghanaian ladies going to church on Sunday, or to an engagement party. Sometimes I blend my other cultural influences... for instance the Dipoyo, meaning Dipo girl, though inspired by Dipo, the coming of age ceremony for the Krobo girl (I am a Krobo girl), is also inspired by the [Japanese] Harajuku girl and her love for oversized accessories," Odartey explains. Check out the Mateko and Dipoyo hair accessory as well as other Mawusi pieces in the gallery above.