Mayorkun says he held down the lockdown — and he sure did. During the thick of the pandemic, the Nigerian star flourished, feeding the appetites of bored, music-hungry listeners whose favorites shied away from releasing new music in a period of uncertainty.
During that time, Mayorkun dictated music conversations and dominated charts with a slew of singles like "Geng," "Of Lagos" and "Betty Butter." He also provided the activation energy when called upon by colleagues for collaborations, fleshing out his dominance through various means.

At the turn of the new year, the Mayor of Lagos — as he's fondly called — stepped away from the music scene to divert attention to his sophomore album. Back In Office comes three years after his debut and the new record showcases an elevation in Mayorkun's artistry. The sonic framework is a cohesive blend of melodic flourishes and laidback drums with Mayorkun opening up about his struggles on songs like "Soldier Boy" and "Piece of Mind." One of the visible differences between his debut and this new record lies in the Nigerian artist's vocals and songwriting which have grown smoother, richer and deeper.
"I'd like to say growth," Mayorkun tells me about what has changed about him in the last three years. "Because I wouldn't have made these types of songs at that time. At that time, I wasn't trying to experiment and I feel if you don't, you won't grow."
Below, we talk about his hiatus, his new album, and the pressures that come with fame.
---
Photo courtesy of Sony Music West Africa.
Back In Office came out three years after your first full-length project. Why has it taken you so long to drop your second album?
I'll say I was enjoying my singles run. Plus, the way I record songs — I record a lot. From 2018, I have been recording a bunch and when it's time to compile a project, I have a feeling those old songs are inappropriate or don't fit into the theme of the project. So then we're back to level one and I want to record again from the beginning. Also, checking the whole African music scene at this time, with albums and everything, I felt it was the perfect time to put out my next project.
2020 was a peak year for you. You dropped songs that dictated trends and dominated charts at a period most artists thought it was not ideal to release new music. You were on a hot streak, why did you embark on a break?
Personally, I had intentions of taking a break after December. I was determined not to come back to the scene 'til maybe February, then drop my first single of the year around March. That was my original plan. But you know how African music was spreading and infiltrating other music spheres. I felt I needed more hands to spread my sound beyond the borders of Africa. I figured I needed to sign a deal. But that deal took time. I was traveling, holding meetings, doing other things..
Let's get down to the album. You're vulnerable on a few songs like "Piece of Mind." You embedded your feelings and were open about life struggles in that song. How easy was it bearing your emotions?
was actually sad at the time I was writing that song. From the beginning of my verse, I thought the whole song was already sounding like a dark place. Like music from prison. Around that time, a Di'ja song kept on coming to my head. Just that part Di'ja added was the only breath of fresh air on Piece of Mind and I didn't want to take it myself. I really wanted her to take it and when I reached out to her, she didn't stress me at all.
When did the recording process of this album start, take me through the recording process?
I've been recording for a new album since January 2020. But most of the songs didn't fit into the story and mood of this project. But I've been recording since then. But consciously, official recording began eight months ago. The song that was very hard to record was the one with Flavour ("Feel Am").
Mayorkun - Back in Office (Official Music Video)www.youtube.com
That song is pure class. Tell me about its creation.
Funny thing is when I was recording that song, I was sleepy. So it happened that evening, Phantom came with some guys to my house and they just wanted to see me record but I didn't feel like recording. Instead I told Phantom to just play me a beat and I'll just lay melodies. So he played the beat, I did it and headed to sleep.
When I woke up that morning, I knew we had made something very different and I also knew Flavour was the one I needed on the track. So I started looking for how to get him. Then I wanted to speak Igbo too. So I called Zoro and Chike. Zoro came and he was the one who taught me how to pronounce the words and form a sentence. I'm definitely shooting a video for that song.
There's a lot of difference between this new creation and your first album, Mayor Of Lagos. But what has changed from that fresh-faced guy and this intentional guy on Back In Office?
I'd like to say growth. Because I wouldn't have made these types of songs at that time. At that time I wasn't trying to experiment and I feel if one doesn't, one won't grow. I wanted people to see me in some type of way at the time.
When you came back, you made a tweet about you dealing with a lot. What pressures motivated this album?
I think in 2020, a lot of people started to see me as a street artist. Most people would think I can never be serious. I usually don't check comments, so I generally don't see what people are saying about me. We always say we celebrities have a thick skin, what people say doesn't or shouldn't bother us. But sometimes, you see some things and you don't have thick skin anymore. So it's better not to see them for me.
For me personally, in my own life, I had things I was going through that had nothing to do with music. As at 2020 when I had the biggest song in the country, I still had problems in my own personal life I wasn't happy about. Most times people can't just separate the person from the artist. They think once this guy is sad, it's music. Probably he has family members or he has other things he's dealing with they don't know.
What's the first thing you do when you wake up?
For the past three months now, the first thing I've been doing is taking a particular medicine. Because my mum told me to take it everyday. My mum thinks I'm skinny and I need to eat. First thing in the morning I'm doing that. Then I go have my bath and I'm banging music.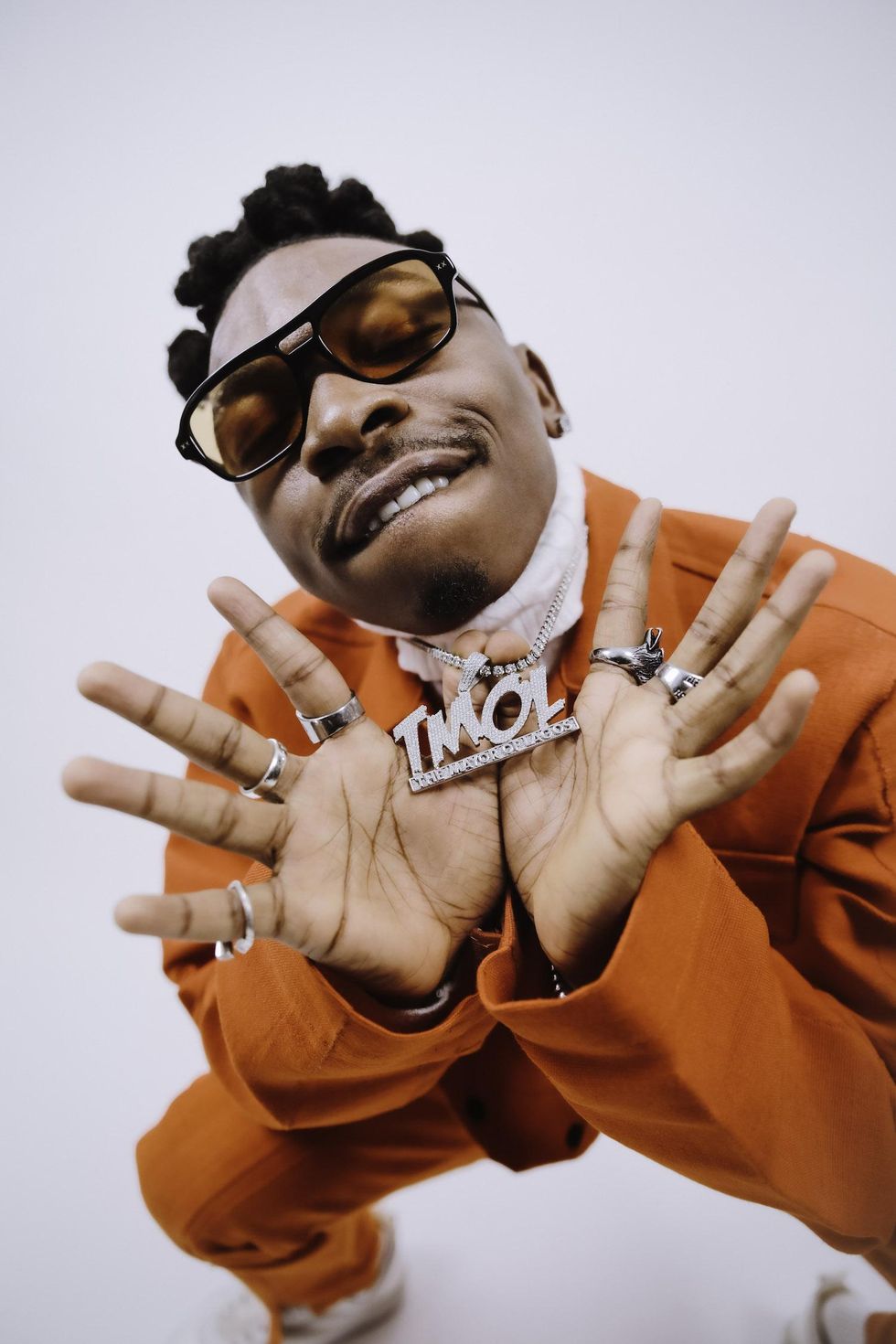 Photo courtesy of Sony Music West Africa.
What's the first ever CD you bought?
9ice — Gongo Aso.
Who's your favorite Instagram skit maker?
I think it's this guy, Sabinus (Mr Funny). Saw him some days ago.
What's the dumbest thing you've ever bought with your money in the past one year?
I buy useless things now. Yes, this massage tool, it looks like a gun. I've not used it before.
What song do you have on repeat right now?
My song with DJ Maphorisa.
What's one bad habit you need to stop?
If I'll stop, I don't know. But I bite my nails a lot. I eat and chew my nails.
Favorite song ever?
This is very hard. If I'm going to count, I'm going to have like fifty. But there's Bob Marley's "Redemption Song," "I'm Not Afraid" by Eminem and "Jamming: by Bob Marley.
Tell me about the weirdest display of affection you've ever received from a fan.
She tried to french kiss me in the club. It was during this pandemic time. I was too shocked. I didn't know what to do. I was like don't you know there's Covid?