I catch up with the directorMeji Alabi on a warm Monday morning, with over 3000 miles between us. It's almost a month after we were blessed with the illuminating visuals for Wizkid's "Ginger" off Made In Lagos. After several reschedules, I wake up to a text from Meji suggesting I call once I wake up. "Today is our day, we shall not fail," his message reads.

Born in London to Nigerian parents, and raised between London and the United States, Meji Alabi decided to settle on filmmaking after studying accounting and finance at the University of West London with hopes of making "as much money as possible." Luckily for him, what started as a side hustle, still keeps him within the financial bracket he desires and allows him control of his time, something he is unquestionably grateful for. Now, he is the co-founder of a media and production company with a growing yet impressive reputation.
Meji has an incredible track record. He has collaborated with and directed many of our favorite videos, including some of the most relevant songs and videos of the decade: the Nigerian chapter of Beyoncé's Black Is King, the illuminating video for Tiwa Savage's "49-99," the controversial yet romantically-appealing video for Wizkid's "Fever" which also featured Tiwa, and the stylish but nostalgic video for Skepta and Wizkid's "Energy (Stay Far Away)."
Time and again, Meji serves us range and originality with each new release. In a conversation with OkayAfrica that lasts a little over an hour, the director and photographer discusses the complexity of his job, and his knowledge on lots more.
This interview has been edited for length and clarity.
---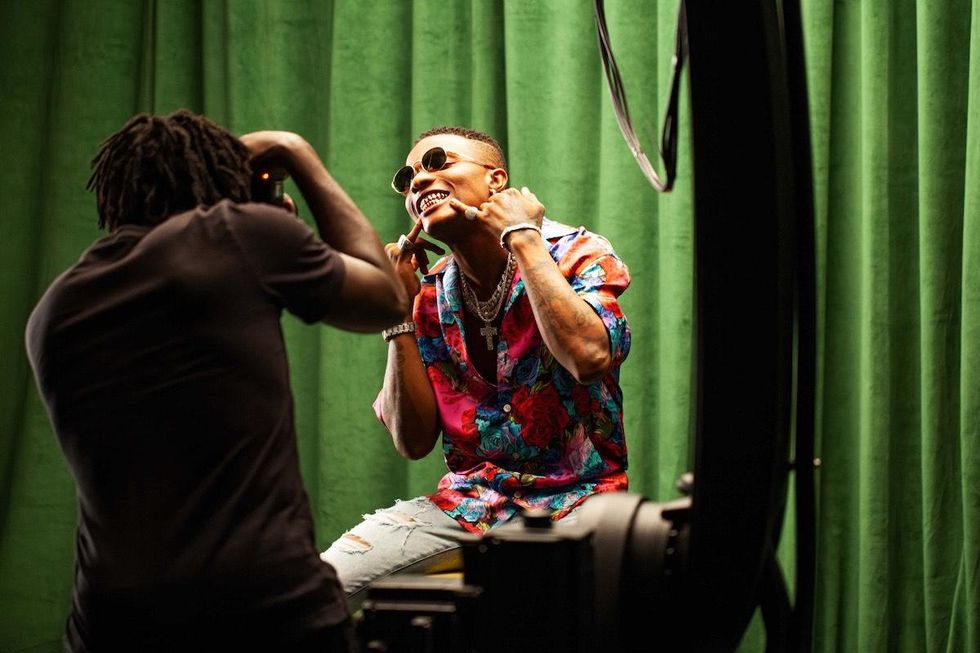 Meji Alabi takes a picture of Wizkid on set.Photo courtesy of Meji Alabi.
What's the earliest memory you have of filmmaking?

I've always been very creative and just believed in building your own or doing it yourself with everything in life, so I used to build websites and this and that. Eventually it just kind of progressed. I needed somebody to take nice pictures for my websites at one point and I realized, you know, why don't I just teach myself? And that's when it started, it started from just the wants.
So you're interested in tech?
Yeah, I definitely have an interest in just engineering in general, making things.
How did you start directing music videos as a craft on it's own, what's the story?
It's quite simple actually, one of my friends who was a rapper wanted me to shoot him a music video and I was just like "man, I guess so." I mean, I was doing pictures for the team before and I wanted to shoot videos so I went and taught myself to do it and came back and we shot it. It just kind of snowballed from there, I kept on shooting and started working with more people and eventually it all made sense.
So what's your creative process like now?
I mean with anything, at first, you just take time back and see if it's for you, and once you see that it is… well, it's hard to say because the creative process for each project is different. Some come to me just like that, others I need to sit with for a while, and others come to me at the most random place and I'm like "whoa this is great." It's just about having time to sit with the idea, which is always lovely. After that we make a treatment and I'm speaking back and forth with whoever I'm collaborating with, you know, because sometimes you have free reign but other times there's like a strict brief that people want you to stick with and I have to say to myself can I live within these guidelines or am I allowed to express my creativity further. So each creative process has its own unique approach and I just try to find my own little pocket within that, where I can be comfortable and deliver the best that I can deliver.
What do you do in situations where you're not really allowed to explore your creativity like you said?
Ideally I wouldn't do a project that doesn't have any room for my creativity because then what's the point? The whole point of them calling Meji is to get me. It's not necessarily for a sharp picture or for a certain colour tone, it's more about the ideas and how we execute them. And if I can't deliver my ideas or execute my ideas within their brief because it's too strict then something has to change.
WizKid - Ginger (Official Video) ft. Burna Boyyoutu.be
Tell me about the Nigerian chapter of Black Is King that you co-directed?

It was beautiful, being given the opportunity to work with Beyoncé. It was kind of a full circle moment for me, because I kind of grew up in Houston, which is where Beyoncé is from, and my family is from Nigeria, Lagos and Ilorin—and you know I've worked with Wizkid pretty much since like 2012. It was such a cool moment, like all my worlds coming together in one place and to be able to collaborate with so many creatives around the world, there was so many people involved in that project and again it meant something, it spoke a message especially when it was released, during the time with the Black Lives Matter and all that was happening. It was something that I'm proud to be a part of, it's great to leave that kind of legacy you know?
What role do you think visuals play in the come-up and globalization of afrobeats?
Visual arts play an essential role in the globalization of afrobeats, African culture and music. Just because after you hear the music and you hear the sound, you want to see something. And the music video and visual art paint a picture and help build it out and let people understand what we're about and what we have to offer you know, what our culture is. I think when you make videos that speak to people in that type of way it really makes a difference.
Image courtesy of Meji Alabi.
Is that why your videos always have a cultural touch?

Yeah, I try to, I mean it's just natural. I try to always make sure I'm speaking to my people especially with the artists I work with. I just give them me. And I am a person who hasn't lived in Nigeria that long but I was raised by a very strong Nigerian dad who really gave me all the culture that I needed and helped me understand my family and what it's about. So I have a very international approach to Nigerian culture and the work so I can kind of play both sides of the fence. I can give Western people something that they can recognize, but still something nice and dope. But also I can touch the Nigerian side of things and make sure there's cultural references in there, something that the people will recognize and if you're Nigerian you'll love that moment and if you're African you'll love that moment too because you understand it. And if you can find that sweet balance, it works for both sides and it helps the artists reach a greater audience, without ostracizing their original audience.
So do you think Africa is still dealing with some sort of cultural ignorance from the rest of the world?

Of course! We still have a lot of education to do but I think we're getting there bit by bit. As long as we keep spreading the culture and pushing things out into the world in a positive light. There's so much that we could all learn about different cultures, it's just about making the effort and wanting to.
What challenges do you and your colleagues face in filmmaking or directing?
The main challenge we face right now is certainly COVID-19, the secondary challenge is usually budgets, do we have the money to create the idea that we want. Once we get past that, the sky's the limit.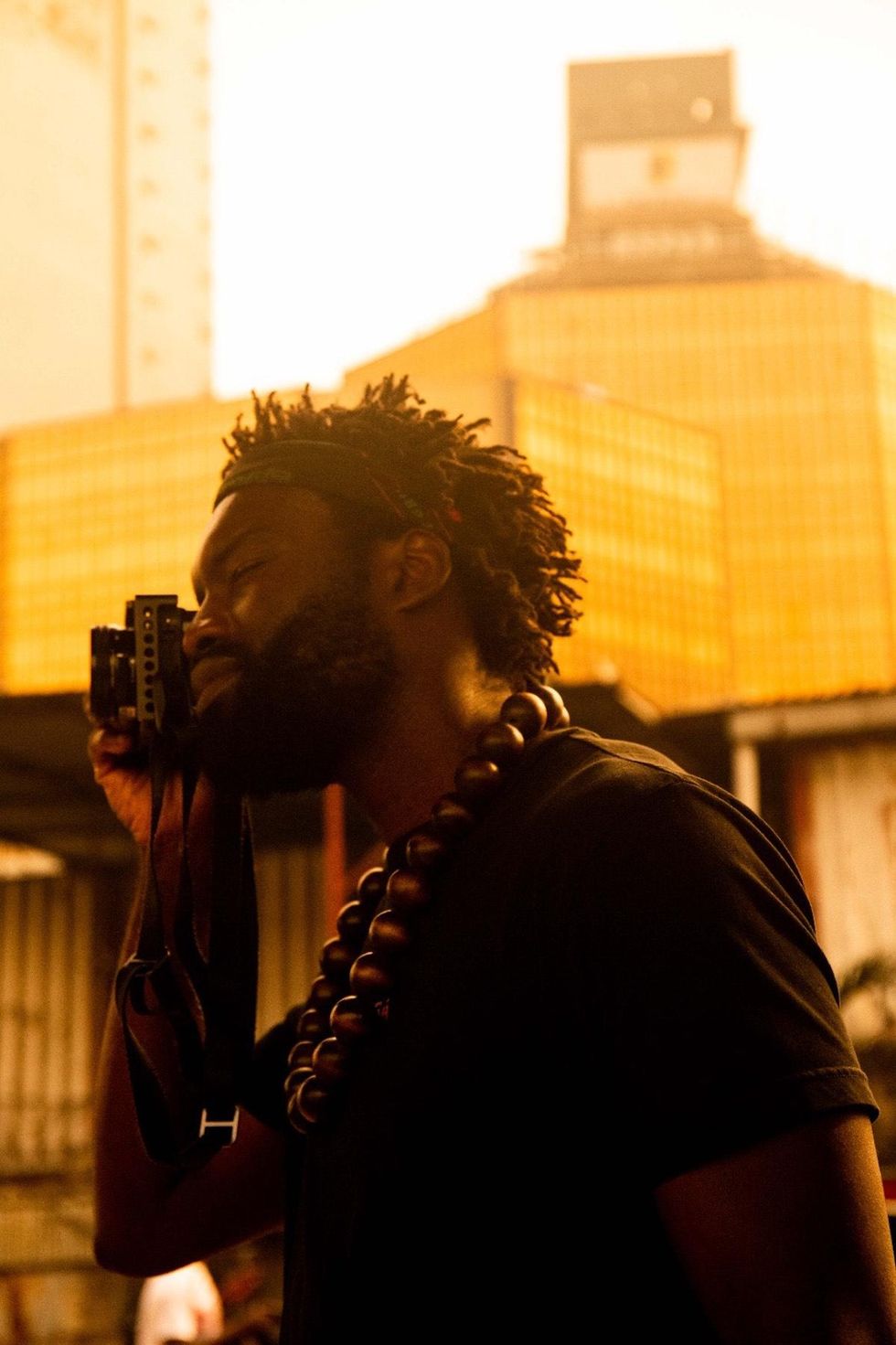 Image courtesy of Meji Alabi.
So how is COVID affecting you right now?

It's not facilitating production very well you know. If we wanted to have a big crowd scene before we can't have it now. The crew can't have certain distances between each other, you have to have certain social distancing measures, we're also having rapid tests before sets. So you know we're trying to push ahead as best as possibly but it's like the elephant in the room, it's not making any easier.
Who and what influences your art?
There's no one.
Really?
A younger Meji maybe, I watched a lot and learned a lot from my peers and other people who I admired but as I've grown up I don't really watch other people's work anymore because I always reason to watch something. I try to protect my headspace and my creativity and in doing that I just stopped watching for other people's stuff, actively. And I like to keep my references very either obscure or old enough that it's like paying homage rather than "hey you referenced that video from like two weeks ago bro what you doing," like it's fresh.
So what should we be expecting?
We have some film projects in the pipeline, we're definitely working on feature projects that you should be expecting within the next very soon, whatever that means to you.