In August last year, the rapper M.I got into a heated argument with the hosts of Loose Talk, a popular Nigerian culture podcast over an article written by co-host Ayomide O. Tayo which questioned why M.I's music had "suffered" and the rapper's "spark [was] gone, the flows are not the same and the bars have gone soft. It seems there is no more soul in [the] music. Everything has gone cold."
Egos, facts and emotions may have dictated the tenor of the interview, but integrity was what was at stake: that of M.I's who sits atop the continent's rap stratum, and that of the hosts of Loose Talk with its large and loyal following of young Nigerians, who, for their part, are never short of strong opinions.
M.I's guest episode has garnered 45-thousand views on Youtube, the highest for the pop culture podcast and the most popular in the country. The debate metastasized on Twitter spawning related questions about media etiquette, the state of music journalism (in print), and the dearth of rap in Nigeria.
---
In March, the rapper released Rendezvous, his fourth studio album, which he's described as a "playlist" and is made of 15 well crafted songs that are roundly collaborative on account of the myriad features and producers from the finest young talents in afropop today. Rendezvous comes after The Chairman (2014), M.I 2 (2010) and Talk About It (2008), alongside a mixtape series—Illegal Music (2009), Illegal Music (2012) and Illegal Music Finale (2015)—and one compilation album titled The Indestructible Choc Boi Nation.
Rendezvous is released five months after our interview in September last year after his visit to Oxford in the UK where he's a fellow of the Desmond Tutu Leadership Fellowship, which selects an "elite group of Africa's highest potential young leaders, representing a wide range of sectors." His next stop was London where I met him in a terraced house in leafy Portobello Road after which he would return to Nigeria.

M.I's sonorous voice and articulate manner of speaking commands attention in person and in song. As impressive is how attuned he is to every beat of a conversation, whether frivolous or intellectual, segued or completely off topic. Tayo, the co-host of Loose Talk may have argued in his "open letter" that the rapper's fallow period has lasted since the release of The Chairman in 2014, but he was also keen to state that he regarded M.I as a "Top Five" MC from the continent.
This space between fandom and critical appraisal could be filled with any amount of genuine respect, admIration but also contempt and even disdain, though both parties (artists and journalists) on M.I's guest episode on Loose Talk calibrated themselves and each other when the dispute seemed to boil over. Reflecting on the heated exchange he told me that "if you hold yourself to a high standard, whatever your emotional reaction to a song or whatever it is, you're going to write a dope article. If you're real upset by M.I, you're going to write a really dope article. Don't say, I don't like M.I, I have disrespect for M.I and write some shitty article with a bunch of no facts and whatever."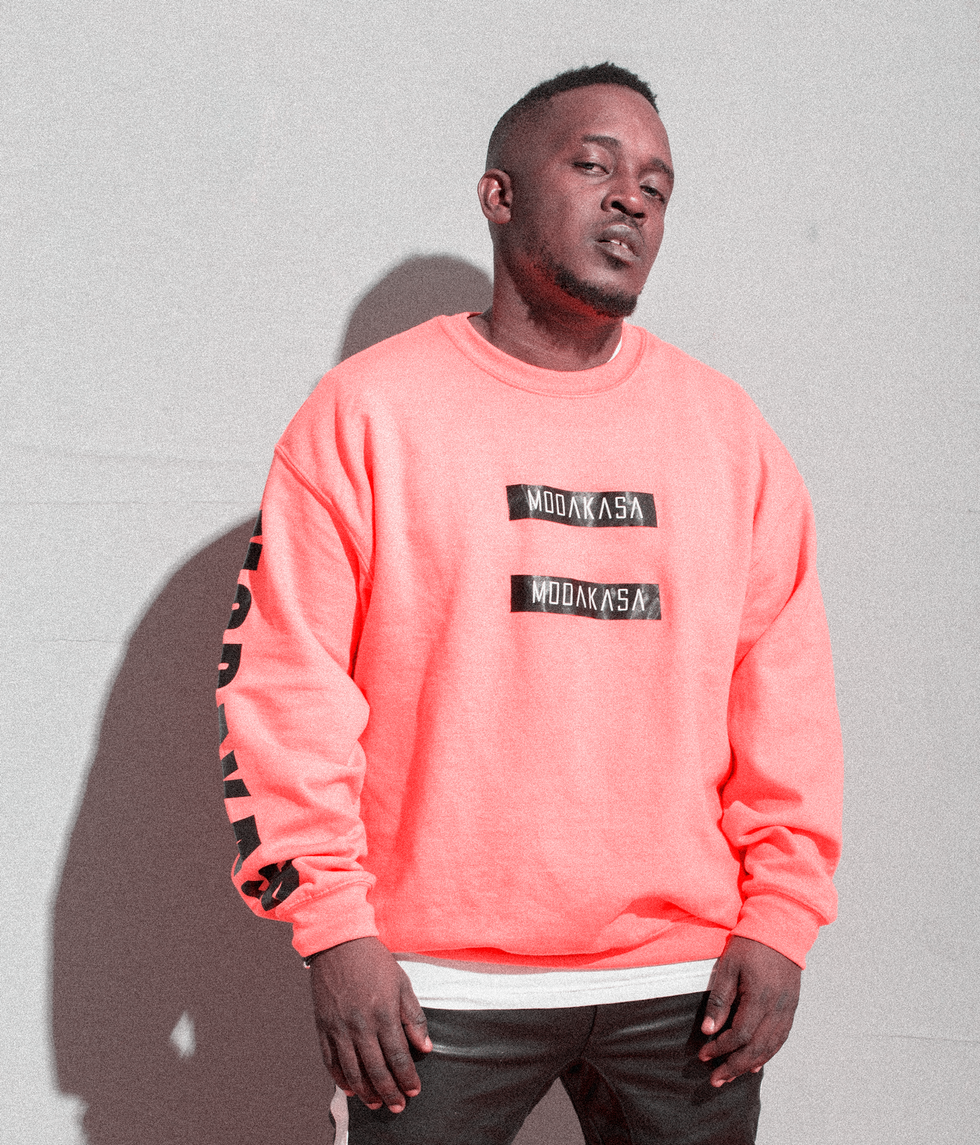 M.I. Photo courtesy of the artist.
Tayo continues: "people can make up their mind, but an artist has to get to the point where they're able to see their worth and their work and their value outside of public perception. I really listen to what Jay Z says about his work, I really listen to what Wenger says about his work. And then I start to draw my conclusions from the person experiencing it, right? Not from people that [are] just out making judgment calls based on their expectations." This may be true but the goal post, in this part of the debate, may have shifted from one of the artist versus the critic, onto the near-existential one of artist versus his art—and also one of expectations from people versus that of things as they are.

In a old interview, M.I half-bragged about reading "The Chronicles of Narnia" three times by the age of 10, quite a feat considering CS Lewis's tome is close to 800 pages. He soon got bored of the "normal books" and moved on to seemingly abnormal ones like "Mere Christianity," also by Lewis, and a seminal text of Christian apologetic thinking. His father, Pastor Chris Abaga, was once a travellng evangelist and now runs a ministry along with his mother, Mrs. Lydia Abaga, who is also a counsellor and gospel artist.
The young M.I knew that this taste for reading which was rioting his imagination was something to cherish, "I had to say to myself, please don't lose that. Don't listen to critics, because the world sort of frames you to think in a different way." But his next words supposedly to his young self; "always be inquisitive, always ask questions, never assume that you're right, never assume that you know how to do it"— no doubt felt and sincere, are more likely the sophisticated reflection of an adult.
Today, M.I, as well as being an active musician is the CEO ofChocolate City Group, "a 360-degree company consisting of a record label, event planning company, management consulting firm, and, advertising and media consultancy company." Does he find time to read anywhere as obsessively as he did as a kid? "The biggest book I read every day is Wikipedia," he said.

The all knowing Wikipedia—a Babel of knowledge and opinions that would have confounded Jorge Luis Borges if he'd lived to see it. He lists recent discoveries he's made about Latvia after an encounter with a native, realising Laos was a country and of the famine in Yemen. The Desmond Tutu Fellowship he's on is circling him back to the act of reading for which he has drawn a list of "maybe 50 books that I want to actually buy and read." As for other sources of nourishment, he keeps a steady diet of podcast which allocates "Wednesday for Joe Budden, Thursday for Brilliant Idiots," both of which are concerned largely with hip-hop. He says he's too enmeshed in to give brain-space to much else.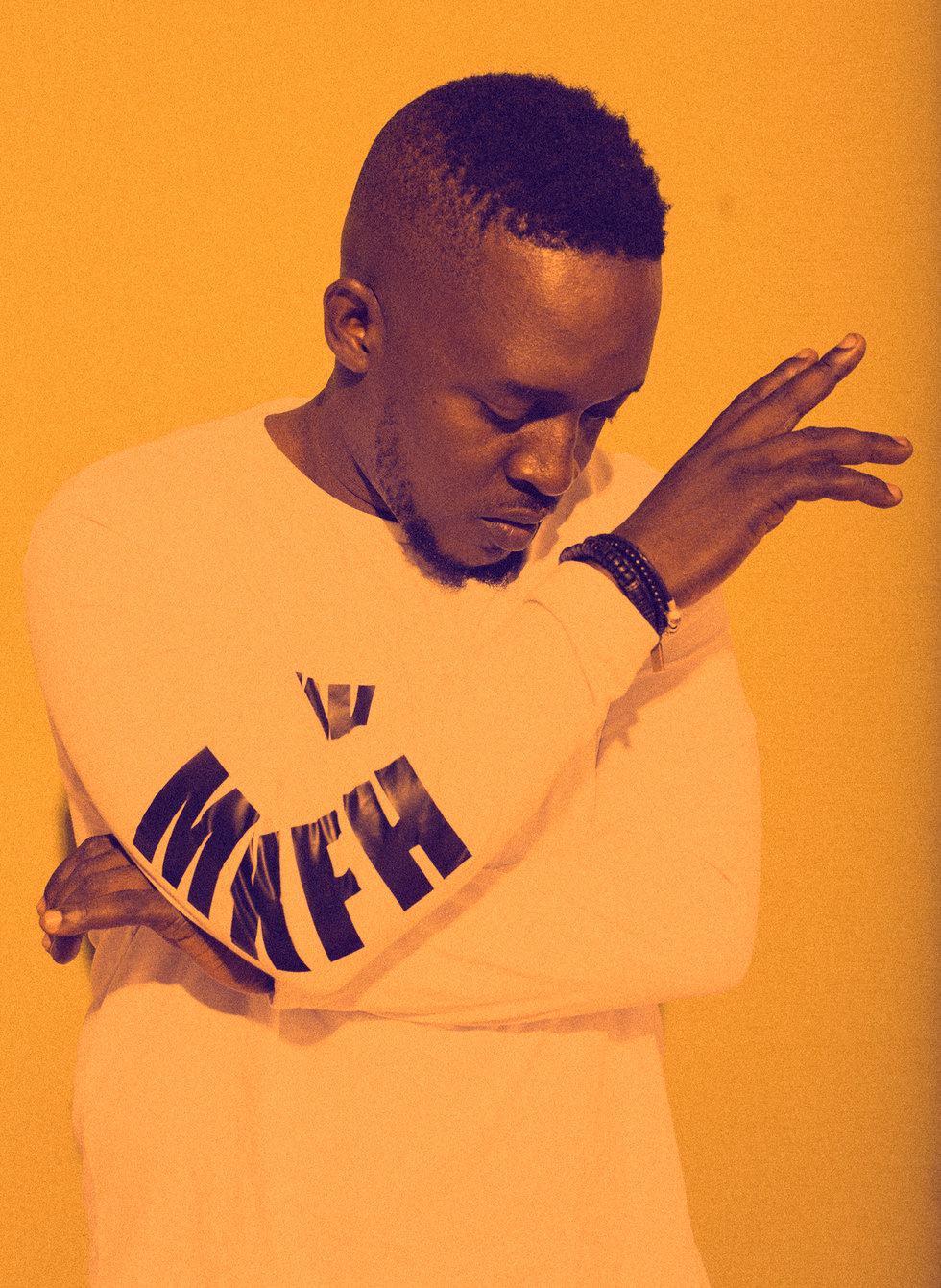 M.I. Photo courtesy of the artist.
To make Rendezvous, M.I enlisted a host of producers to redo, from scratch, an album worth of material he had already recorded, drawing from the rich, new crop off Nigerian artists and producers that include Santi, Remy Baggins, GMK, Tay Iwar, TMXO, G-Clef, Chillz and the aptly named Odunsi (The Engine), one of the chief nexus of the entire operation who made his dissatisfaction with the original material M.I first played clear. "It just didn't feel good enough, it didn't feel great enough," Odunsi mentions. "I expressed that to him and he seemed to understand it. He didn't agree totally but he seemed to understand where I was coming from."

Speaking from his base in Nigeria via whatsapp, Odunsi recalls the week long recording process in Lagos "banging in beats, the demos coming from everywhere outside the country, in the country, just different things, samples. It was crazy. It was a myriad of creativity and everyone was just working and I'd never been in that kind of environment in my life."
A confessed lifelong fan of M.I, Odunsi's debut EP is titled "Time Of Our Lives" (2016) and his latest single "In The Morning" is distributed by Universal Music Group. As a school boy, the first music album Odunsi recalled buying was M.I's debut Talk About It using his pocket money. The opportunity to work on Rendezvous and possibly dictate the final result is one he cherishes, "I never ever imagined something like that happening in this country with that many young people, with that many fresh people or people who are just getting their first opportunities to give, to put themselves on the platform. So that was what was beautiful about it." For his part, M.I is full of praise for the newer talents of Nigerian pop who he believes "are not just for Nigeria, they're for the international scene." Some of them were profiled last July by OkayAfrica as artists from the new school of afrobeats.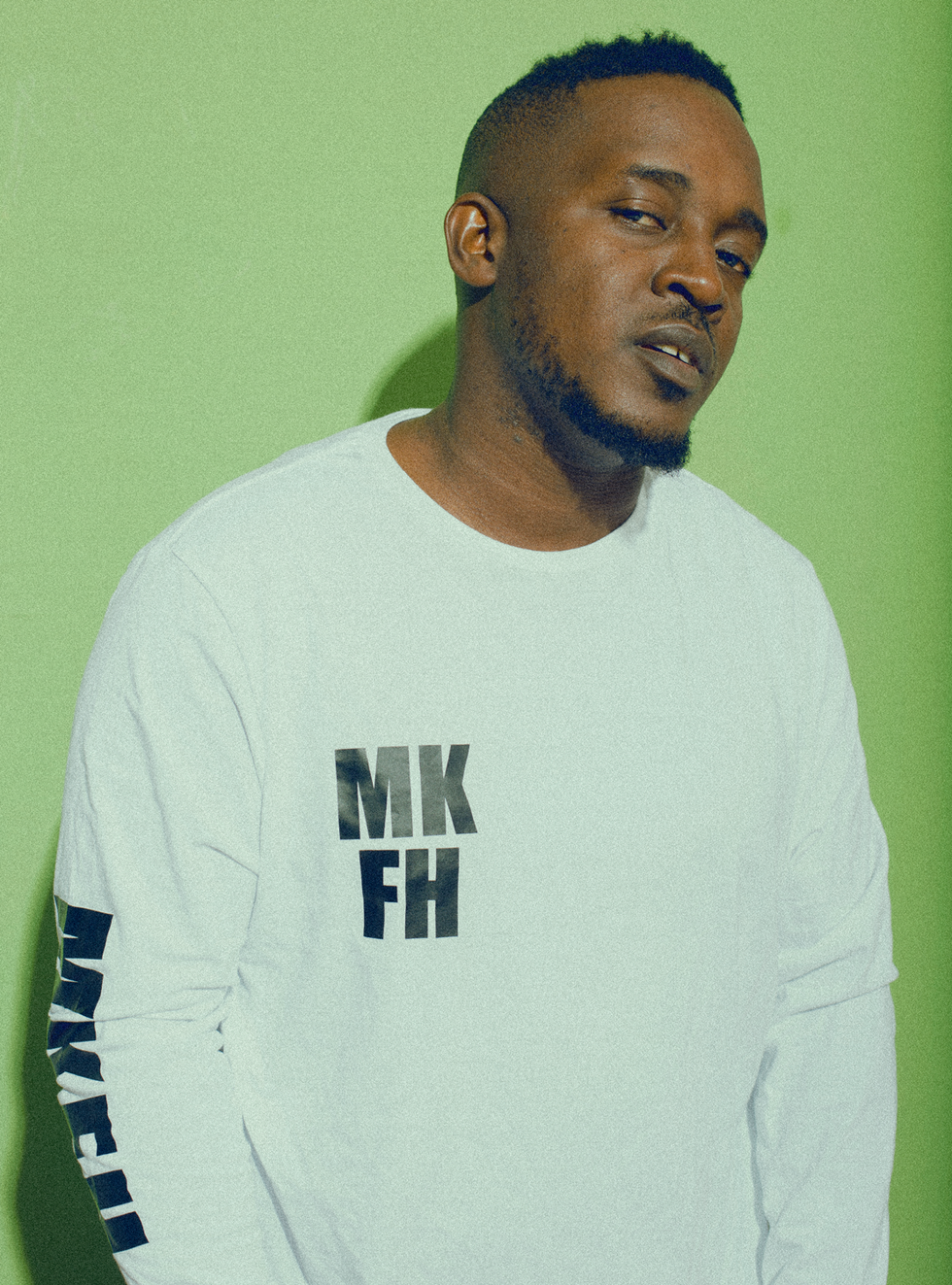 M.I. Photo courtesy of the artist.
African-American popular culture may have immense global purchase but M.I is staunch in his belief that "we have to create or start to envision and work towards the utopia for black people. For Negus from around the world because as long as we don't have a home worth defending and worth dying for we'll never be respected anywhere else. And so we see other civilizations doing that." The word "Negus" is Amharic and denotes Ethiopian royalty but is also freighted by its relation to "Nigger" whose history and use in the public sphere OkayAfrica contributor, Abel Shiferaw, examined in this essay.

On the homefront, north of Nigeria, a long standing ethno-religious battle has continued. In M.I's homestate of Plateau, over 7,000 lives are estimated to have have been lost in the clashes over the last ten years.
In 2000, Kaduna State, which shares a border with Plateau, was the site of one of the country's worst ethno-religious crises over a forced introduction of Sharia Law in the state, a move strongly contested by Christians country-wide which lead to riots and the loss of over 3,000 lives and billions worth of property which set the "capital of the north" decades back in social cohesiveness and infrastructure. Over the past year in Kaduna and most recently in Benue, Fulani (and Muslim) herdsmen reportedly lay waste to lives and properties in rural communities that identify as Christian.
"Look, the beginning of the answer is dialogue, I know that. Where are the young people that are Southern Kaduna 'indigenes'? Sit down and start to talk. What is the problem? What's the angst? Why do you pick up arms and kill? How do we together develop this place for both of us? Do we have the cool heads for it? I think two 20-year-old people can have the cool heads for it. I know that two 50-year-old men who have seen so much pain might not be able to, but two 20-year-olds can sit down and discuss it."
Close to five decades since the Nigeria/Biafra war (1967-70), states in Eastern region of the country, made up largely of Igbos, still suffer the material and existential disenfranchisement that contributed to the war. Separatist organizations are still active the most prominent of which are the Movement for the Actualisation of the Sovereign State of Biafra (MASSOB) and the Indigenous People of Biafra (IPOB), which is led by Nnamdi Kanu who was detained by the Nigerian government on charges of treason for close two years until his release in April 2017.
I put it to M.I plainly: is the struggle for a Biafra still just in Nigeria today? "So this is the philosophical conundrum" he began clenching folded arms to his body as he leans closer to the voice recorder "we're talking about two things that are completely extreme. One is to say that as long as Nigeria is a sovereign nation anybody from within the country that says "hey we want to break this country" is committing a serious act. But when we say as a citizen I cannot receive my human rights, my people are being killed, and I'm not getting human rights, then there's legitimacy in their claim to no longer be part of this country".
Will there ever be a solution?
"Of course. With every problem on earth that's human made, there is a solution that is man-determined. It's not going to be an easy solution just like you're speaking about the complexities of the problem, right? But we must give it a try. Not trying is not an option. We must begin to try."