Michael Brun is here to make sure Haiti is getting the credit and recognition it deserves.
Born in Port-au-Prince, the producer, DJ, and artist wants to prove Haitian music's long-lasting influence across the globe.
Since he was a little kid, Brun always had a strong desire to help his country, as was evidenced by his response to Trump's comments calling Haiti a "shithole" earlier this year. In fact, he's felt this strong desire and responsibility from birth. Coming from a good family and having a chance to get a good education, his parents would always tell him, "you have to be able to help others." Eventually, he enrolled at Davidson College on a full ride, where he was pre-med as a Bio major. He thought being a doctor was a way to fulfill that.
When music came calling, it was a no-brainer. Taking a leave of absence, Michael took a leap of faith and decided to pursue DJing and producing full-time. Now, at just 25 years old, Michael is actively (and humbly) living out his dream on a daily basis, giving back to his country by fusing the worlds of dance music and Haitian music into one global phenomenon.
OkayAfrica caught up with Brun ahead of his sold-out show at The Forum in Los Angeles, opening for Latin pop star J Balvin.
---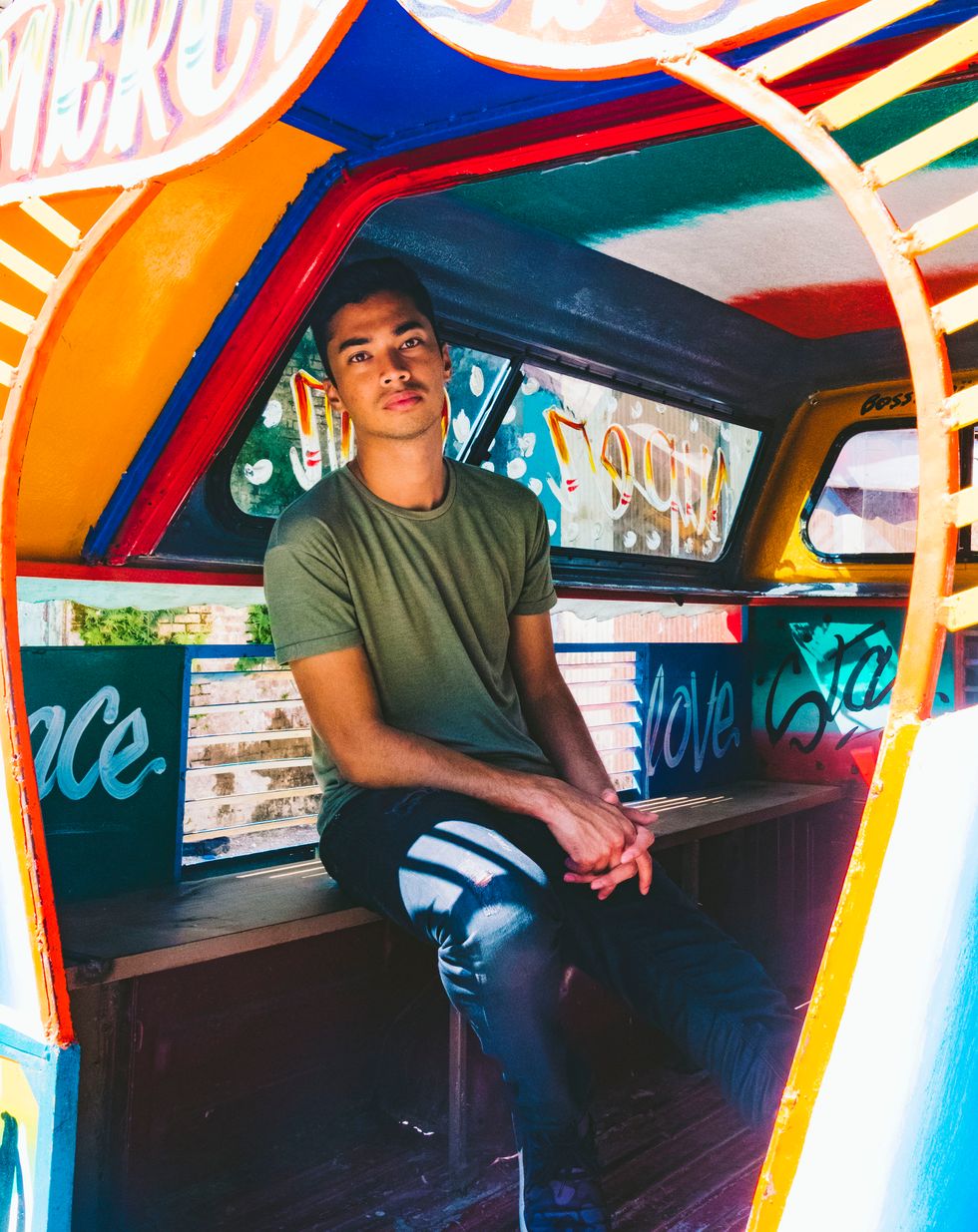 Michael Brun. Photo: Steve Baboun.
Tell us about your Haitian and Guyanese roots.

My mom is Guyanese and my dad is Haitian. They met in Miami actually, and then moved to Haiti and I was born there. I think just having a multicultural home teaches you a lot. You listen to all kinds of different music, we eat all kinds of different food. I have family all over the world. It's been cool because I feel comfortable in all these different places, it doesn't feel foreign to me. It's helped me with my career as well, to be able to connect with others. I really am grateful for that.
Who are some artists that you grew up listening to?
In classic Haitian music, I listened to Tabou Combo who are like an amazing incredible group. Boukman Eksperyans is another amazing incredible group. My dad actually had a band called Skdal, so listened to that as well. But then I listened to pop, rock, hip-hop, EDM and all kinds of stuff growing up. I became a DJ because of how much I love electronic music. During that time, I just tried to find a way to incorporate all these different things I was listening to and what I learned producing EDM, to make what I'm making right now.
At what point did your realize this music thing was for real?
I remember the exact moment actually. I was pre-med at Davidson College, I was on a full ride. I was a Bio major. It was nuts. I always wanted to help my country since I was a little kid. I felt like it was a responsibility from birth basically, that I had a chance to get a good education, I had a good family that took care of me and I didn't have to worry about anything. My parents would constantly tell me, "You have to be able to help others." And I felt being a doctor was a way to do that.
Then when I was in school, I was getting more into music. I actually had some stuff get picked up, first by blogs and Hype Machine. Then some labels hit me up for remixes and we just kept doing it. Eventually, this one DJ that I really looked up to, Dirty South, he signed me. This is when I was 19, when I was a sophomore in college. He was like, "Yo, come down to Ultra Music Festival, I'm going to play the song that we did together." And I actually met my manager there, that was almost 7 years ago.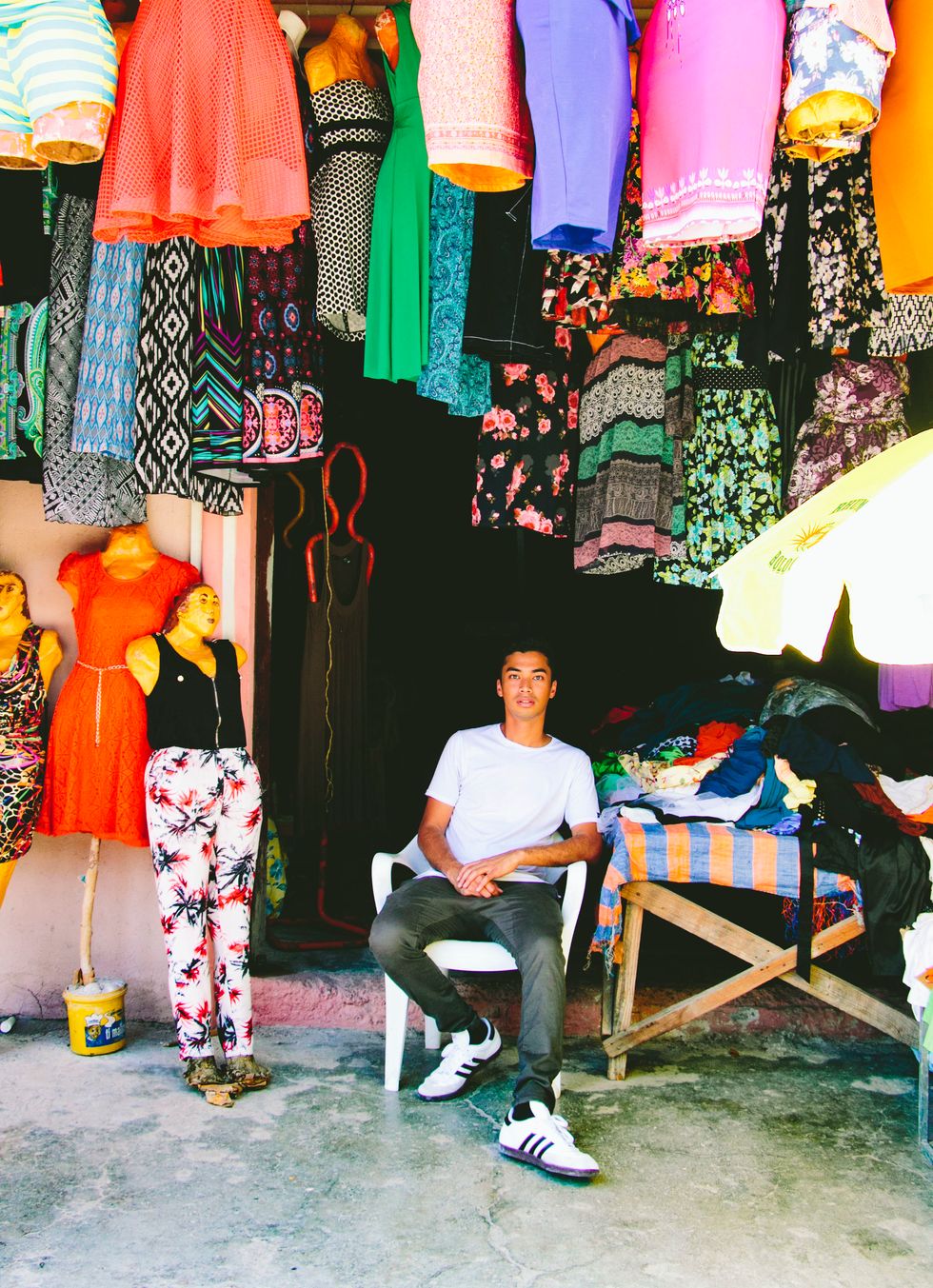 Michael Brun. Photo: Steve Baboun.
Same manager as now?

Same manager, yeah. We actually started an EDM group, and work with a few different artists: Eden Prince from the UK, Danny White, DubVision, etc. It's cool because having my label, Kid Coconut, has allowed me to put out music I want to put out. Because making Haitian music for the world is kind of a crazy concept, and a lot of labels wouldn't get it. I didn't even want to go through the hassle of that. I just wanted to make the music I wanted to make, tell the stories I wanted to tell, and work with all these different types of writers. When we founded the label, it gave me a lot of freedom. Since we started putting out the first project for the Haitian sound, it's just been incredible.
You know who I love that reps Haiti too? Wyclef.
We actually just met two weeks ago in New York! I went to his show. It was really great to meet him, and J Wonder as well. They're just legendary. It's so interesting, Wyclef had a collab for the World Cup with Shakira, "Hips Don't Lie," and she's Colombian and he's Haitian. And I just did a collab with J Balvin for the World Cup, and our combo is also Colombian and Haitian. It's crazy.
What was your reaction when you found out "Positivo" was going to be the anthem for Telemundo World Cup?
It was wild. The last year and a half have been surreal, I still feel like I'm dreaming. I've been doing this for almost 10 years. I've just been working at it and getting better at production, songwriting, my live shows, so I've had all kinds of experiences with different people. I just learned not to expect anything from anyone, and meeting Balvin was completely the opposite of what I expected. He was so nice, so cool, and really went out of his way to make this project a success and get me involved. It was just like a "what's up" conversation. He did the track and sent it to me a week later, which is insane. Then one day randomly in January, he was like, "Hey man, I might have an opportunity for this to be a World Cup song, is it cool with you?" I'm like, "Why are you even calling me? Just do it."
How did you guys meet?

There's a Latin editor at Apple Music named Marissa. I played her some of my albums that I was working on. I have a list of artists I want to work with, and J Balvin was the number one person for the song. I was like, "I don't know if anybody knows someone that knows J Balvin, but this is what I want to do." She said, "Actually I know Jose, let me put you in touch." And she did it. Crazy.
What do your parents think?
They're so proud, I just got off the phone with them. They always wanted me to be happy, and to find my calling. Whether that was in medicine or music, they supported it. For them to see that I'm on this tour now is insane — and my last tour sold out — and all this music and all these collabs with worldwide artists, it's just been increasingly more surreal. Because they believed in it, despite not knowing where it was going to go. They just knew there was just something with music that was important.
Did you finish school?
I actually took a leave at the end of my sophomore year. It was so crazy because my Bio advisor, Dr. Campbell, who was an amazing teacher, he told me that this kind of opportunity is so rare. He was like, "Do it, do it. Are you crazy?" I had spoke to the Dean as well, Davidson was a cool place to be. When they both told me, "This is a great opportunity, we'll hold your scholarship."
I just got chills.
Yeah, can you imagine? 'Cause I believe in energy, and I've always been for my community. I feel like when you have good intentions and work hard, it comes back to the world.
Can you describe what Haitian music sounds like today and where it's going?

It's really just diverse. There's all kinds of different sounds from hip-hop, this form of baile funk, mixed with reggaeton, mixed with this afrobeat style called Raboday—very upbeat, very dance-influenced, no matter what the genre was. It just has history and culture. I really always resonated with the more ritualistic music called Rara, which is passed on generation to generation since the slave trade and the formation of the country. It's the same sound, the same rhythms.
I used to hear the parade of Rara bands every Sunday, and ended up actually working with that same Rara band a few years ago. To me, that music carries history and a story. It's a way for me to share my culture in a non-overt way, instead of "Haiti Haiti Haiti!" I want people to identify with the story as a whole. Even if you're not Haitian, you can understand you can be proud of where you're from. You can work with the things that you have around you. There's value in all these different places around the world.
What's Haiti's connection to the continent?
The biggest thing for me is that Haiti was the mother of Americas, and the founding of all these different countries in North and South America, including parts of the US. It's really been at the forefront of that. From 1804, it was the second country after the US to get independence. It was made up of all these different regions of West Africa that came together and had to form a new language, Creole, and mix with indigenous people: the Taino people in Haiti, and the French and the Spanish and all these different mixes. It's just the melting pot of the world. I didn't even know when I was growing up, I just learned it over time. It's been so cool to see the connections even at the most basic level, like food even. It's the same kind of spices and dishes. When you hear the music and the rhythms, they're not that different from the Caribbean and Africa. Haiti is a central place and it's a story that I want people to know because it was very inspiring to me, and I hope that it inspires other people too.
Why do you feel it's so important to change the wider perception of the country?
It's for the kids. It's for the youth. Because I grew up with positive reinforcement in my life, which I think got me to where I am today. Because people believed in me. A lot of kids in Haiti don't have the opportunity to have a foundation. Whether it be education, the family unit, whatever it is, it makes a big difference for your chance of success. A big part of that too is your perception of yourself. You need to be able to love yourself and be able to truly understand who you are to be able to put anything out into the world. I want Haitians to be proud of Haiti for what it is. So much of it is glossed over and you just see the negatives. I want people to truly get that. It would make all the difference in the future.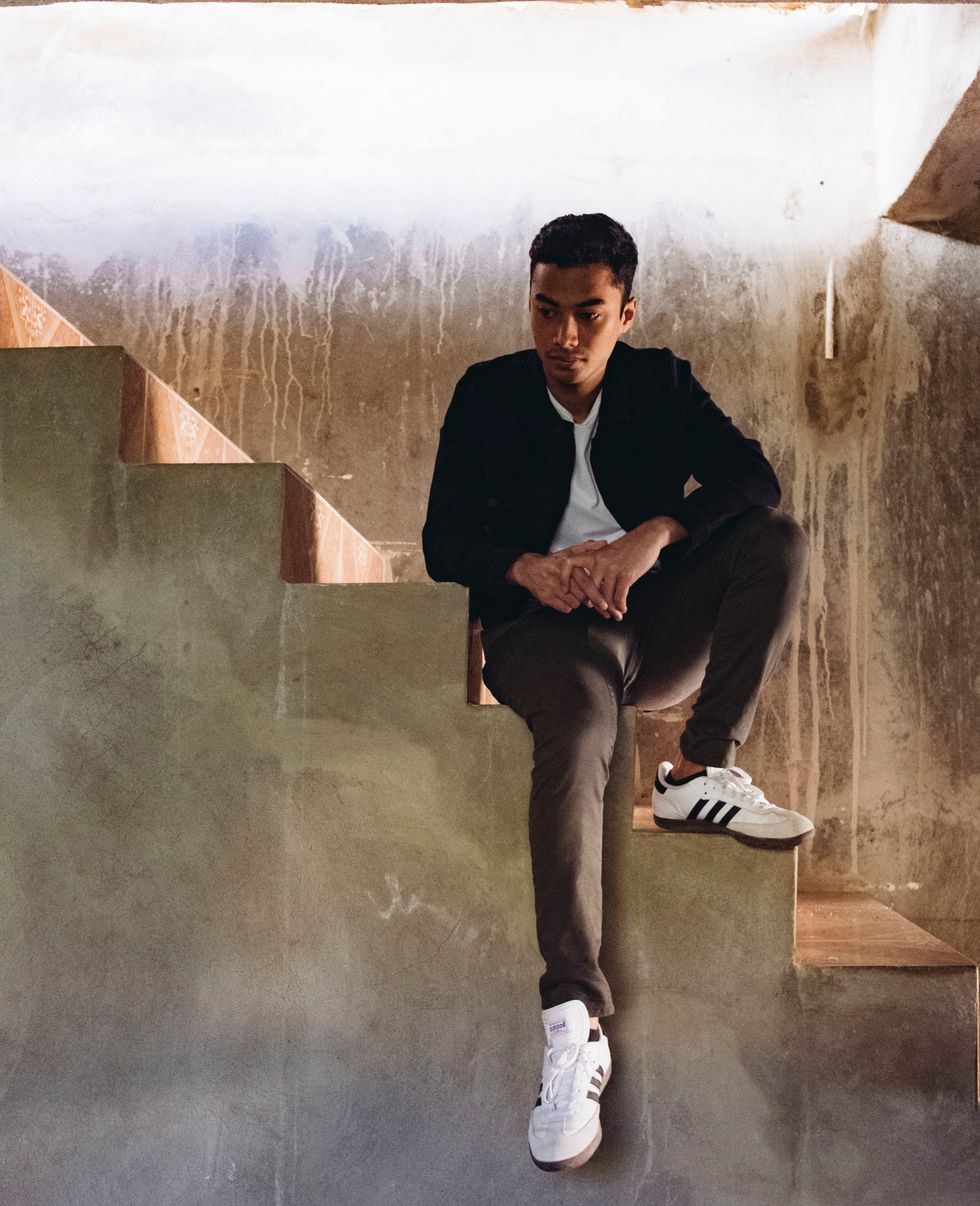 Michael Brun. Photo: Steve Baboun.
How does your fanbase compare here than in your home turf?

They've been so amazing, truly. They come to every single thing that I ever do, whether it's a show or event. They've been really supportive. Now, it's just been expanding and connecting, because I used to have my EDM fan base and then I had my Haitian fanbase. Doing "Positivo" for example, seeing the Latin fans from Balvin fused with the Haitian fans, fused with the EDM fans, and create this giant group of people that understand what I'm doing, it's a dream come true. Because that's always what I wanted. I wanted to be able to make the music I love and for other people to be able to connect with it. Even if they aren't Haitian music lovers, EDM lovers, Latin music lovers, or Afro-beat music lovers, you can just love the music for what it is. It's really rewarding seeing it get to that point now.
What are some immediate goals for yourself as an artist?
I feel like I'm doing it right now, working with all these artists from all around the world who are doing similar things and have a very similar philosophy. It's crazy. Like J Balvin, we actually have another song that we're working on. These amazing artists that I've been meeting over the last few years that really connect with that core message and also just make great art, that's who I want to work with. If it doesn't make me happy or doesn't make me fulfilled, I don't want to do it. I learned that over the last few years and it really shows with everything happening.
Can you talk about working alongside Mr. Eazi?
Mr Eazi is amazing. We met in Haiti maybe six months ago. It was crazy. He did a show and I happened to be there. We ending up going to dinner and went to the studio the next day. Actually, we didn't go to the studio, we set up a studio in his room. We made six songs.
What was the dynamic in the room?
It was just vibes. We listened to stuff and instantly clicked. It doesn't always happen like that, so when it does, it's a really good sign. We just kept in touch. Now being on this tour together is really cool, because we have a few things that we've already finished and a lot more stuff we're working on. He's one of the most talented people I've ever met.
What is the African-Caribbean sound you guys are cultivating?
It's something new. Because there is a lot of music that—even though he's in Nigeria and London and I'm New York and Haiti—the stuff that I'm listening to would be very similar to what that he's listening to, but like one degree off. To get that perspective from growing up in Nigeria and the sounds that you hear, and then growing up in Haiti, we just want to find that middle ground that connects the whole world. That's our goal, to make music for the world that has all of these elements and things we've been doing all along.
Talk about working with the likes of Shirazee and Kah-Lo.

Kah-lo is also from Nigeria, Shirazee is from Benin. I put out a song with each of them, one called "Soweto" and one called "Spice."
I watched that "Soweto" video, it's beautiful.
Thank you! It was just a vibe. That's the thing, all of those songs were made in three hours, in one session. It was just in the moment, and came really naturally. I just want to work with people that I enjoy working with. Not just be in the studio working, I want to be able to connect with them. They're both so, so talented. Kah-lo's actually joining me tonight at the Forum, and Shirazee is on tour right now opening for Orelsan, who is one of the biggest French artists right now. It's just been cool to see other artists that I've collaborated with succeeding, like Kah-lo got a Grammy nomimation two years ago. It just feels right. I'm really honored.
You actually filmed the video in Brooklyn. Can you talk about bringing your roots to such a big city?
It felt right. I hate driving. I hate it, I really do. I love the fact that I can take the subway everywhere. I like the food a lot, so it's nice that there's food everywhere. Since I made the move from Miami to New York, it's just been really nice to be in a new environment and pick up on working with different artists there. It's really funny because I've never worked with Latin artists before, but the month I moved is the month that I worked with Balvin. But it's like Miami is the home base for the Latin stuff. It's just been cool to get a new perspective. It's been refreshing for my music career.
How important is social media for your career?
It's key. The Vibras Tour sold out on social media. It's all fan-driven and connecting with people. Now more than ever, artists have access to tools that allow them to succeed without traditional structures. You still need to be organized, but you can do it in your own way. From being an independent artist to being able to set up this tour, it was wild to see this happen and build it from the ground up. I'm so grateful for social media and to be able to share everything through that.
3 things you need in the studio?
Laptop, good lighting, and guitar.
Who's the most played artist on your phone?
Right now, it's Tom Misch. He's dope.
I know you've worked with so many great artists, but do you have a dream collab?
Yeah, I would love to work with Pharrell. I would love to work with any producer, songwriter, artist who has a really defined vision, because those are the most fun projects to work on. You really get to know them, you really get to see their methods, the way that they think and what they want to create. I want to learn from the people I work with and for me, Pharrell is one of the greatest. Timbaland too.
How did it feel to be opening at the Forum, the venue that people literally dream of performing at in LA?
It's crazy. We just played at the Oracle Arena... this tour is just insane. Being at the venues is one thing, but getting to play is a dream come true. Balvin just made it so cool, the environment is awesome. We've been hanging out, it's like a family. It feels even more surreal because I've just had this idea that things can be really difficult in the music industry (as I'm sure so many artists know), but if you work with the right people, it's not. All the stress goes away, and that's why I'm so grateful. It feels like I'm in the perfect environment to become the artist I want to be.
Anything else you want us to know?
I'm headlining a huge tour next year. A lot of music coming as well, don't be surprised with any collabs coming up.