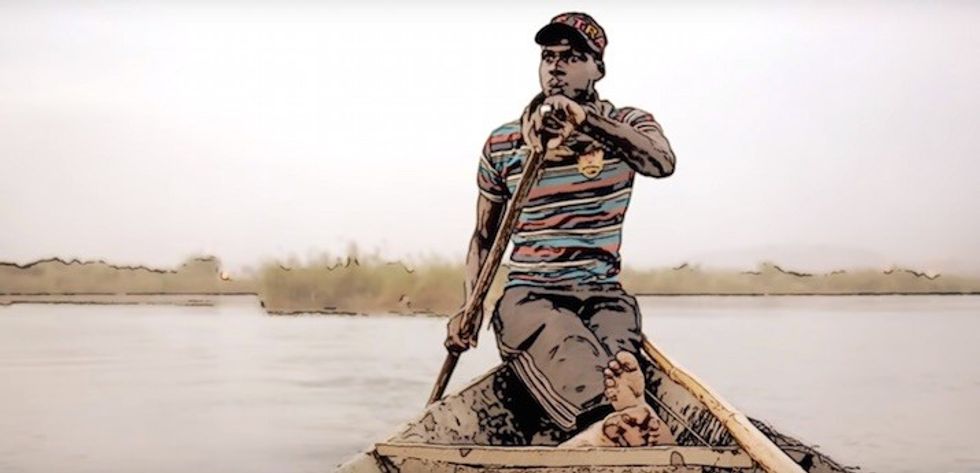 ---
In 2012, three Malian and three French artists connected to form Midnight Ravers, an audiovisual project that explores the meeting points between traditional West African sounds and electronic beatwork.
The group—comprised of Malian vocalist Fatim Kouyate, electronic n'goni player Assaba Drame, producer Dominique Peter, kora musician Mamadou Diabate Sidiki, illustrator/painter Emmanuel Prost and videographer Pierre Duforeau—have just put out their sophomore album Sou Kono, a follow-up to last year's Le Triomphe du Chaos.
The clip for "Exil" ("Exile"), one of the highlights from the new record, superimposes Prost's illustrations over idyllic shots of a lone canoe rider going down the Niger River for a unique Bamako visual excursion.
Watch our premiere of the video below and grab Midnight Ravers' 11-song Sou Kono, available now on Jarring Effects. Catch the band live on their upcoming European tour dates listed underneath and revisit their previous video for "Diarabi."
Midnight Ravers European Winter Tour Dates
12/3 @ EMB Sannois
12/4 @ Bars en Trans -Rennes
12/5 @ FGO Barbara -Paris
12/9 @ Transbordeur -Lyon
12/12 @ La Pêche -Montreuil
12/14 @ RFI - Bande Passante Live
12/18 @ Iboat - Bordeaux
12/19 @ La Basane - Miramont de Guyenne