In music scenes across Africa, the most influential tiers are often dominated by young people. These individuals bear the mark of the digital age, where geographical boundaries are blurred and their taste in art, regardless of place, remarkably heightened. Moliy Ama Montgomery creates for this generation. Her records are soft and audacious, colored by the Ghanaian-American artist's shimmering vocals and lyrical awareness that is informed by her femininity and independence.

Moliy moved to the US for college, but found the system to be tiring. Monthly rents and tight schedules marred what should have been her settlement period. "I came back to Ghana [towards] the end of 2019 to put records together and make something happen," she told OkayAfrica one recent evening, "Cause I felt like that was the one thing I was really passionate about. It was a gamble, recording the records and all of those things. I had no idea it would actually work out or be acknowledged at all".
She was eventually acknowledged—and not much long after. By the following year, Moliy released the Wondergirl EP, a concise demonstration of her singing abilities. Over beats as shiny as her vocals, she unfurled stories of young love and ambition. "I was trying to create something that people can identify with me," she says, recalling her entry into the Ghanaian music scene. "I wanted to make an impact because at that point I wasn't a known artist. I was only known for the content I released on my social media; the most I'd done was post some freestyles and some covers on there... but mostly freestyles of stuff that I wrote, that was the only thing out there that kind of identified me as an artist, and I wanted to be taken more seriously."
---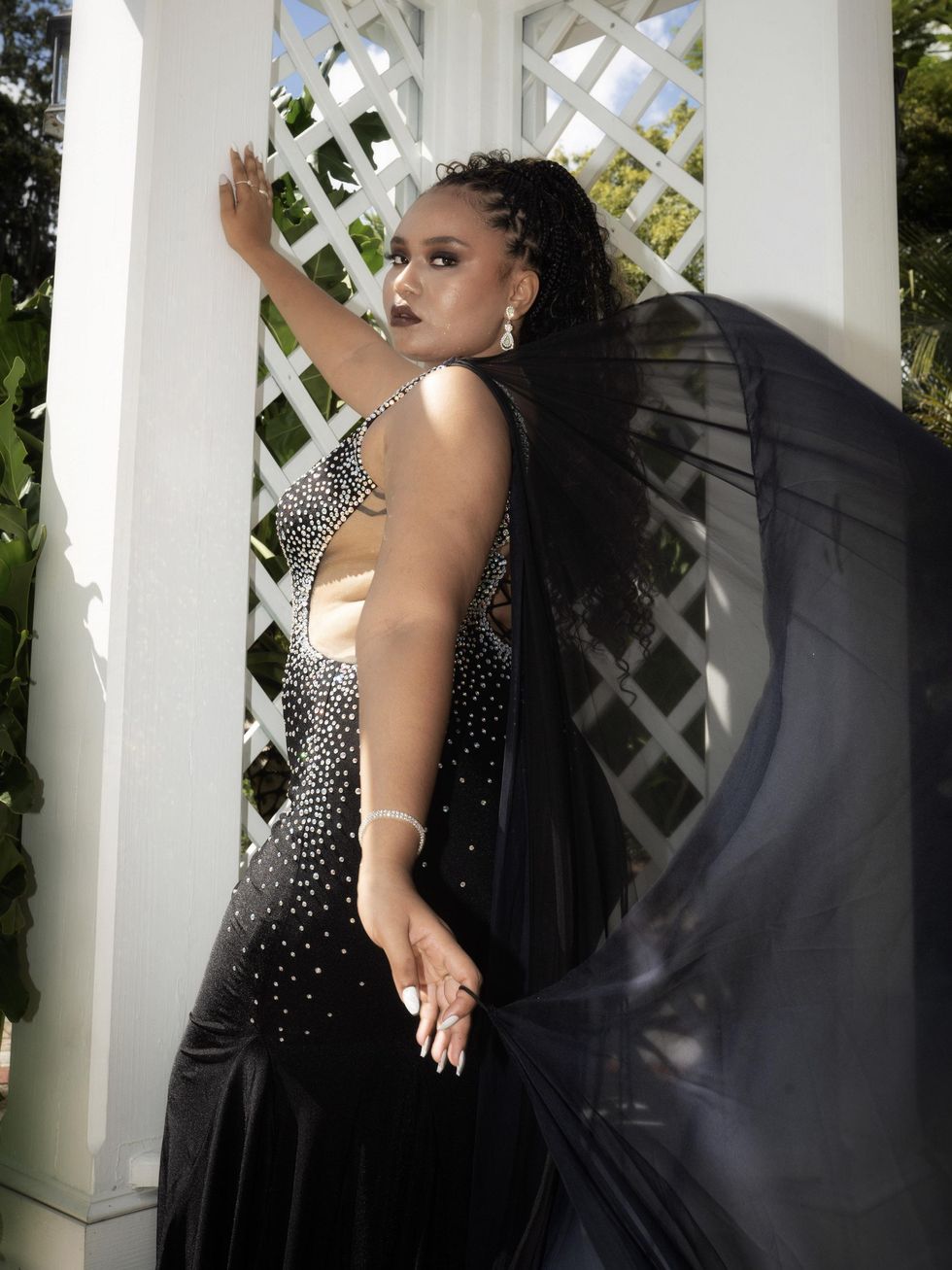 Moliy.Image courtesy of the artist.
Around this time, the pandemic had become a thing and Moliy sought financial independence. Introspection birthed songs with rough, honest edges. In the closing months of 2020, Moliy appeared on "SAD GIRLZ LUV MONEY," a standout off fellow Ghanaian singer Amaarae's debut album, The Angel You Don't Know. Singing the catchiest sections of the record, Moliy's mellifluous vocals greatly contributed to its appeal. The next year, the record joined the growing cache of TikTok hits. Its global acclaim was cemented by a Kali Uchis-assisted remix, debuting at #80 on the Billboard Hot 100. A short-lived controversy about unpaid royalties sprang up earlier this year, but Moliy declined to speak about it.
Moliy has swam considerably well against the tides of mainstream Afropop. Her artistic sensibilities are more Western than Ghanaian, but she's quite immersed in the traditions of the West African country. After her stellar showing on "Sad Girlz Luv Money," her peers, and forebears, became familiar with her game. Legendary rapper M.anifest was one of those, featuring her on "No Fear" alongside American rapper of Ghanaian descent Vic Mensa. Earlier this year, Moliy joined on alte pioneer BOJ's record "In A Loop," alongside her younger sister Mellissa.
"I feel like no doubt, obviously there are dope artists. If they make music that I feel like sonically would blend into mine, that's something I really take into consideration," she says of her collaborative ethos. She however went the solo route on Mahogany St, an EP whose title took from an actual location in her neighborhood of Lapas, Accra. Through its three songs, Moliy solidified her standing among the country's audiences.
Moliy - HARD ft Moonchild Sanelly [Official Audio]www.youtube.com
None was as poignant as "9 to 5," the opening record which underlined her zeal to make it as a musician. "See the pain in my eyes, what I did to survive," she sings over colorful reggae production, stitching narrative grit into her established style of sultry bops. The Prince Dovlo visuals fittingly carried the vision as well, casting Moliy in scenes which ranged from an airy room stacked with flowers to the kitchen in an eatery, and finally inside a nightclub bursting with colored lights.
Moliy came of age in a house that stands beside a restaurant/pub owned by her mother. She describes the music that was played there as "everything that's popular"—from highlife, to hip-Hop, to artists ranging from Celine Dion to Daddy Lumba, Michael Jackson and Whitney Houston. All of them sparked Moliy's interest in the art form. "I remember a lot of the time, going to school, we would just be singing all the way in the parlor—me, my mum, my brother and my sister. My mum was very free with us. She even got us iPods and like a piano kind of keyboard; I couldn't play it but we just played around with the different settings. We had freedom to just be creative and enjoy things in life at that point in life, at an early age. So I still find that joy in it presently, in that passion, even though it's turned into a career. This is how I obviously wish to be successful."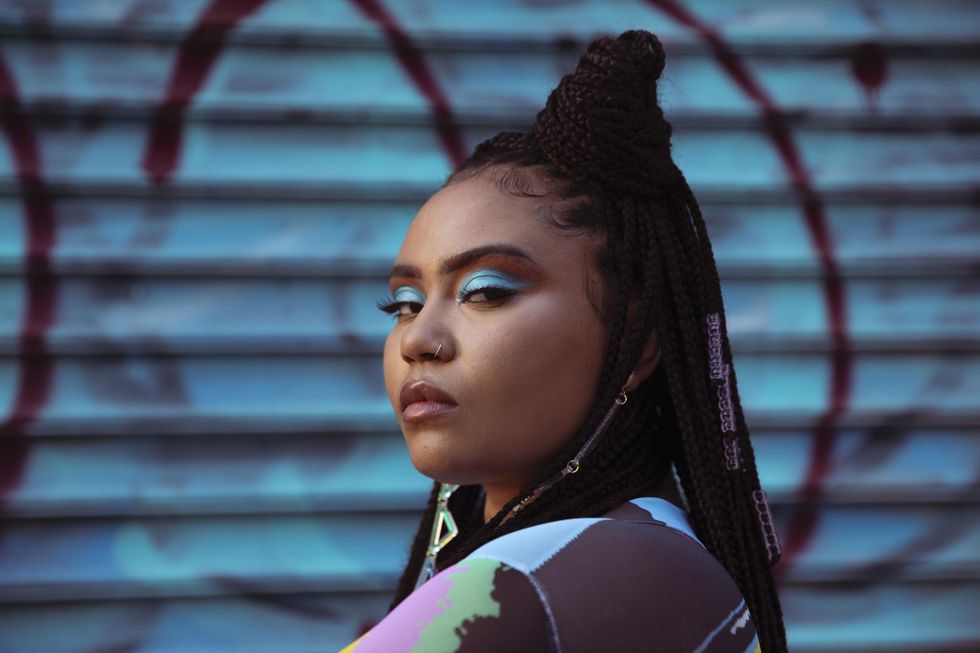 Moliy.Image courtesy of the artist.
In the latter periods of last year, Moliy began recording the songs that would make Honey Doom. She already had the title, and knew she wanted to push the boundaries of her art coming fromWondergirl. The project had a romantic twist, "it's like my idea of a relationship gone horribly wrong—see how you would have a honeymoon, so flip the words around to make it honey doom," she says with a half-laugh. "It just shows what things are like to me right now."Moli
The lush soundscape of Honey Doom was provided by a mix of familiar and first-time collaborators. She's worked previously with Mikemillzonem, while Moliy also welcomed beats from Juls and P Priime, who was in Ghana during its creation. Juls' trademark percussive rhythms embolden "Together," the opener which sees Moliy seek the understanding of a troubled lover. "Together is a must, love me whatever the cost," she coos over the bubbly production, coating her delivery to match the beat's liquid energy. "Prisoner" is suffused with Priime's dramatic flair, a somber tone which carries the song's ideas with masterful ease. "This be more than physical," Moliy sings in Ghanaian lingo, maintaining the record's tension.
"Hard" was a song Moliy wanted a feature on, primarily because its dominant genre of hip-hop wasn't one she frequently dabbled in. "I wanted someone else to bring something new to it," she says, and without much deliberation the eccentric South African singer Moonchild Sanelly came to mind. A member of Moliy's team knew someone from their side and the connection struck. "It was pretty smooth; no delays," says Moliy, "I think I got her verse in, like, a week. And she loved the song; she ended up coming to Ghana, a few months after and we connected, went to turn-up together, and it was great. She's a really cool, cool chic".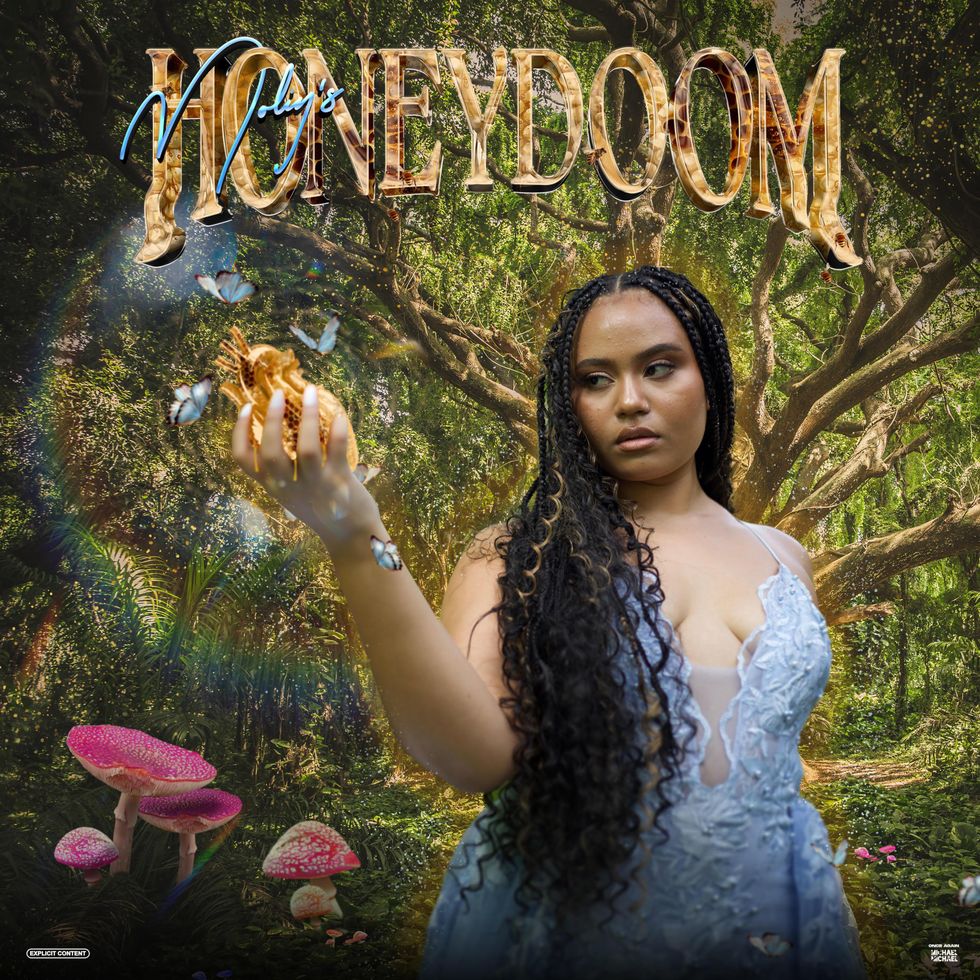 All the colorful exploration on Honey Doom demonstrates the ever-developing craft of Moliy. Posed with the question of how the project showcases her growth, she mentions the confidence in her vocals and how she's increasingly trying out new sounds and songwriting techniques. "I feel like my sense of writing and storytelling is way more mature and way more opinionated in terms of romance," she says. "The more I grow, the more I feel at ease showing who I am and what I feel. It shows how versatile I can be as well".

"I want it to carry on the footprints that I'm trying to make in this world," she says about her vision for Honey Doom. "I want it to open more doors, to be able to pull crowds from this and do massive shows. I also want it to unlock way more collaborations-cos I love doing collabs, you know, and in releasing Wondergirl I had multiple artists I've worked with now reach out to me. So I want a better reaction to what's already happened by creating something really dope."
Listen to Honey Doom below.