Moonga K is confident.
For such a young artist, his vocal delivery, sense of self, and approach to writing music seem to be well beyond his 21 years. On his debut album, Wild Solace, released last Friday, February 16, he belts out track after track, gymnastically flipping between vocal styles, genre influences and descriptions of the various tricksy maneuvers of growing up.
It's a clear 'coming of age' album that showcases an experienced childhood performer learning how to be a grown-up, both in terms of the development of his musicality since 2016's EP, Free, as well as the deep introspection and openness of the lyrical content. The confidence wasn't always there, as he explains, "I was a very nervous and shy kid, so it took a lot of pushing from my family, from my friends, to kind of get out there and pursue it."
Moonga K is also not your typical man, even though he does fit snugly into a long tradition of outsider musicians questioning the hyper-masculine, and into a more recently observed South African taste for gentle, soulful, artful men vocal soloists, such as Langa Mavuso, Nakhane and Petite Noir. His mom, the subject of the Free EP single, "She," is who he credits with raising him to be a feminist, without really trying, "She kind of taught me about respect and hard work and appreciating every single human being in the world."
He continues, on the subject of the outside world trying to tell him to be a man's man, "For me, I was a super sensitive kid, so that wasn't my thing, and being raised around mostly women, I kind of was in touch with my emotions, so for me, I kind of grew up in that and approached it in a way that, 'it's really okay to get in touch with your emotions, it's okay to be honest, and get over whatever anyone else thinks about however you feel, because you're entitled to feel emotional, or entitled to cry, or entitled to let out whatever is bothering you.'"
His mom was also the one, after realizing he was so serious about music, who "would always take me to rehearsals and shows, and make sure that I had the best advice, and she would put me first."
One of the things she took him to, while growing up in Botswana, was the talent search competition, My African Dream, which Moonga finally entered in Grade 7, after being excited about it since it launched in around 2005. There is a video on his Facebook page that starts with him performing a cover, inspired by the Alexandra Burke version, of Leonard Cohen's famous "Hallelujah" on the stage of the talent search, that shows the chops he had at just 13. It also gives you an idea of where the mostly self-taught vocalist's vocal delivery and musical confidence comes from, remarking on the competition's organisers' impact on his future, "So, I'm really grateful for them, 'cause I think if it wasn't for them, or if it wasn't for me entering the competition, I probably would not even be doing music now."
There were more than enough opportunities for that latter possibility to be the case, like when his parents suggested he put music on the back burner when he was struggling at the beginning of high school, or when he graduated and didn't want to be boxed in as a kid with only one skill, "a lot of people that I was around, they thought all I could do was music, and so I wanted to prove them wrong, and so I quit, I made the drastic decision to quit music for about 2 years, and in those 2 years I was doing like assistant teaching, or going to study and learning how to write screenplays, learning how to paint." During that time he says he found his confidence, and that's how he came to release Free. "So I'm very different now to who I was a few years ago, or when I was younger, and I think that's a good thing."

The debut album tells its coming of age narrative in many ways, but interestingly started out as a screenplay that he wrote a few years back, "Wild Solace is a story about this guy, named Fink, and Fink has been through quite a lot, he lost his best friend, he's really got it bad with love and relationships and everything, and he's got so many insecurities and so much self-doubt, and a lot of mental health issues. Fink is kinda like me, but not only me, 'cause I've taken stories from each person I've met, you know, strangers, friends, lovers or whatever, and I've put them in this one person that everyone could kind of relate to and say, 'whatever Fink's feeling, I feel it too.'"
The album explores heavy subject matter, such as "Little Wreck''s story of the loss of his first best friend when he was a young teenager, "Pure Halcyon" describing ways of coping and finding peace within the chaos, and "The Art of Aging"—a piece of documentary music, of sorts—giving space to Moonga's friends to describe what it means to grow up. It's a deeply introspective body of work, polished into a poptimistic exploration of alternative sounds through a collaborative writing process with producer and Moonga's manager, Greg Carlin, and old friend and frequent collaborator, Andrew Williams.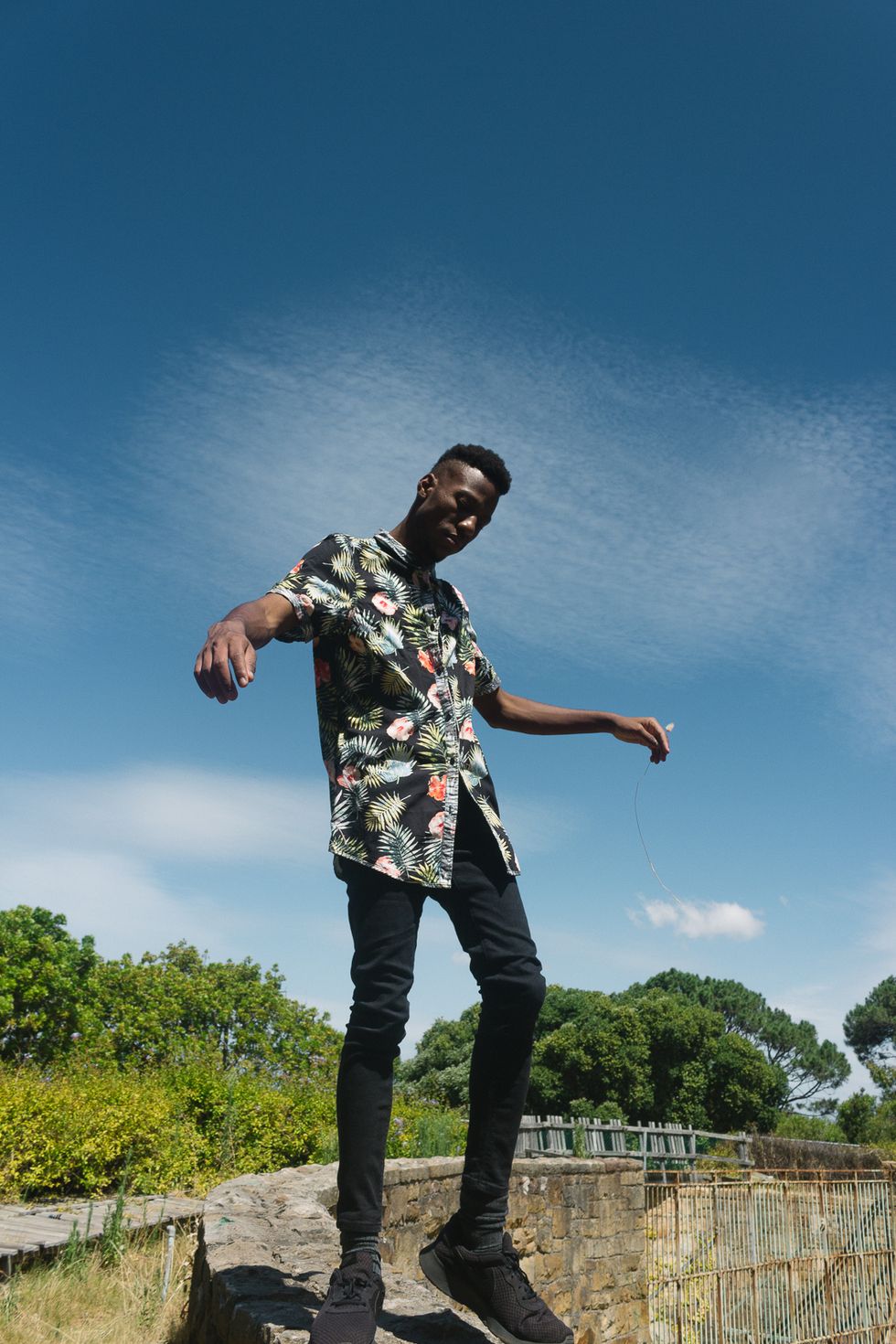 Photo: Thero Makepe.
It was never supposed to be a full-length album, but a second EP, but Moonga and his collaborators felt like they couldn't drop any single one of the 10 tracks from the record. "I always thought that making an album was something that you had to kind of run away into the woods for like three years, and you know, work on it every single day, and breathe so much life into it, but I think in this experience, I learnt that an album kind of comes out with the intention, if you've got a pure intention of putting a story out there, and a story that means something, then you've got a record."
This approach fits well with his modus operandi, where he writes and releases music that he wishes existed for him. "For the first EP, I always tell people that all those 6 six songs are songs I wish someone had written for me when I was in high school because I mean, there wasn't a lot of that, when I was younger…" Before approaching this record and working with Carlin, who has a history of very accessible music, musically and in a pop-sensible way, Moonga explains, "I was stuck in my experimental ways, where it was very minimalistic, and calm and mellow."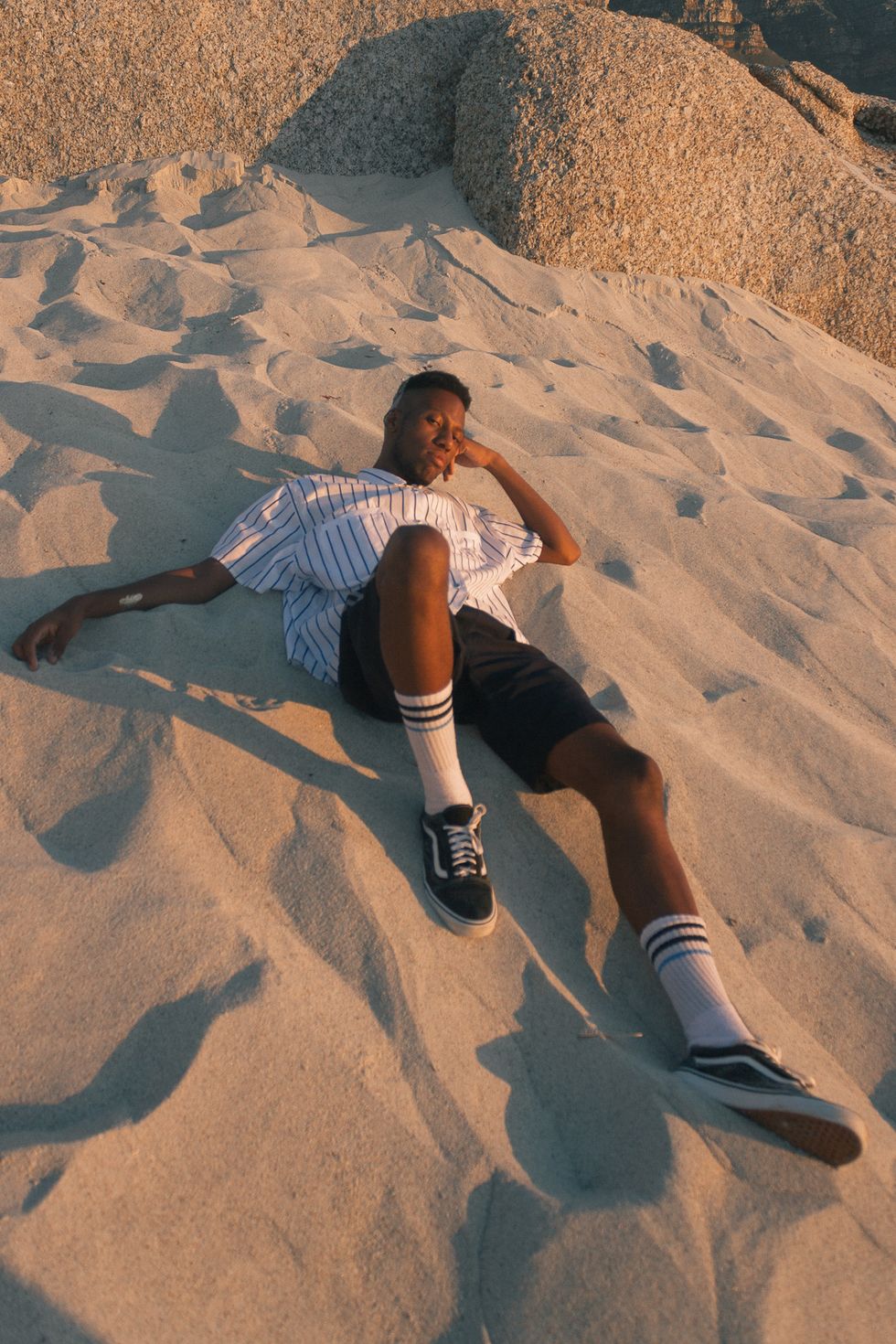 Photo: Thero Makepe
Through working with Carlin, Moonga K seems to have found new, more complex and polished ways of making the same introspective, deeply personal songs, and that working collaboratively has given him the space to discover more stylistic range, and provided an opportunity to bring his personal message to a broader audience. It's radio-friendly, without losing it's authenticity, which is not an easy thing to achieve. His openness to new things, and a humble albeit certain approach to maintaining his own voice, can surely have made this easier. The success of the project's writing process is certain to have reinforced that, "I'm not as fearful as I was a year ago, because I was so unsure of like, where the music was going, but every day and through every experience, I'm becoming more sure of how the journey's going to move along."
Moonga K is positioned to do great things and, if all things come together for him, will surely find a receptive audience looking for emotive, introspective, pop-sensible alternative R&B sounds.

"'Wild Solace is where you find peace within the chaos." You can find that peace on iTunes, and for details on where to catch him live, as well as news on an upcoming video for the powerful second track and fifth single, "Tragic," follow his updates on Facebook.