Derb Sultan is one of the oldest and poorest neighborhoods in Casablanca, Morocco — a notorious district that would be described in the Franco-Arab world as 'populaires.' It's a place that is victim to industrialisation — overcrowded, and yet defined by there not being enough. A place where people survive despite the inequality, but most importantly where identity is forged.

A son of a carpenter, Issam was born in the heart of it all 28 years ago, into what he describes as a difficult childhood weighed down by sadness. His mother was diagnosed with bipolar the day he was placed into her arms. There is more than a trace of this hurt soaking into his trippy chords and woozy melodies. Here, Issam breaks through the heavy auto-tune to reveal a voice that isn't hiding, as he materialises with the serious poise of a man who has nothing to lose and all to give.
Issam's debut album Crystal follows his earlier releases, resplendent in Jodorowsky-like imagery and a zillion miles from the trap video tropes we are used to, his YouTube videos have garnered over 35 million views. It's these kinds of numbers, unheard of for a young North African artist, that led him to be courted by French labels. He eventually signed with the behemoth that is Universal/Def Jam.
Through this and a passionate fanbase, Issam quietly knows he's sitting on something special. His debut is the psychedelic world that his followers have been waiting for, an opportunity for an artist to sing in his own language and yet still make the big moves. More than just another trap record, it's an album that is heavy with hashish and the spray of the Atlantic when the breeze feels just right. Crystal is filled with mind-bending synths firing dazed synapses and songs, like motor-oil in pools of water, turning a myriad of colours and then simply vanishing. It's a record that soars with hope, that propels you to dance with your friends as much as it heeds a nameless warning. It's a love note to being alive. And you don't need to understand the words to feel that.
Issam finds himself here, certain and yet still bewildered. At times there is some of the anguish of a yearning tongue-twisting Marvin Gaye, his soul swirling as a spiraling counterpoint to his own lead vocal. Trapped and yet free, repping his hood whilst carried on vapours all the way to California.
Issam sits in his smoke-filled studio. He's thoughtful, as if he hasn't decided to switch the light on behind his eyes yet. It's too early for that maybe but he's still incredibly present. I tell him I love his record and then we begin.
---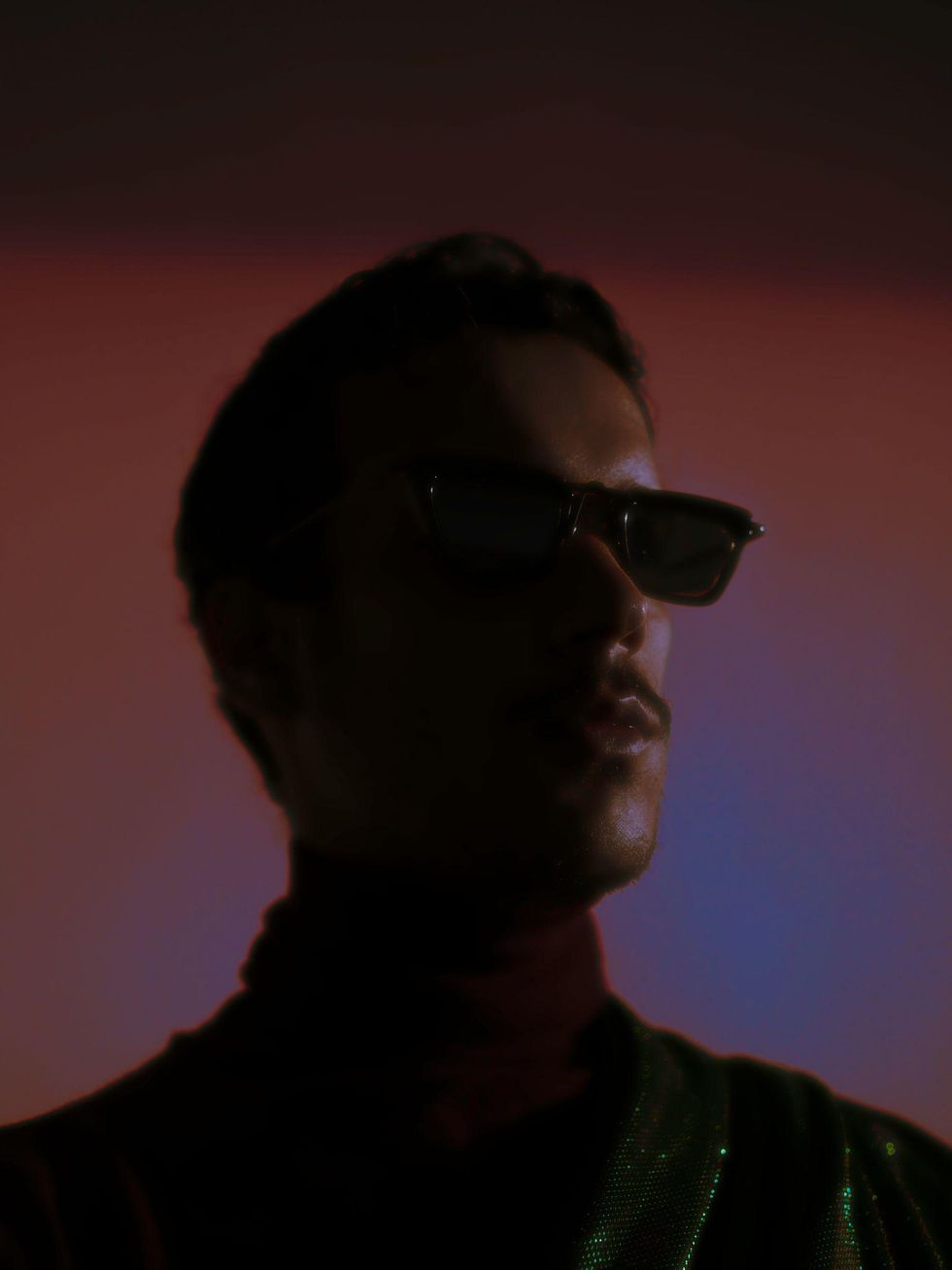 Photo: Hamza Robati.
Do you come from a musical family?

In my childhood, I listened to a lot of rap music and there was always music in the house. My parents loved to play Raï loudly. I am not too sure where I would be without music. A lot of the people I grew up with in Derb Sultan fell into drugs and criminality, it's a very sad path.
Crystal is very much a trap album, but how is it different from what we hear emerge from the U.S.?
We have invented TRAI — a combination of trap and Raï — unique to us. You can hear Africa throughout. In each country, those making trap do so with their own touch. In Morocco, our musical identity draws from our roots as much as any other influence. When I was younger, listening to Young Thug opened my eyes, I didn't understand all the words but I got the attitude.
There is real pressure in being authentic in any part of the rap universe, no?
I believe in the truth. The language I speak is Darija. It's a pure Moroccan language that is street slang. Street language exists all over the world. What I rap about is the life I have lived, my experiences and the truth. This is my reality. The message I'm sending out is pure, and where I am from is why I am here talking to you now. Somewhere else may not have given me the spirit I have, to have the life I have now. Many great artists have emerged out of this neighborhood, Raï musicians — and actors even. These streets schooled and developed them into who they are.
What was it like playing in Europe before the pandemic?

It's incredible how music can take you places. Going to play the concerts was the first time that I had left Morocco for that adventure. There is no limit to music. I was able to discover so much at once and to meet people who knew my music. Then, to feel love from them was something else. When I was in Saint-Denis near Paris, we took the Metro and it felt like I was in a movie. Seeing people down and dark and being so open about it. Electric scooters everywhere, and hanging in music studios. These situations were very different to my everyday life.
You already have success it seems. From the point of view of this engagement that you have with your fans. It's intense!

Success for me is being able to work hard and to share this experience with others, especially my fans. It's the fans that give this experience value. They make the music fly. When you receive positive messages from people who support, love and tell you how your music has helped them: that is true love. My music is the voyage. Youth culture is exploding in Morocco because of social media. We can communicate with each other like never before. An artist can show his work and talk to other artists. It's the time of collaboration.
And this is how you got to work with Ca$hpassion and Prince85 — who engineered, mixed and produced tracks on the album? They are both heavyweights in the rap game.
I have a friend who lives in Canada who put my work before them, and they loved what I do. So, yeah!
Let's end this with a fantasy question. If you could work with two musicians and one rapper — alive or dead — who would you choose?
Cheb Mami (legendary Algerian Raï musician), Prince and Prince — one Prince singing and one Prince rapping.