London-based outfit The Intergalactic Republic of Kongo (I.R.O.K.) is teaming up with Moroccan label and collective V.I.V. for the new single "Ich Will Nach Hause Gehen."

The new song, which I.R.O.K's half-Moroccan frontman, Mike Title, describes as a "a psychotropic Saharan rave banger" is being released in an EP that features remixes from young Moroccan producers across Casablanca, Meknes, and Rabat.
Mike compares the blistering new track to "the feeling of that fine line between having the time of your life and being trapped, unable to ever go home."
As I.R.O.K, he played gigs in theatres, town squares, pirate DVD stores and beaches across Morocco while working on this new track, so it made sense to partner with V.I.V., a label formed to showcase the wave of electronic music that is emerging from bedrooms across North Africa, for its release.
Below, we talk to Mike and V.I.V co-founder Simoh about the new EP.
Who is I.R.O.K.?
Mike Title: I.R.O.K. is The Intergalactic Republic of Kongo. An altered state in that moment of delirious joy. It is driving that impulse to the point where neither recklessness nor certainty have any meaning. It's blood and noise on tape. Music, LIVE MUSIC. The new album is filled with love. When you come see us play in the dark it's so live, that we take you with us like no one else can. It's super raw.
What are your ties to Morocco?
Mike Title: I'm half-Moroccan, my grandfather is from the mountains that I'm sitting on as I type this. I'm in a windowless bar drinking Ricard in thick plumes of smoke. Violent angles of Berber music is blasting off the tiles. In the mornings I've been drinking thick black coffee in a haze, higher than the clouds up here in the Atlas. This is where I return so that I can be happy to leave. Morocco inspires me to make music in its humour; the dancing; the drums; the weather; the magic; the openness of spirit...everything.
What is the V.I.V. collective and its mission?
Simoh: V.I.V. is a label/collective of artists and producers from Casablanca founded by myself, Simoh EL HAMMOUMI, Rayane KARA, Simo BENMANSOUR and Ham ROBATI on July 15th, 2017. Its aim for now is to bring together non-established Moroccan artists, DJs and producers to present their own brand of music and art to a Moroccan audience. We wish to create a self-sustaining music scene in Morocco, teaming up with artists, promoters, venues, media, and event organisers for Moroccan music artists to strive forwards with their art.
More than a collective, V.I.V. is a concept. The idea that there can be an alternative music scene in Morocco. We have educated ourselves on the basis of sound itself and its protean nature, its geography and its sonic iterations. As artists we all like different things but we share the same kink for alternative music and an avid sensibility towards experimentation.
What are young Moroccans listening to these days? Is electronic music big there right now?
Simoh: There's definitely a tradition set in stone where young Moroccans listen to Arab music: Chaabi, Gnawa or Rai. That won't change any time soon.
The young Moroccan male mostly listens to rap. Rap speaks to us more than politics or hope. There is a recent rise of young, Moroccan rappers. Today, the rap scene is healthier than ever and our own young "trap" artists have made the scene even more popular than soccer.
The experimental electronic music scene is what V.I.V. Collective is a part of. It's mostly a bilingual community, as mostly people from the educated parts of society are pushing it forward. Moroccan society is divided by language—a large portion of us are illiterate. Speaking two languages (Darija + French or English) is a luxury. I hope that our scene can widen its scope of entry but, regardless of demographics, electronic music is becoming more popular. People are getting more exposed to it and they want to participate in different ways. Those abroad are also getting curious about what's happening. The scene is growing very fast and it's young passionate people driving it.
Tell us about the four young producers who remixed the single—Rayane Kara, Realm, Imane el Halouat, and Sumo Hamed.
Simoh: Rayane and Simo (Sumo Hamed) are like brothers to me and are co-founders of V.I.V. We are a team, a gang and focused on our project to reach as many people as we can. We created V.I.V. with Hamza (our Art Director) to give a voice to marginalised Moroccan artists and we are based in Casablanca and Rabat.
Imane and Soufiane (REALM) are artists who we have wanted to collaborate with for a while. REALM has an amazing EP coming out soon by the way! He's based in Casablanca. Imane is from Meknes and has just moved to France. She's super talented and hopefully will inspire other young women in North Africa to make music by themselves.
Each artist has reworked the song in their own way on this EP. It carries "the feeling of that fine line between having the time of your life and being trapped, unable to ever go home" as Mike says. it is something that resonated very deeply with us.
We're working with I.R.O.K. on this project to extend and shift the Moroccan sound. Sumo's catchy weirdness or Realm's hypnotic drums take the song different places. Imane offers a naked stripped back take. Rayane has a knack for creeping emotion.
I.R.O.K. have such spirit that it overflows on their track. It's full of heart. I think those are all notions rarely covered in Morocco and it's nice to take on that twisted perspective.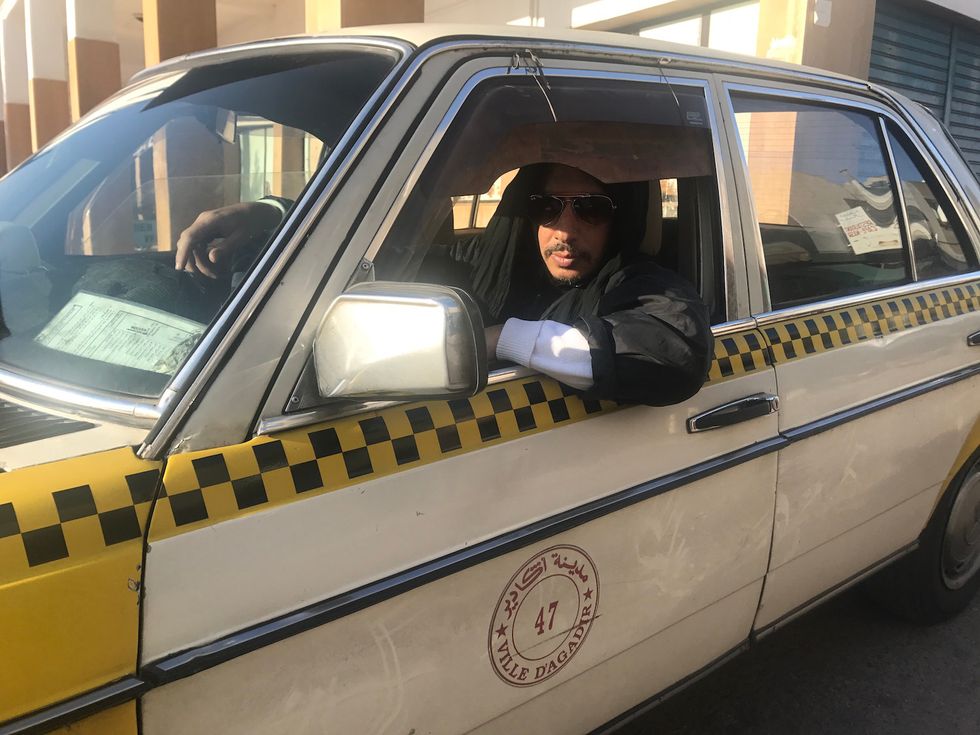 Photo: Mike Title.
Are there other similar electronic music labels and collectives popping up in Morocco?
Simoh: There's a handful but we all have different objectives. I think we're really focusing on Morocco as opposed to others who may have their sights on Europe. Not that we don't want to limit ourselves. We all have our own vision and avoid stepping on each other's toes. I want to make it that we help each other and work together but the modern world seems against it maybe. I do recommend our great friends Casa Voyager who release electro on vinyl. Really cool stuff.
Mike, you traveled to Morocco during the time you were making this new recording. How did being there influence this track:
Mike Title: I love Berber music from the '70s and '80s; the sound of it, how it's recorded live, the tape compression, the yearning in the vocals, the female refrains. It's designed to envelop you in trance. I like to try and get horizontal and watch the way everything moves and is connected. I don't try to find any of it on YouTube, it wouldn't sound right.
I have been back and forth to Morocco all my life and music is now making this adventure deeper for me. In the region I travel to the most, people know me now. They know what I'm about and talk to me about the shows we have done or people we know in common. They seem either happy to see me or laugh at how ridiculous I am. That's life. Some days strangers stare and sometimes I can become invisible. Berbers are the original time travelers, that's what they tell me. Im learning to breathe easily but every single day that passes I feel like I have less and less connection with the physical world. I imagine that this may wear off. In Morocco I have made connections that make me understand who I am and what I want. As soon as my feet hit the ground out here, something switches in me, like . Space Mountain. If I go down the pub in London and I'm watching the football or if I'm wandering down into a valley absorbing sun and pollen: neither is separated from the other. I'm both.
The shadow of Brexit though has made me, for the first time in my life, question how proud I am of being British. All this in a time where technology makes the notion of my identify more confused than ever.
Catch The Intergalactic Republic of Kongo live in London this Friday, December 8. Full event info here.
Photo: Mike Title