Right before the Qatar 2022 World Cup started, I predicted that Morocco finishing second in their group was "not impossible, but right now it's looking very, very tough." Well, so far, the Atlas Lions have gone undefeated. Not only have they won their group, but they are now about to play a semifinal against France (on Wednesday, December 14th.) But while, like most, I was caught off guard, I wasn't surprised after seeing Morocco's group stage play.

Morocco have only scored five goals in five games in this tournament, but they are not a boring team by any means. They are fast and well-organized. They give up possession (they only average 32.4% according to FBref) and allow opposing teams in their area more than they make it to theirs. But their skills to advance the ball, either by dribbling or passing, and their solid tactics allow them to often start thrilling fast breaks and counterattacks that are a delight to watch.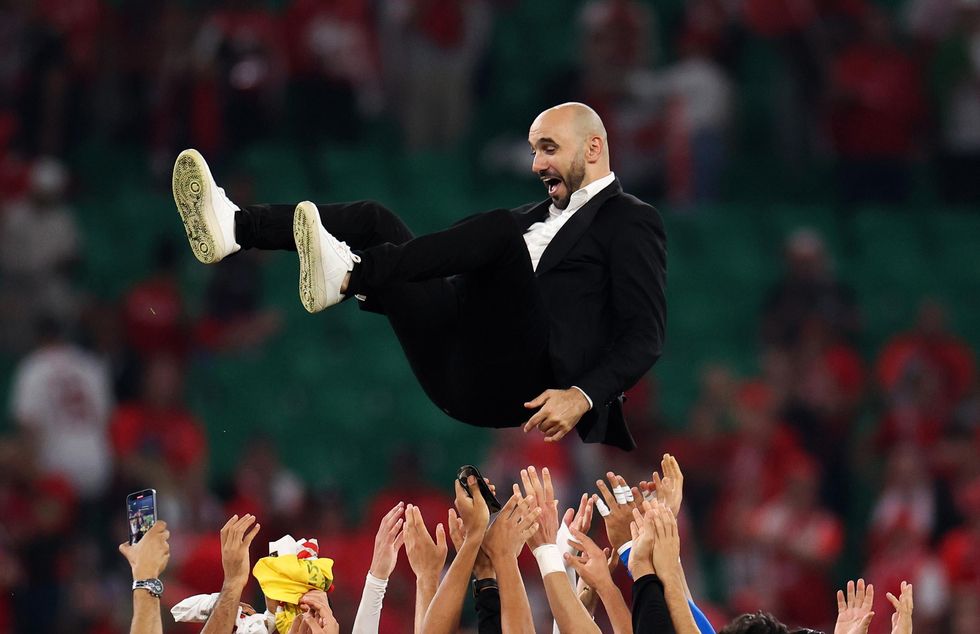 Since Walid Regragui, took over, Morocco has only conceded once (an own goal against Canada in the group stage) in eight games.Photo by Catherine Ivill/Getty Images
These tactics are due to manager Walid Regragui, a French-born former Morocco international that only got the job last August. He replaced controversial coach Vahid Halilhodžić, who had banished Hakim Ziyech, one of the country's biggest stars.
Since Regragui took over, Morocco has only conceded once (an own goal against Canada in the group stage) in eight games. But the team hasn't achieved this by "parking the bus." They play a flexible 4-1-4-1 formation that adapts to the opposition. The defense can sit back, as it did against Spain (in the round of 16) and Portugal (in the quarterfinals). But it can also play a high line, as it did against Belgium in the group stage.
The most important thing about these tactics, however, is that the whole team defends not by marking individually, but by occupying spaces where the opposition might make a pass, therefore eliminating that possibility. The defensive midfielder (the first "1" in the 4-1-4-1), Fiorentina's Sofyan Amrabat, is fundamental: he constantly breaks up the opposition's chances, but also sits deep when Morocco is attacking to give a measure of safety in the back.
Another important aspect is that opposing players will be surrounded by Moroccans. If someone attacks them on their left flank, for example, Morocco's left-winger, left-back and one of the central midfielders will come closer to deny them space. If the attack moves to another area, the Moroccan players will follow.
Of course, this system requires players that are both fast and fit. Luckily for Morocco, they have plenty of players who are not only that, they are also skilled. This helps them with their efficient attack, which follows a free-flowing philosophy of not sticking to rigid rules or schemes, but rather constantly looking for the best option. This could be dribbling, making a long pass, or starting a run. Unlike teams that are purely defensive, Morocco don't depend exclusively on the counterattack to score goals.
Their goal against Portugal, for example, was a full team effort that started in the back and ended with a perfect cross and a perfect header. One of their goals against Canada came from a goalkeeper mistake, helped by Morocco's high pressure; while the other came from a long goal kick. But it's also their players' brilliance that have got Morocco to this stage.
The expected stars came through: Madrid-born, PSG right-back Achraf Hakimi has been stellar, especially in the round of 16 game against his country of birth. In that game, he almost scored from a free kick, he created some chances with crosses from the right side, and he was almost perfect defensively, helping his side keep a heroic 0-0 for 120 minutes. To cap it off, he scored a Panenka penalty to send the Spanish home, and he celebrated with a penguin dance.
Chelsea's winger Hakim Ziyech, who was born in the Netherlands, has been a constant threat. He scored the first goal of Morocco's 2-1 group stage win against Canada, and scored a free kick goal that was overturned in their unexpected 2-0 win against Belgium.
Beşiktaş center-back and Morocco's captain Romain Saïss has been a solid leader in defense, and even scored a goal in that win against Belgium, the first win for the Atlas Lions at a World Cup since 1998.
And Sevilla's striker Youssef En-Nesyri has scored twice: once against Canada and once, after an impressive, historic leap, against Portugal, enough to send his team to the semifinals.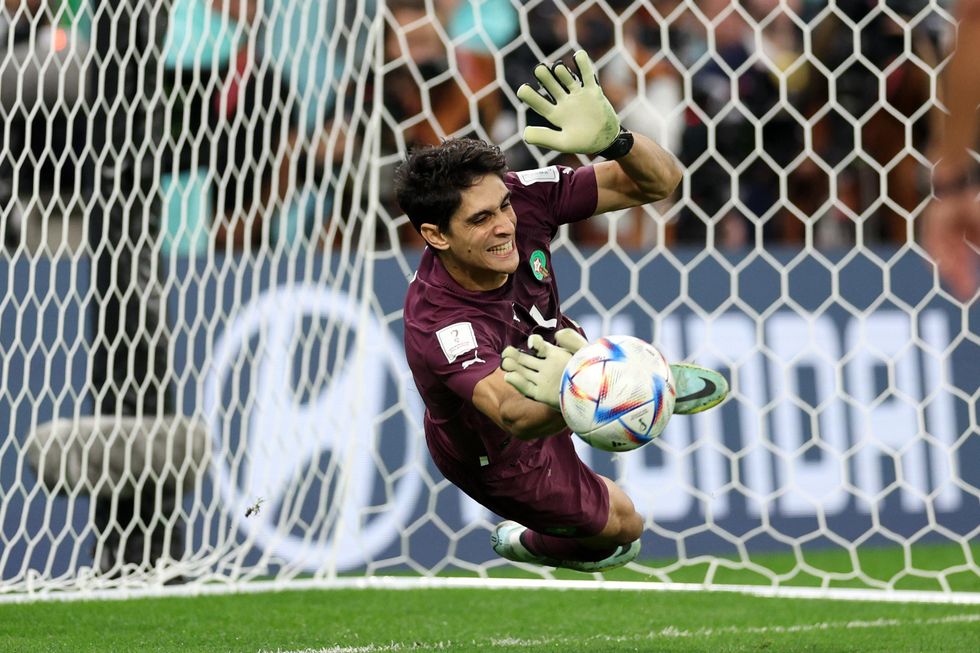 Montreal-born, Sevilla goalkeeper Yassine Bounou, or "Bono," has become a national hero after two absolutely legendary performances against Spain and Portugal.Photo Credit: Richard Heathcote/Getty Images
But other stars have emerged during this improbable run. Montreal-born, Sevilla goalkeeper Yassine Bounou, or "Bono," has become a national hero after two absolutely legendary performances against Spain and Portugal, the first one capped off by stopping two penalties in the shootout, the second one including two amazing saves to a João Félix shot and to a Cristiano Ronaldo shot (most likely his last in a world cup). While Angers midfielders Sofiane Boufal and Azzedine Ounahi have been two of the biggest revelations of the tournament.
Maybe it also helps that Regragui insisted to the players to bring their parents to the world cup, a decision that not only has given us great content of excited players hugging their mothers, but also has given the players a morale boost. And it certainly doesn't hurt that Qatar and other Arab fans in the stadiums have adopted Morocco as their team, making it look as if they've been playing all home games. But France are their toughest opponent yet, and while the fairytale might not end yet, Morocco will play at least two more games in this world cup, seven in total, more than any African or Arab team ever.