Breakout indie film Black has landed second-generation Morrocan-Belgian duo Adil El Arbi and Bilall Fallah a fast pass to Hollywood.
---
The pair—who once flunked their first year of film school as Arab youngsters hungry to break into Belgium's lily white film industry—relocated to L.A. and have been tapped to direct Eddie Murphy's long-overdue comeback flick Beverly Hills Cop 4 due out in theaters next year.
And they are about to start shooting a pilot for the FX Network's new series Snowfall about the 1980s crack cocaine epidemic in South Central L.A.
"Black" filmmakers Adil El Arbi and Bilall Fallah via Youtube screenshot
Black, based on Dirk Bracke's titular teen novel and its sequel, tells the story of a 15-year-old Congolese gang member who falls in love with a Moroccan boy from a rival gang.
The gritty gang drama drew comparisons to City of God,A Bronx Tale and La Haine and won the Discovery Award at last year's Toronto Film Festival. It's sold out screening in Kinepolis Brussels even caused a riot when underage film-goers, turned away by cinema staff, snuck into the auditorium and refused to leave, prompting police response and the cancellation of two screenings last November. And France even banned Black—as El Arbi tells The Guardian, "they said the overall atmosphere and theme of the movie doesn't match with the political climate of the country."
Perhaps the reason the picture has made such an impression is the stirring authenticity and high cinematic value El Arbi, 30, and Fallah, 28, have brought to it, filming amid subway stations and housing projects in Molebeek—notoriously referred to as "jihadi central" for the number of Islamist attacks across Europe that have stemmed from the district where they both have family residing—and Matonge, both respective north-African and sub-Saharan African (mostly Congolese) neighborhoods of Brussels. Deferring to "gang liaison" intermediaries, they cast Black from those communities, discovering untapped local talent in lead actors Martha Canga Antonio and Aboubakr Bensaihi, who deliver riveting performances.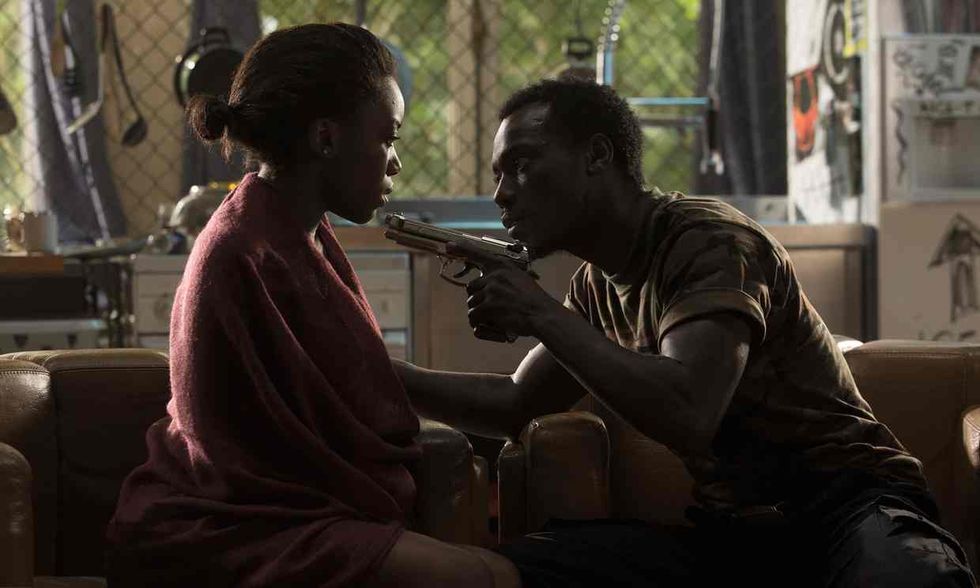 "Black" film still
"You don't have Moroccan or black actors. Certainly not between 15 and 21 years old. So, out of necessity, we had to go into the streets and into schools and on social media to find those actors," Fallah says. "Belgian cinema really is white. You go to casting agencies and acting schools – everybody's white. We got together 400 people and selected the 16 best."
"You gotta have the streets on your side," El Arbi adds. "These are their stories."
Black exposes the cultural divide that often takes the form of Islamophobia and racial discrimination throughout Europe, specifically through the prism of Belgium, shining a light on the tension between the Dutch-speaking Flemish community and the French-speaking, predominantly black and brown, "ghettoized" immigrant communities. Although El Arbi and Fallah admit they have taken some artistic license in the film as it's relatively rare to see Moroccan and Congolese blocs beefing over turf in real life.
As El Arbi explains, "And when you're 15 and young, you want to have an identity. You want something clear. Blacks, Moroccans, they'll never feel 100 percent Belgian. Even Belgians don't feel 100 percent Belgian. But drop them in Morocco or Congo, they will never be 100 percent either. So a gang or an extremist organisation can say: 'Come with us. You will have a name. You will be something. You are 1080 or Black Bronx – or Isis."
You can watch the gripping trailer for Black, which has been released in UK cinemas and on video-on-demand platforms as of August 19, below.