Nigerian singer Peter Okoye has reached African music's greatest heights, yet still believes he has something to prove. One half of the superstar afropop duo P-Square, he's had one of the lengthiest and most successful careers in the history of afrobeats. Over the past few years he has recorded and released music as a solo act, following his split from the highly-accomplished group which he formed with his twin brother Paul Okoye. Now with the release of his debut album The Prodigal, he believes it's time to fully take his solo career to the next level.

Performing under the moniker Mr. P, Okoye began his solo career back in 2017 with the single "Cool It Down," and followed up with a string of tracks that included features with the likes of Niniola, Simi, Jamaican singer Nyanda of Brick & Lace, DJ Switch, and more recently Wande Coal. Now, four years later, Mr. P has finally served us with his debut solo album. Over a soundscape of afrobeats, dancehall, R&B, and more, Mr. P makes a daring statement about his personal musical style.
Everything about The Prodigal was intentional. From the timing of the album, to the musical direction and features by his freshly signed P Classic Records artists, Mr. P carefully crafted the album into what he wanted it to be. In an effort to present an independent version of his craft, he took what he termed "the biggest risk of his career" by deviating from the quintessential P-Square sound. And it paid off, he happily testifies.
---
Mr. P - Just Like That ft Mohombi (Official Video)youtu.be
Mr. P let us in on the creation of his album, record label and his entire rebirth process. Dig in below!

This interview has been edited and condensed for length and clarity.
Why did you name the album The Prodigal?

My album was initially supposed to be named Blessed. I came up with The Prodigal because I know there's a tune behind saying "the prodigal," as in "the prodigal son." But when you remove the "son," it means something totally different. A prodigal son is someone who lives his or her life lavishly without paying any mind to what's happening. I decided to redefine it as, more or less, someone who is independent and successful. In a nutshell, I'm The Prodigal who has a son.
You launched your solo career in 2017, yet only released your debut album in 2021. Why was that?
At the time, I felt that going from announcing my solo status to releasing an album soon afterwards, would divide and anger our fans. Fans who were actually not trying to listen to anyone — they needed time to heal. Our fans were heartbroken and had hopes that P-Square would get back together. So, they were never going to listen to anything else.
Secondly, even after the four years, this album could have been out four or five months ago. There were so many issues that delayed it. Firstly, because of what happened to my DJ and artist DJ Switch during the #EndSARS protests last year. I didn't have the conscience to release an album when she was on the run. That was one of the main reasons I postponed the album. Around the same time, I lost my father-in-law. I'm happy that the album is finally out and think its timing is perfect.
How long did you work on the album?
I've been working on the album for as long as I've been a solo artist. And there was a trick to it! I kept releasing singles for the past four years, knowing they would never make the album. For example, my hit track "One More Night" featuring Niniola never made the album. In essence, I was trying to find out what my true fans really wanted from me. Were they expecting an R&B song? Did they want me to do a dance song or one they could just vibe to?
As someone who has gone from a group to a solo act, and based on my knowledge, I shouldn't be pursuing the same style as the group's. I wanted to create a new sound for myself, and I'm happy that it worked out. I hardened myself with words like: 'Listen. The risk that I'm about to take will either kill my music career or take it to the next level.'
If I wasn't certain about a song, I would release it as a single just to gauge what fans thought of it. I think that's why people didn't know what songs to select when this album finally dropped. It's been around three to four weeks since the album's release and we've done a lot of numbers. Bro, I'm happy and excited. I feel like I've won the World Cup or the Grammys [laughs], you know?
Which producers did you work with?

For this project, I decided to work with young cats, then brought in the big dogs as well. When I talk about young cats, I'm referring to DaiHard and Goldswarm. Goldswarm produced almost ten tracks on the album. Then, there's another guy called Kealz, who produced one song; Sarmy Fire produced two songs and Shuga worked on "I Do," and "I No Like Trouble". Much as I went solo, I wanted to do my own thing but also wanted their input. I brought in Foster Zeeno, a well-known legendary mix engineer who's been mixing P-Square songs for years. I brought him in to ensure the audio and output sounded right. He did a fantastic job!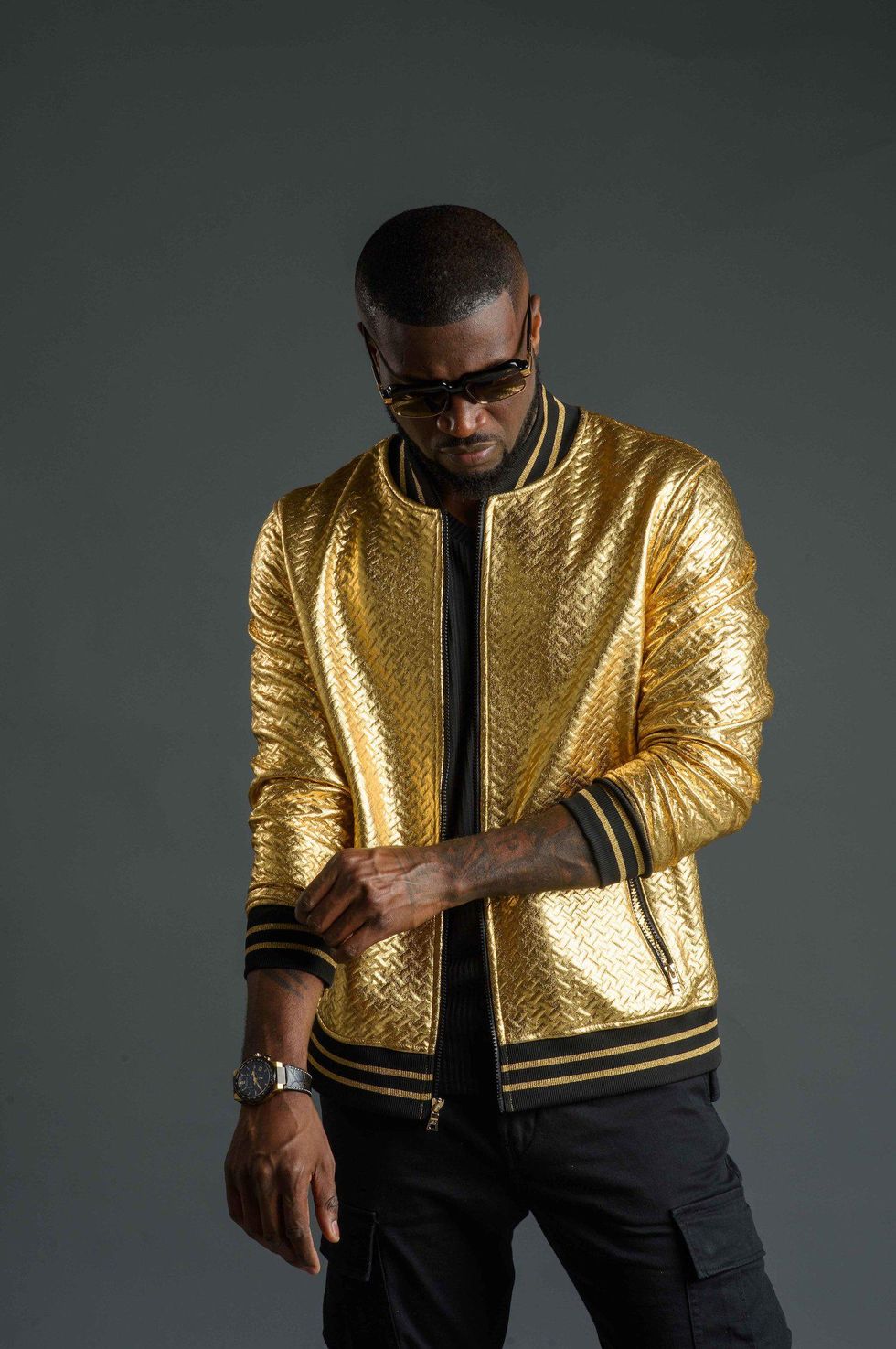 Mr. PPhoto courtesy of the artist.
Tell us about "I Love You." How did you manage to get Teni, Simi and Tamar Braxton all on the same song?

Like I said earlier, I'd been working on this album for a long time. That song was done two plus years ago. Tamar Braxton is a friend, and I'm a huge fan of all the Braxtons. Two or three years ago, I got a call from Tamar saying they were coming to Nigeria and needed someone to host them. They were, actually, shooting their reality TV show Braxton Family Values at the same time that I was working on my own reality show The Okoyes. The Braxtons wanted me and my family to appear on their show. When they arrived, Tamar insisted on meeting Teni and Simi. So of course, I called them. We all had dinner at my place. Afterwards, I started playing the piano and my guitar — and we just vibed. I liked what I was hearing and suggested we head to the studio, which is about five minutes from my house. We arrived at 11pm. I told them: "Listen, I don't want this to be a normal collaboration. I want it to be more like a duet." No one had their own verse, you know? And that's how we got the song done.
It looks like you're also attempting to introduce new stars on the album. Tell us more about Singah and Ovikelz.

I discovered Ovikelz as a dancer. He won my reality TV dance show called Dance With Peter. I didn't know he could sing until he sent me his demo, so I signed him. Singah is a dude I discovered on Instagram. He had videos where he was singing, no instrumental — nothing. I DMed him asking to hear more of his music and invited him to the house. When he started singing with his eyes closed, all my house staff came out to listen. I asked my staff if I should sign him and everyone was like, "Yeah!" I featured Singah on two songs — "Paloma" and "Lola Diego." He co-wrote these two songs and others on the album as well.
What plans do you have for label P Classic Records?
I use it to run all things entertainment. The full company name is P Classic Co. I use the entertainment hub to run my entertainment show, my dance show Dance With Peter, my record label and my artists. I love doing my own thing.
What's your favorite song on the album?
Answering this question might be damaging to the rest of the songs on the album. I actually wrote to my fans asking them which music video to shoot next. These were the top five they voted for: "Odo", "I Love You," "I Do," "Paloma," and "Lola Diego." Personally, I feel like every song on the album is important.