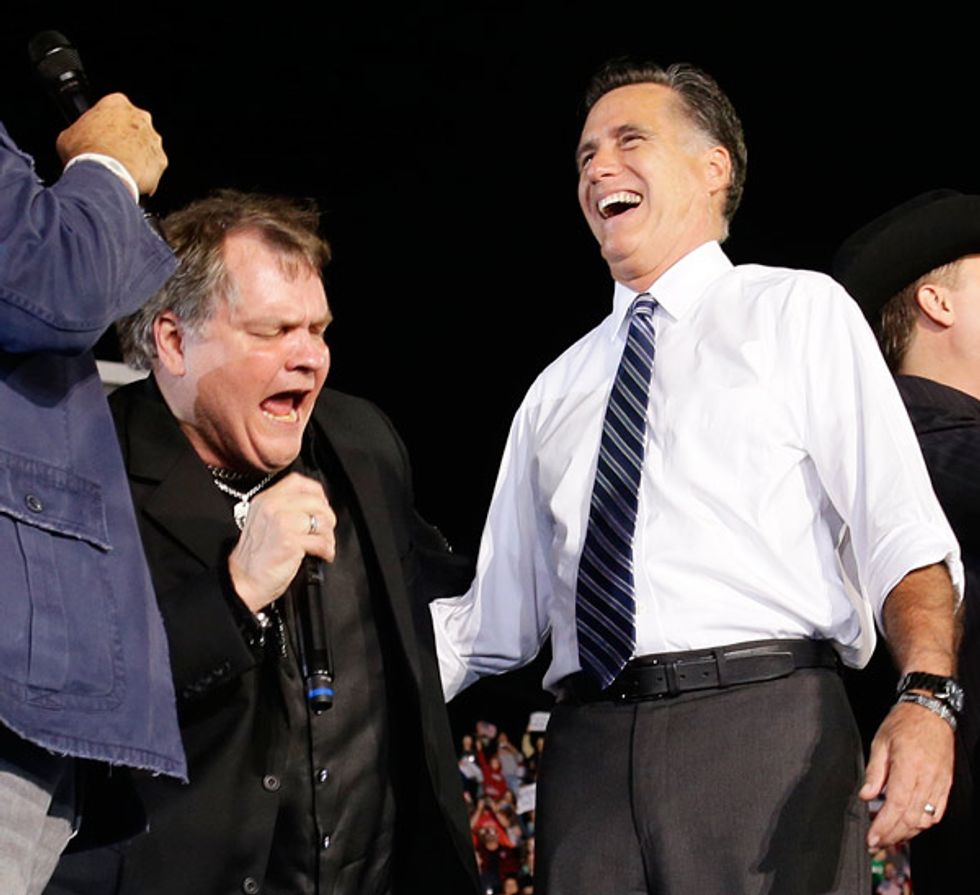 ---
This year's US presidential election has featured an array of musicians, and their offerings have revealed a fine line between entertainment and aural assault. Mitt Romney stood by as Meatloaf mauled "America the Beautiful," a painful succession of moments that amplified the question surrounding Mitt's good sense. The musical situation on the other side of the political divide was slightly better: Barack Obama enlisted Jay-Z, whose famed lyrical dexterity gave way to the kind of arthritic wordplay that substitutes "bitch" for "Mitt."
As an antidote, we've compiled a few of the wittiest (and downright ridiculous) examples of political music. Unlike most of what we've seen on this year's campaign trail, these artists find ways of commenting on their social and political contexts with thought, nuance, and humour.
[embed width="620"][/embed]
Tha Suspect, "SUBsidy"
At the height of January's Occupy Nigeria protests, Nigerian artist Tha Suspect stepped into Fela's pants to address President Goodluck Jonathan's withdrawal of the fuel subsidy and to denounce government minister's huge budget allocations. The song also called out D'Banj's unintentionally hilarious song in support of Jonathan's presidency.
[embed width="620"][/embed]
Wanlov the Kubolor, "Green Card Freestyle"
Mitt Romney closed out last month's foreign policy debate by calling the US the 'hope of the earth', drawing from the fount of US exceptionalism that inspired much of what was said that night. Wanlov's freestyle for BBC 1Xtra insists on telling a much more difficult story of life in America from a migrant's perspective. If Amiri Baraka (& Gil Scott Heron & Kanye West) asked "who will survive in America?" then Kubolor's searing verses outline the many ironies and compromises involved in that survival:
To be legal you've got to be marry, or you could join the navy,

But you don't want to kill Iraquis, coz life is worth more than some khakis

So I guess you've got limited options coz Uncle Sam don't do adoption

Unless you a basketball or soccer star, footballer …
[embed width="620"][/embed]
The Very Best, "Yoshua Alikuti"
Back in April this video set the blogosphere abuzz because of its playful riff on Lil Wayne's topless strutting in his "A Milli" video. "Yoshua Alikuti" also riffs on a song by Malawian singer Phungu Joseph Nkasa titled "Mosa wa Lero" which hails former Malawian President Bingu Wa Mutharika as the Moses of his people. Nkasa came to regret the song and publically denounced Mutharika as a despot, but The Very Best added a playful slant to the idea of Bingu-as-Moses. The title of the song in English asks "Where is Joshua?," recalling that it was Joshua, not Moses, who led his people out of the desert.
[embed width="620"][/embed]
Kaleta & Zozo Afrobeat, "Country of Guns"
With its Afrobeat stylings, this track from Kaleta and his New York ensemble rebrands the United States as the "country of guns," the lyrics highlighting the irony that the nation is home to "250 million people and 250 billion" firearms. The song resonates given this year's mass shootings at the Aurora movie theatre in Denver and at Wisconsin's Sikh temple. Instead of mobilizing a concerted political movement for tighter gun controls, much of the discussion that followed examined the gunmen's mental states and motivations. Kaleta's track suggests the costs of this peculiarly American understanding of liberty.
[embed width="620"][/embed]
Sister Deborah, "Uncle Obama"
This offering from the sister of FOKN Bois' Wanlov speaks for itself. But think of all the cash that could have been saved on campaigning if Obama's people had got wind of this sooner.