In 2020, Kenyan award-winning filmmaker Ng'endo Mukii was one of several filmmakers worldwide approached to pitch for a Vimeo series titled "Stories in Place". The focus of the series was to track how businesses were working through the pandemic. The second edition of the series focused on Black filmmakers.

Ng'endo was chosen alongside six other Black filmmakers — four in the US and two in the UK — and chose to tell a deeply personal story about her mother Njeri Mereka. Njeri is a smooth-talking, hymn-singing 67-year-old grandmother who runsKanyoko Boutiquein Nairobi, Kenya — a business she unintentionally started from the boot of her 1990 Toyota Corolla. She is also a survivor of an abusive marriage who despite personal tragedy, makes her mark in business.
Ng'endo's film is the first in the Vimeo series to get over 100,000 views (currently at 112,000 views.) The title of her film, "Kesho Pia Ni Siku" is a Swahili idiom that translates to "Tomorrow is another day."
Ng'endo Mukii is an award-winning film-director, renowned for 'Yellow Fever', her documentary-animation exploring Western influences on African women's ideals of beauty. Her films have won numerous awards, including Silver Hugo for the Best Animated Short at the Chicago International Film Festival, Best Short Film at the Africa Magic Viewers' Choice Awards, Best Animation at Kenya's Kalasha Awards, and the Encounters Immersive Grand Prix. She is a writer on multiple upcoming Netflix series, and works as an independent filmmaker in Nairobi.
---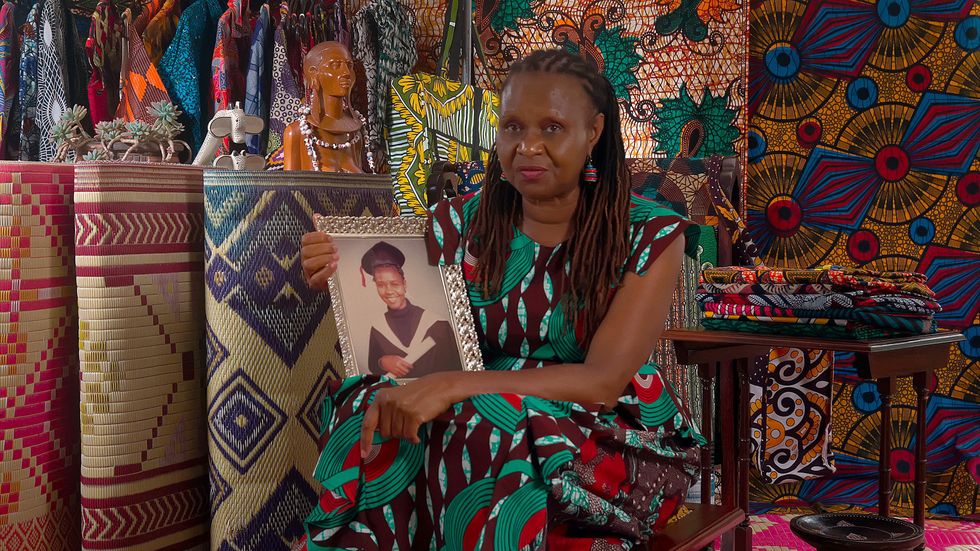 Njeri Mereka, the subject of the Kenyan film Kesho pia ni siku produced by her own daughter Ng'endo Mukii. Supplied
What was your inspiration for telling this particular story?
When Vimeo approached me about the project, I wanted to focus on my mum's business, and the process behind setting it up. However, as I worked on the story, I realised that her personal history was tightly interwoven with the creation of the business. Soon, I realised that there was really, only, one way to tell her story. Her intimate life experiences as a woman forced her to set up this business. It was an act of survival. Her gendered experiences in Kenya couldn't be separated from her journey into business, and creating Kanyoko Boutique.
My mum was very keen on sharing her story to encourage other women, and everyone else to search for new paths and recreate themselves when necessary. Kanyoko is derived from the Kikuyu word for beautiful. When our older brother was born, women would joke that he was so beautiful that he should have been a girl. My mother named the boutique to honour him after he passed away as a teenager. My mum loves the idea that our brother, Mereka, has finally gotten to travel. It had been a big dream of his and now this film, that she sees as a representation of him, is traveling all over the world and inspiring people.
"There is so much trauma and harm that happens to women in Kenya, and everywhere else. And there is an idea that your silence serves best to protect the community. As the victim, your story is never important."
What has the reception been like, especially, given that it is such a personal story?
A lot of people have found the film inspirational for their own personal journeys. We are taught to stay in shame and be quiet or to forgive and forget, especially as women and people in marginalised communities. A lot of people have written to me saying 'this is my mother's story', 'This is my grandmother's story'. These are stories they have been forced to hold in silence. It feels so symbolically powerful for many women around the world to see this story being shared. The response has mostly been positive. People find my mum very interesting. They love the way she talks. They feel close to her and interested in her work. There's a comfort in witnessing someone say 'this happened to me, and I still made it' even if you cannot yourself.
Numbers don't lie and Kesho pia ni siku has been doing exceptionally well. Was this surprising at all?
It was the first film in the series on Vimeo to pass 100,000 views. I was happy that there wasn't a Western dominance when it came to this series. It's exceptionally exciting that Kesho pia ni siku is doing so well and breaking records, especially given that it's the only film from our continent. It was so unexpected. All the films have been doing super well, and it also shatters the common narrative that there is no appetite for Black films.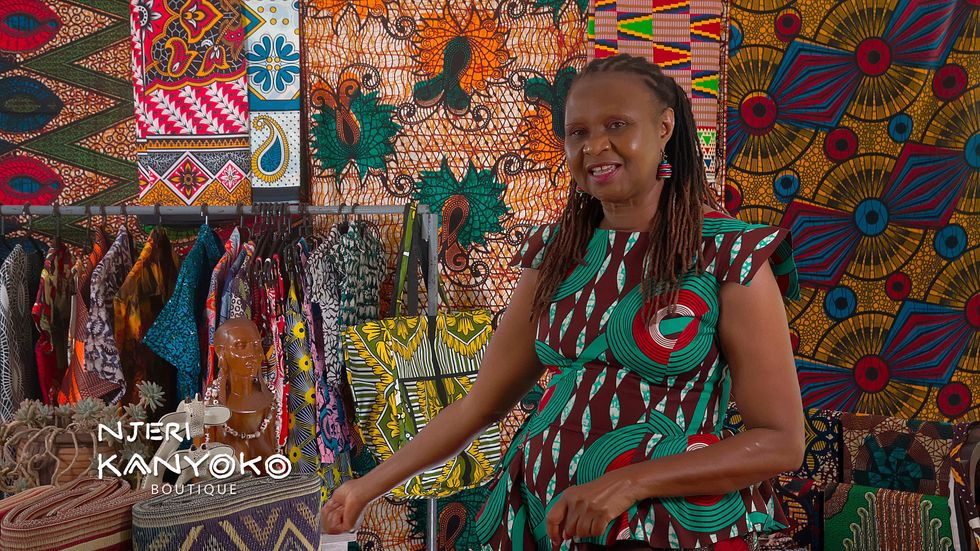 Njeri Mereka at her Nairobi-based Kanyoko Boutique. Supplied
How have you dealt with some of the negative feedback?
There has been some negative response and it's mostly related to protecting the patriarchy in the family. 'By talking about your trauma, you're shaming the family. Your silence is the way to protect the family image.' Accountability doesn't exist in any form for most of us. This is the closest form of accountability many people can even hope to access – sharing your own story. But this isn't even allowed, because we have to 'protect the perpetrator's image, which is wrapped up in the family image.' There is so much trauma and harm that happens to women in Kenya, and everywhere else. And there is an idea that your silence serves best to protect the community. As the victim, your story is never important.
I find it tiring that we don't even have the originality to practice our own misogyny. Traditionally we had meetings where violations and harm would be discussed and decided on by the community. The silence we practice and enforce with fervor today, isn't even ours. It's imported. Silence is the British way of operating. Empires operate through silence. Colonialism requires silence. The silencing of women and marginalised people in our communities, is a leftover of colonial doctrine that we should do away with. It harms everyone.
Your mum talks about financial freedom in the film and its importance for women. I would love to hear more on this.

I think even the idea of women being gold-diggers or slay queens comes from this. The idea that you should never benefit financially from your own marriage is ridiculous. Cows are being exchanged for you – so who, if not you, should benefit financially? Everyone else can benefit from this but not you. Let's not even add the sacrifices that women are expected to make in their own livelihoods and careers to run a home and raise children. Men can choose to have as many children as they want with no expectation that their careers should be interfered with. Women can find themselves in marriages where the men control all the money and they have no say. If I was a man, I would hope my partner is with me because they choose to be with me, not because I have crippled them financially and they can't leave. There is a fear that women being financially successful means women have options and if they have options they wouldn't choose you. If that's the case though, the relationship is already broken. We don't even teach girls about financial independence and management. The idea is that you will meet a man and he will decide what happens with the family finances. This controls your present and future in entirety.
"I find it tiring that we don't even have the originality to practice our own misogyny."
What do you plan to work on next?
Over time, I'm seeing my interests as an African woman and my experiences come out even more in my work. I hope for more opportunities like these ones where I get a grant and have creative freedom to decide on what I as an African woman want to talk about.
Where can people watch Kesho pia ni ski?
It's available on Vimeo. You can connect with me on social media viaInstagram andtwitter