Ndidikanma "Ndidi" Emefiele is a 29-year-old, mixed media artist from Northern Nigeria who, like many artists, got her start scribbling and sketching. From the age of 7, she began entering art competitions in elementary school.
---
"Being an artist truly came as a calling I had to heed to," she says.
Emefiele's scribbles matured into painted landscape influenced by her exposure to impressionistic works in art books. But as her passion for that artistic approach waned, Emefiele's signature style emerged characterized by daring portraits of black women with piercing gazes, wearing natural hair and glitzy eye-wear, an accessory she found fascinating as a child, painted on canvas with knickknacks randomly collected over the years such as compact disks, clock bezels, textiles, wires, pearls interspersed as accents.
Courtesy of Ndidikanma Emefiele
Emefiele uses the feminine form featured prominently throughout her series of bold works to explore and challenge the social, cultural and religious pressures she has seen women face in Nigeria and beyond. Her latest " The Rainbow Series " extols the traits she values most in black women, which epitomizes her creations' vibe: beautiful, strong and dynamic.
Okayafrica checked in with Emefiele over email as her exhibition at the Gallery of African Art in London wrapped on July 3 to learn more about "The Rainbow Series"as well as the woman behind the captivating contemporary art. This interview has been edited and condensed.
Erin C.J. Robertson for Okayafrica : How did you come up with the concept for your latest "The Rainbow Series?"
Ndidi Emefiele: "Rainbow series" was a reaction to the anomalies in society particularly focusing on the female. I use the forms in that series to raise questions on how society constructs identity in defining and confining the roles of gender while highlighting the pressures mounted on the female. I [use] sunglasses to provide protection by shielding her from the dangers in a space that provides little or no safety for her. I'm questioning the role of culture, family,tradition and the relationship between sexes in shaping the identity of a person. I'm using the female form to deconstruct some of these fixed notions by using clothing, bodily features and masculine gesture.
Courtesy of Ndidikanma Emefiele
Who is your intended audience, and what message are you wanting to convey to them through your creations?
I'm looking to a society that is more accepting of weakness,individuality, personal choices. One that is more human and less judgmental. A society that allows everyone of its own to thrive. I'm using these works to create a safe space. I'm also offering protection to whoever needs it.
Courtesy of Ndidikanma Emefiele
I noticed African wax prints prominently in your work, what is the significance?
African prints popularly called 'Ankara' are symbolically regarded as a symbol of pride and motherhood, among many other meanings. They also have a rich cultural meaning besides their colorful and vibrant nature. There are certain cultures that require an intending groom to present these fabrics to his in laws-to-be as a marriage rite. Ankara fabrics are also presented to new mothers as a way to welcome them into the terrain of motherhood. These prints holds diverse meaning to different people as well as names given to them 'sweet mother' etc. It's a way to infuse culture and its richness into my practice.
Courtesy of Ndidikanma Emefiele
How has your style evolved over the three series you've made: The Rainbow Series, Waiting and Horny Ayo?
When I feel like I haven't been able to say all that needed to be said with a single piece, then I turn it into a series just so I can deal with that subject in depth.  My style continues to evolve as I seek new ways to approach the work and I'm constantly taking risks with materials.
Courtesy of Ndidikanma Emefiele
What are the significance of centering your work on black feminine as well as the proportions and expressive eyes that appear throughout your work?
Addressing these issues bordering on the female is important because I grew up in space that allows the woman to suffer for being female, supports it and encourages it. It denies her of privileges afforded to the male and totally disregards her, and it is a norm which should be kicked against.
The eyes give you access to the soul and communicate the most, so I considered them a very important feature.
Courtesy of Ndidikanma Emefiele
Could you set the scene of your optimal creative working environment? How do you approach your craft?
Airy and spacious because I'm claustrophobic. Cold drinks because I get thirsty too. Music to get into the zone. [And] a lot of walls because I make large works with all tools and materials intact. I don't like communal studios very much because I'm a little scopophobic (having a fear of being seen or stared at by others).
As my work is mostly figurative, I start with sketches.  The initial sketch is to determine if I'm working on the right scale before other decision-making.
Courtesy of Ndidikanma Emefiele
What's an unusual fact you're willing to share about yourself?
I have developed a pattern of waking up at odd hours to look out my window in the hopes of finding an angel or another supernatural being lurking by as I'm aware they exist and live among us.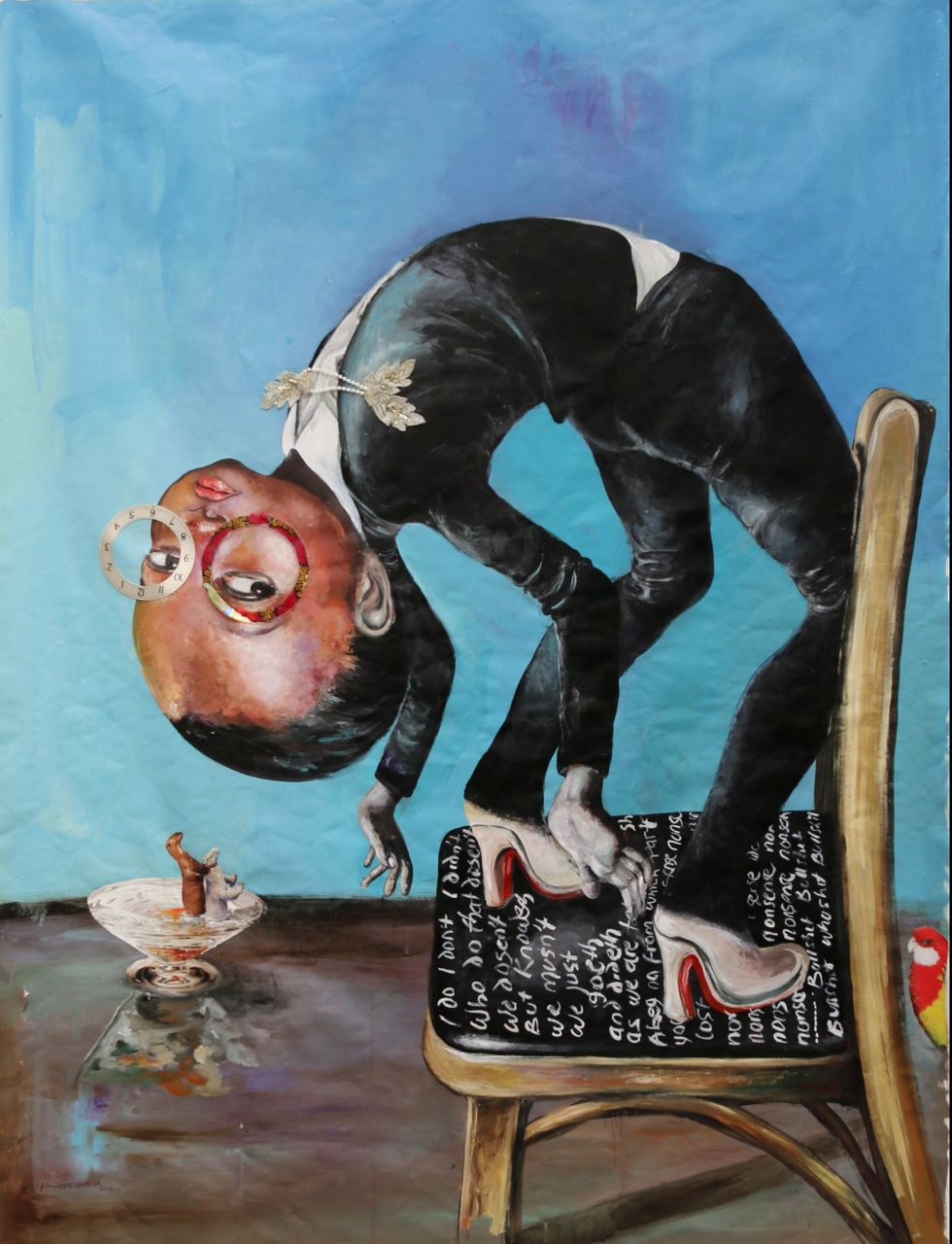 Courtesy of Ndidikanma Emefiele