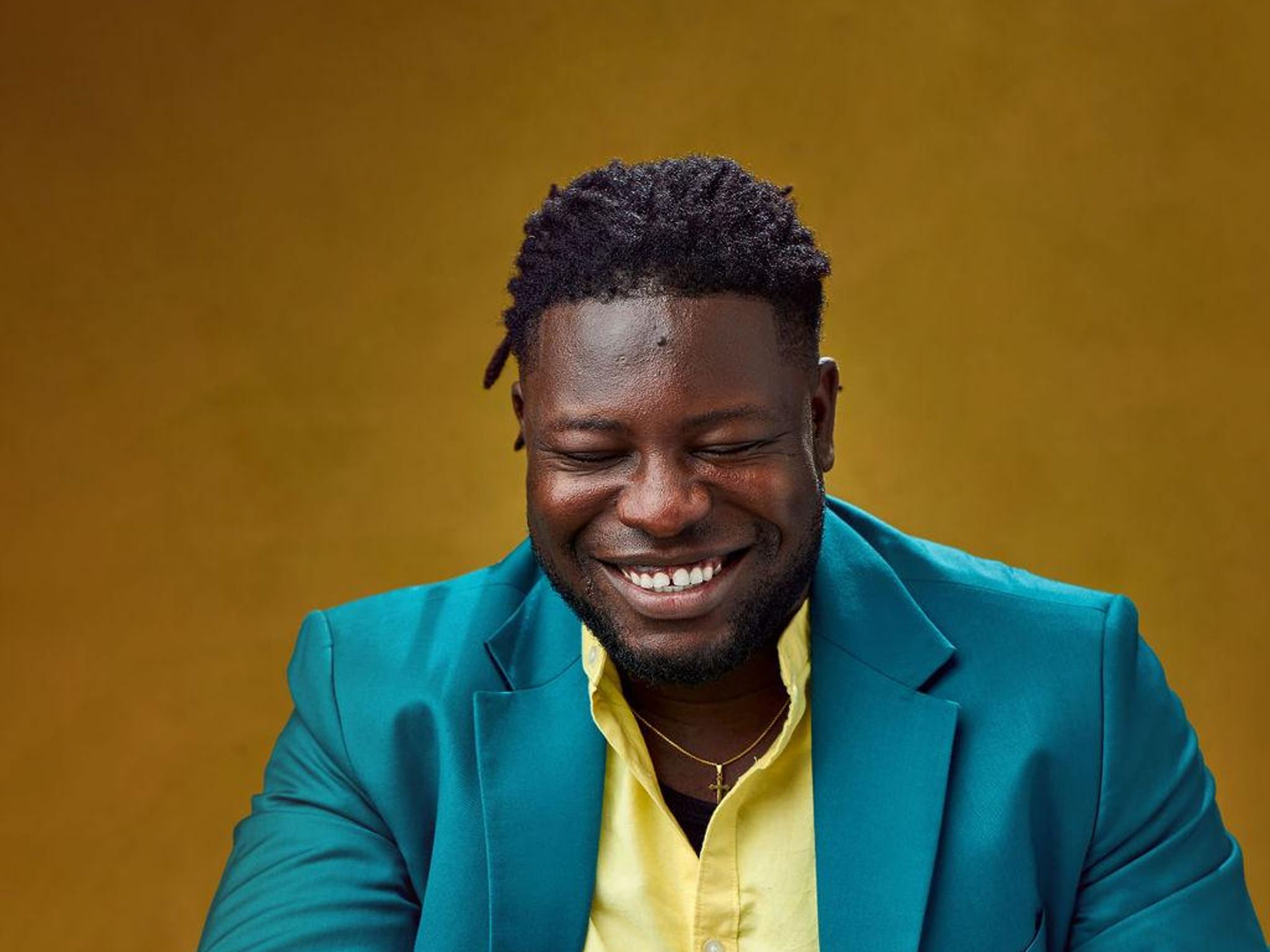 Photo: courtesy Temitope Dada
The commercials and documentary maker who's worked with leading names in Nigeria hasn't been in the game for a long time, but he's already leaving an indelible impression.
TV commercials in Nigeria are as old as television is in the country, but the quality of them has only just recently started reaching world-class standards. It's thanks to exciting young creative filmmakers like Temitope Dada, popularly referred to as "Dabest" by his friends and protégés, that TV ads in Nigeria are something worth talking about.
"To be honest, I don't know how the name came about," Dada told OkayAfrica with a glee evident in the pitch of his speech. At the time of this conversation, he's on vacation in Accra, Ghana for a birthday getaway. Having just turned 30, the interview gives Dada the chance to reminisce on his filmmaking journey so far. A journey that led him to one of the biggest youth-recognition platforms on the continent -- the Future Awards Africa -- in February this year, where he was nominated in the cinematography category.
"When Facebook became a thing in Nigeria, I was trying to create a username and Facebook suggested "Dabest" and I picked it. I was a café attendant and graphics designer at the time," he says.
From starting out as a café attendant, to becoming an underpaid graphics designer, to a photographer, and now one of the most celebrated TV commercials directors on the continent, Temitope's evolution has been one that even he didn't exactly see coming. Growing up in a suburb in Ikeja, Lagos, it was never his plan to be a filmmaker.
"I just wanted to be rich, to be honest," he admits. "I was one of those kids that had no idea what we wanted to make out of life. Did I do anything film when I was younger? No, but I knew I had love for computers and all that." He remembers trying to repair broken radios and mobile phones as a teen. After high school, he befriended the owner of a cyber café and that gave him unlimited access to the facilities there. "That was where I learnt how to use CorelDRAW," he says.
It was a pivotal moment in Dada's life, and kickstarted his informal education in visual creativity. He studied Geography at the University of Lagos but dropped out in his very last semester. This was partly out of necessity. "It is all just the quest to live a better life," he says. "In my first semester in the university, I lost my mother who was my major financier. When she died, there was no money coming in from anywhere. I needed something that would give me enough money to sustain myself in school. Photography did that for me. So I was just chasing the money. I switched to filmmaking because I realized I could do more with my talents and make more money, too."
The other reason for leaving university was because Dada considers he was ready to do so. He considered himself to be at the peak level of his cinematography career at the time when he made the decision to discontinue his education. And he doesn't regret it.
"I don't have regrets, but the fact that I got out of college in the second semester of my 400 level disturbs me sometimes," he says. "I was just tired of the entire school process, and I had started gaining traction in my career. I felt that my career needed more attention than the classes I was attending. Perhaps I will regret it in the future, but right now, I don't. I love my life!"
In the year since he directed his first TV ad in 2021, he has become popular for his detailed-approach to shooting. In his words, "story is king."
"I learnt in the very early days of my career that if you get the story right, every other thing is just like adding sauce to an already made stew," he says. Research is a major part of his process, too. "I'm a sucker for knowledge. I have a whole wealth and gallery of projects saved to my YouTube and Pinterest and other platforms. What makes my work unique is my understanding that each project is different and requires a particular style; a particular way to execute."
When asked how he was able to build this name for himself in the space of just one year, Dada says it's a combination of things. "I think it's intentional branding, plus I'm a good person," he says. "I've learnt to be accessible to people. I have random conversations with people you probably would think I don't respond to. Presently, I try to have a policy of replying to all my meaningful direct messages on social media. I'm open to people, and I'm an OG too. I've worked with a wide number of creatives and I was good to them, so I deserve the same respect with which I treat people."
Dada's catalogue of work includes projects for multinationals like Guiness, Martell, the UN, Havana Club, Chipper Cash and leading names in Nigeria like GTBank, Nigerian Breweries, Abeg, PiggyVest and a long list of others that also includes working with artists like Tems and Burna Boy. Still, of all these, his favourite project is one that never got released for airplay.
"It was the first advert I ever directed," he says. "A colleague of mine was trying to create social media content for a company and I decided to shoot that for free. It was so good, but the company never got back to us." It turned out to be a fortuitous experience. though. "Later down the line, when it was time to shoot my first proper television commercial, it was the same guy that was on the table of decisions and he chose me to direct it, even though I had zero experience."
From then on, Dada decided to take the art of TV commercials even more seriously. "When I get a project, I read the brief and because I most likely have already watched a good amount of such material already in my life, I start picturing what the brief is all about and videos similar to what the brand is trying to create," he says. "I already have references in my head. Then I share with my friends to sample their thoughts on what I'm creating."
Dada has taken what he's learned and used it to help train other young Nigerians interested in doing what he does. He runs a cinematography training program called "Shoot, Edit, Repeat," which he believes is his way of giving back to society.
"One of my goals in life is not to be the only king," he says. "I want to be able to look back and say, 'Oh, these are the people that I have pointed in the right direction.' Shoot, Edit, Repeat involves seeing people with zero knowledge in filmmaking become very experienced and sought after in the industry. We have had six editions in two Nigerian cities, and we have had a good number of successful students come out of the classes. That makes me very happy."
Dada is driven by impact and how many lives he can affect positively. As a person who is constantly evolving, it is his resolution to always help as many people as he can, regardless of the umbrella under which he does so.
"I don't have to wish for more projects because I know I have lots of those ahead of me," he says. "Fulfilment for me would be looking at the industry and being able to point out a number of people that can say that I have been instrumental to their journeys and growth processes. That's what I cherish the most."