A few minutes before midnight on a June evening, there was a line of people attempting to gain access to an unmarked apartment block in Lekki Phase 1 — a suburban neighborhood in Lagos State. To the uninitiated, it was a regular house party in the heart of Lagos Island, which is populated with young people in their 20s. For the attendees who had a flier on their phones and a passcode on their lips, this was an event they had looked forward to for weeks. When they arrived at the doors, they were all asked for a passcode which transported them into a vibrant pulsing party which had drag queens walking across the room and men in shorts that barely went past their crutches gyrating on other men while afrobeats blared. Welcome to queer nightlife in Nigeria where, on weekends, apartments turn into gay clubs, barred with passcode-guarding doors to protect against homophobes.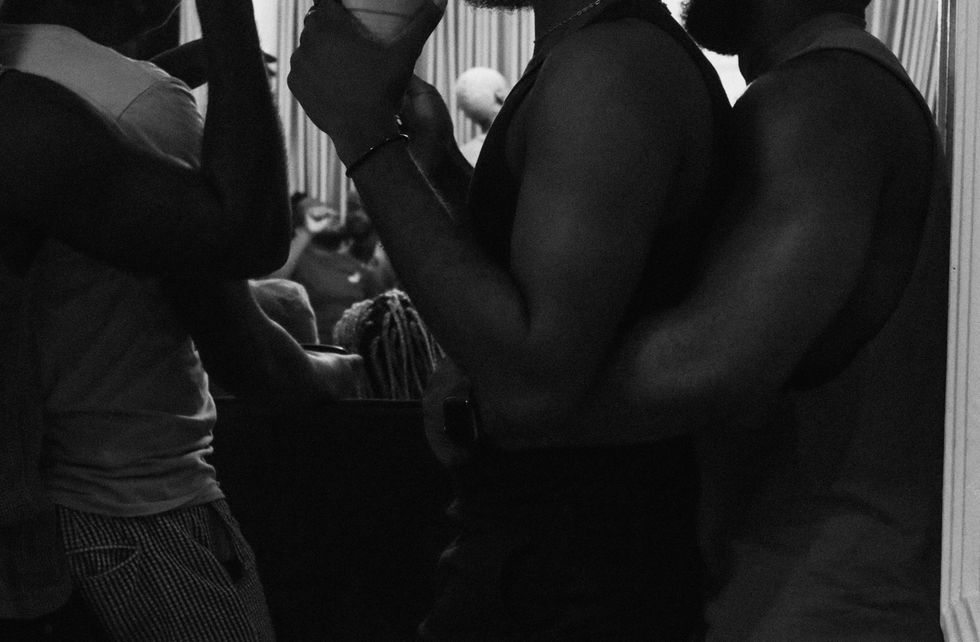 Secret house parties, discrete raves, and clubs are now becoming increasingly popular amongst young queer Nigerians.
Photo Credit: Adedamola Odetera
Across the country, especially in the big cities like Lagos, Abuja, and Port Harcourt, lounges, clubs, and bars dedicated to the LGBTQ+ community have started sprouting despite legislation that makes it illegal for them to exist. In 2014, the Nigerian government passed the highly controversial and homophobic Same-Sex Marriage Prohibition Act. Despite the name, the law would go on to criminalize many other aspects of queer existence and not just marriage between people of the same sex. The far-reaching law criminalized queer social spaces, groups that advocate for queer rights, and even individuals advocating and supporting queer rights. The law also went on to prescribe a prison term that could go up to 14 years for those who were found guilty of these crimes in southern Nigeria. However, in Northern and mostly Muslim Nigeria, where Shariah law takes pre-eminence, these crimes could lead to death by stoning. While there isn't an extensive record of people being found guilty for these crimes in Nigeria, these laws emboldened many homophobic mobs who took the laws into their hands and would beat individuals who they identified as queer and destroy spaces and parties that they suspected were hosted by or for queer people. One of the most infamous instances was a 2018 case where 57 men were arrested at a party in Lagos under the suspicion of being initiated into a gay club. While this particular case garnered significant press coverage as the men were made to go to trial, it is far from being the only case of its kind. It is fairly common for the police to raid suspected queer parties to arrest everyone in sight — often with little to no proof of the suspects being gay.
As a result of the laws and law enforcement bodies in the country, queer nightlife in Nigeria has been forced to go underground. Bars and clubs are left behind for parties in apartments. Recent years have seen a resurgence in the public profile of queer nightlife in Nigeria — partly thanks to a rise of resistance against oppressive systems within Nigeria that have been supported and have originated on social media, more queer people are becoming brave and open about queer nightlife in Nigeria. Secret house parties, discrete raves and clubs are now becoming increasingly popular, especially amongst young queer Nigerians. Creative collectives like hFactor and Pride in Lagos have pushed the narrative even further by organizing pride-specific events and raves in Lagos over the last few years.
"''I had been to clubs before but this was different. There was a freedom I didn't feel in other parties."
Photo Credit: Adedamola Odetera
''My first time at a queer party in Nigeria was in 2021. A friend invited me to a hFactor event and It was such an experience,' Peju, a 23-year-old bisexual man tells OkayAfrica. ''I had been to clubs before but this was different. There was a freedom I didn't feel in other parties. Guys were grinding on guys, girls were flirting with girls. There wasn't a need to pretend to be something I'm not.''
However, attending these events comes with specific risks. Guests often took precautions — attending the parties with friends, letting their friends who weren't there know where they were at and confirming there were accessible exits at all times. For many of these attendees, they may have never had to use those themselves but they know of people or at least have heard of people who have had to. Tamuno, a 31-year-old gay man, tells me of a near-capture experience when he had gone to a party in Port Harcourt in 2020.

''There was this party that happened weekly. It became kind of popular and more queer people started coming. What we didn't account for was that neighbors had realized it was full of queer people,' Tamuno said. ''One day, we were all at the party and they surrounded the house. Some of us managed to escape, others weren't as lucky. I wasn't lucky.'' Tamuno recounts that after being taunted and shamed and then stripped to their boxers for a relatively long time, the police then came. ''The police coming to carry us was what saved us because then my brother, who I called, was able to bribe them to let us go. Whenever I think about what would happen if the police hadn't come, I experience a full body shudder.''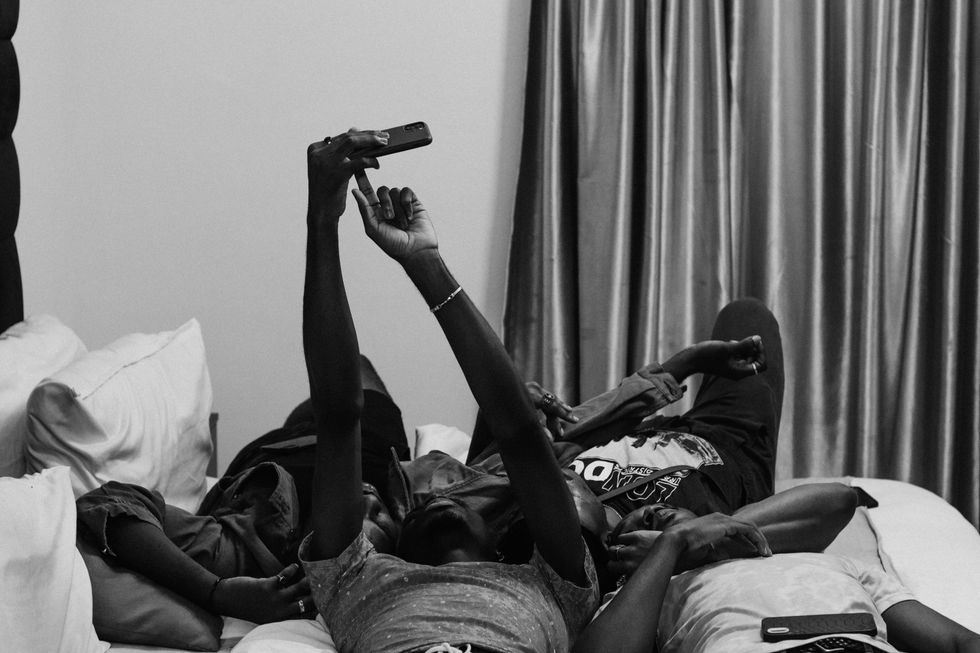 Organizers have to find ways to limit people who can gain access to these parties.
Photo Credit: Adedamola Odetera
To help combat this, organizers of these events prioritize security and the safety of their guests. It is important that attendees feel safe from homophobic attacks from civilians and the armed forces. To achieve this, organizers have learned to deploy multiple guards.
''Everyone's safety is a priority to me and this means that multiple channels of security are constantly put in place to help safeguard our guests.'' Kayode Timileyin, one of the organizers of Pride In Lagos tells OkayAfrica. ''The first of which is the fact that all our events are only by a registration and verification process. Also, external security guards are made available. Lastly, we go all out to look for a real safe space.''
It doesn't end at just verifying the identities of the guests. Organizers have to find ways to limit people who can gain access to the location. This might mean generating a password only verified guests are given or keeping the exact location — and sometimes even date — a secret and only given to the verified guests. For these organizers, these security measures are put in place, not against potential miscreants or robbers but instead to keep off the police force and homophobes.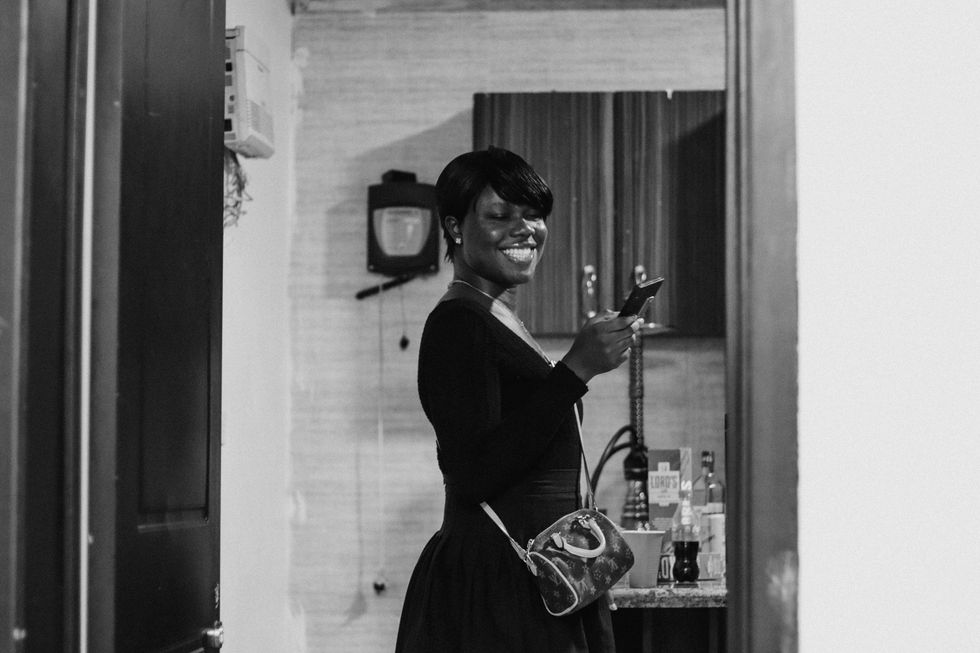 Despite dangers, the queer nightlife scene is bustling and thriving.
Photo Credit: Adedamola Odetera
The underground nightlife scene in Lagos is bustling and thriving — despite the laws that criminalize it and the constant danger. This illustrates the spirit of resilience amongst queer Nigerians who choose to reach for any semblance of freedom they can find even if it is on the dance floor for just a night.
''My experience getting arrested traumatized me. It scared me. I was getting beaten, and paraded and I was so scared that they would kill me. But they didn't so of course, I'll party again," Tamuno said. ''I still go to these parties and I'll still keep going. It's not that I'm scared. It's just that when I'm on the dance floor surrounded by other queer men, I feel like my true self. I feel happy. I feel content. And that's what I want out of life. If I die because I am seeking that, that's fine.''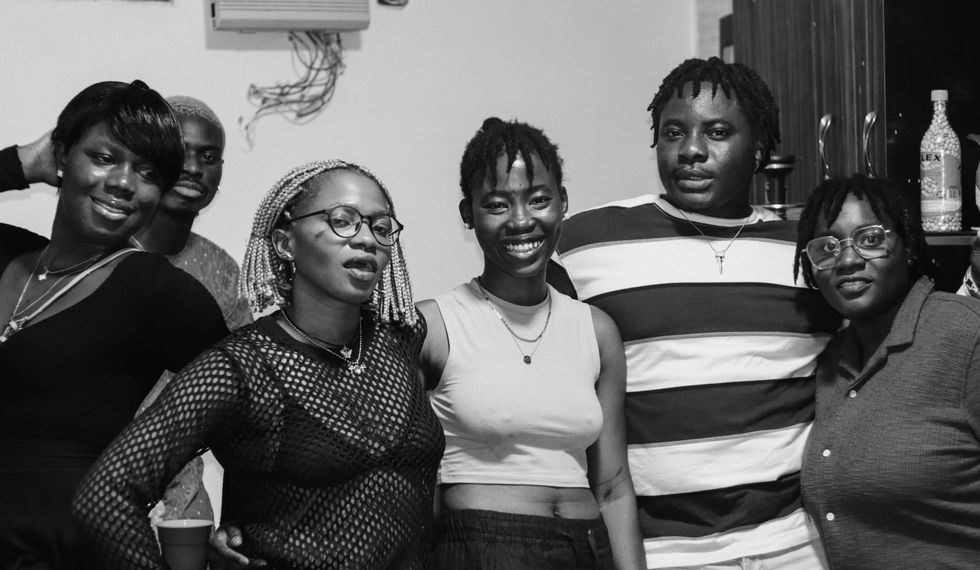 More queer people are becoming brave and open about queer nightlife in Nigeria.
Photo Credit: Adedamola Odetera