For beatmaker Kel-P, the road to royalty seems inevitable. In just three years, the producer has managed to work with both Wizkid and Burna Boy, the latter of whom he helped in crafting his recently Grammy-nominated album African Giant.
Shortly following his work with Burna, Kel-P went on to collaborate with Wizkid on both "Ease Your Mind" and "Mine" from the recent SoundMan Vol. 1EP, for which he seamlessly tapped into wider pallets such as jazz and reggae.

Now, Kel-P is searching further afield. With a constantly evolving sonic-offering and several collaborations with US artists on the way, the beatmaker has his eye firmly on foreign markets. We caught up with him to discuss his rise to afrobeats prominence, working on African Giant and SoundMan Vol. 1, Grammy nods and the recent interest in African genres beyond the continent.
---
How and when did you get into song production?
In 2016, my passion led me to meeting the producer Sarz, who was already established. He helped me in creating a song that I was working on at the time and even gave me pointers on my producer tag "It's Kel-P vibes." I stayed under the guidance of Sarz for around eight months until mid 2017, that's when I really found my feet and started working with other artists, establishing my sound.
What is the landscape like for producers in West Africa right now?
It's not an easy place for us right now, it's actually super competitive. You have to come up with your own sound that's unique to you so that the public can identify with it and who you are. You need to be able to record thousands of beats to get the few which sound distinctive enough to offer out to clients. A lot of people won't respect or acknowledge your sound in the beginning, but it's about perseverance. With me, people came to me after a while because of the live instruments in my sounds and the passion in my productions.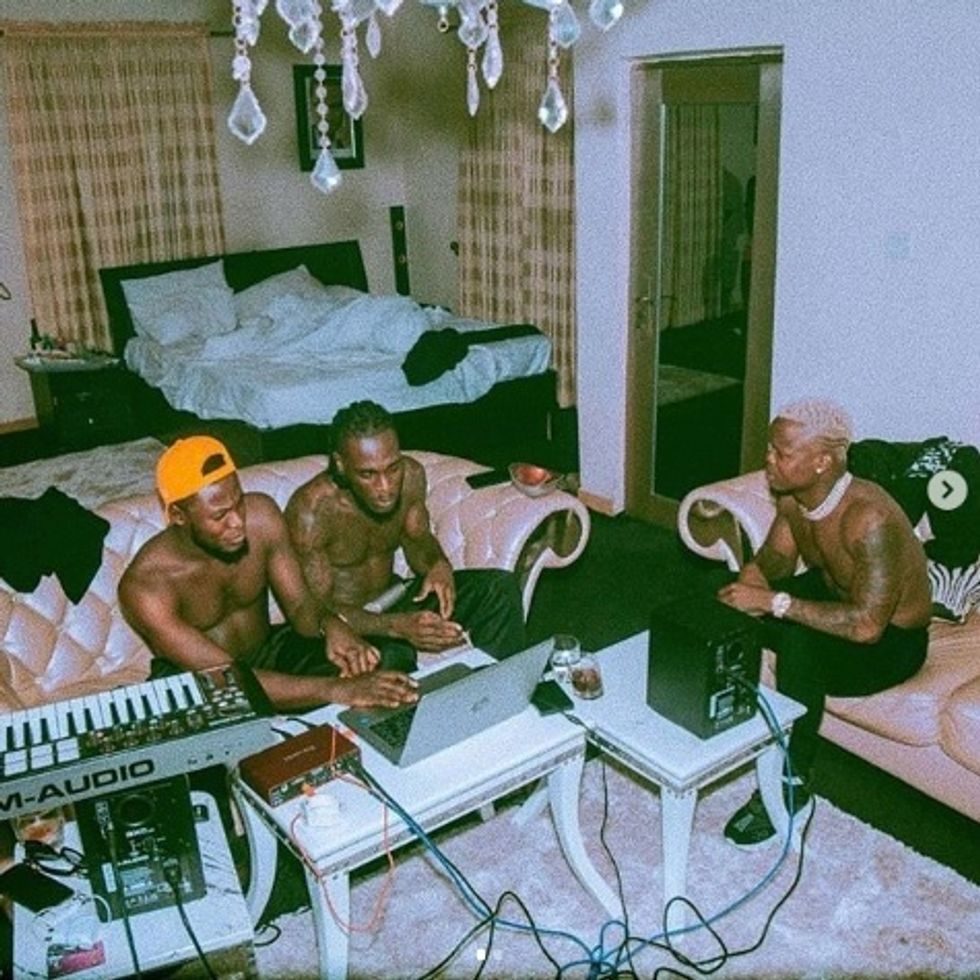 Kel-P and Burna Boy recording. Image courtesy of the artist.
Having produced 10 songs on African Giant—including "Dangote," "On the Low," "Gbona," and several others—how does it feel to have worked on the now Grammy-nominated album so early on in your career?

I really can't believe it man, it's surreal to me still. I was so quiet and still when I found out the news about the Grammys, I had to take it all in. My Instagram and Whatsapp were both going crazy before I'd even found the "congratulations" messages. To win the Grammy would mean so much to me, I'd never let that award leave my side, even in the club. It was a great time overall working with Burna Boy, one of my favourite artists so far.
You've also worked with Wizkid on his recent SoundMan Vol. 1 project. Are there differences between the way Wizkid and Burna Boy work in the studio?
Absolutely. Burna Boy is a very fast songwriter, he can have a song ready to go in half an hour. Whereas Wizkid takes longer but is detailed in his approach to the music. Both are so special in their own ways.
"Burna Boy is a very fast songwriter, he can have a song ready to go in half an hour. Whereas Wizkid takes longer but is detailed in his approach to the music. Both are so special in their own ways."
On SoundMan Vol.1 your productions toy with sounds outside of afrobeats. Describe your current influences as a producer.
I'm definitely focused now on reggae. I'm in love with the sound and listen to Chronixx and other artists regularly for inspiration. I have some reggae cuts with Burna Boy too which are yet to be released. I just feel as though reggae needs to be acknowledged more, so I'm using it more and more.
Kel-P. Image courtesy of the artist.
With Burna Boy's success overseas, do you feel like afrobeats is beginning to breakthrough into the American market?

Afrobeats has been global for a very long time now. The UK is hugely important here because they were the first to embrace the sound and infuse their hip-hop with it. Now, it's a very popular genre in their region. Nigerians are now doing huge shows at the O2, that really shows how far we were already before.
Of course, last year was incredible and now we're taking over everywhere. Burna Boy was crucial in this transition. We've seen so much success last year and I'm so thankful that I can say that I'm in the mix of where afrobeats is going now. It's only going to get bigger.
What's your perception on foreign or outsider interest in African music today? Is it problematic?
I don't particularly see a problem, I think it's a good thing. Everyone recognises that our continent is the place for good vibes. I feel like on the whole, foreigners coming to our land and working with us is a positive because there's money to be made. It's time to connect and only build on what we've started over here.
Now, you've mentioned that a collaboration with Future is on the horizon. What does the record sound like?
I can't say much, but Future is going to step into my world here, he's stepping outside of trap. It's afro-pop, but with a twist. You'll have to wait to hear to get what I mean.
Who do you want to work with next?
Bruno Mars. I love his music and the way he uses pop and instrumentals. His vocals are like heaven. I definitely have a reggae song lined up for him. I'd love to make a whole project with him actually.