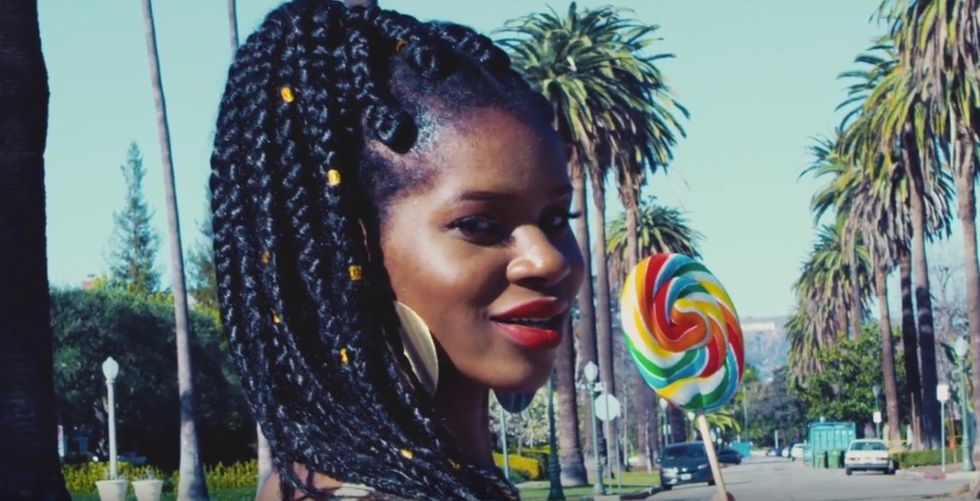 Los Angeles-based rapper Princess Vitarah has everybody talking about the "Nigerian Pussy" song today.
---
A Los Angeles-based rapper has everybody talking about her "Nigerian pussy" song today. The song and L.A.-shot video from Princess Vitarah are blowing up on social media one day since its drop.
And it's incredibly catchy, like the diasporic offshoot of Vitarah's dirty rap predecessors Lil' Kim, Trina and of course Khia.
Update March 5, 2016: The original "Nigerian Pussy" video was taken down by YouTube. It reached 120,000 before it was flagged as spam. The following video was re-uploaded by Princess Vitarah on March 3.
Vitarah's already making fans out of some of Nigeria's biggest artists, like Olamide, who she tweets is one of her favorite rappers.
Ds Nigerian pussy girl done blow ???

— Olamide Adedeji (@olamide_YBNL) March 1, 2016
@PrincessVitarah I love ur music ????????????????????? — Olamide Adedeji (@olamide_YBNL) March 1, 2016
Some people have no words. Others are loving every bit of it.
Someone sang a Nigerian pussy song? pic.twitter.com/pde2Xnh8sR

— Mr President (@duchesskk) March 1, 2016
People are arguing useless arguments when one babe is giving Nigerian P*ssy international recognition https://t.co/aysWAGhJaq — D-O (@PrettyboyD_O) March 1, 2016
This is probably the funniest video I've seen https://t.co/Xy18kaEQ9R ??????

— Sadeeee (@Shadurrrr) March 1, 2016
Vitarah also adds a new chapter to the age-old Nigeria vs. Ghana beef. As Twitter user @pappillo22 points out, "It's not even bout jollof rice anymore, now it's bout pussy."
"Nigerian pussy is the tightest. Ghanaian pussy is not!" ????? pic.twitter.com/OgVd6UhxyE — JANE DOE (@MsJaneAda) March 1, 2016
@PrincessVitarah I just watched your "Nigerian pussy" video did u have to attack Ghanaians???????

— King Akoh (@Akoh_) March 1, 2016
It's not even bout jollof rice anymore , now it's bout pussy . Nigerian vs Ghanian ??? — David sneh (@pappillo22) March 1, 2016
Babe literally tool the fight beyond Jollof rice. We await a rebound featuring maybe Sakordie on d GH side https://t.co/GqCE4UsOoH

— Sammy (@cream_sammy) March 1, 2016
That #NigerianPussy MC just killed me.. Yo what ghanian babe stole her man ??? — what are feelings (@JamieOnoja) March 1, 2016
??? #NigerianPussy vs #GhanaianPussy tf

— T Noris (@iam_NORIS) March 1, 2016
There's a hashtag about Nigerian pussy and its going viral lmao .... — Jack Sparrow (@GhanaBossman) March 1, 2016