Nixor Nicolas Omar Diop, 39, has been a driving force behind his Senegal's hip-hop scene for about two decades. Like any old-head or vieux père, as we like to call them, his love of rap is rooted in admiration for the likes of Doug E Fresh, Kool Moe Dee, Father Mc, The Boys, Bobby Brown. as well as Frenchmen Mc Solaar, Assassin, NTM, and IAM.

Nix got his start with the group Kantiolis in 1993. Black Crystal, his first solo album from 2003 so moved the youth of the time it got him a Senegalese Hip Hop Award. 2010 would bring his second solo project, Rime de Vie. This was the start of international success and paved the way for a collaboration with Wyclef Jean. In 2016, he dropped his award winning third album, Art de Vivre and the Excuse My Wolof EP.
The EP was a test, it was his first project comprised majorly of Wolof, the Senegambian language spoken by 80 percent of Senegal's population. Before then, his tracks had been in French. When Nix dropped Excuse My Wolof, he did so knowing that fewer people would be able to understand his rhymes. The return to his roots forced him to step out of his comfort zone and reinvent himself artistically.
Last Friday, Nix released his highly-anticipated 16-track album, Excuse My Wolof 2: The Ñuulest orThe Blackest. The name is a call to a period in the artist's life when he was made fun of for the darkness of his skin. It's also a state of mind and a celebration of using every aspect of yourself: your history, intuition and culture to create.
---
The project is comprised of multiple flows, a bit of crooning, meticulous production and essential hat tips to his bled; french slang for country. What's most enjoyable is an ever-present laugh that affirms the confidence and joy of someone seasoned in the game. To name a few, tracks like "Django' and "#Tfsl" bang, where "4 Dimanches" and "Midnight Athletics," evidently, cater to an audience seeking out a bit of seduction, and "Boul Falé" takes us to Jamaica by way of Dakar.

This album builds upon Nix's need to produce something that is wholly-Senegalese. Furthermore, his strength lies in his ability to place a generation of young, dynamic Senegalese creatives in one place. The collaboration behind this album is awe-inspiring: on production he's got FlagrandéliT andPassaBeatz, mixing is done by Samuel Tingbo and there are features by artists Aida Sock, Mennel et Obree, Mamy Victory, Omzo Dollar, Ndongo D (Daara J) and Gabonese MC MickyR. The overall artistic direction and visuals come from Papi and Mamy Tall. This just may be his magnum opus.
Nix sat down with OkayAfrica to discuss his body of work, progression in an industry he has seen change since the onset of his career, what it means to be a hip-hop artist in Senegal and the multiple avenues he's channeling his creative energy.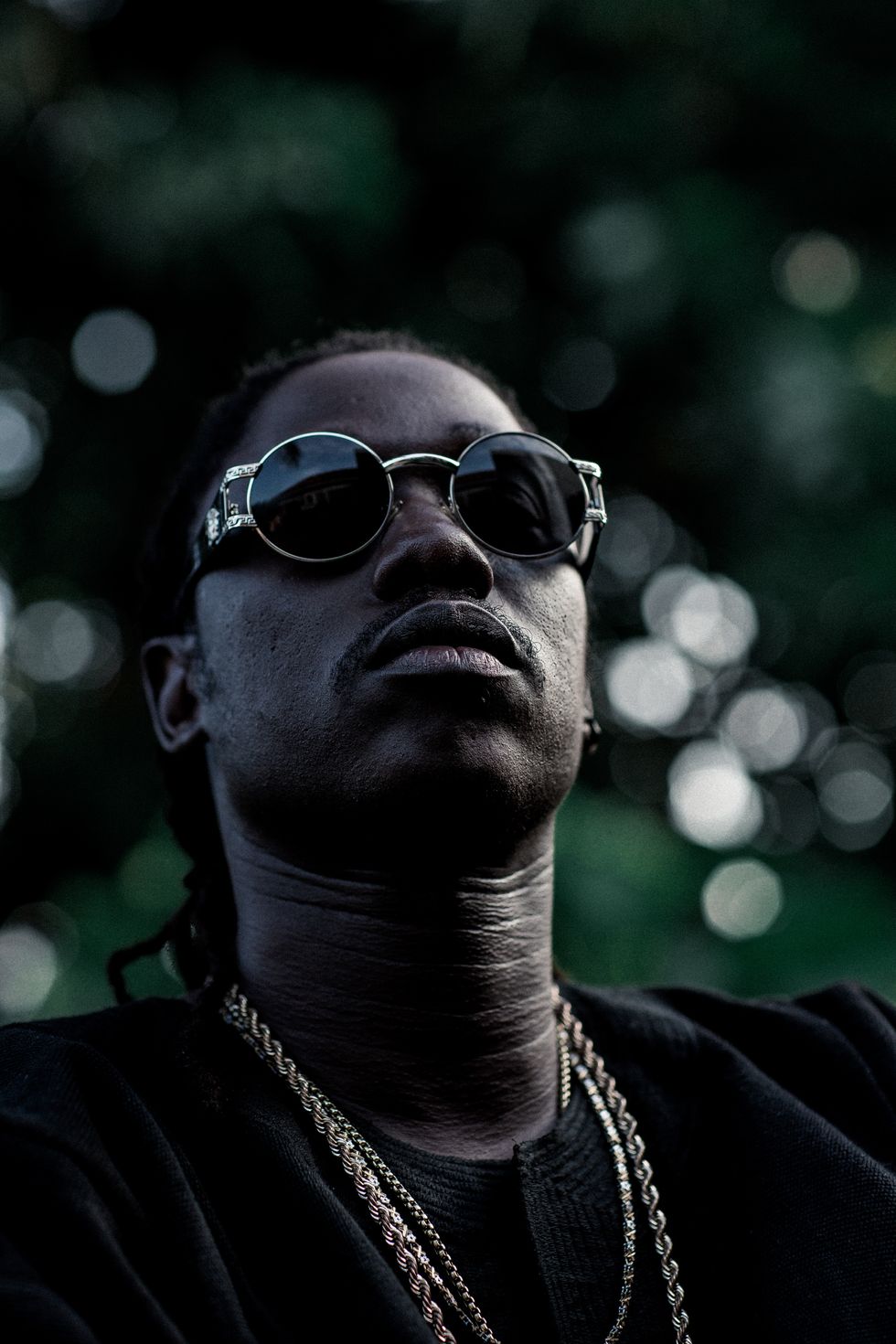 Nix. Photo: Sidy M. Kandji.
What's your favorite album you've released?

It would be this one. It is the most recent. It's fresh. Normally, when an album ages, you often say 'I wish I could've changed this or that. I wish I hadn't kept this.' I feel like I have this sensation that I have a new baby. I think it is my best album. My answer might change in two or three months, though.
I have to ask, is this the last one?
I'm going to continue. I still want to make music. I am still inspired. I don't know how much longer.
Rappers like you, Sarkodie, Phyno, Olamide keep heads bobbing while combating the linguistic marginalization in the music industry they are a part of. What brought on the desire to rap in Wolof instead of French?
I started rapping in Wolof because my Senegalese fans were asking for it. I wanted something new artistically. Rapping in Wolof creates something magical. When you rap in French in Senegal, you touch a smaller audience. I had the desire to cater to my fans' demands, step out of my comfort zone, and take risks.
It's paradoxical because you touch a larger audience at home but a smaller audience abroad. It's a passage in my career. I figure I don't lose anything in doing this. I also tell myself that it remains music. Even if you don't understand, you can feel the vibe.
Your album is comprised of a bunch of Senegalese creatives. What's it like being one yourself?
We're open. We enjoy traveling. We are very interested in what is happening outside of our country. It's a form of curiosity that feeds your inspiration. It plays a part in how we create today. I have seen a lot. I have a lot of experience. You can feel I've seen things and I've traveled and I've experienced quite a bit when you listen to my music. I am surrounded by creatives that are just like me and are also younger than me. They posses this artistic fervor. It's very interesting what's happening, at this moment.
You've been in the game over 15 years. What would you say is your legacy in Senegalese music?
People in the music industry: producers, fans, and artists have respect for the quality of my work. It's been more qualitative than quantitative. I haven't made many albums but everyone recognizes the quality of the work I have produced, the effort I have put into my visuals, videos, writing.
People have also said my desire to be so sharp hasn't always been the best for me. Music consumers like lighter music that is more commercial, where I always try to push the envelope.
How has rap/hip-hop changed from when you started to now?
It has evolved. Rap resembles it's generation. It's important to understand rap is the music of the youth, even if it is consumed by children up to people that are 50 and 60 years old. The majority of rap consumers who go to concerts and download albums the day they drop are quite young, which means they rule the game. New rappers and new beatmakers rule the game. It's a music genre that will always change because times change.
There are pioneers that will always be here to remind us that there's a history and certain artistic things need to be respected to give it depth. Trends will always be moved by the youth so that's something I accept. I accept it. I have no issue with it because I take the time to understand whats going on. People from my generation reject the new stuff. I tell them they are reacting how people reacted when we dressed like Kriss Kross. Take the time to understand the generation and what they are going through. There is always something positive to pull from it. The error is trying to imitate exactly what they are doing.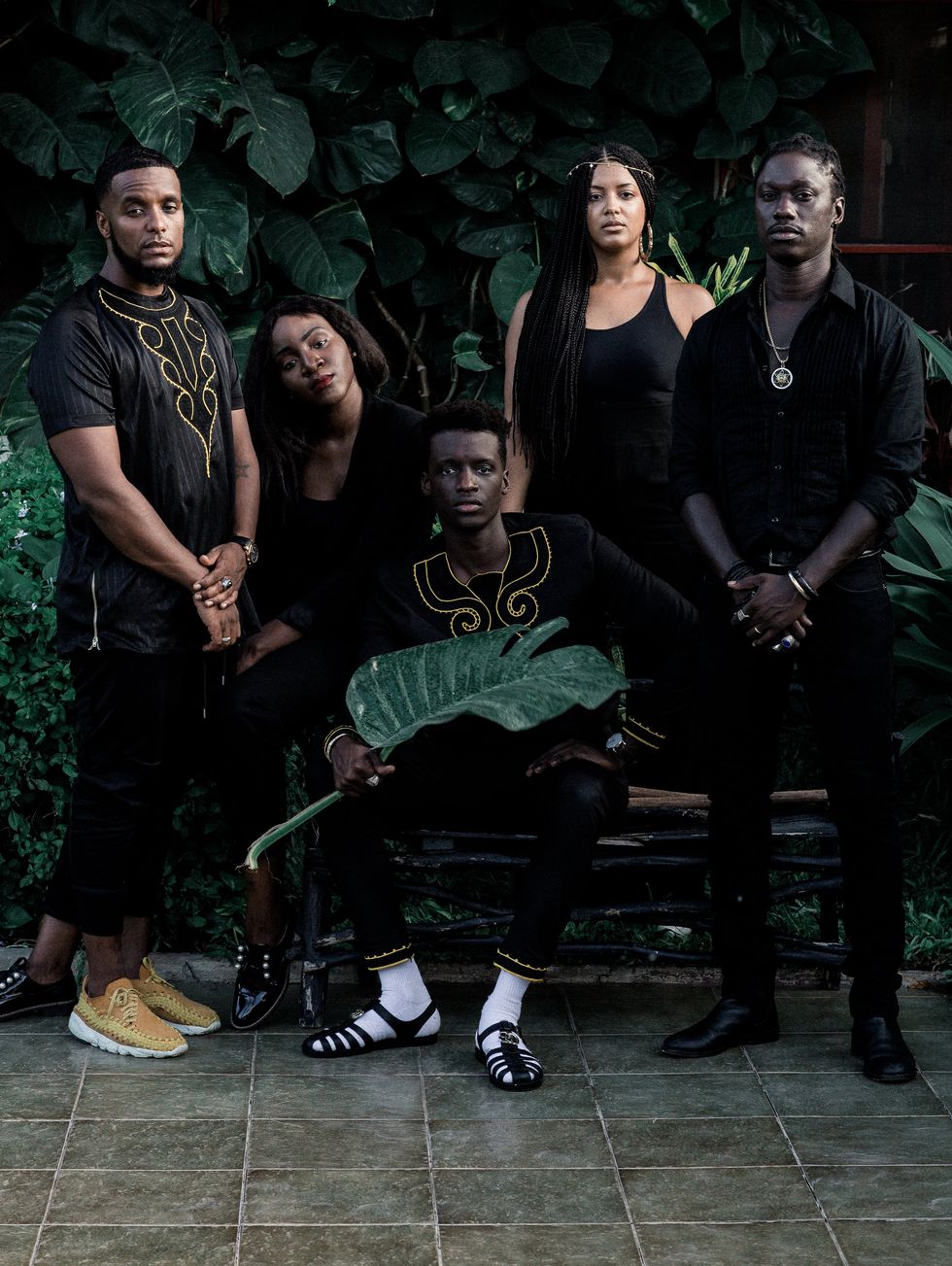 Nix and the squad. Photo: Sidy M. Kandji
What are your favorite tracks on this new album and what are they about about?

This is tough. It depends on my mood. "La boca" is an ego trip track full of punchlines and centered around the mouth. It is full of shocking and funny truths. When I say, 'Accéléré nah sa défaite nga doudou ko Slow Mo,' I'm saying it takes time to get over a defeat. Découpé découpé Mc boy Omzo tém niou oubi dibitérie is cutting MCs up and selling them like pieces of meat in a butcher shop.
"Highlander" is a 90s Canadian-French science fiction fantasy series about an immortal protagonist. The song is about my longevity in the game. I've never had trouble adapting and I am here to stay. "Talouniou Fo" translates to no time for games.
What do you hope to accomplish with this album?
I want to satisfy my fans; they've been waiting. I want them to enjoy and to understand my state of mind. I want to pass a musical cap. Today's challenge is to export this album despite the fact that it is in wolof.
Since you made the switch to wolof, do you think it still speaks to people worldwide?
I get support from fans who don't understand the lyrics; these people listened to me when I used to rap in French but say they still like it. When you are already an artist's fan then it's not difficult to listen to them even if their language changes. The hardest part will be people who don't know who I am at all.
A lot of people have discovered me through "La Boca." The music video is captivating. There's a visual challenge for the album, as well. It's going to be a package. It's a cultural project. It is more than just an album. I want the music that I created be a place for all the creatives involved to express themselves.
It's the artist Papi's first album cover. He's even going to direct a couple music videos. The same goes for Mamy Tall, who is an architect, but the brains behind the "La Boca" and "Highlander" music videos. This project shines a light on all of them and challenges to them to explore other creative avenues.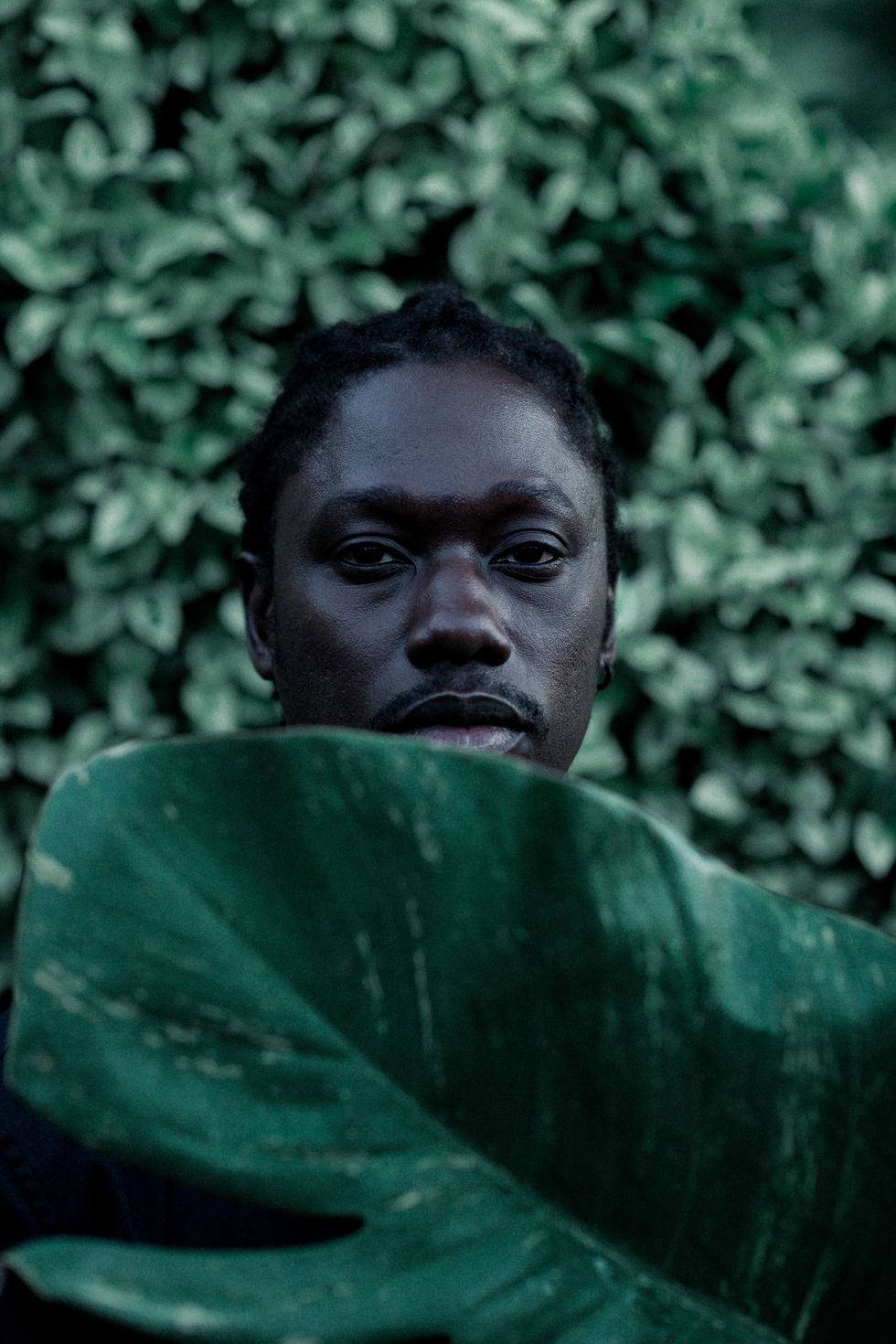 Nix. Photo: Sidy M. Kandji
In addition to creating riveting tracks, you've helped launch music app, Deedo. Tell me a bit about it.

Deedo is a music platform I started with my childhood friend, Awa Girard, to highlight pan-African artists. Listeners can enjoy rhumba, afrobeats, rap, mbalax, cabo, blues, techno and DJ compilations with a free IOS or android download. It's available in Senegal, Mali, Ivory Coast, France and we hope expand to over 27 countries by 2020. The venture is a humanitarian one, as well. Subscribers have the option to place funds towards the growth of NGOs.
You are also conquering the digital realm with Vudaf, a media platform that covers music, sports, social issues and current affairs. Tell me about that.
Vudaf is a play on vue d'afrique or African vision. It's something I got involved in a couple months ago. It's new. We don't have a large musical industry here. We have artists, talent, fans but no sound structure or distribution like there is in United States and in France. Beyond making music, if we have the funds, we owe it to the industry to contribute so we can better the market and help create a sort of structure. We need media to represent us and to create an equilibrium. There aren't enough African media companies dignifying the continent as strongly as France24 and CNN. We need media we control.
What's next for you?
I want to create visuals for every song on the album. To be honest, I'm very inspired. I decided to put out the album because if I didn't I never would've finished it. I kept recording. I had to tell myself to stop. I'm going to keep recording because I think I can come out with another project rapidly. We will see.
I have a capsule collection dropping with Mwamibased on the album. Deedo's development is going to take a lot of time. I have trips to Morocco and Bamako coming. I have a concert in Morocco in a few days, as well.
This interview was conducted in French. It has been translated and edited for this feature.