Uche Odoh, known to those in the Nigerian entertainment industry by her work moniker 'Visuals by Uche,' has been around for more than a decade. If you've never heard of her, chances are, you've seen something she was a part of on your screen.
Odoh joined the Amstel Malta Box Office competition when she was 18 years old to become an actor, quickly ascending to popularity. Since then, she has worked as a model, an event planner, and most recently, a director. Her directorial feature, Hell Ride, has had an encouraging festival run so far, having already picked up the Best Picture award at the Zuma Film Festival in April. Bringing the film to the African International Film Festival (AFRIFF), where it played to a full house for its premiere there, is a further reminder for Odoh that she's on the right path.
---
After AFRIFF, Hell Ride, a story about unlikely friendships, will travel on to play at other film festivals, seeking a distributor to get it onto streaming platforms. Odoh, who's currently working on her Master's in Film and TV Production at the MetFilm School, talked to OkayAfrica about making Hell Ride, and why she wanted to pursue a career in directing.
Interview has been edited for length and clarity.

You started at AMBO wanting to be an actress. What changed?
After the Amstel Malta Box Office competition, I realized that I wasn't sure about acting. So I started modeling, and I was also bored with it. But modeling made me realize that I was intrigued by the camera and the behind the scenes. I worked as an associate producer at Nigezie and my interest really grew. I later got a scholarship to study post-production at the Del York Creative Academy. And after this program, I had that eureka moment and I knew this was what I wanted to do.I interned on production sets in New York and worked in a music studio and when I moved back to Nigeria in 2013, I got hired at Spice TV as a producer and a director.
You sure did have a lot of experience in television. Did this help your career in film?
Definitely! By 2014, I got a scholarship to Vancouver Film School. I consider this the start of my film journey because I had worked on entertainment and lifestyle shows and not films. Nonetheless, it was an add-on to my work.
That makes sense. So how did you get into Nollywood?
In 2017, I ran into Tope Oshin at an event for work. I walked up to her and asked for a chance. It is one of the bravest things I've done and I'm happy I did that. She told me to meet her the next week on set at 6 am and of course, I was there. She saw my enthusiasm and interest and asked me to line produce for Evol, a film she was working on. That was my first opportunity in Nollywood.
We shot a film called Ever After, and I was the first assistant director on that project. From there, I got the opportunity to work on Up North, which she directed, and also King of Boys, with Kemi Adetiba. I had been a first assistant director for a while and I didn't want to be boxed in as that. I knew that as much as I enjoyed it, I didn't want to do it full-time - I wanted to be a director. So I put together some funds and got in contact with my friend, and that's how my first web series happened.
That's Life As It Is -- how did it come to be?
We shot that in 2017 and we released it on YouTube in 2019. That experience gave me so much confidence because it was my idea. It was nominated for Best Television Series at the 2020 African Magic Viewers Choice Awards (AMVCAs) and it was a testament honestly to the work I could do if I wanted to. After the show, I expected [to do] more directing but then the pandemic hit and it was a moment for me. I had a lot of creative juice which needed an outlet and that was how the idea for Hell Ride came about.
Walk us through that ideation process for Hell Ride.
Lagos is a chaotic city, and I wanted the opportunity to show that. I created it in a car, and It took six months to complete.. First, about a month or two to develop from the ideation to the script stage. We shot the film in 2020 after the lockdown was relaxed.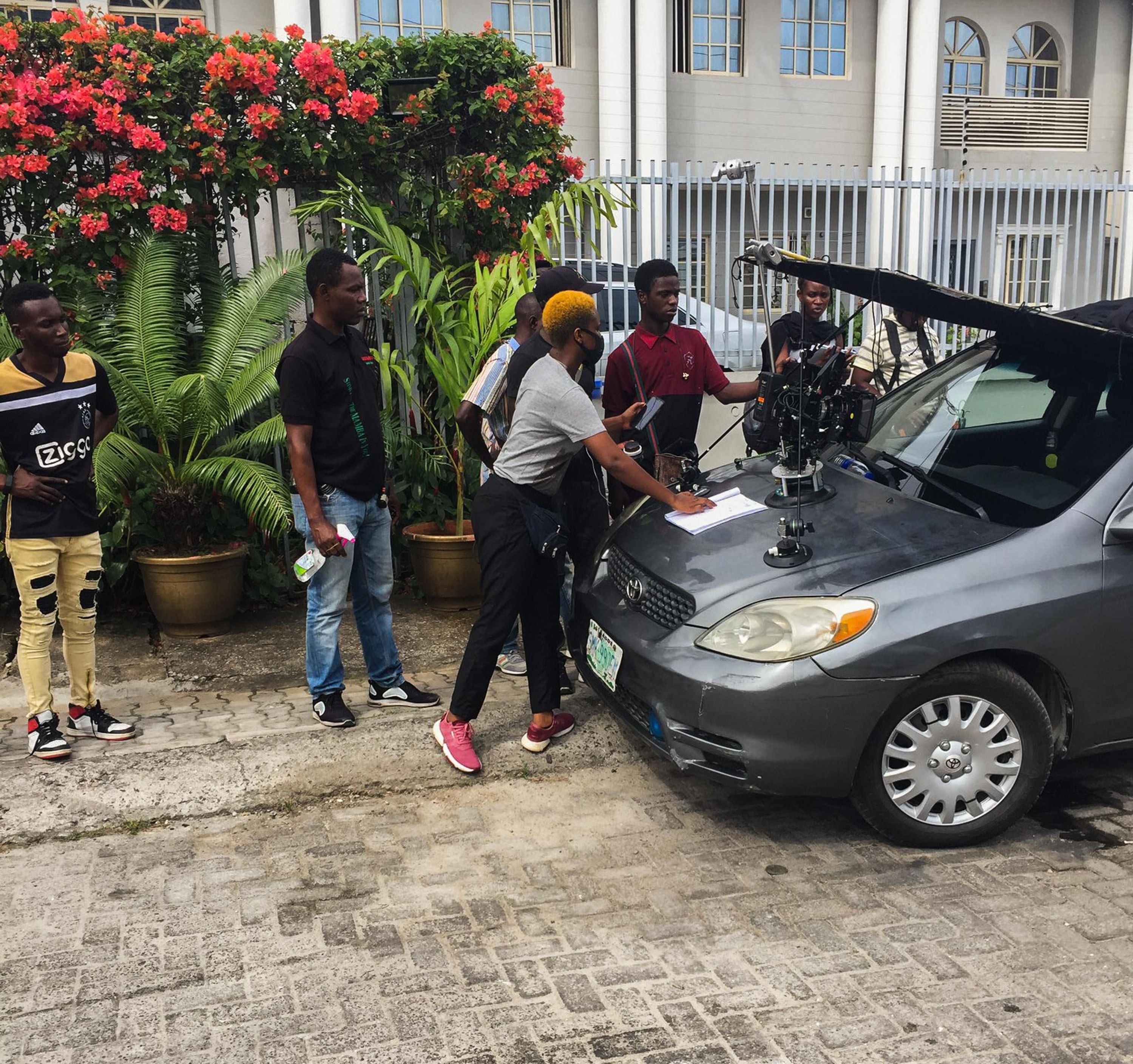 Uche Odoh wanted 'Hell Ride' to be set in a car, and it was shot in 2020 after the lockdown was relaxed.
Photo: Uche Odoh
What would you want people to take away from Hell Ride?
I'm a filmmaker that wants to talk about things in ways that draw people in and they can pay attention to them. In Hell Ride, I paid attention to the pressure of success by family, black tax, child molestation and sexual harassment, and even the challenges of being a woman in the workplace and a woman breadwinner. So these are some of the things I wanted to highlight with the film, and I want people to take this with them home and see the many ways it manifests in society today.
What was the hardest part of shooting it?
Funding. For this, I had to take a loan to work on, and even make use of available resources to shoot, and it was a lot. The first web series I made, it was the same experience. I used my friend's camera, gathered my friends and shot the project, and I'm happy with the work I made. I'm hoping that I get to the point in my career where these things are not a problem anymore and I have access to funds. Another challenge was shooting during the day. The race against time was something because once it was dark, that was a struggle for us.
Funding is a prevalent issue in Nollywood for filmmakers, particularly for younger filmmakers. Do you think there's anything that could be done?
Yes, definitely. I think that the government can play a pivotal role here by making grants available for filmmakers. The industry is a huge employer of labour and even a huge tourism asset. I also think brands and individuals can also offer support, and try to help us tell better stories with access to grants and funding opportunities.
While watching Hell Ride, I could see some elements of comedy in the film, and I know that the comedy genre is prevalent in Nollywood. What do you think about this?
I think that people just want to watch things that entertain them. So once it's entertaining to the audience, I think the audience jumps at it. There have been films in the past that have proven otherwise and I think it's just a constant reminder that the audience will watch what they like.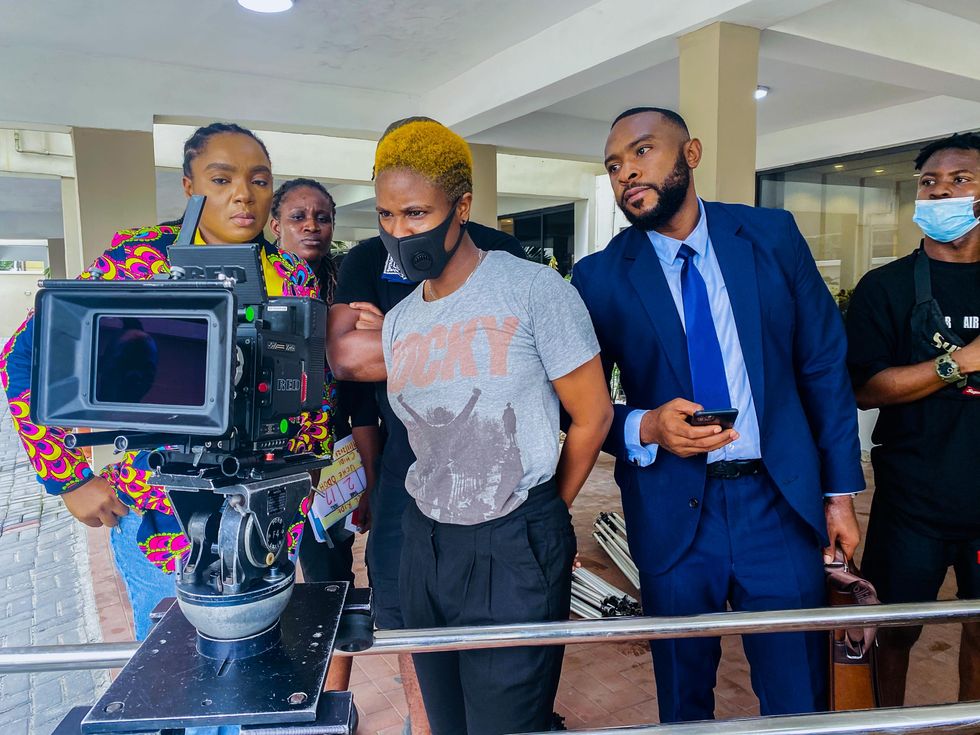 Uche Odoh says one of the most challenging parts of making the film was shooting during the day and having to race against time to capture all the shots before it became dark.
Photo: Uche Odoh
Do you ever see yourself going back to acting?
I think I'll start working on my films. I'm not in Nigeria now and I know what I want so let's see. If there are characters that I cannot find someone to interpret, I'll step in. It's not something I'm pursuing actively though.
What advice do you have for younger filmmakers?
I say it's very important to have people who would call your name in the rooms you can't enter. Having Tope Oshin [behind me] accelerated my career because once you hire her, you hire me. And it's not even just a function of a person. Tope gave me this opportunity because I had the skills and I get the work done. So while it's important to have people who mention your name, it's also necessary for you to do the work as well. You can have all the skills but if nobody sees you or nobody gives you the opportunity to, it's in your pocket.