Back in 2011, four Nigerian friends – Chinaza Onuzo, Zulumoke Oyibo, Damola Ademola, and Omotayo Adeola – had the idea to build a powerhouse production company, a studio that would produce films for Nigeria and for the world. A decade later, the company, Inkblot Productions, has signed a deal that will ensure this happens on a greater scale. Under a new licensing deal with Amazon Prime Video, the global streaming network will have exclusive, worldwide distribution rights for the company's slate of theatrical releases from 2022 onwards. The agreement also marks the first of its kind Amazon has signed with a leading African film studio.
As Oyibo told OkayAfrica, when they started the company, each of the founders had their own goals for it. "Chinaza had the idea to build an integrated movie studio that could attract global investment to scale." For Ademola, it was about creating content that they thought people would like. "This was initially web series and TV content," he says. "But Naz [Chinaza] showed us a clear path with movies in cinema." And that's what they've done since: expand into TV and film, and foster collaborations with other African countries too. "We initially thought that we would have to go into DVD distribution, but the rise of cinemas and streaming meant that we were able to meet our objectives in the more formal part of the industry," adds Onuzo.

---
This growth of Inkblot Productions hasn't gone unnoticed. In 2016, their romantic comedy The Wedding Party left quite the impression when it debuted at the Toronto International Film Festival (TIFF). It was the company's first major foray into attending an international film festival and reaching an audience abroad. "It reinforced the power of storytelling and that we can all connect with each other by telling authentic unique stories, especially ones that mirror the here and now realism of our society," says Ademola.
"Weddings are an important relatable point of connection and whilst people were aware of the importance of weddings not everyone was aware of the glamour, the food, the colors, and everything associated with Nigerian weddings and how epic they are. The Wedding Party portrayed that and spiced things further with drama. The movie also encourages diversity without tampering with the culture -- this fosters unity with, and among, the curious international audience who still engage with the film to this day, five years after its creation."
Along with The Wedding Party, which was directed by Kemi Adetiba, Inkblot also had another film, a thriller titled The Arbitration, showing at the festival. It was a big moment in the life of the production company. "We could never have imagined that in our wildest dreams," says Ademola. "Like the Nigerian music industry, we felt we needed to gain acceptance and success in Nigeria first and international acceptance would follow. And it has."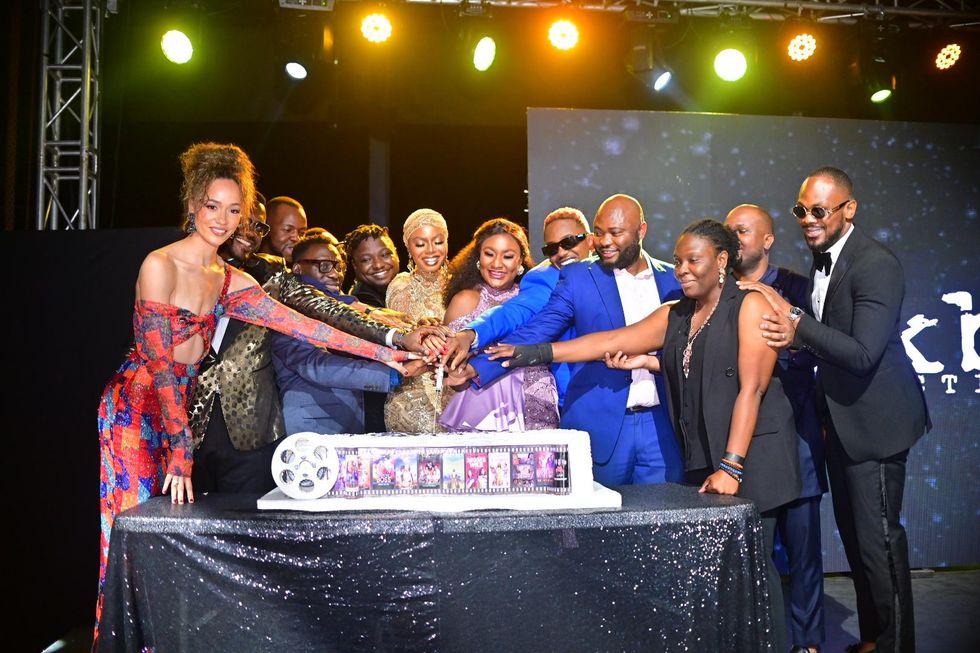 Founders of Inkblot Productions L-R: Damola Ademola, Zulumoke Oyibo, and Chinaza Onuzo flanked by cast and crew of its latest film 'Superstar' at Inkblot's 10-year anniversary gala and Superstar premiere on the 21st of December 2021 in Lagos, NigeriaPhoto: Inkblot Productions
Over the years, Inkblot has released blockbuster films in Nollywood - from The New Money series to The Set Up and Up North - satisfying the appetite of Nigerian viewers. But as Onuzo says, they believe these films have something to offer an international audience. "We believe that Nigeria is a unique voice that is ready for the global audience," he says. "The culture and unique heritage spread across over 300 tribes in Nigeria, coupled with the rich talent in front of and behind the camera is something the international audience will take a liking to. We have a robust and diverse local industry that is ripe for global domination. The real question is whether the international film space can keep up with us?"

The answer will soon be found. Under the Amazon deal new, Prime Video will launch upcoming Inkblot films to its global streaming audience of more than 200 million Prime members. "New Inkblot releases such as Charge and Bail (which released in the Nigerian cinemas in October 2021); Superstar (our newly premiered movie, billed to open in Nigerian cinemas nationwide from 29th December 2021), and The Blood Covenant which we recently wrapped up production for, will be seen," says Onuzo. Adds Damola: "All our movies will be launched on Prime Video after their theatrical releases here in Nigeria and this also includes upcoming films such as The Set Up 2,Moms at War 2, and New Money 3."
The deal highlights the value Amazon Prime Video sees investing in Nigerian and African film, and the interest streamers have in showcasing content from the continent as a way to increase their subscriber base outside of the US. It also follows the first African multi-title deal made last year by another streaming giant, Netflix, with Nigerian producer Mo Abudu's fast-rising company EbonyLife. "Nollywood is constantly growing and hopefully evolving," says Oyibo. "There are a lot of new styles, themes and genres to explore. A new generation of filmmakers is rising to the fore. So this deal is really not just for us at Inkblot alone. It signifies a global reach, a bigger market and audience to showcase our unique stories. We believe so much in the power of collaboration and are confident that this deal will be the catalyst that opens more global opportunities to further take our films across the world without barriers or limitations."
Inkblot is excited about the employment opportunities the deal stands to create for more people across the Nollywood value chain – from directors to writers, producers, cinematographers, editors, and more. "Most importantly, we hope that other production houses and filmmakers will be inspired to see that if we can do it, they too can do it and maybe even better," says Oyibo.