In 2019, Charles Okpaleke, a dynamic lifestyle entrepreneur, made an unforgettable entry into Nollywood with his debut, Living in Bondage: Breaking Free, a sequel to the 1992 classic of the same name. The film garnered critical acclaim and received immense love from audiences, securing seven prestigious awards at the Africa Magic Viewers Choice Awards (AMVCA) the following year. It quickly soared to become one of the top twenty highest-grossing Nollywood films of all time, solidifying Okpaleke's reputation as a force to be reckoned with in the industry.
Since then, he has embarked on a journey of remarkable milestones with his production company, Play Network Studios. With the production of blockbuster remakes like Rattlesnake: The Ahanna Story, Glamour Girls, and Nneka The Pretty Serpent, Okpaleke has single-handedly ignited a wave of nostalgia for the classics that served as the building blocks of the Nollywood industry. His influence in the space is so significant that other filmmakers have started remaking old classics or have them in the pipeline — all in pursuit of hits like Charles of Play.
In 2021, Okpaleke acquired the rights to the beloved 2002 hit film Aki na Ukwa and successfully remade it with acclaimed director Biodun Stephen. The movie opened with ₦30 million before landing a licensing deal with Netflix, where it is currently streaming.
Play Network Studios recently launched a revolutionary game, "Aki and Pawpaw Epic Run," the first-ever Nollywood game. The game features the superstar characters based on Chinedu Ikedieze (Aki) and Osita Iheme (Pawpaw) as they try to run through various hurdles, like masquerades and touts, to get points and coins.
In this exclusive interview, Okpaleke spoke to OkayAfrica about immortalizing a hit film, expanding Nollywood into new realms, and what else is in store for 2023.
The interview below has been edited for length and clarity.
What led to creating the video game of Aki and Pawpaw Epic Run?
I've always thought of the Aki and Pawpaw brand as exportable. I grew up watching them, and when you have legends like this who are still alive, one way to immortalize them is to create something that will work even after they are gone. This game allows us to continue the story of these legends and could be exported outside the country.
\u201cSay hello to the first Nollywood game app!!! Aki and Pawpaw Epic Run\n\nA Play Network Studios initiative\u201d

— Charles Okpaleke, OON (@Charles Okpaleke, OON) 1682635451
Did you work with any of the actors in creating this game?

They are a part of the game. Seeing as they're in it, it would only make sense. They also own rights to the game, so it was a team effort.
This is the first time something like this has been done in Nollywood. Do you want to play with other mediums like this with your other projects?
Why not? If any opportunities arise where we can explore other mediums, we will. You cannot just adopt certain things because they might not fit into our culture. I've always believed that culture is critical to us while creating, so we'll keep following the trends and being at the forefront. Last year, we tried an NFT with the Aki and Pawpaw memes, but it didn't work, probably because of the state of the crypto market. But whenever opportunities come, and they're culture-friendly, we'll throw our hats in and see how that goes.
We know that Play Network Studios also acquired the rights to Aki na Ukwa and produced a remake of the film, which is currently on Netflix. Do we expect you to do any more things with ancillary rights for this film?
I've been toying with the idea of an animated series. It's like how you have Tom and Jerry. We're still discussing it, but there's some desire for it, and we'll keep examining and looking for opportunities. We just launched the game, and we're trying to work around it to ensure maximum distribution for now.
What do you think the gamification of this film signals for the industry?
In this case, we see more games. That's how it works. In Nollywood, we're trying all angles to ensure we're stretching ourselves beyond measure. When I came to Nollywood, I started with remakes and sequels of Living in Bondage and Rattlesnake, and now other filmmakers are doing them, so I expect to see more gamification. When we look at the downloads for our game, some of the highest numbers come from the US, Canada, and parts of Europe. And so I expect people to continuously tap into film culture through games and all the other ways possible.
We're getting teasers for some Play Network projects midway into the year. What is cooking next?
For this year, we have three movies in the works. We have Blood Vessels, which tells the story of people who wanted to leave the country on a vessel going to Brazil. Things go wrong somewhere, and that's the premise of that. And then we have Hijack 93, the story of Nigerian hijackers who hijacked a plane going from Lagos to Abuja, and then directed it to the Niger Republic. They went to prison for over a decade, and I had the opportunity to speak to three of the hijackers, who gave me their stories. And last but not least, there's Billionaires Club which you should also look out for.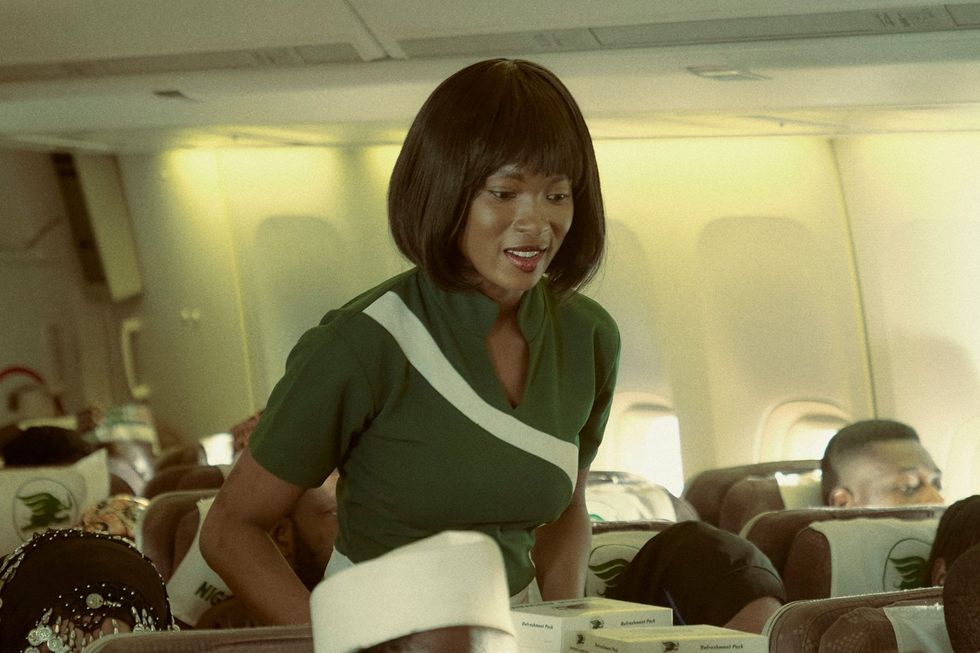 A still from the forthcoming Play Network film, 'Hijak 63,' of a woman cabin attendant pushing a trolley through an airplane.
Many projects you've unveiled recently, like Hijack 93, Igbo Landing, and Ekwumekwu, are related to historical events. Why so?

Because I just feel it's original. We have a lot of original stories in Nigeria that are worth telling, so I'm going to spend my time and effort telling stories that will go a long way for my children. When I mentioned the groundwork that went into the Hijack story, some friends didn't know that a plane was ever hijacked. And so for me, in my way, I'm telling African stories because we have original stories that resonate with us.
I want to be able to immortalize stories like this through film. It will impact history, and I also get to educate the audience. That's why I work on stories like Igbo Landing, and I'm working on a Jaja of Opobo story too.
Are there any more remakes in the works for you?
When I got into Nollywood, I wanted to do a Play Cinematic Universe where I pick six films, link them to one movie and do a seventh. They will combine to create The Six, which you could liken to the Avengers. So far, we've done Living in Bondage: Breaking Free, Rattlesnake, and Nneka the Pretty Serpent, and if you notice, you must have seen Ramsey Nouah in all three of them. Three more are in the works: Diamond Ring, Karashika, and Billionaire's Club.
Where do you see Play Network Studios in the next couple of years?
I want to ensure we have a brand representing Africa and Nigeria. I want everything to immerse into Play, being the number one lifestyle entertainment brand. When people talk about making movies, and they're looking at Hollywood, I am looking at Africa because I feel Africa is like the new frontier. Africa is where everybody's coming to right now. So the focus for us is Africa. Africa. Ghana. Kenya. South Africa, Tanzania. There's a lot. We focus on getting into these countries and breaking new frontiers in film.