Any discourse involving Nigeria's alternative music scene can't be complete without mentioning Nonso Amadi.

The 27-year-old singer, songwriter, and producer is a key figure in Nigeria's "alté renaissance" of 2015-2018, a period responsible for the widespread emergence of a crop of alternative artists, producers, and creatives firmly establishing their niche and creating room for themselves and their art in an industry heavily dominated by afrobeats-centered music, sounds, and aesthetics.
2015 saw Nonso release his first project, the Alone EP, officially launching a career that would quickly usher the young talent into the limelight. Following the EP, his subsequent single "Tonight" put Nonso on the map. The self-produced afro-R&B song established Nonso as one of the leading new voices in Nigerian R&B and alternative music, transcending the niche listenership of the alté community and successfully taking the emergent R&B sound mainstream, in a similar fashion to what the likes of R&B veteran Banky W accomplished.
The next few years saw him release a string of singles, high-profile features with the likes of Mr Eazi, Simi, Kwesi Arthur, and more, and two EPs, all capped by a three-year hiatus. In 2022, he returned to the music scene with "Foreigner." the lead single off the subject of this story: his debut album When It Blooms. The release of "Foreigner" marked the beginning of a brand new career run, backed by label partners UMG Nigeria, Def Jam Records and Universal Music Canada, in a freshly-inked record deal.
Now close to a decade after the singer's first output, When It Blooms is finally here. It's a 15-track project packed with blends of afrobeats, R&B, and more, laced with sonic and lyrical references to his Lagos ties. Nonso's debut album represents everything he is and has become—a "sonic globetrotter" highly=assertive in his sound and identity.
OkayAfrica spoke to Nonso Amadi about his debut album When It Blooms, and he gave us 7 Essential Facts about the project below.
---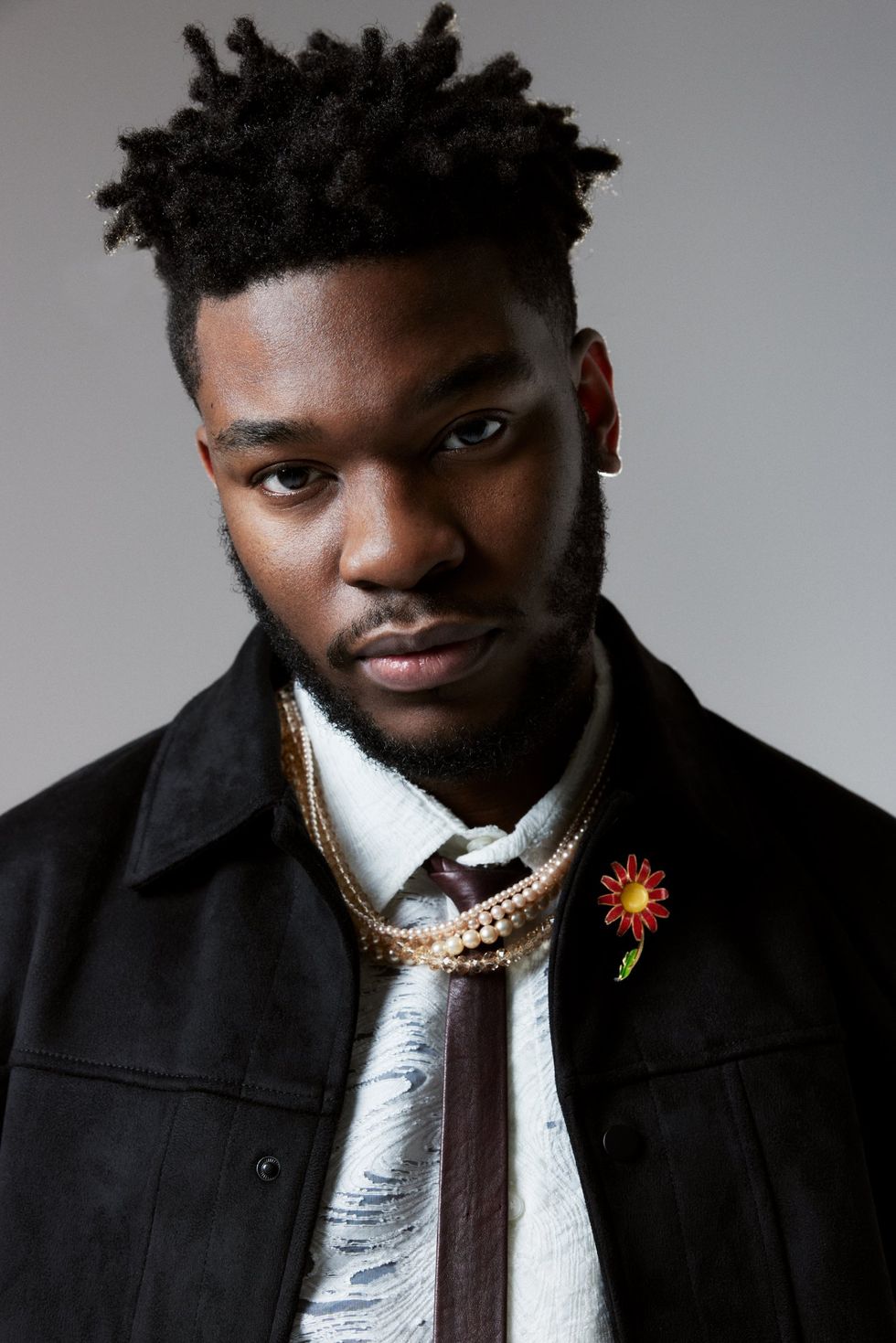 Nonso Amadi.Image courtesy of the artist.
1. Nonso spent two years working on the album.

The creation process of When It Blooms took Nonso two years to see through to completion. "I think for me, I just wanted to make sure I didn't rush the process, because I feel like an album is very important for every musician," the singer explains to OkayAfrica. "So I started off just like making short tapes like EPs. I was just learning how to compile projects properly. And also making sure that the album makes sense to the listener was very important for me."
2. When It Blooms sees Nonso at his most vulnerable.
Nonso made an intentional effort to ensure that the music on When It Blooms is his most vulnerable. The album's first track "Here For It" chronicles the challenges he's faced in the music industry, while the final track "Thankful" features a real voice memo from the singer's mother, among other emotional moments scattered through the album. "I had to make sure that with the album we were telling a story. Like we're being vulnerable, as vulnerable as possible. And it wasn't just like somebody just putting together a bunch of songs and calling it an album, you know? It's like he's actually telling a story, he's actually saying things that people could hang on to and be like, yo, this is, this is a good body of work that tells us a little bit more about who he is as a person."
3. The album's title is a metaphor for his career.
According to Nonso, the title of the album is a representation of the process that he has been through from the beginning of his career till date. "When It Blooms talks about my journey like I started off in the industry as a newcomer from university, just straight into the entertainment world," he explains. "And I realized quickly that it's a very different world out here, and I had to figure my way out. I was very shy and insecure, like I lacked a lot of confidence and understanding of how the game works. So I kind of likened that to a seed. A seed goes in the ground, it breaks apart, it goes through everything, the germination process it needs to go through."
He continues: "On the first track on the album 'Here For It,' I'm pouring out my heart about the pain and struggles I went through as a fresher in the industry. And then the last song on the project, called 'Thankful,' talks about where I'm currently at. So we likened that to the flower being fully open and the flower blooming. It talks about being grateful, talks about the journey so far, and just like being this Nonso Amadi who's experienced all that and come out on the other end of the tunnel a much more mature person, a person who's more open, who finds it easier to connect to other people, you know, like a flower that's fully open and a flower that's bloomed. So I just thought that the idea of when it blooms made sense."
4. This is Nonso's most collaborative project yet, production-wise.
Nonso Amadi is a gifted producer, who produces a significant majority of his music himself. However, for When It Blooms he decided to bring on extra hands. "I would say like 50-60% of the album production was done by me. This is my most collaborative project ever, so I did get a lot of help from different producers. We have London, we have P.Prime, we have some producers in the US, in Canada, TSB in the UK, Mont Jake in the UK, we have so many producers on this project, but the overall executive production was done by me and a lot of songs on the project were produced solely by myself."
5. The final track on the album was inspired by an iconic Wizkid verse.
Global afropop star Wizkid's early career was marked by a notable verse on his debut album. On "Tease Me/Bad Guyz" Wiz gives a shoutout to the industry peers who've had his back, and the verse became one of the standout moments of his Superstar album. Nonso drew inspiration from that iconic verse to create "Thankful," the final song on When It Blooms. "It's a record called 'Thankful' and it has a voice memo from my mom and it's a very emotional track. It was inspired by Wizkid's shoutouts from his first project 'Superstar' where he basically called by name and appreciated everyone who's been a part of his journey. So that's a record on my album that picks from that idea of being super grateful for your process and being excited for what's coming."
Nonso Amadi, Majid Jordan - Differentwww.youtube.com
6. The album's soundscape is diverse.
Nonso Amadi may be well known for his R&B hits, but his early audience knows that he's adept at a number of genres. On When It Blooms, Nonso wanted to stay true to that. "For those who've known me from early till now, they know that I've kind of played around with different types of music," the singer explains. "It hasn't just always been one sound, you know? I have experimented with a bunch of different genres. You know we have a little bit of R&B on the project, we have hip-hop, afrobeats, there's an amapiano-inspired song in there. So I just wanted to make sure that I represented all those genres that I do on the project as well, that it touches on a lot of sounds, and it doesn't feel all over the place because there's an overarching theme, with the blooming story in there. So we just made sure that as much as we're trying to be diverse and kind of experiment a little bit, it wasn't all over the place. And I did get some help with collaboration and making sure that the project sounded cohesive from start to finish.
7. Nonso played host to Majid Jordan's first visit to Lagos, Nigeria.

Nonso Amadi collaborated with Canadian R&B duo Majid Jordan on When It Blooms, with them appearing on track 12, the upbeat afro-R&B cut "Different." They initially met in Canada during their studio session for the song, but Nonso subsequently treated the duo to a great time on their visit to Lagos. "I met them through my manager, Gavin, who had been introducing Majid to my songs, just playing them once in a while and telling them about me. And Majid was just like 'Who is this kid you keep telling me about, we should do something.' One day we met in the studio and we talked for hours. That was how we met. They came to Lagos to shoot the video for 'Different' and they had the whole Lagos experience. We went to the club, they had Nigerian food. They had a great time and we just like bonded properly."