Moussa Sène Absa has an infectious energy, speaking with great enthusiasm for the profession he has chosen to follow since he was a young man. Born in 1958 in Dakar, he began his career as an actor before moving on to making films and earning great acclaim for them as a well-respected figure in African movies. His first film Le Prix du mensonge (The Price of Lies) earned him the Silver Tanit at the Carthage Film Festival in 1988, while 1996's Tableau Ferraille picked up Best Cinematography at FESPACO. Madame Brouette won the Silver Bear at the Berlin Film Festival in 2003.
A writer, painter and composer, Absa lets his passions flow into his film work – using a musical chorus to center his features, with hues and tones in costumes to convey added emotional depth to the stories and songs that he himself writes. Xalé is the third of his films that focus on women – a trilogy of sorts that includes Tableau Ferraille and Madame Brouette. When it plays at the NY African Film Festival it will make its North American debut, after playing at the BFI London Film Festival and the Joburg Film Festival. The festival kicks off on May 10th and the revered director will be giving a masterclass on May 13th.
Absa spoke to OkayAfrica about his process, why filmmaking should be about freedom, and why technology is like a water bottle.
The interview below has been edited for length and clarity.
'Xalé' is the last film in a trilogy that centers the experience of women – why did you want to make this as a series and not just one film?
It's a very complex subject, especially when you're talking about African society and the place of women, the role of women in the society. And what women are going through regarding so many fundamentals that are based on gender, like marriage, polygamy, politics, and so many social issues. This is the first thing.
The second thing is that I've been raised by women. I don't know my father, my father passed away when I was three days [old]. So I don't have any father figure. I've been raised by my mom and my aunts; it was so beautiful. So I have four mothers. This is what really made my life what it is. These are the ones who shaped my character. These are the ones who opened the doors of life to me. These are the ones who shared their secrets to me. At a certain point, I think they didn't even think of me as a male. Because they would just bring me wherever they go.
From early on, I became very used to this woman's secrecy, as a confidant. They would really trust me and give me some commissions to tell their lovers, for example, for secret appointments. I was kind of the go-between [between] my aunts and the male gender. And I think that's the base of my work. If you look at Tableau Ferraille, it's dealing with women who can't have children, and polygamy, politics, and the power of the mother figure in society. But also, the power of storytellers in a community.
These are so many important issues that I couldn't make in one film. I was giving a lecture and telling some students, 'I said it's a trilogy, but I have another idea for a film, so it's not a trilogy anymore. It's a series! [chuckles]
XALÉ trailer | BFI London Film Festival 2022www.youtube.com
What does film allow you to say about that relationship that no other medium does?
These three films allowed me to explore the limits of my knowledge about the fragility and also the strength of women in my community. It's allowed me to dig deep down in this relationship, where people think that males are making decisions, but they are not. Women are more intelligent enough to show that, externally, the man may think he has the power, but no way. The man doesn't have the power; the final decision is always the woman's. These three films helped me also to understand the lineage that women can weave between themselves as a sisterhood.
For the first time, you made this film with an entirely Senegalese cast and crew – what were the benefits to that?
This film was supposed to be made with other production companies and French funding. It was supposed to be, like, a $4 million film. And then what happened is fantastic. My assistant said to me, 'Listen, daddy – they call me daddy – you have $100,000 in funds now, why don't you just start?' I said, 'No, man, no way.' They carried on every day, the people I work with, they teased me. It's like your kids saying to you, 'But dad, you can do that, come on.' And then finally you say, 'Okay, yes.'
I ended up having my DOP [director of photography] as a young man, a fantastic man, who did a fantastic job. My sound engineer, my art director, the cast and crew – they are all local. I had the freedom of creating and dreaming, the freedom of just writing a song and then giving the melody to my singers and saying, 'You have half an hour to rehearse it and then we shoot it.'
This I could never do with a production company involved.
I was also very seduced by the fact that I could invent – that's what I like the most in directing. I could give a chance to the actors and say, 'Now it's your turn, astonish me!' And just bring a shared freedom of making films with this cast and crew.
At the end of the day, we were so happy shooting. I was even the driver. I would pick up my DOP, I picked up my first AD [assistant director], I picked up the script boy, the makeup woman, and came to the set.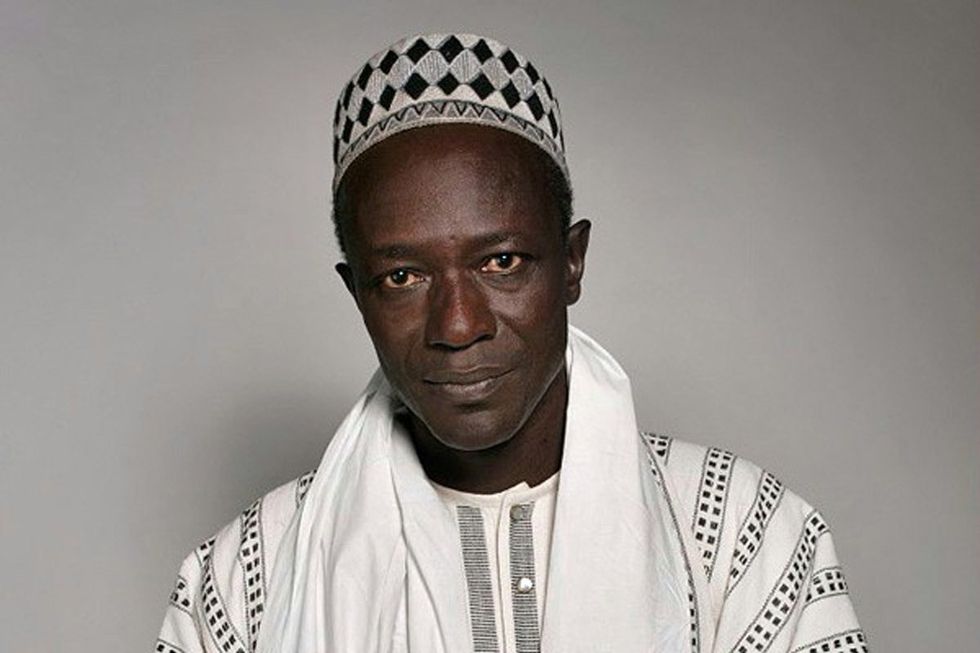 Moussa Sène Absa will give a free masterclass during the NY African Film Festival as part of the event's 30 year anniversary.Photo courtesy Gerhard Kassner.
You talk about the freedom you had – was there anything that was challenging about that? Did you miss not having more money in the budget?
I didn't miss it. I was so happy that I was in control of everything. My first AD, who I've worked with for about 20 years now and is like my son, would say, 'This is the working sheet today,' and then we'd go, 'You know what? We can also do this and this.' One scene we were supposed to shoot in Paris but we didn't have the money to shoot it in Paris. So we said, 'Okay, the boy is now in Paris,' and [the character who is speaking about him] is in front of the sea. It created one of the most beautiful scenes in the film. Because you don't have enough money you get more creative. You find creative solutions, and it becomes more organic. Film is not something that is only on paper, but it is something you have to transpose through emotion, through poetry and also drama.
The chorus is a key feature of 'Xalé' and your other films – and you've said music is so important to you – how do you write them into your stories? Or do you start with them?
I do the music before the film. My narrative lines are musical lines. I write the music, I register the music, and then the story is weaved through the lines of music. That's something that I like the most in my career – how music is important in my life. Because music is important in African stories. In Africa, when you are born, they sing, when you die, they sing, when you get married, when you work, you sing. The music is all over the place So how can I make African films and talk to the world without using it?
The NY Film Festival is 30 this year. What part do you think it plays in promoting African film?
I've known [founder] Mahen [Bonetti] for almost 30 years now. I was there at the beginning of the festival, and I think she has a wonderful body of work that highlights the presence of the African narrative throughout America. I always say that there are two women I love in the diaspora who're doing a fantastic job: June Givanni in London with the Pan African Cinema Archive and Mahen, with the festival. Because, at a certain point, the African narrative was not there. We made films, but nobody was seeing them in America. She decided to open a window and the window became a door and the door became a gate.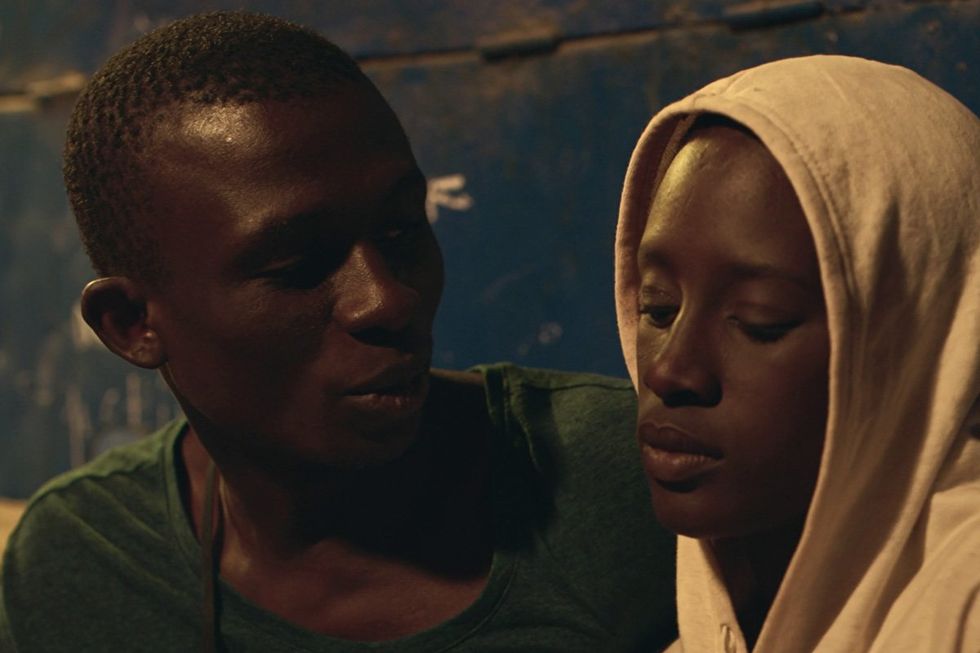 In 'Xalé,' Moussa Sène Absa creates a music-filled tale of one woman's tragedy and transcendence.Photo courtesy NY African Film Festival.
Is there anything you'd say to younger filmmakers?
What I think is missing in young African filmmakers is that they think because they have the technology they can tell stories. Technology is like a bottle of water. You cannot drink the bottle of water unless you open it. They have to open their minds. They have to understand that storytelling is all about fundamentals. Storytelling is about how to touch me, how to move me; how you can tell a story that can be understood by an American, by a Papua New Guinean, by a Senegalese. Show me how to be human in a world of brutality, in a world of barbarism. Show me how you can shape the world because you have a beautiful story to tell and you know how to tell it.
When you look at your career over the years, what are you most proud of?
I am very proud of what I have achieved in terms of body of work, but also from my background of griot, of storytellers, and the use of music that is present in all my films. There is a kind of signature in the first five minutes of my film, you know it's me. I always tell young filmmakers, Be unique. Don't try to be a copy because the copy will never, ever be valued as much as the original. Be yourself. Find yourself. Astonish me because you are unique and you have a unique voice. This is the voice that God gives you to change the world. So use it.