Guinea-born supermodel, actress, and activist Mariama Diallo is a face you've likely seen all over social media.
With modelling campaigns with the likes of Savage x Fentyby Rihanna, Kim Kardashian's KKW Beauty, and features in Vogue, Marie Claire, NYLON magazines, the model is commanding her space in the industry and making her way centerstage. And, Mariama's strong online presence and following has certainly made her a popular member of the global village too.

With the aforementioned achievements under her belt, the 28-year-old supermodel presented herself as an eager and excited talent within the fashion industry. Now, Mariama's talents and ambitions have attracted her to a role behind the scenes. And showing the power of intention, the role has already taken her to places she only dreamed of prior.
Debuting as the fashion designer of self-financed fashion line Sincerely Ria at this year's New York Fashion Week is but a peek into what the model has to show of herself and share with the world.

The new collection, The Oshun, celebrates not only female beauty and the many ways that it manifests itself but also the magic of womanhood. Named after Oshun, the African goddess of femininity, fertility, beauty, and love, the collection is wrapped within the warmth and divinity of its namesake. The brand follows an ethos of inclusivity, community, and the power behind being beautiful because you have decided to be. Challenging the notion that beauty is always to be accompanied by pain, Mariama and Sincerely Ria are celebrating the rejection of beauty and body standards and expectations.
The Oshun line is a nod to the opulence of Mariama's African heritage and Guinea's Fulani culture, with special attention to the use of brilliant colors, exciting designs, and stunning silhouettes. Motivated to be seen and to captivate, the emphasis on Black beauty within the clothing is certainly translated beautifully, however, stylistically available to all. Uniqueness is welcomed and encouraged. And like Mariama says herself, "You deserve to celebrate yourself unapologetically."
The line debuted at New York Fashion Week, very appropriately, on Valentine's Day of this year and love certainly was the theme. Already boasting a following of over 8,000, the brand's instagram account has shown nothing short of praise and excitement for what we've seen from Mariama, and for what's to come.
We spoke with the Guinean supermodel about the journey to Fashion Week and her love for and emphasis on community and shared experiences.
---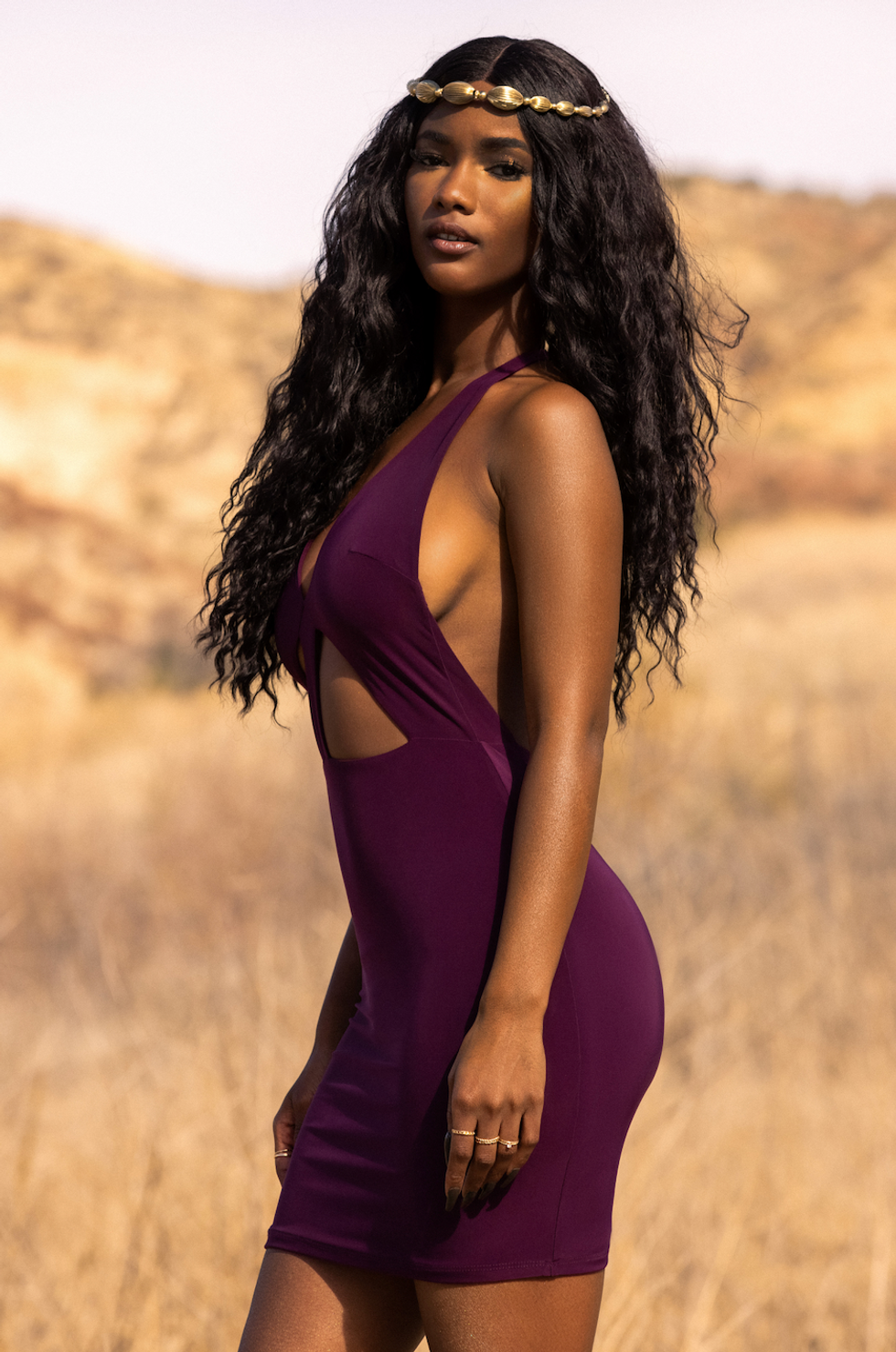 Pictured: Model, actress, activist and Sincerely Ria designer Mariama DialloPhotos by Adam Rindy
Mariama, you're a model, you're an actress and you're an activist. What drew you towards designing clothing?

Since I was little, I loved clothes. I always did. I used to have a sewing machine when I was in Africa. But, after being in fashion for about eight years, I've tried on so many clothes, I've felt so much fabric, and I just kind of thought that there was something missing.
With fashion, it was always the idea of 'beauty is pain'. Even from being a model, I've heard that I need to lose weight, all this pressure that they put on them. So, as I was building this brand and just building what I wanted, I wanted to create more of a community base, and fashion was what I knew. I wanted to embrace it and create a fashion brand that had a culture that was around authenticity and around self-love, rather than self-hate and the idea that you're not good enough so you need to go buy something. From just my experience and being in this for so long, I just wanted to create something that was slightly different, while still having fashion as support.


When you create, whether it's clothing or music, or art, you are creating a community around that.
Exactly. There's a social responsibility that comes with it. I feel like that has gotten lost, especially with social media and what we see. There are so many brands coming out every other day, but I think people forget that there's a bigger picture behind it, and that's kind of what I wanted to bring back with this brand.


You mentioned authenticity and celebrating bodies instead of trying to shut them down. What made you decide that this collection would be your debut? That this is how you would introduce yourself in this role?
Honestly, it slowly came. It wasn't a one-day realization where I was like, "Okay, this is it. I got it." It kind of slowly came and I built it. Originally, I was inspired by my culture and African cultures. In Guinea... the colors! Even nature [in Guinea] is very colorful, the greens, the yellows, so that inspired me. I always had a fascination with Oshun and African goddesses. And Oshun is the goddess of femininity, fertility, beauty, and love. So, as I was creating this line and trying to figure out what should I name this collection, I randomly saw a sketch of the goddess on Pinterest, and it looked exactly like the collection I was working on. It just kind of clicked. Like, "Okay, this is becoming something."
It was just small little pockets of inspiration that came. I really tried to not judge it. It's one thing I'm working on, not judging things and just letting the ideas flow and then just slowly build.
The colors and styles that you've used in this collection show a clear tie to West Africa and Africa as a whole. What about this line makes you feel closest to your Guinean roots?
The story behind it. It's not just about one collection, but the process of me finding the clothes, the fabric that fits, and even sketching a lot of it. It's always connected to my roots. To how my mom put these values and lessons in me, always being strong, always remembering where you come from, remembering your strength, and it's been the design process.
On top of that, what I really wanted to do was play with masculine and feminine energy, so a lot of the designs have sharp cuts, but it also has a sexy silhouette. To me, that just reminds me of the different layers that we have, and that's kind of what my mom always put in me, especially as an African woman. I love the cuts.

This line is self-financed. Did you struggle with funding or trying to sell a very Pro-black and pro-African fashion line to a predominantly white industry?

It definitely had its challenges. One of my biggest things, in the beginning, was just trying to figure out where to start. The information is just not out there, especially for us. People don't tell you these secrets. And everything's made in LA. So, it took me so long because the resources aren't really out there.
And then, having to constantly sell the product and always prove myself to people here who say things like, 'She's a model,' and then, 'Oh, she's a black girl,' automatically they're like, 'Okay, whatever.' I had the task of not trying to prove myself, but sell and describe the product and what we're doing, and being like, 'Hey, this is going to be amazing.'
But, one thing I will say that has been amazing has been the support. A lot of that does have to do with what's going on in the social climate, but I feel like people embrace it. I get messages from girls all the time and they're just like, "I'm inspired. This is different. I'm happy to see it." So personally, the hardest parts were in the making process. I had a lot of hiccups, but I kept going.

And, of course, we have to chat about your debut at New York Fashion Week. What was the process like leading up to your show?

It was definitely go time with New York Fashion Week because of the timing. When I found out about it, I had four weeks and I'm like, 'Okay, we have four weeks and a pandemic. Okay.' I was so excited, but a part of me questioned how in the world I was going to make it happen. But, we did. We just had to get it done. I tried to be responsible, seeing if we could get a COVID test. It was just go time - 10 hour days, nonstop, me, my assistant, and my team. Instead of doing a traditional show, I really wanted this to introduce the brand and be an honest woman in a love letter. I think the whole team knew that there was something bigger than us, so we just got it done.
And, I mean, it's New York Fashion Week. With me being a model, I always wanted to be in New York Fashion Week, but I was never skinny enough. There were always these ifs and buts. So, to be able to present at New York Fashion Week and change the stigma and have models of different shapes and sizes and embracing it was just a powerful moment for me.
What is your wildest dream for Sincerely Ria?
I see so much for Sincerely Ria. Right now, I'm working on the second part of it called Sincerely Us. It'll be more of a community space instead of a brand, but it's going to be the sister site to Sincerely Ria. I want to highlight creators doing great things, like superheroes in their own world. I want to highlight other black designers. I want to make it where Sincerely Us is a whole community, and I really wanted to help with mental health because there is so much people don't talk about, that is so normal in our communities. So, with Sincerely Us, I want it to be where we can share our story, where we can connect, where people can go if you're feeling down - you can go to Sincerely Us and watch a video or something and feel better and feel empowered.
That's my main focus right now. I'm still working on my next collection, which is coming out soon, but I'm working on the community aspect because I really want to make a big difference with this.
---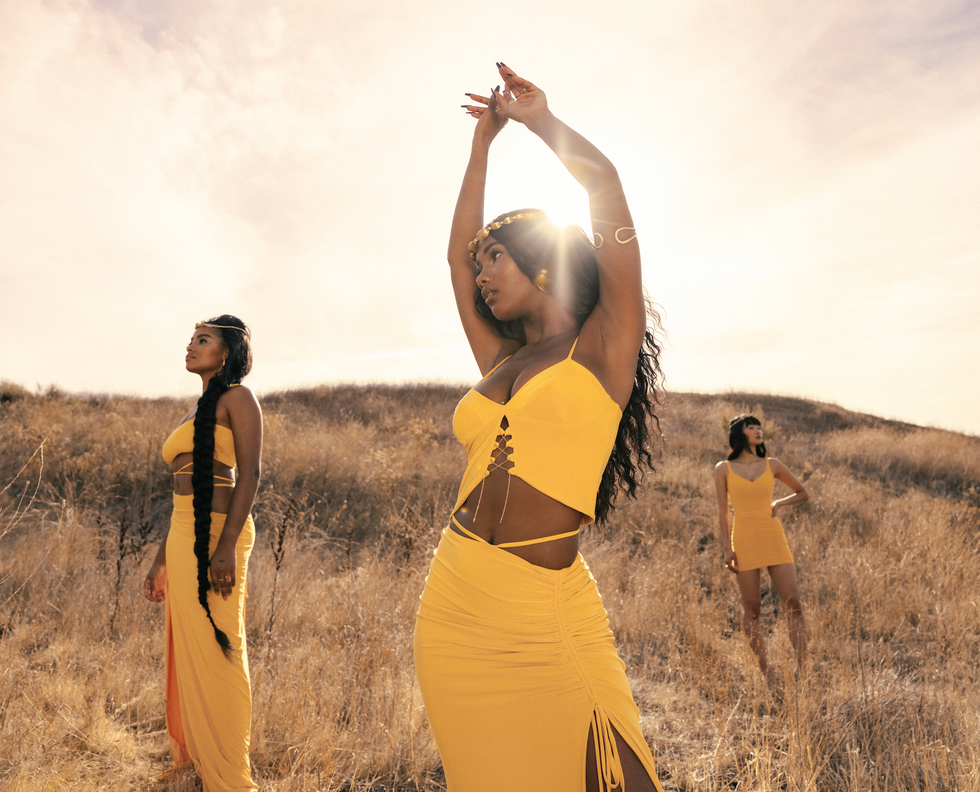 Photo by Adam Rindy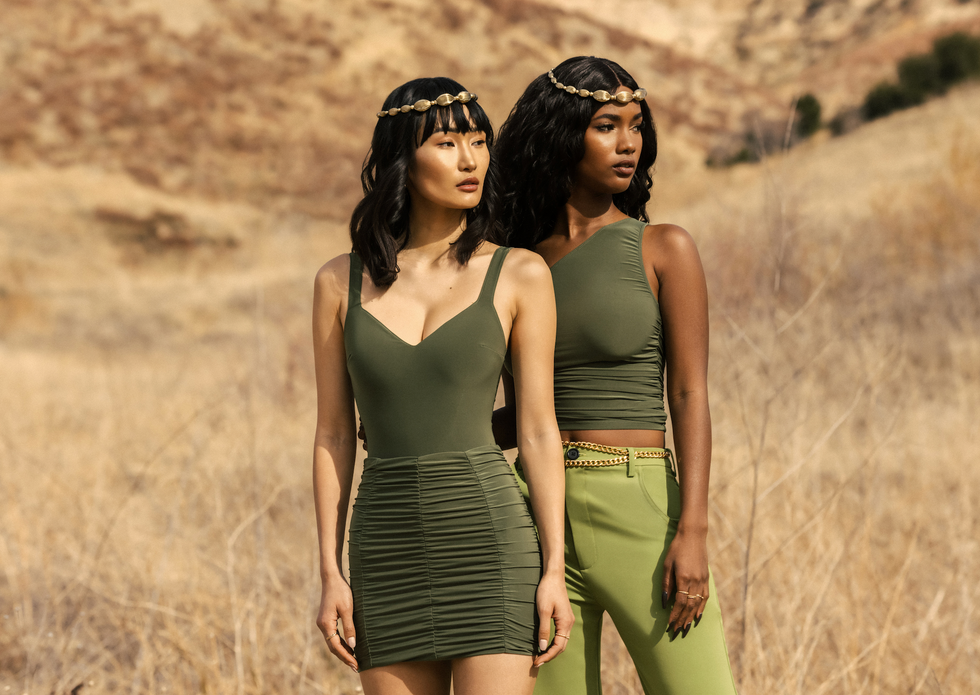 Photo by Adam Rindy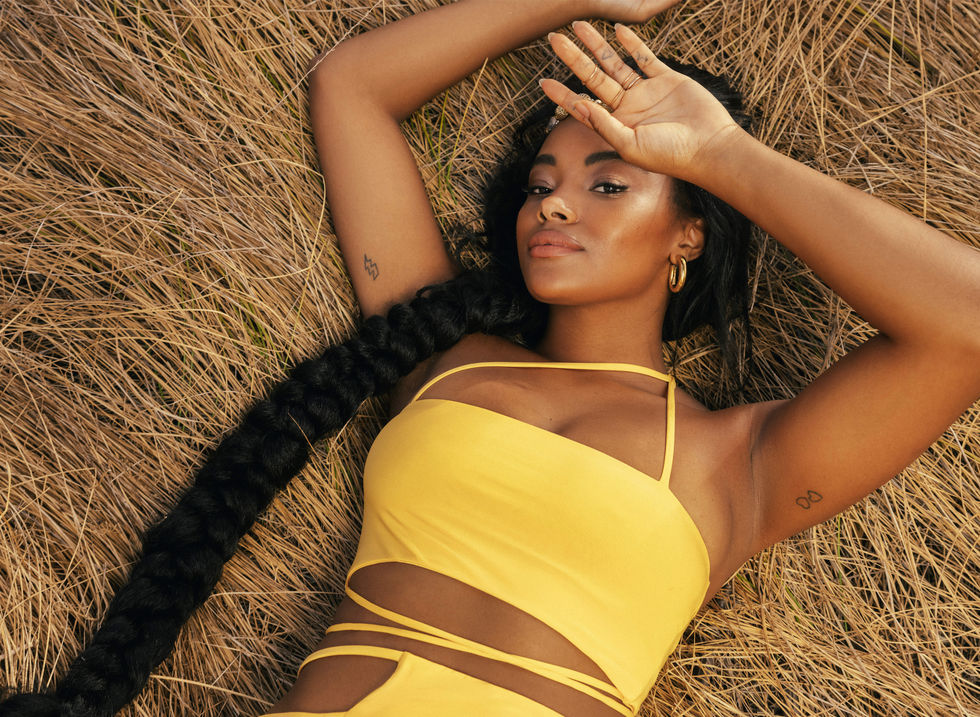 Photo by Adam Rindy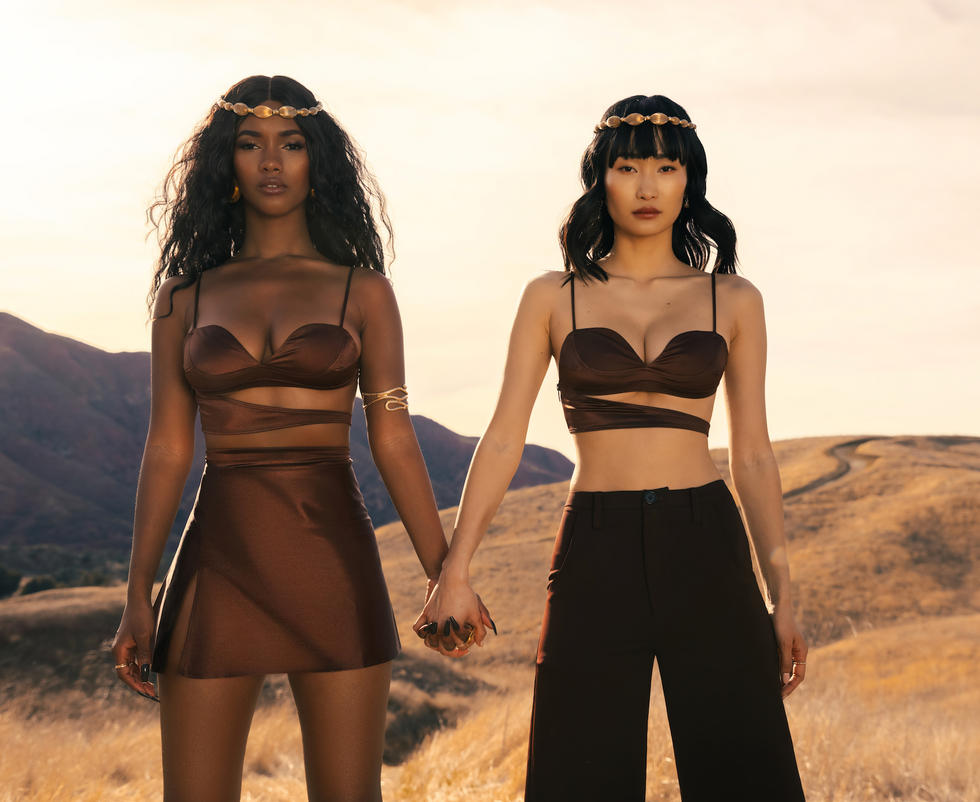 Photo by Adam Rindy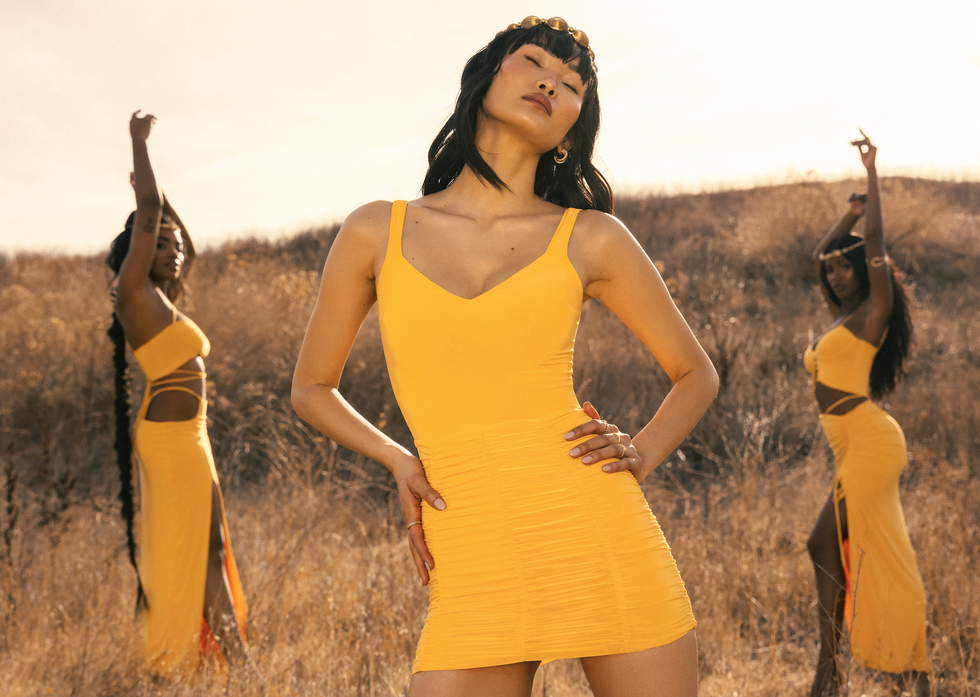 Photo by Adam Rindy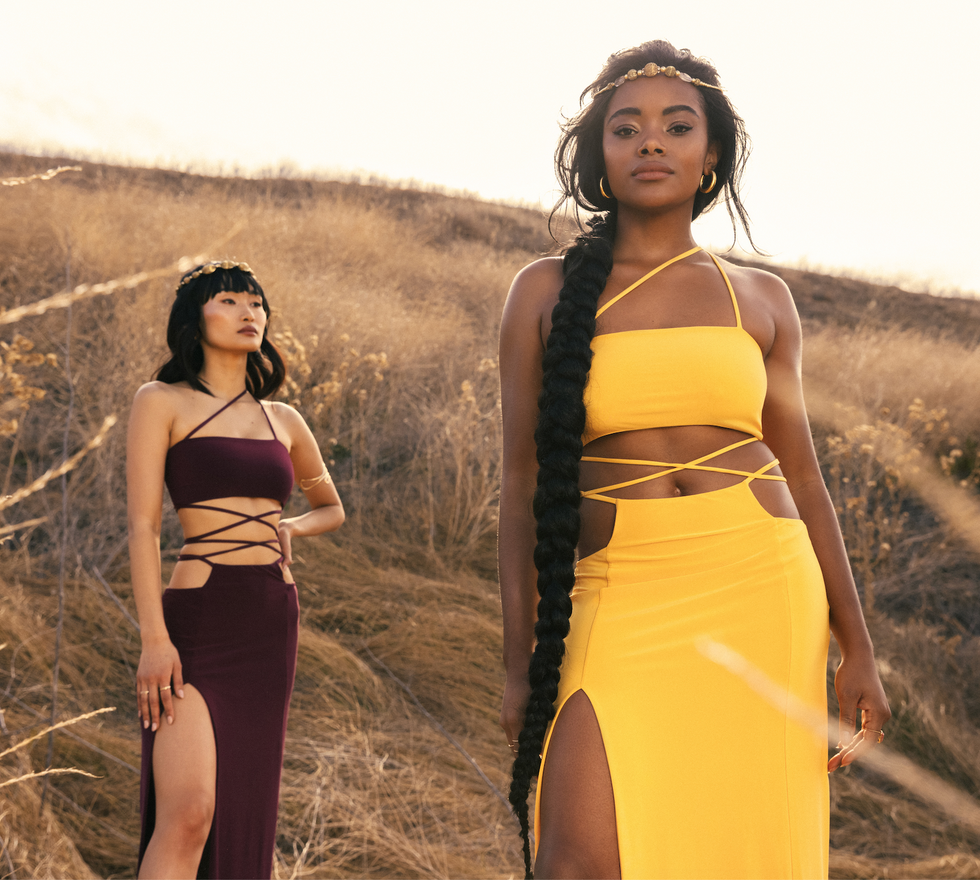 Photo by Adam Rindy
Photo by Adam Rindy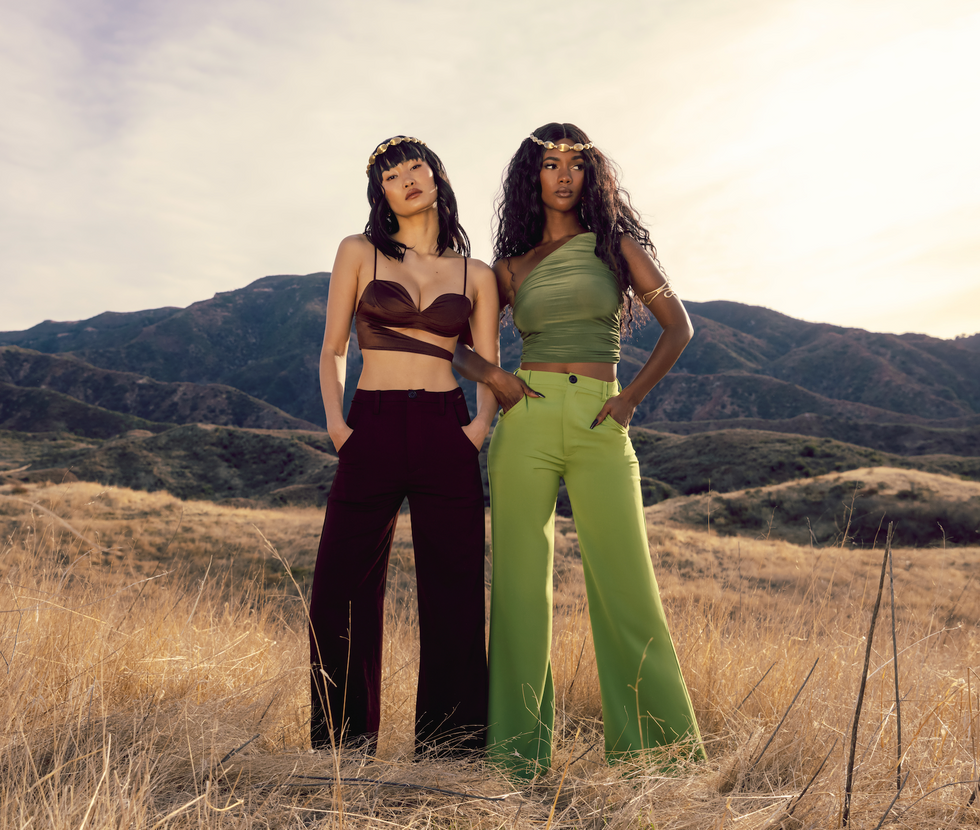 Photo by Adam Rindy
Mariama will star in Disney's upcoming movie Jungle Cruise starring The Rock and Emily Blunt.
To shop the Sincerely Ria line, visit her website here.