Every year the Nigerian music space is blessed with a gifted artist who, through consistent releases, attracts a huge pool of listeners and dominates social media conversations. This year, everything is aligning forOdumodublvck to be that next-rated artist.

Odumodublvck's rise began steadily last year with the rapper landing strong impressions on his features. While his commanding delivery on PsychoYP's "Bando Diaries" was an entry point for more listeners to discover him, mainstream heavyweight, Zlatan lending a verse to Odumodublvck's breakthrough track, "Picanto," blasted open an avenue for a truckload of listeners to become more aware of the name.
Odumodublvck's sound shines as a merger of drill and afrobeats in a vast ecosystem brimming with similar Afropop songs. Boosted by his boisterous charisma, there's a reprise of that boldfaced personality and raw swagger on his social media footprint and to a larger extent, his stage performances—energetic and engaging.
Over the past few months, the combo of singles, collaborations, social media moments, and live shows has left enthusiasts in awe and converted casual fans to believers. The release of "Declan Rice" shoehorned attention onto his path and, laden with co-signs from respected figures in the game, Odumodublvck has pushed his way to the center of mainstream pop, never sounding generic.
We spoke to the buzzing Nigerian rapper below.
---
Congrats on "Declan Rice." Let's take it back on how it started. Why was it music for you?
Basically, I wanted to manage one of my guys that dropped out of school. I remember we went to the studio and one day he told me 'bro, I've been telling you to rap since, why don't you start rapping?' This was 2016.
Early days as an artist were tough but not as tough as it would have been for other people based on my mindset. When we started music, my friend and I sat down and set a goal for ourselves, which is: five years to blow. Imagine starting something and you have that kind of mindset, you'd be more patient, you'd be more content with every milestone.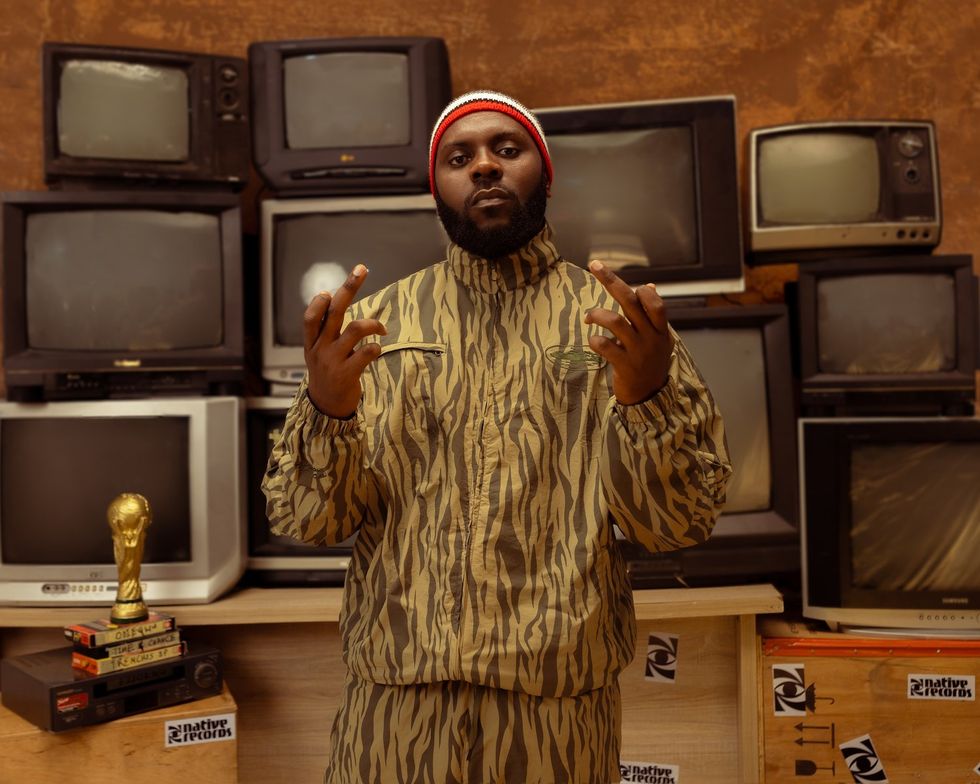 Odumodublvck.Image provided by the artist.
Even if it was really tough, it was easier for us than the normal artist that starts up because we were not looking for just that song that will just make us pop. We knew it would take us five years to perfect our craft and get to the ears of people we want our song to get to and we were ready to put in the work. And we did. And by God's grace, that five-year plan was completed last year. In 2022, everyone started listening to my craft.
Scouring through your profile on streaming platforms, you released countless amount of projects and singles between 2016 and 2022. Why?
The first song I released was "Closure," the first album I released was T.A.B.S. (To All Blvcksheep) with Agunna. We dropped it on SoundCloud, we didn't have the funds to put it up on streaming platforms. We dropped a lot of projects since then. A lot of people ask me why I drop so much music. Firstly, I'm a hip-hop artist, I'm not like a typical Afropop artist who with one or two singles for the year, they're good. I need to be consistent. I need to have a lot of songs.
But then again, I remember how in 2017 when I was depressed, I soaked in a lot of Kendrick Lamar songs and it got to a point I ran out of new Kendrick Lamar tracks to listen to.I don't want my fans to run out of Odumodu. Let them listen and when they're tired, they have more things to listen to. So leading up to this point, the next album is called Eziokwu, I believe it's going to change the trajectory of Nigerian music.
You got snapped up by Native Records last year. How did you feel and how did that deal come into existence?
I've been keeping a tab on Teezee since 2019. I just had a feeling Teezee was the pipeline to my music to the UK and this was when there was no Native Records. It just so happened that Teezee on his own came across me, he messaged me one day on Twitter, asking 'who is releasing your tape for you, I want to drop it for you.' Seeing that message alone was surprising.
He told me he's trying to pattern up a record label and they wanted me to be the first artist. I was so much into it because, for me, I love an underdog story. No shades, all due respect to Don Jazzy, but if Don Jazzy had also approached me at the time, I would have chosen Teezee's deal because my sound works better with Native. We signed the deal, it's done, great things still coming.
Why do you only tweet in uppercase letters?
It's become like an identity for me and It's also branding. I have been typing in upper case for five years now. Go and check, all my tweets have been like that caps because number one, I'm BIG GUN. If somebody says his name is BIG GUN, will my messaging now be passed across in lowercase? It doesn't tally.
Secondly, most of these tweets are more of declarations and proclamations. I tweeted some days back "my mom said why did they say your song is trash? I told her that even Jesus, the man without sin, was killed instead of a murderer, Barabbas. Lionel Messi even after winning the World Cup still has people condemning him, what have I achieved to live above condemnation? Who am I?" You cannot be tweeting all those kinds of things in smaller caps. Those are proclamations, Those are declarations. Those are scriptures.
The Abuja music space has become a thriving community and your success is a huge win for the community. How would you sum up your come-up? How pivotal was "Bando Diaries" to your rise?
Based on the come-up, the number one person that'd be responsible for that is God. Because I'm a very highly spiritual person... a lot of things happening now, I've seen them in my dream before they happen.
People always ask me are you not excited, yes I'm excited. But I was excited way before now because the Lord had already shown me that today will happen. PsychoYP and I coming together, I saw it in my dream that YP and I were going to do great things. "Bando Diaries," my version of the song was going to be the remix, when Psycho heard my verse, he changed his mind and said, we have to make it the main song now. He'd even shot the video already, but then he had to shoot my part and merge it with what he had. So everything happening is divine.
How would you describe your sound?
My sound is hard-hitting metal. A lot of people say 'he just does anything because his voice gives him an advantage,' I want them to provide a verse last year harder than "Bando Diaries" lyric for lyric. They should come out, they should bring their resume. I'm listening. They should bring it out, everybody down to Afrobeats artists. they should bring out their verses, I can assure you that last year, the hardest verse in Nigeria was "Bando Diaries." Down to Burna Boy, down to Wizkid, down to Olamide, the hardest verse last year was "Bando Diaries," lyrically, the flow, the cadence, everything. What I've learnt is people just want to talk. It's normal for people to talk. Time and time and time again I've proven myself like Lionel Messi but people will continue to talk. I'm not even really bothered, it's good. Once you don't have haters, the absence of haters is bad for business. I need them.
"Picanto" was a highlight last year and a precursor to the several moments you've had this year. How did that record happen and why the choice of Zlatan?
I knew right from time and I even said it on my Instagram, I said "Picanto" is going to give me the opportunity to stake my claim in the music industry and that's what that record did. I needed Zlatan for leverage. Because coming into the industry as a hip-hop artist, you need some leverage to an extent. All I needed was like A-list, B-list artist who comes through that'd give me more leverage, for more ears to listen and when he came on it, people were convinced to even care about it.
And after that, look at "Declan Rice," it went up to number one. My brother quizzed me one day if people were going to give attention to my style of music. But I did Mass Communication in school so I know that people don't know what they want until you give it to them. And if you don't carry it on your head, they will not see it. If you don't believe in yourself, if you don't front your craft like it's everything you got, people are not going to believe in it.
Talk me through the creation process of "Declan Rice"? Why did you name it after the football player, is he a favourite of yours?
On my own, I did not plan to name it "Declan Rice." It just came out of my mouth, it was after it came out of my mouth, I started realizing the meaning of what it stood for. It was just like "Picanto." I did not write the hook of "Picanto," "Picanto" just came, I opened my mouth and that was what I said. It reminds me of something Stormzy said, that as an artist, he's come to a confirmation that he's just a vessel and everything comes from God. "Declan Rice" you're seeing is from God.
So Trill (the producer) just played the beat. That was the first song I recorded when I got to Ghana. Trill played the beat and I'm like okay this is sounding nice. If you listen to "Declan Rice" very well, it sounds like The Game's "How We Do." It's a bop, that's why people liked it.
When I opened my mouth while recording, the hook came out, the melody came out, and I filled in the words that's why I said 'men just boku, e be like dem be rice.' Next thing I said was 'I dey feel like declan rice.' For me, verses are almost easy for me to write. I am a seasoned artist, I know what to say in my verses. I need to say catchy stuff. I need to say stuff that's easy for people to remember, for people to sing along inasmuch as it is hip-hop.