In the past year, no other Nigerian musician has impacted the culture as poignantly as Odumodublvck. From cutting his teeth in the Abuja scene with countless projects to soundtracking the most communal moments across the country, the moment screams his name. He's on the verge of becoming a legitimate sensation, heralded as special by the many listeners he's accrued on his journey.

For many years, Nigeria has supplied great artists to the world stage. In the post-war 1970s, the likes of King Sunny Ade, Chief Osita Osadebe and Fela Kuti would become international stars shining light for their respective genres of Juju, Highlife and Afrobeat. From the eighties to the late nineties, Onyeka Onwenu, Ras Kimono, Majek Fashek, and Mike Okri were some of the most popular artists, blazing the trail for Nigeria's next set of superstars: 2Face Idibia, P Square, D'Banj and the Don Jazzy-led Mo' Hits crew.
Superstars aren't new to Nigeria. And yet, not many contemporary artists have intentionally adapted influences from our musical history. Worse still, audiences frown on interpolations and samples, considering them less-artistic techniques. Burna Boy is perhaps the most intentional about this peculiar aspect of artistry; following closely behind is Odumodublvck, whose music shines with the glamour of something that possesses an enchanting past.
Nollywood aesthetics
Odumodublvck's vocals are melodic, haunting, and soothing; reminiscent of the soundtracks of Old Nollywood films. "DOG EAT DOG II," a styled remix of the earlier released record, bared those Nollywood influences. The creative direction followed the conventions of home videos, right from the design of its cover which depicted Odumodu alongside his featured guests Cruel Santino and Bella Shmurda as, literally, dogs. Linking these Nollywood aesthetics to how ingeniously he uses his voice, it becomes clear to see why Odumodu is often mentioned in Alte circles as an off-kilter representative of the movement.
---
ODUMODUBLVCK - DOG EAT DOG II ft. Cruel Santino & Bella Shmurda (Official Video)
Alte movement & label boss relations
The Alte movement bloomed just before 2019, the effort of musicians and producers such as Odunsi (The Engine), Lady Donli, Cruel Santino, Higo, Tochi Bedford, Amaarae, and a host of others. Beyond the music scene, practitioners across film, fashion and design were also creating avant-garde works which were eagerly described by critics as Alte. With the obvious novelty in Odumodu's presentation, the connection to the movement is quite expected.
A direct thread however ties Odumodu to the Alte conventions. Teezee, a media OG and co-owner of Native Records, is a member of DRB Lasgidi who were a pioneering alternative group. Before the 2000s, the group had greatly impacted the under channels of the Lagos-hoisted mainstream, not only releasing music with novel finishes but matching that with memorable social gatherings where they showcased their striking fashion. Ask any of the 2000s Nigerian cool kids and DRB Lasgidi will often come up as an inspiration.
Odumodublvck is learning from the best. The label boss-artist dynamic can yield great results, but the most successful ones tend to be when both figures have similar artistic sensibilities. Experimentation is a high level of showcasing artistry, but in reality it all falls flat when there's no backing elements in the branding and overall aesthetic. Thus the importance of a label boss like Teezee behind Odumodu.
Peculiar language
Artists like Tyler, The Creator and Travis Scott, while making some of fairly left-field music, have been careful to ease their mammoth audience into each presentation. Odumodublvck does the same. However, the deeper stylistic origins of the artist are grounded in hip-hop. Odumodu's often eager to highlight the peculiar influence of Skepta in his work, from the styling of his verses to how boldly he uses his voice. Each word Odumodublvck rhymes shines with clarity and nuance.

ODUMODUBLVCK - DECLAN RICE (Viral Video)
In conversation on Twitter Spaces last year, Odumodublvck revealed that his peculiar language is mostly influenced by the people and stories he grew up around. Although born in Lagos, his family moved to the capital city of Abuja during his teenage years, and the transit in between these places have produced a rapturous cacophony of voices in his head. The affirmative tone he adapts gives these stories a victorious air, with the present celebrity figure of Odumodu reflecting their transformative quality.
"My sound is hard-hitting metal," said Odumodu in his recent interview with OkayAfrica. He declared his verse on Psycho YP's "Bando Diaries" as the verse of last year, and even though that assertion is arguable, he usually demonstrates his range through his skill as a singer.
Sonic cocktail
Odumodublvck takes the audacious vigour of grime into a cocktail of inflections that include afropop, R&B and highlife—he's described this mix as Okporoko Rhythm, named after a sour smelling stockfish that's very nutritious. In essence, the music sounds odd until that moment it hits. On 2021's "Time And Chance" he decimated beats with trademark hunger, rapping assuredly on "Big Kala," "any pressure wey you bring / na me go cancel." That year he released "Odiegwu" and his powers seemingly matured; bearing the storytelling instincts of Erigga, a song like "Who That" had his now-signature pairing of groove and grit.
"One of the best things about Odumodublvck is his persistence," says Elveektor, a Lagos-based rapper who infuses Igbo history in his music. "Immediately he came up on everybody's radar, he did not disappear for one minute. When you first saw him, you started seeing more of him. He did not see any boundaries; he was hosting his own shows, going to all those private universities in Abuja, shutting it down. Long before he was even signed by Native, people knew his lyrics".
ODUMODUBLVCK - Picanto ft. Zlatan, Ecko Miles (Official Video)
Branding
Outside the music, perhaps his most intriguing characteristic is his branding. Carrying the Odumodu name beyond the sphere of Igbo artsy influence, he embodies other poignant aspects of its culture. The Okpu Agu—a traditionally-woven red and white cap–has especially resonated with young audiences, becoming a trendy fashion item. I have been in packed-out venues and seen them on a number of people, which reiterates one crucial thing: Odumodu has the streets.
Hip-hop roots
This is also an extension of his hip-hop roots. With modern Nigerian pop being inspired by hip-hop more than any other genre, the African-American culture also influenced the brands of some memorable purveyors from this side. From the stateside swag of eLDee and The Trybesmen and the towel-hugging appearances of Eedris Abdulkareem, from the Igbocentric wardrobe of Nigga Raw to Naeto C's urban pairing of Hausa caps and simple shirts, hip-hop has been setting the pace in terms of branding within the consciousness of popular Nigerian music.
Considering the wealth of associative mediums which Odumodu adapts, it's no surprise that Native Records are pushing closer to the goal. The label is consolidating on his current run to widen his global reach, and the United Kingdom seems to be earmarked as an entry into those plains.O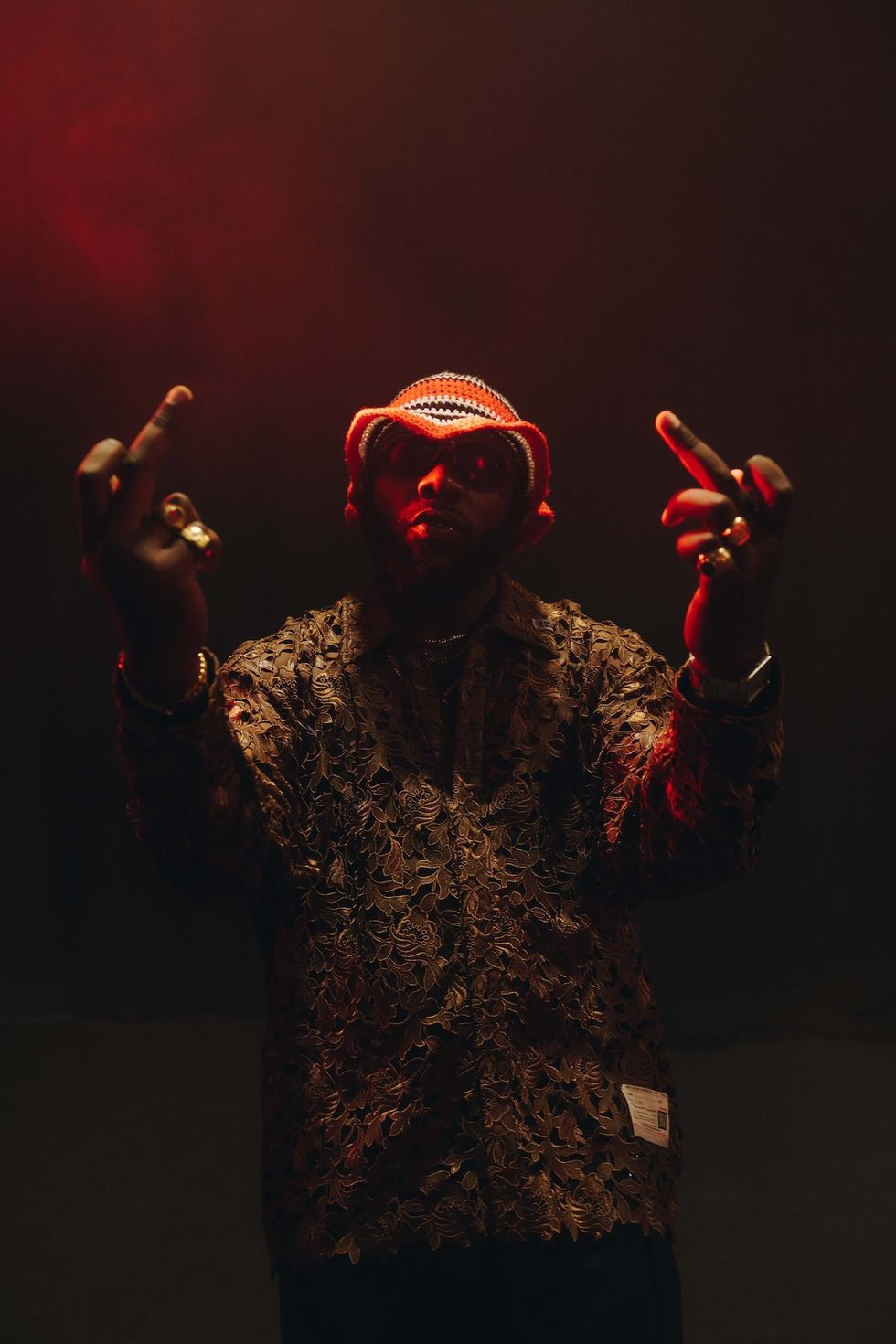 Odumodublvck.Image via Triple Threat Mgmt.
It makes sense for many reasons. There's a massive demography made up of Africans in the diaspora, the drill style is well established, and with its location of several important concert avenues, the route to commercial and cultural ubiquity is well oiled, depending on what wheels the ambitious artist runs on. Having pulled the intricacies of varied Nigerian societies together, scoring the UK complements that vision perfectly.
Regardless of where he turns, Odumodublvck will likely excel. He's having that sort of run where anything he releases is met with gusto, similar to the one Asake had last year. To his credit he's an accomplished musician who's capable of not saying just the right things but with the right conviction, each word inflected with a preacher's unshakable confidence. That's because he believes every move is divinely orchestrated.
The Igbo people have a proverb: if a man says yes, his Chi also says yes. A complex entity in the Igbo cosmology, the Chi is at once god and servant. It exists to bring a man's innermost desire into existence. Odumodu has been saying yes for a while. Now it is his time.