Today, fewer people know him as Tochukwu Ojogwu and more as ODUMODUBLVCK, but this wasn't always the case. Up until late 2022, ODUMODUBLVCK was like many other talented, fast-rising acts in Nigeria – fighting systems and making a way for himself to get to the top.
The Nigerian rapper, singer and songwriter stepped into the limelight after a partnership between Def Jam Recordings and NATIVE Records plunged him into Nigeria's mainstream market. Since then, he has managed to maintain the conversations surrounding his brand while releasing mind-blowing records, recently sharing his latest drop, the EZIOKWU mixtape, with the world.
When an artist insits on spelling their name in all-caps, it says a lot about themselves. For ODUMODUBLVCK, it speaks to how he's best known for being opinionated — expressing himself with a vocal texture, choice of words and an overall demeanor that most people would describe as intimidating. But these are also the very ingredients that have earned him his ardent followers and brought attention to his music.
"It's a blessing, brother," he says in his peculiar coarse-yet-soothing baritone voice at the start of his conversation with OkayAfrica. I've just asked him about his new mixtape peaking as the number one album on both the Spotify and Apple Music charts in Nigeria.
"When things like this happen, they are a blessing. Nobody can deny me or my work anymore. The success of this mixtape so far has shut everybody's mouth up and it has made everybody happy at the same time."
---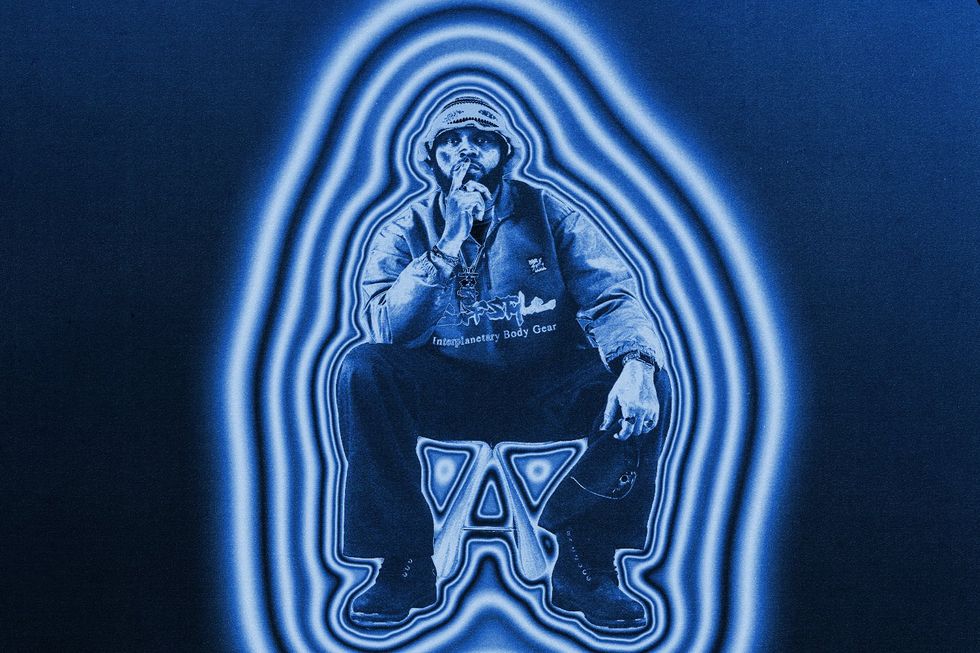 Photo by Troy Ezequiel Montes. Design by Kaushik Kalidindi.Original photos courtesy of the artist.
EZIOKWU mixtape is his first project since he stole the limelight at the start of 2023. It's a star-studded mixtape that boldly reaffirms ODUMODUBLVCK's impact on the Nigerian music. On why it's called EZIOKWU, with translates to "Truth" from the Igbo language, he says:

"I have wanted to call one of my projects EZIOKWU for four years, but things weren't just aligning for its release at the time. Even the sound wasn't where I wanted it to be yet, so I decided to hold on a bit. It's called EZIOKWU because I'm the truth. Immediately people hear my music, they should know that it's the truth and believe it."
ODUMODUBLVCK speaks of this project like it's religious scripture that his followers must live by. He uses terms like "the gospel" and "truth," and took a creative direction involving art on tablets and scrolls. This is something that distinguishes him from the rest of the market: how much attention he pays to art.
"Art is very important to me because seeing is believing," he confesses. "If you can make people see what you're talking about, it will help in relaying whatever message you have, consciously or subconsciously."
His affiliation with visual artists like the UK-based Nigerian Olaolu Slawn and Leonard Iheagwam (Soldier Boyfriend) prove ODUMODUBLVCK's priority for the art side of his releases. Both visual artists worked together on the mixtape's cover.
Beyond the cover, every collaboration on the mixtape was solely based on what ODUMODUBLVCK calls "the right energy," that includes the featured artists, producers and engineers.

"Everybody on the tape is my friend. I don't like releasing music with people that are not my friends so that I don't start having struggles with getting them to post this, or post that. Nah. I don't want that. Even all the producers are my friends from both Abuja and Lagos."
Perhaps, it's due to this fondness that some of his team members simply call him "OD," and focus on trying to bridge his already established fanbase in Abuja with new listeners in Lagos, and a potential market in the UK. A step in this regard was how they held listening parties in all three regions during the weekend of the mixtape's release.
"It's just how you spread your gospel in America, London, Lagos, Abuja and so on. It's as simple as that. The only importance is that everything has to start from Abuja, my home. Asides that, every other place is of the same importance," proclaims ODUMODUBLVCK.
This much love for his team doesn't come without its struggles. For a person as opinionated as he is, taking creative input from those around him has become a skill to hone. "I have learnt to take input from everyone on my team," he mentions, "I may not use it, but I will hear you out. In terms of music, I trust Teezee very much and he can influence my creative process profoundly. Maybe because he's both an executive and an artist."
Teezee is the co-president of NATIVE Records and has been prominent in Nigerian music since 2007 as an artist and one of the pioneers of Lagos' alté subculture, so it has been very easy for many people to describe ODUMODUBLVCK – being signed to the label – as one of Nigeria's alternative acts.

"No, please. The kind of music I make is not alté. I'm nothing like that. I'm a hip-hop guy. Don't you see the way I dress and walk? Everything's hip-hop," he declares.
Yet it wouldn't be an absolute error to associate him with the subculture, due to the company he keeps, his free-spiritedness and the caliber of creatives he works with. One of them who has stood out in recent times is Trill Xoe, a music producer who recently took to his Twitter to hint at a deluxe version of EZIOKWU in the works.
"Definitely. A deluxe is coming and it's heavy," ODUMODUBLVCK confimes. "It's going to reload the tape again. When it comes, everyone will believe it because it's the gospel."
But beyond whatever label you could give to him, or description you could make of him, the authenticity of the EZIOKWU mixtape only proves that ODUMODUBLVCK would never be anything less of himself, even regardless of any pressure coming from the limelight.
"Please let them just go and listen to the music. It's the truth. That's my own."