---
Christian Tiger School, Okayplayer & Soulection's Official SXSW Showcase at the Bungalow, Photo via Okayafrica IG
Last week Okayafrica and Okayplayer went down to Austin for a special SXSW edition of OKP's yearlong 15th anniversary birthday celebration. Friday marked the official start of CTSXSW (or SXSAfrica?). Christian Tiger School– right on the heels of the Jozi launch of their sophomore album Chrome Tapes– got Austin press outlets buzzing with their opening set at Okayplayer's and Soulection's Official Showcase. The Cape Town beatmaking duo set the joint off very early on with gems like "SABC2," their "Spanish Robin Williams" Player Xchange with Bilal and World's Fair, and new material that has yet to surface the web.
The cherry on top of our networkwide four-party series was Okayplayer's Official SXSW Showcase Saturday night at the Bungalow on Rainey Street. Young Fathers, Petite Noir, and Christian Tiger School were all in the mix of a double digit bill that also included the likes of DJ Lo Down Loretta Brown aka Erykah Badu with Thundercat on bass, THEESatisfaction, Cody ChessnuTT, Roman GianArthur, Deep Cotton, Liam Bailey, and Daley.
Christian Tiger School backstage during Deep Cotton's soundcheck, Okayplayer's Official SXSW Showcase at the Bungalow, Photo via Okayafrica IG
Saturday night Christian Tiger School switched shoes from beatmaking pair to DJs (and MVPs– more on that to come) of the showcase. The CTS guys worked from behind the decks to ensure the high remained on between set transitions. At one point the cops came by to yell at CTS's Luc Veermeer and Sebastian Zanasi for "playing their music too loud." Watching the episode from afar it was pretty TV dad of the Austin PD-- who also threatened us with the brink of cancellation...
Young Fathers, Okayplayer's Official SXSW Showcase at the Bungalow, Photo by Yusuf "Yuie" Muhammad
We knew for a fact that Young Fathers bring a savior-like presence to their live performances– but even that prior knowledge didn't prepare us for the otherworldliness of their set. Backed by a full string section (a special addition for the night!), the Edinburgh trio launched into ceremonial mode from the get-go with hammering percussion to soundtrack our three cultish leaders letting all hell break loose on the mic. Even though they only had time to play three songs, YF brought the crowd to sweat and tears, including a flawless performance of "I Heard" (our favorite song of 2013!).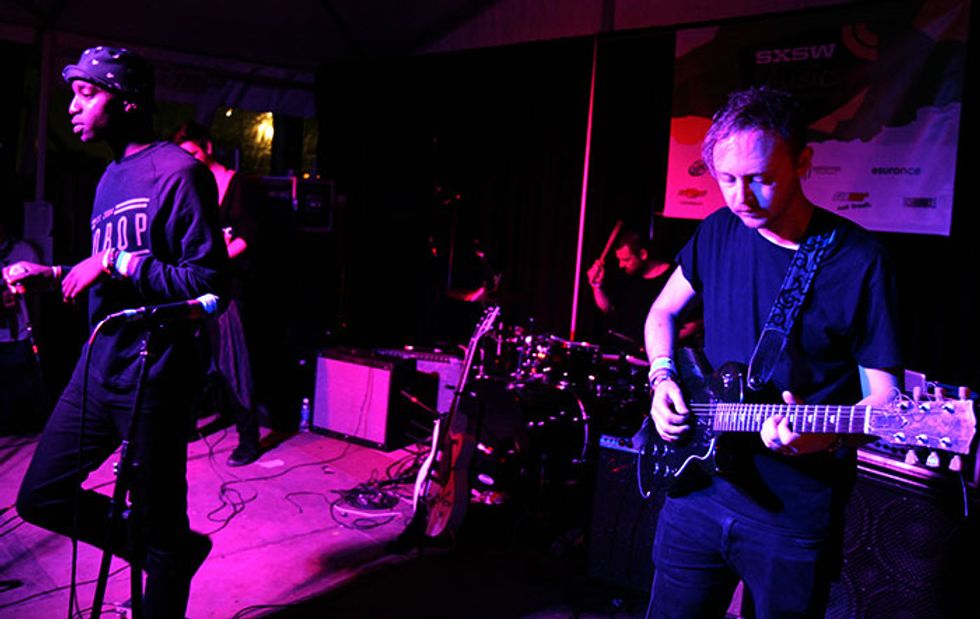 Petite Noir, Okayplayer's Official SXSW Showcase at the Bungalow, Photo by Yusuf "Yuie" Muhammad
Petite Noir and his band were next up to take the stage. Newwavey guitarist Yannick Ilunga slayed it on the guitar. Combined with buzzmaking performances at the Saint Heron and Pop Montreal showcases, Petite Noir sent Austin home with a proper introduction to to the dark and heavenly-sounding art of South Africa's noir-wave.
THEESatisfaction, Okayplayer's Official SXSW Showcase at the Bungalow, Photo by Yusuf "Yuie" Muhammad
In a surprise turn of events, THEESatisfaction's set turned out to be a real life Player Xchange when Christian Tiger School filled in as Stas and Cat's DJs. The penultimate set of the night was a brilliant mood-setter for neo-soul queen DJ Loretta Brown aka Erykah Badu's high-energy timewarp from the behind the deck.
>>>Head Here For Okayplayer's Full Recap + Gallery From Saturday Night