Watch Okmalumkoolkat's hyper-surreal video for 'Allblackblackkat' from Johannesburg photographer/director Chris Saunders.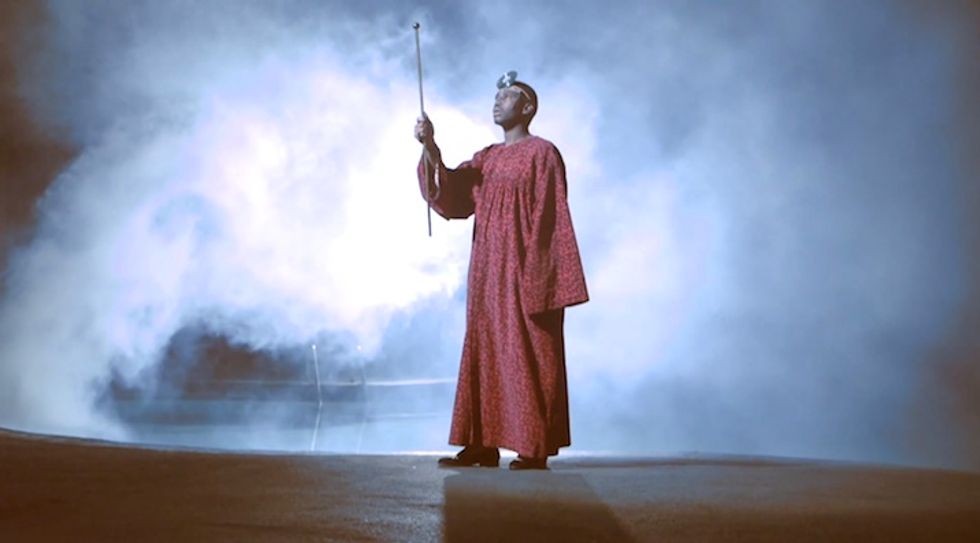 ---
Last week we went inside the mind-altered world of Okmalumkoolkat with his VHS'd "iJusi" video, a film by Gregor Lehrl which we premiered on Okayafrica. Today we take a darker look at Future Mfana through the lens of Chris Saunders, the prolific Johannesburg-based photographer/director whose photos of South African puppeteer Macdonald Mfolo blew us away earlier this month. Since OKA's conception, Saunders has been behind more than a few of the most striking videos to come to light, including Nozinja's "Tsekeleke" (an early frontrunner for video of this year) and his 2012 video of the year for LV and Okmalumkoolkat's "Sebenza."
On their reunion, Saunders and self-proclaimed "demagod" Okmalumkoolkat bring Holy Oxygen I to spiritual life. The "Allblackblackcat" video, which premiered today over on the Fader, is a hyper-surreal take on a Zulu cleansing ceremony performed on a male member of the family before funerals, a ritual which Okmalumkoolkat himself experienced as a child. It's a pantsula nightmare (or daydream, however you want to look at it) that vies with Saunder's own Nozinja dance clip for the most striking video of 2014. Watch "Allblackblackkat" below, which as the Fader explained, "plays with memory, reality and generational shifts." The four-track Holy Oxygen I EP, co-produced by Vienna's Cid Rim and The Clonious, is out now via Affine Records. For more from the Future Mfana mastermind download Spoek Mathambo's all-Okmalumkoolkat Future Sound of Mzansi mix plus get the scoop on "Holy Oxygen," "Fancy Footwork," and "iJusi" off his debut EP.