Omah Lay's music is at once introspective and hedonistic, matched with the vibrancy of alt-pop production, sometimes crafted by the artist himself. The Nigerian act, who released his debut EP, Get Layd, earlier this year has been described as wielding the "lyricism of Burna Boy and the melodies of Wizkid."

Omah Lay's grandfather played in Celestine Ukwu's highlife band; his father played the drums too. Being put through his paces in Nigeria's South region—specifically Port Harcourt—supplies the grit to Omah's velvety singing. The starkness of the world he inhabits is a wonder and his lyrics are too. Phrases like "You dun burst my eyeglass" and "Omo she be SARS and she carry full van" are a cultural stamp, a burst out of the ordinary for listeners, many of whom now declare Omah Lay as "special."

Following the validating reception of singles "You" and "Bad Influence," Omah Lay shared the Get Layd EP on May 22. Including just three new songs might have posed a gamble and not defined his sound well enough, but the musician shattered those judgements. Omah Lay is a gifted artist and has the uncanny ability to exist in his space, even when circling around the afro-fusion tag that has seen a recent rise in adaptability.
Below, Omah Lay speaks to OkayAfrica about his Get Layd EP, coming to Lagos, and more.
This interview has been edited and condensed for clarity.
---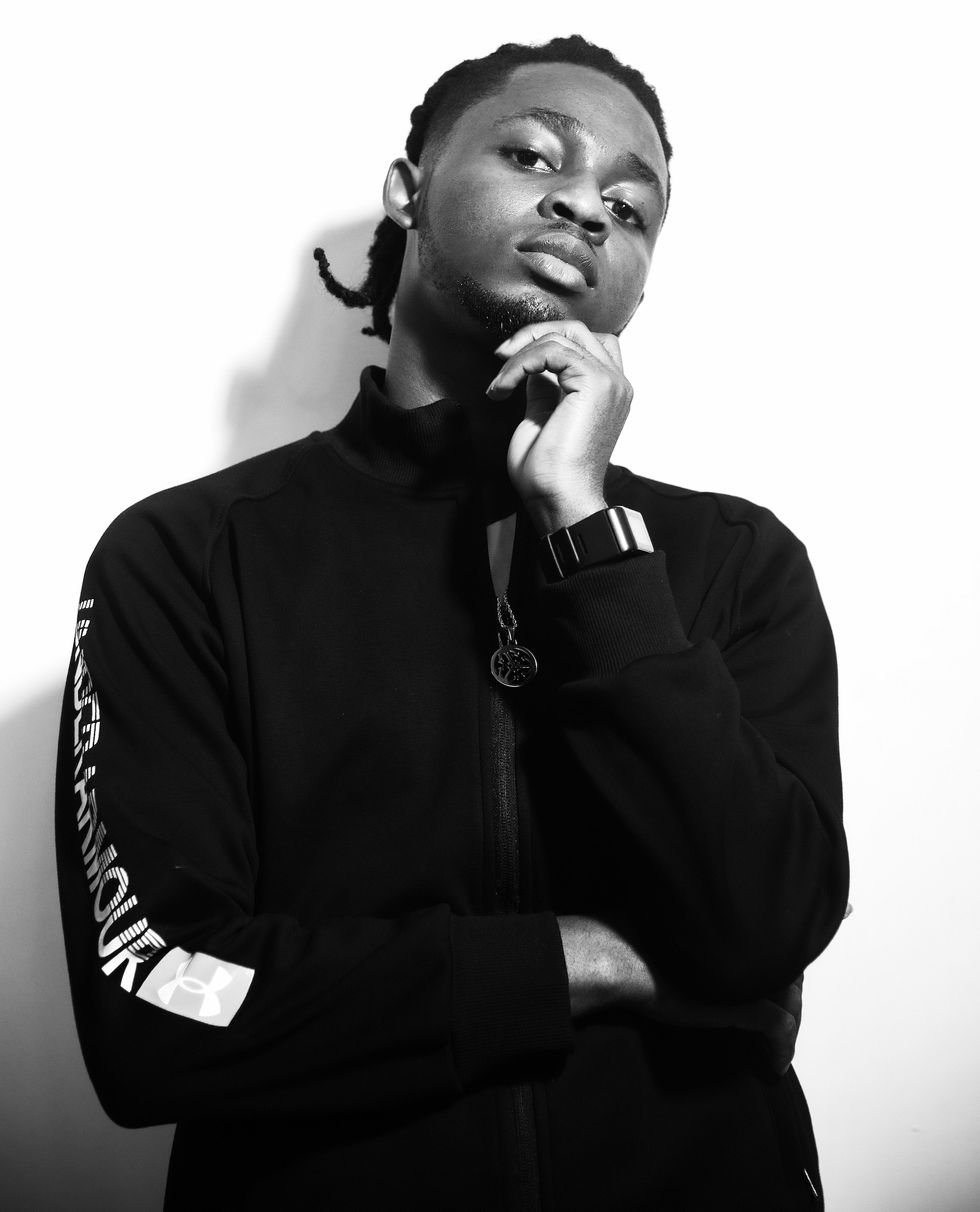 Omah Lay.Image courtesy of the artist.
What's your musical background?

I started out as a musician when I was around 15. I became a music producer for a long time, then I started singing again. I heard a lot of stories about my granddad while growing up, that he was a percussionist for legendary highlife singer Celestine Ukwu at a time—I think that's where the whole thing comes from. My dad was a drummer also. These people were all inspirational to me.
You came from Port Harcourt to engage with Lagos's music industry, possibly the biggest in West Africa. How would you describe the Port Harcourt music scene like?
It's good. There are a lot of very good artists. A lot of people who inspired me when I was in Port Harcourt still inspire me today. The likes of Burna Boy, Duncan Mighty... I listen to a lot of Ajebo Hustlers. Port Harcourt is doing good, there's lots of talent there that played a role in my growing up.
How would you describe your sound?
Mostly, my sound is afro-fusion. But I still don't like being boxed in some type of way, I'm not that kind of artist. There's so many influences to my music.
How was the Get Layd EP idealized? When did you begin work on it?
It's been a very long process, and it was fun. I started working on it August last year. At some point I had to go off social media, stay away from a lot of things and keep my head straight to get the project right. The first song I'd recorded on Get Layd was "Bad Influence." I'd done that way before the songs we had to put on the project.
Omah Lay - You (Official Video)www.youtube.com
You produced "Bad Influence." It's a great song and one of the biggest jams right now. What went into the making of that record?

"Bad Influence" is actually a story of many things happening at the same time. At the time I wanted to put out something on Instagram 'cause I'd been away for a long time, so that people had something to listen to while I was away. So I made "Bad Influence" as a one-minute song but it turned out to be everybody's favorite and they all requested that I make it a complete song. Like I said, it was inspired by a whole lot of things. It was me coming to Lagos, being exposed to a new type of life, a lot of things around me, and putting all that experience together.
Often, when people discuss your music, they tend to gloss about the uniqueness of your songwriting. How was that developed?
I really don't know how. But growing up, and up to this day, I listen to a lot of hip-hop songs. Drake, Russ... Also, I wouldn't say I'm the book type, but I love poems.
You're famous now. How has that changed you? How are you processing all the love you've been getting from listeners of Get Layd?
(Laughs) I think this is the first time someone's telling me I'm famous. Not much has changed. I'm still the regular guy who makes things tick in the studio. Nothing has really changed. Maybe until when I go outside, and get to perform on a stage. That's when I'll know for sure what has really happened.
How has the COVID-19 situation effected a change in the regularly scheduled program of Omah Lay?
I'm not so much of a business person but I know for sure my team puts the business out there. I basically just make music.
What excites you the most right now? Are you recording more, looking forward to touring...

Right now, I'm still all about Get Layd. But I'm recording; I might put out a second project or a single. That depends on how things go.