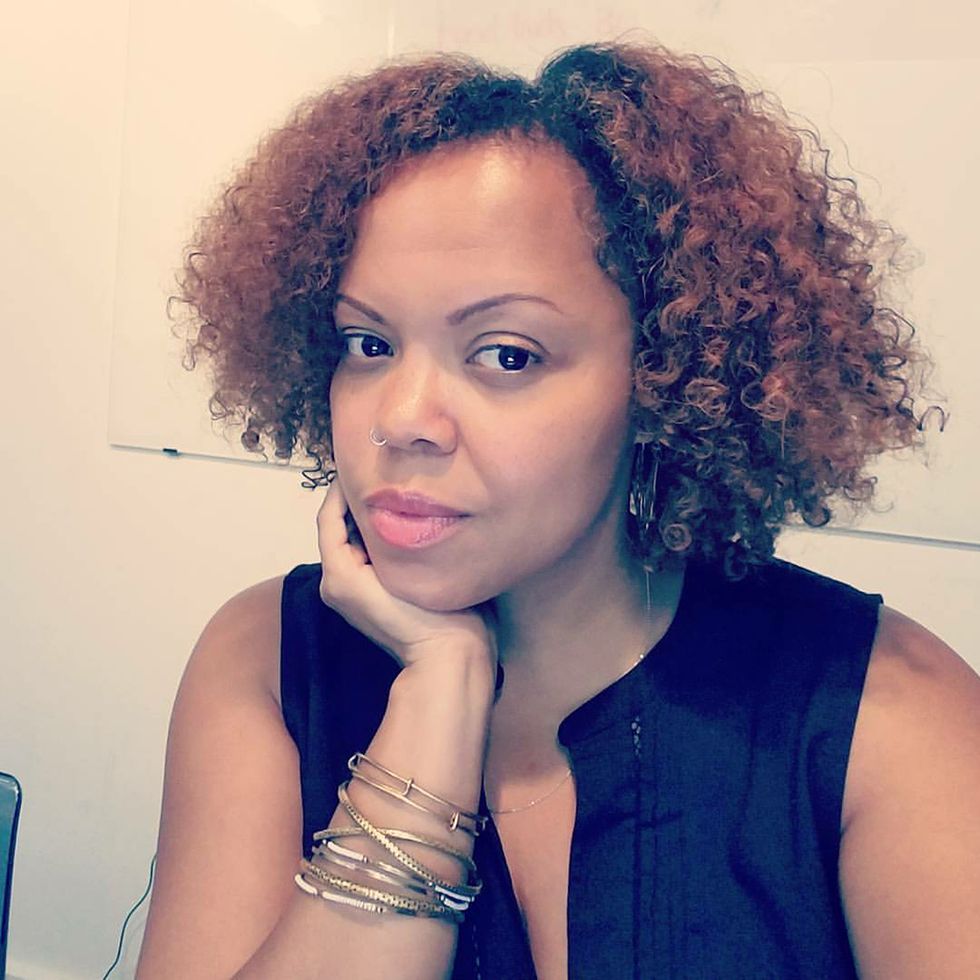 Photo courtesy of Oronike Odeleye.
Oronike Odeleye's name isn't just a direct line to the continent. It's the blueprint for how she lives her life and the reason she spends her time protecting Black women and girls.
"Something to be cared for," Oronike Odeleye tells me when I ask the meaning of her name. It also has a backstory that connects her directly to the continent. Her father, an African-American sculptor, lived with a family in Nigeria after graduating from Howard University in Washington D.C. An elder bestowed him with a list of children's names from which he chose Oronike. The name, too, chose her, as she continuously demanded her parents' watchful eye. "I was a busybody," Odeleye says, describing her childhood in Atlanta, "always in trees, doing daredevil stuff."
Her name continues to be a self-fulfilling prophecy. As of late, it reflects the boldness of her activism as the co-founder of #MuteRKelly, the viral campaign to "end the career of serial mental, physical and sexual abuser, R Kelly," the Facebook page reads. Her name signifies her work itself, advocating for young women preyed upon in a culture steeped in misogynoir.
When we first caught up with Odeleye about a month ago, the charges against Kelly had just been filed. The 52-year-old singer pleaded not guilty to 10 counts of aggravated criminal sexual abuse involving four victims. Three victims were between the ages of 13 and 16 when the acts allegedly took place. As expected, the ensuing days were hectic for Odeleye. She was "cautiously excited," since Kelly escaped a conviction before. "We're taking everything minute-by-minute and seeing how it goes. We're really hoping that they have a strong case," she told OkayAfrica. But her work mobilizing efforts to financially divest from the man and the music already feel like a win for those who have been fighting and telling the public for over 20 years of the horrors they knew.
---
It's why through hundreds of nominations, Odeleye made the OkayAfrica 100 Women list this year. She wants to be clear about the honor; Odeleye is an African-American woman raised by African-American parents who made West African heritage central to their lives. They enrolled Odeleye in independent, Afrocentric schools in both her birthplace of Washington D.C., and in Atlanta, where she calls home. This upbringing exposed her to Black freedom struggles in the Americas and on the continent. She deftly draws parallels between those movements and her current advocacy. And she is a real example of how our heritage and ancestry sustain here in North America, where millions of stolen Africans were enslaved and forced to abandon their ties to continental land.
"Your job," Odeleye recalls her father telling her, "is to create a strong Black family, a strong Black community." She adds, "you can't do that when 60 percent of Black women are being sexually abused before they're 18. We can't do that in a space where our girls don't have any leeway to be young, to be naive, to explore their sexuality in a community space that is supportive and nurturing and not predatory."
On R. Kelly in particular, Odeleye stresses that "he is an abstract figure. He's not our uncle that we love, our pastor that we trust, he isn't the family friend. Let's point out what he's been doing and how we've all supported and enabled it, and how we have blamed these young women for the things that happened to them, how we make Black girls feel bad about abuse."
Odeleye extends this commitment to community in many areas of her life. She is a project manager for Black-owned companies, including her work as the Festival Coordinator for One Music Fest, one of the few Black-owned music festivals in the country. Odeleye's work with the arts organization Creative Currents has taken groups to countries throughout the Diaspora "to engage with Blackness worldwide," she says. "All of those things are fueled by a love of Blackness, a love of Black people, and wanting to create this community amongst us."
Underlying #MuteRKelly is a sense of purpose that goes deeper than fighting the embattled singer and his enablers. Odeleye is careful to remind me throughout our conversation that their campaign "is not about being against R. Kelly. It's about being for Black girls."
It's about uprooting a system.
"[We] foster a society where we see women as always the problem and never the victim. You have your Bill Clintons of the world, your R. Kellys of the world who can be grown men preying on young adults and it goes unpunished."
Though a perfect storm recently pushed #MuteRKelly to virility, the campaign started two years ago with the combined efforts of Odeleye and co-founder Kenyette Barnes. In 2017, Odeleye began an online petition to keep Kelly's music off local Atlanta airwaves. Barnes—who was doing her own work seeking accountability for the singer—tracked Odeleye down so they could collaborate. Odeleye recalls Barnes' determination. "I was in the office at the time [when I got her call]. She was like 'where are you right now.'" The two agreed to meet the following day at a coffee shop a bit south of downtown Atlanta.
Barnes came up with the name, and the professional savvy of the two women complemented each other—Odeleye with her press experience and Barnes in lobbying and activism. Steadily, venues began to cancel R. Kelly's live shows. The duo demanded that public venues supported by taxpayer funds not support the alleged rapist. In these early stages, their activism proved to be a greater emotional burden than Odeleye expected. "It started with a bunch of hate. This has led to fights with friends, with family. People on the internet saying you hate Black men. It's emotionally draining."
Lately, however, there's been a cultural shift. "It's a really amazing feeling," Odeleye tells me when I ask about the tipping point in their movement. "To have sat in my office with this little idea—with Atlanta being number one in the nation in child sex trafficking— we cannot afford to be giving this person our money and support. Let's just stop playing his music on the radio and start from there. The Black community needs to divest from him. Even if we cannot get legal justice. As a community, we have to say we're not going to support it."
Challenging entrenched misogyny, included that which is internalized among R. Kelly's enablers, requires a bit of extra grit. I told Odeleye that it reminded me of our ancestors in bondage, who had to dig from a well of courage to fight for liberation that may never come. She adds that the work also persists through the constant belief "that no matter what kind of feedback you're getting, you're on the side of right." The mission is not driven by a desire "to steal other people's land that doesn't belong to us or steal somebody else's riches or culture," she remarks. Rather, it's a boldness rooted in "the righteousness of our struggles."
"We're fighting for our liberation," she says. "We're fighting for the end of sexual abuse of young Black women."
I felt a sort of kinship as Odeleye spoke, recalling my own experiences from her words, though we had never met. It went beyond our heavy names, charged with African spirit and given to us by African-American parents. We both benefited from parents who, after we relocated to Atlanta at three, immersed us in a value system that stoked pride in our Africanness and cultivated a sense of justice. Our preschools in our birth cities—hers Nia Shule in D.C. and mine, Uhuru Shule in Los Angeles—were among the first places we encountered this Afrocentrism.
While we would be the lone kid with an Afro at our elementary schools, we could be our whole selves in our new southern home, because the city attracted every facet of Blackness. We saw our image in greatness, whether they were the mayors, teachers, and esteemed public officials who matched our melanin or the myriad Black families whose traditions ranged from celebrating Kwanzaa to coming of age in Jack and Jills.
Here we were, decades after our early lessons in Black liberation, our paths merging in a steadfast mission to keep fighting for it. Though, incredibly, they crossed much earlier. I realized after our conversation that her father, who she didn't refer to by name, was a family friend. Ayokunle Odeleye's sculptures, which have been commissioned around the country, also decorated his home studio that my mom took me to as a kid.
The loving hands that molded us—like her father's work crafting art in the Black image—were intentional. This is the same love we must pour into our sons and daughters, those related by blood or otherwise. Her movement, Odeleye shares, "is really about doing better by our young people. We have to empower all of our young people to speak up and use their voice and have that voice respected. So often in our culture we're very much into children being seen and not heard."
In a world that demonizes them from birth and may silence them at home, we must protect and nurture them so they know, too, that they are something to be cared for.
Additional reporting by Mankaprr Conteh.