On a cool October afternoon, Accra — Ghana's bustling business capital — was unusually quiet. The passing of the Ga "manye," the queen mother of one of the six clans in the Ga society, led to a ban on noise, bringing about an uncommon tranquility in the air. However, in the heart of Kantamanto, a market that's become the secondhand clothing headquarters of the world, The Or Foundation and its OWO (Obroni Wawu October) Fashion Festival created a buzz that seemed to still capture the vibrancy of Accra.
Following on from its inaugural gathering last year, the festival took place once again at the Rawlings Memorial Park, where secondhand clothing or "foose" sellers set up their various stalls, displaying their interesting catalogs of thrift goods. From colorful jewelry to unique fashion pieces made up of repurposed and upcycled materials, the OWO Festival demonstrated one of the creative ways Ghana has found to handle its imported used clothing problem.
During the course of the three-day event, which started on October 28th, Accra's thrift fashion community came together with designers to focus on ways to address the damage secondhand clothing is doing to the Ghanaian environment. In 2021, Ghana imported over $214 million of used clothes, known locally as obroni wawu, or "dead white man's clothes" – hence the name of the festival.
Ghana's growing secondhand clothing problem
Secondhand clothing is ubiquitous among Ghanaians. There's a good chance that any random person you ask would be wearing clothes or shoes purchased from a secondhand clothing store. "Foose," as they're popularly called, represent an affordable source of clothing for an average individual who cannot afford to have tailor-made clothes or to buy high fashion. These clothes are imported through Ghana's various ports and then sold in the local markets, like Kantamanto, or "Kanta," as it's known colloquially by vendors, who buy clothing bales from importers and middlemen.
The Or Foundation has researched the financial challenges faced by vendors when purchasing clothing bales. Their work indicates that the resale value of salvageable and sellable goods in these bales often falls short, covering less than half of the acquisition cost, which, on average, is about $150 a bale.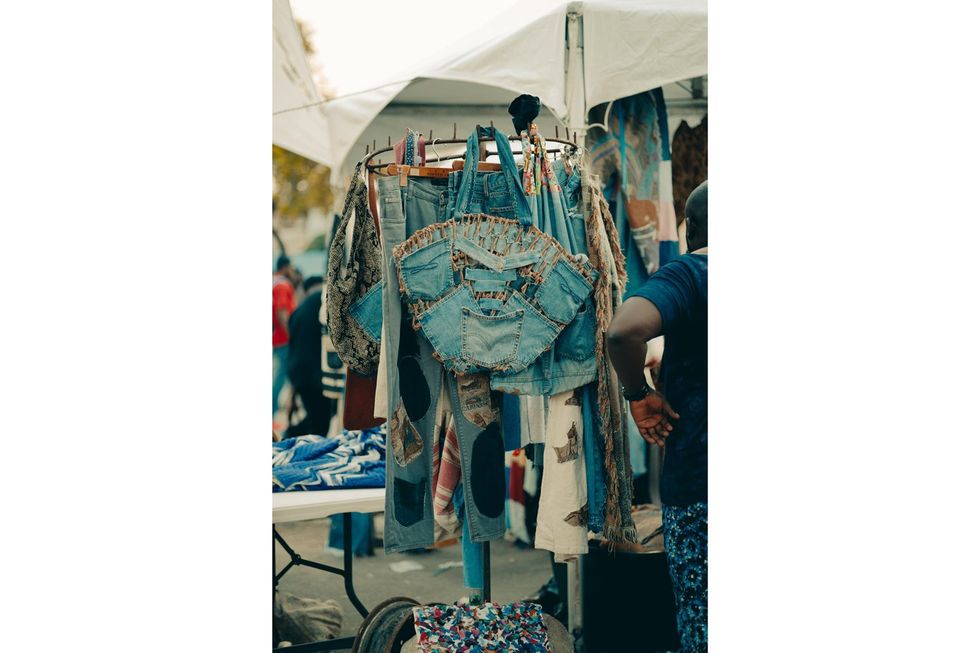 Designs featured during the OWO Fashion Festival.Photo by Komla S Darku.
This puts vendors at a significant deficit and highlights the economic hurdles they encounter in the second-hand clothing industry. These "foose sellers" are everyday people, trying to make ends meet, suffering extreme financial losses, and a generally stressful quality of life. Speaking to OkayAfrica, one of the clothing vendors, who did not want to be named, voiced her concerns. "There's a human behind Kantamanto, a human behind the clothes, and sometimes people don't seem to realize that we the sellers are affected too, that our families are affected," she says.

Turning "foose" into a festival
This is where the OWO Fashion Festival comes in. Created as a collaboration project by The Or Foundation, a charity organization that operates in both the U.S. and Ghana, it's part of the charity organization's strategy to address the growing concern around imported secondhand clothing. The Or Foundation has been pushing clothing companies to honor their responsibility of managing and handling the environmental impact of their products.
The OWO Festival has been pivotal in curbing the socioeconomic damage that excessive importing has caused, and, at the same time, becoming an avenue for young designers to showcase their amazing talents in styling and fashion. One way is through the "drip contest," an award competition for small-time designers to showcase their drip. Some of the styles and pieces presented this year felt like they could've been part of a Vogue or Paris Fashion Week runway show they were that impressive.
There was also a fashion show that featured the designs of six individual local designers who'd been through a three-month fashion master class with The Or Foundation. Designers were asked to upcycle used clothing into fashion pieces, and their designs consisted of combinations of different materials like jeans, lace, batik, and tie-dyed linen, refashioned into a cohesive fabric, which was in turn used to create unique pieces.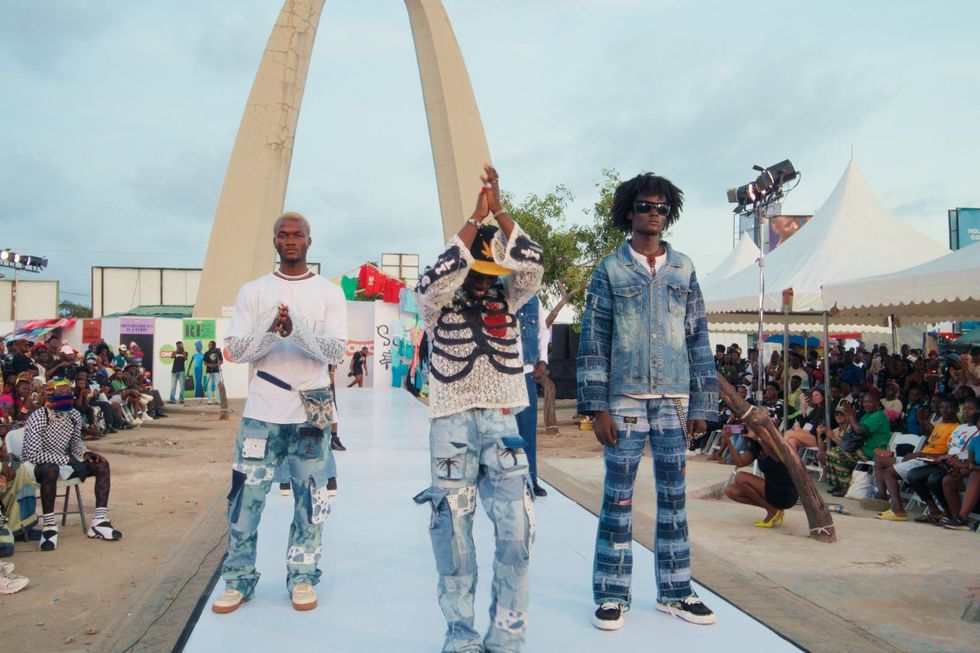 Charles Doziah's fashion label focuses on using denim because it's one of the most dominant materials in secondhand clothing in Ghana.Photo courtesy of the The Or Foundation.
One of the designers, Charles Doziah, told OkayAfrica: "My brand focuses on using jeans, as it's one of the most dominant materials in secondhand clothing in Ghana. My design 'Street Guidance' is meant to inspire young people, proving to them that they can make it out of the streets, with self-confidence, some hard work, and good skills." His designs incorporated denim into a range of fashion pieces, including trousers and a meticulously crafted patched denim jacket. Doziah himself wore a pair of denim trousers fashioned from recombined patches from other pieces, each fabric telling a story in a unique mosaic mix. His designs were a stunning showcase of urban aesthetics fused with artistic sensibilities, making a captivating statement on the runway.

During the festival's second day, a brainstorming session was held between major players involved in the secondhand clothing economy and local clothing vendors, where the current issues were discussed and analyzed. There was an optimistic mood, as steady progress had been made, through the efforts of the French delegation's push for EPR (extended producer responsibility), which is a tool used to hold textile companies accountable for managing their product waste.
The Or Foundation's OWO fashion festival is set to happen again next year in October, and once again will aim to help as much as it can in Ghana's fight against its "foose" issues, all while it looks to positively redefine African thrift culture.