Being genuine sits at the core of Oxlade's personality. He references that a lot during our conversation through answers to questions, big and small.
Authenticity is the reason why, when you start listening to one song by the afro-pop star, you don't stop. It's the rationale behind his confidence and it's why people are attracted to his music. To Oxlade, there are very few things that matter to him more. "My genuineness got me this far,' Oxlade tells me on a Friday morning speaking from his studio in Lagos. "In this toxic world, you need to be genuine to go far. Talent fails people, character fails. People work twice as hard as Davido, people have more talent than Burna and Wizkid but don't have the spotlight. If you want to win, you have to be genuine."
It's what's turned Oxlade into a fan favorite and has garnered him a legion of fans in a relatively short time—and he maintains it in his daily life. As we talk, he openly references his past growing up in Mushin, his grandmother (''I am a grandma boy!'' he tells me), his love for Wande Coal and when the topic lands on music—his music—Oxlade's excitement is as palpable as it is infectious.
---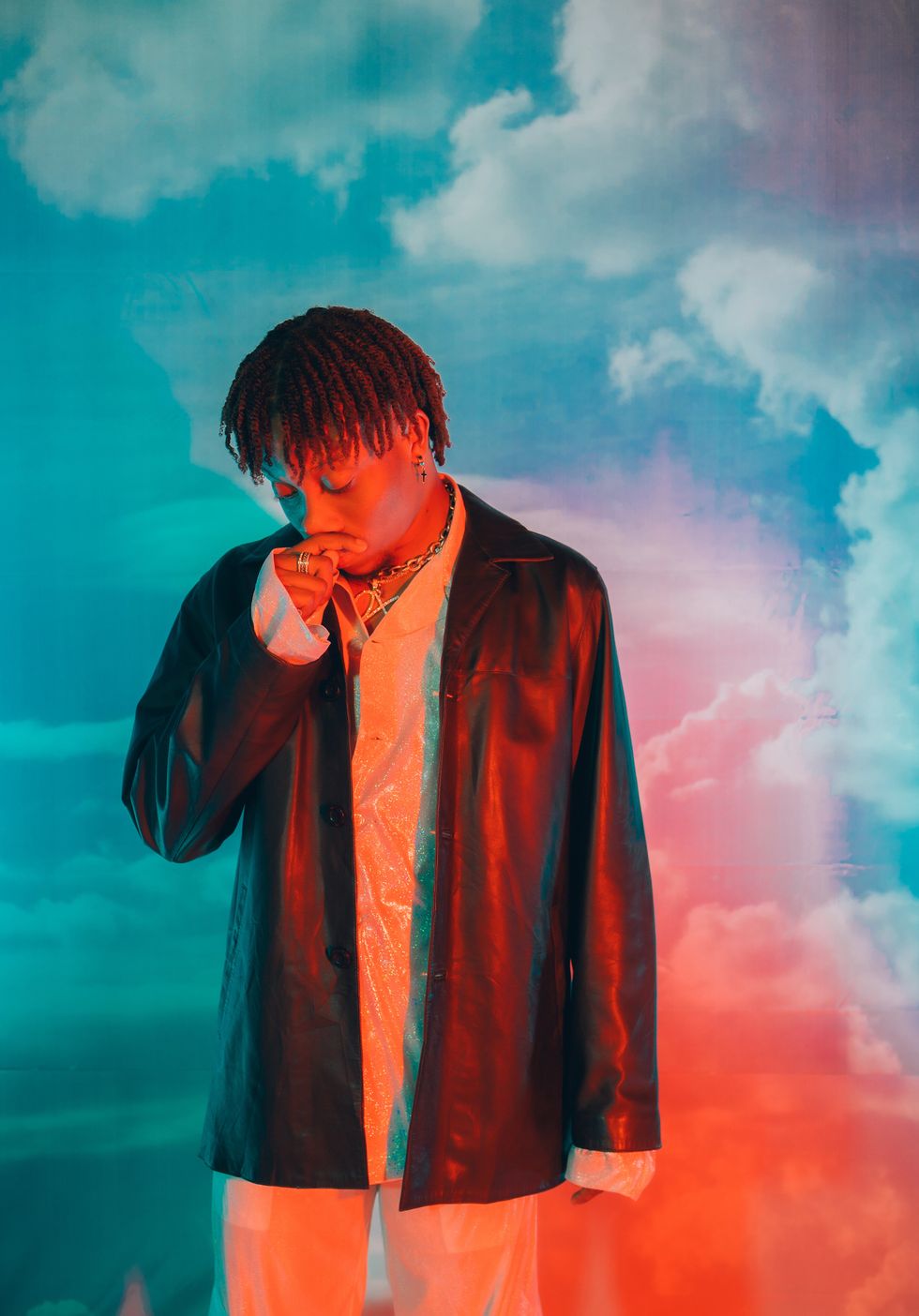 OxladePhoto: @__tse. Courtesy of Oxlade.
Born I kuforiji Abdulrahman Olaitan, the 22-year-old singer has been singing since he was 10 but his big break came in 2018 from a collaboration with Nigerian rapper Blaqbonez. "Mamiwota," the song born out of that collaboration, rose quickly to critical acclaim. It's been two years since Oxlade came into the scene and in that time, he has established himself as one of the most exciting new acts, secured a Headies nomination and one of the biggest fanbases in Nigeria. He recently released OXYGENE, an EP of six love songs where he does what he does best:fuse sounds, bend genres and stir feelings.

We sat down with Oxlade following the new release to talk about his EP, influences and more.
Oxlade - Away ( Official Music Video)www.youtube.com
What are two words that describe your new EP OXYGENE?

Soothing. Different. In the sense that, during this period where things are going bad and we are getting bad news everyday, this music is supposed to relieve stress.
How would you like to define your sound?
If you listen to the project you will hear R&B, afro pop, and more. Like my A&Rs would say, it is definitely afro-fusion.
You had only one collaboration/feature on your new EP, was this intentional?
It was very intentional because, initially, I didn't want to put anyone on this project at all. Me putting only Moelogo was me saying thank you. He was the first verified account that listened and shared my music in 2017.
What's your music-making process?
The making of the song has to be pure to me. I don't really write, I'm more of a vibe guy, I listen with the melody first then fix the lyric. It comes from a different force. I do things professionals do but I never learnt them. It is like me and the beat are having a conversation, I communicate with it. I have to have an actual relationship with the producer. Synergy is important.The majority of my love songs and on the EP are inspired by my ex. I sang them because I felt it. I made sure to use the simplest English so every one, especially every African can relate to it. Human experiences inspire my music and that's why you can hear the happiness and sadness in my voice.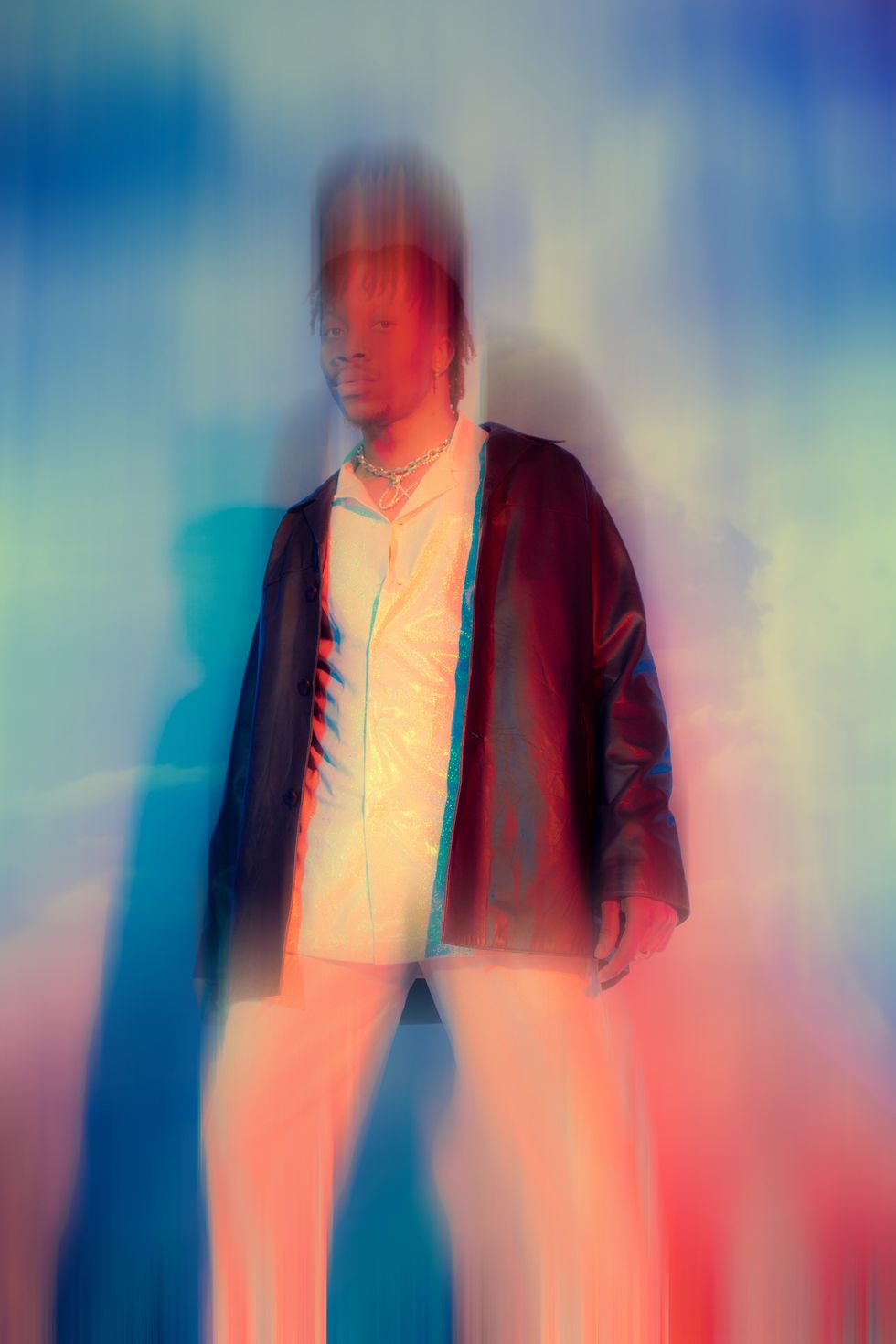 Oxlade.Photo: @__tse. Courtesy of Oxlade.
You said your ex inspired most of your new EP, can you tell me about that relationship?

It was bound to crash yet we were very optimistic. She had a man and you know how the illegal things are the sweetest things? I tell you my brother, no cap, they are the best. It was more like a situationship but I invested time and everything. When my fans found out, everyone started asking who was the babe. All of them are looking for her handle. It's like how could you let this sweet boy go! It's funny but it's also scary.
If you wanted to get someone hooked on your music, what song would you play for them?
As long as the person hears the music I make, the music is going to sell itself. My EP is a buffet! I'm confident in myself and my music. I make sure I complete and do everything I can. To me, If you don't love the music you make, why punish the masses.
Word on the street is that you're the new Wande Coal...

First of all, nobody can be like Wande Coal. He is what you get once in a hundred years. You listen to a Fireboy melody, you hear Wande Coal. You listen to mine, you hear Wande Coal. He inspired all of us. I remember when I was around 10 or 11, I had this walkman and I would put my CD in. One day, I was listening to Mo Hits and one of my uncles, who is a sound mixer heard me and told me he had to get me into the studio to record something. And he did and that was my first demo and it was inspired by Wande Coal. So, I'm not trying to be the new Wande Coal, I want to be the new Oxlade.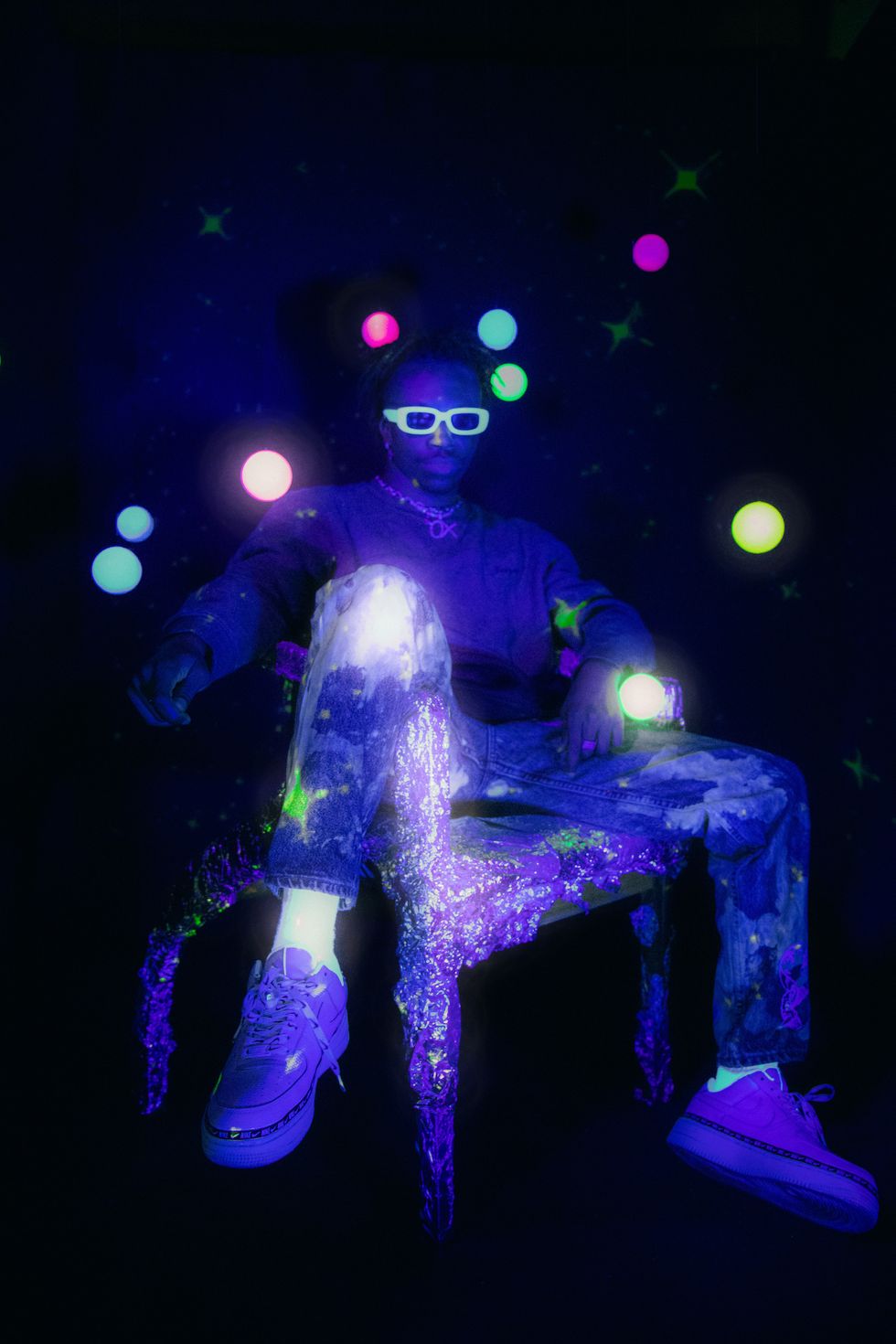 Oxlade.Photo: @__tse. Courtesy of Oxlade.
What kind of legacy would you like to leave behind?

An audacious one. I want to be known as the biggest afrobeats act worldwide. I want fans from all round the world. Right now, I got more female fans in London than in Nigeria, it's just now the Nigerian girls are waking up. According to the stats on Snaps, Apple Music, it's the white girls that are the biggest fanbases. It's definitely not easy, every month a new star comes up. There is so much talent and starpower here right now, not forgetting the heavy weights are still there. So you can not even sleep, but I still want to be—and I will be—the biggest afrobeats act from here.
Lastly, why do you think people find you sexy?
I don't force it. I think girls like it when you are real. I will tell you that I'm a broke man, if you don't like it, you can go. And I think that's what all the girls are attracted to. I think girls also like me because they can relate to what I'm singing about.
OXYGENE is out now.