"We are Black! In the USA and here in Panama, the same racial issues exist and we are not oblivious to them," says Andres Madrid, the 23-year-old co-founder and coach of Asociacion Deportiva Curundú (Curundú Sport Association or ADC).

ADC is a community-based organization that seeks to "achieve social integration and the strengthening of values, in boys, girls and youth through sports and workshops."
The group is also rallying in support of its community, in light of the economic impacts of COVID-19 and ongoing police violence and racism in the country.
Since the onset of the pandemic earlier this year, Madrid and ADC co-founder Cesar Santos, 24, have used mobile technology, such as WhatsApp, and virtual platforms to remain in communication with the group and to conduct practices with the more than 30 boys and girls, aged 10 to 17, who participate in the soccer program. The group has also leveraged its community connections to provide a much-needed supply of food to players and their families over the past several months.
---
It has been a strained time for residents of Curundú, especially since a mandatory stay-at-home order was issued throughout the country on March 25. Panamanians have been restricted from leaving their residences beyond the two hours permitted each week, assigned using identification card numbers and gender.
Since the end of March, Curundú has been home to some of Panama's largest demonstrations denouncing the government's response to the pandemic. Citizens voices concern over widespread hunger, blocked access to earning income and the insufficient distribution of government aid.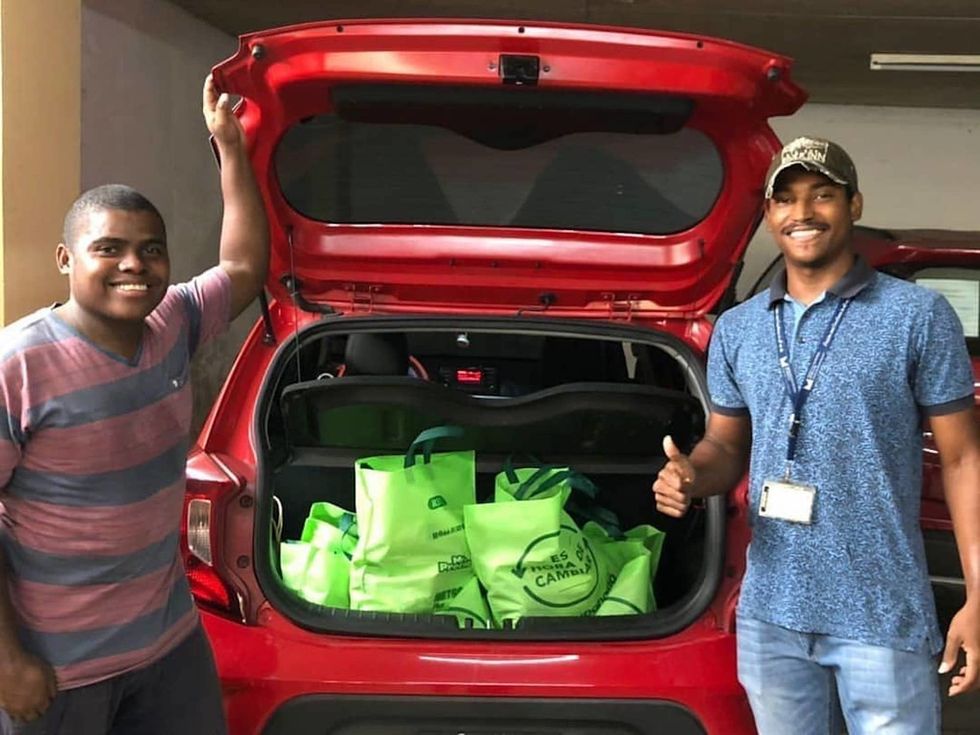 Cesar Santos (left) and Andres Madrid (right) standing with donated bags of food.Photo courtesy of Andres Madrid.
According to the most recent census data, from 2010, over 50 percent of Curundú residents earn less than $100 monthly, which is little in a country where the cost of living continues to increase. "Dia a dia" is a common phrase in Panama that refers to non-salaried workers who earn income on a day-to-day basis, which is the reality for the majority of Curundú residents. COVID-19 restrictions have only compounded economic challenges there.

"Our families were impacted in economic terms, education, and everything," Madrid said. "Many of the businesses that ADC players' parents are engaged in are informal businesses and street vendors sales and the pandemic has complicated things because they can't leave their homes."
Panama's Afrodescendant communities
In Panama, one of Latin America's most economically unequal countries, the disparities between those with access to well-paid jobs and those without has a racialized component. Similar to the US, Panama's most social and economically marginalized communities, which are also the ones with the highest percentage Black population, have been some of the most deeply impacted by COVID-19. Curundú has the third highest COVID-19 infection rate in the city.
Curundú, the community where ADC was founded and operates, is home to Panama City's second-largest district of Afro-descendants. According to the 2010 census, 2,535 Afro-descendants per square kilometer reside in Curundú, which is home to more than 19,000 people in total. These figures make Curundú one of the largest concentrations of Black Panamanians in a country of about four million. According to the latest estimates, there are 586,221 Afro-descendants currently residing in Panama overall. These statistics consistently rank Panama as one of Central America's countries with the highest percentage of Afro-descendants.
The impact of social issues on Curundú is something Madrid and Santos had in mind when founding ADC and interacting with the youth. After all, Curundú is the place where both Madrid and Santos grew up and a place they still call home. They have experienced first hand what it means to grow-up Black and impoverished in one of Latin America's wealthiest countries.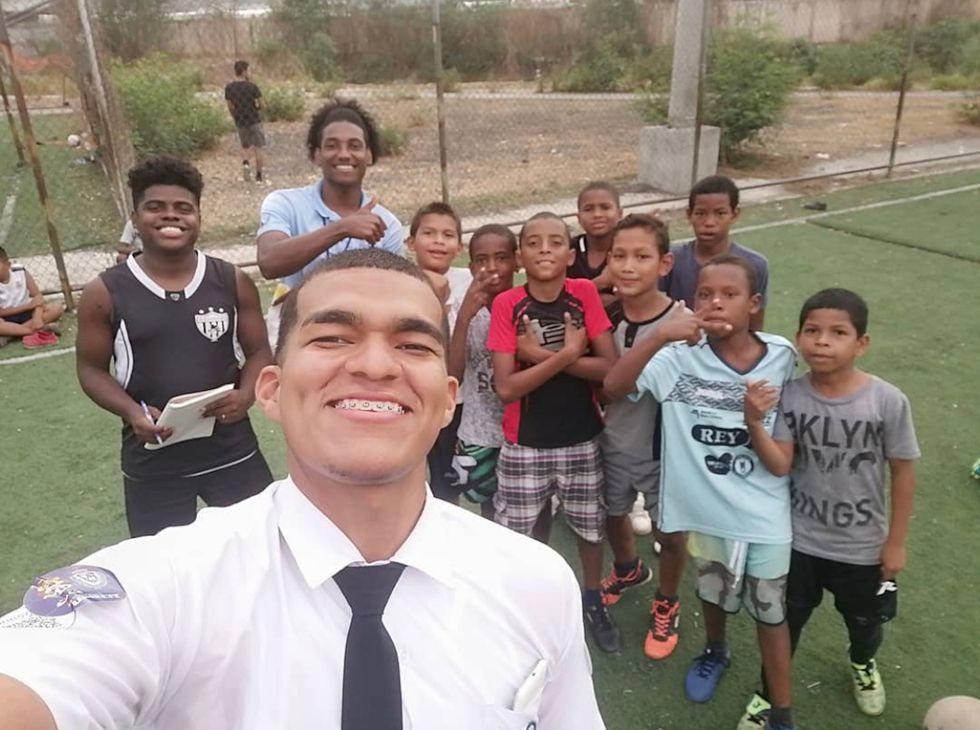 Cesar Santos (left) and Andres Madrid (right) standing with youth members of ADC on the neighborhood pitch.Photo courtesy of Andres Madrid
Run-ins with police

According to a 2018 study conducted by UNICEF, Black Panamanians, and Black males in particular, are stereotyped as criminals. They are regularly abused by local law enforcement. The study also revealed that predominantly Black neighborhoods like Curundú suffer from a lack of basic infrastructure, limited educational opportunities and other social barriers.
Given the circumstances, Madrid and Santos' soccer organization set out to teach more than just the rules of the game—it instructs its members on the rules of life. It is imperative, the co-founders say, that ADC's youth, who are majority Black boys, understand their rights and navigate tense situations with local law enforcement.
Madrid reflected on his own experiences being abused by Panamanian law enforcement. There was one instance on Cinta Costera, a boardwalk that runs against one of Panama City's most exclusive neighborhoods, where he and a group of ADC players were stopped for a "routine" check by patrolling police officers. When the police officers instructed them to take off their shoes, Madrid protested. He claimed the removal of their shoes was unnecessary and an act of discrimination.
"They said, 'since you want to be loudest and the lawyer you are coming with us,' " Madrid recounted. "They marched me 900 meters. I know the people who were watching were like, 'I wonder who he robbed?' and not [thinking] that I was being discriminated against for my race and defending my rights."
Madrid said he was jailed at a nearby police station where, while remaining handcuffed, he was made to sit on the cell's floor for hours as police officers taunted him. This was a painful and humiliating day for the father of four that has no criminal record.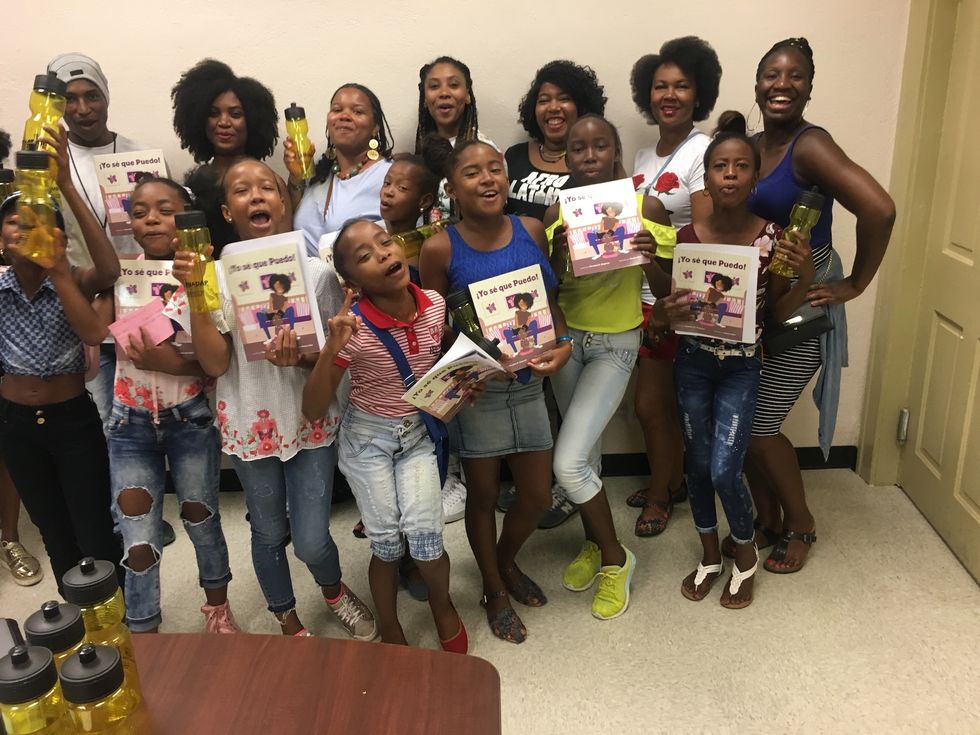 Andres Madrid posing with the U-12 girls team after a youth empowerment workshop with African-American author Veronica Chapman.Photo courtesy of Javier Wallace.
"First, we educate them about their duties and our rights as citizens," said Madrid. "You have to give the authority respect, but they have to give the same amount of respect back!"

Poor Black boys in Panama have also been murdered at the hands of police officials. In 2011, five teenage boys, mostly Black, were burned to death in a juvenile detention center's jail cell after staging a protest against inhumane living conditions. Also in 2017, Jair Rodriguez of Curundú, a Black teenager with Down syndrome, died from complications from tear gas police officers threw in his home.
A pathway forward
With the impact of both COVID-19 and police violence in mind, Madrid underscored the many social barriers facing Black youth in Panama, but said he believes that employment and earning income are some of the most pressing challenges at the moment for all residents for Curundú, including his players.
He would like to see clear pathways for getting out of poverty—a task he understands cannot be done by the residents of Curundú alone. He wants to see institutional change.
As for soccer, Madrid doesn't necessarily want more athletic facilities in Curundú. He desires to see "more real spaces" that are safe, where youth don't have to worry about becoming a victim of violence.
"We want to be guarantors of good education, health and especially people," Madrid said. "COVID-19 is a problem for countries, governments, but being human is the commitment of all us in the world. In Panama, but specifically in Curundú, we are contributing to that change."
Javier Wallace is a Black man of the African Diaspora who studies the intersections of race, class, gender, nation, and immigration within sports in the Americas. Javier is currently finishing a PhD at The University of Texas at Austin. He co-founded the Panama-based AfroLatino Travel, BlackPackas and operates Black Austin Tours.