Patoranking has dropped a new single, "Lenge Lenge," where both the music video and the song itself give a nod to afrobeat legend Fela Kuti as well as his 27 wives—the Kalakuta Queens.
The visual, directed by Luke Biggins and Rebekah Bird, shows Patoranking epitomizing Fela in style and jest as beautiful black women, donning face paint inspired by the Queens, surround him and pose in fresh threads by designers from Africa and the diaspora. The minimal vibe of the video has the eyes focus solely on the fabulous looks.
Take a look below.
---
Patoranking - Lenge Lenge (Official Video)youtu.be
We caught up with Nigerian-American stylist and content creator Alexander-Julian Gibbson who was the stylist for the music video. He explains that Patoranking's team and himself collaborated to fuse what they think makes a contemporary African woman with traditional hair and makeup.

"I pulled 40 pounds of aso oke and traditional coral beads from my mom's personal collection," he shares with us.
Putting together looks Nigeria's Orange Culture, Yemziand Jewel by Lisa, the UK's Tolu Coker and Eki Orleans, as well as New York's own Studio 189 and Mimmy Yeboah, his goal was to help bridge the divide between African designers and popular African music acts, as well as build a community of support between the two worlds.
Take a look at more of our conversation about his experience styling "Lenge Lenge" as well as behind-the-scenes images below.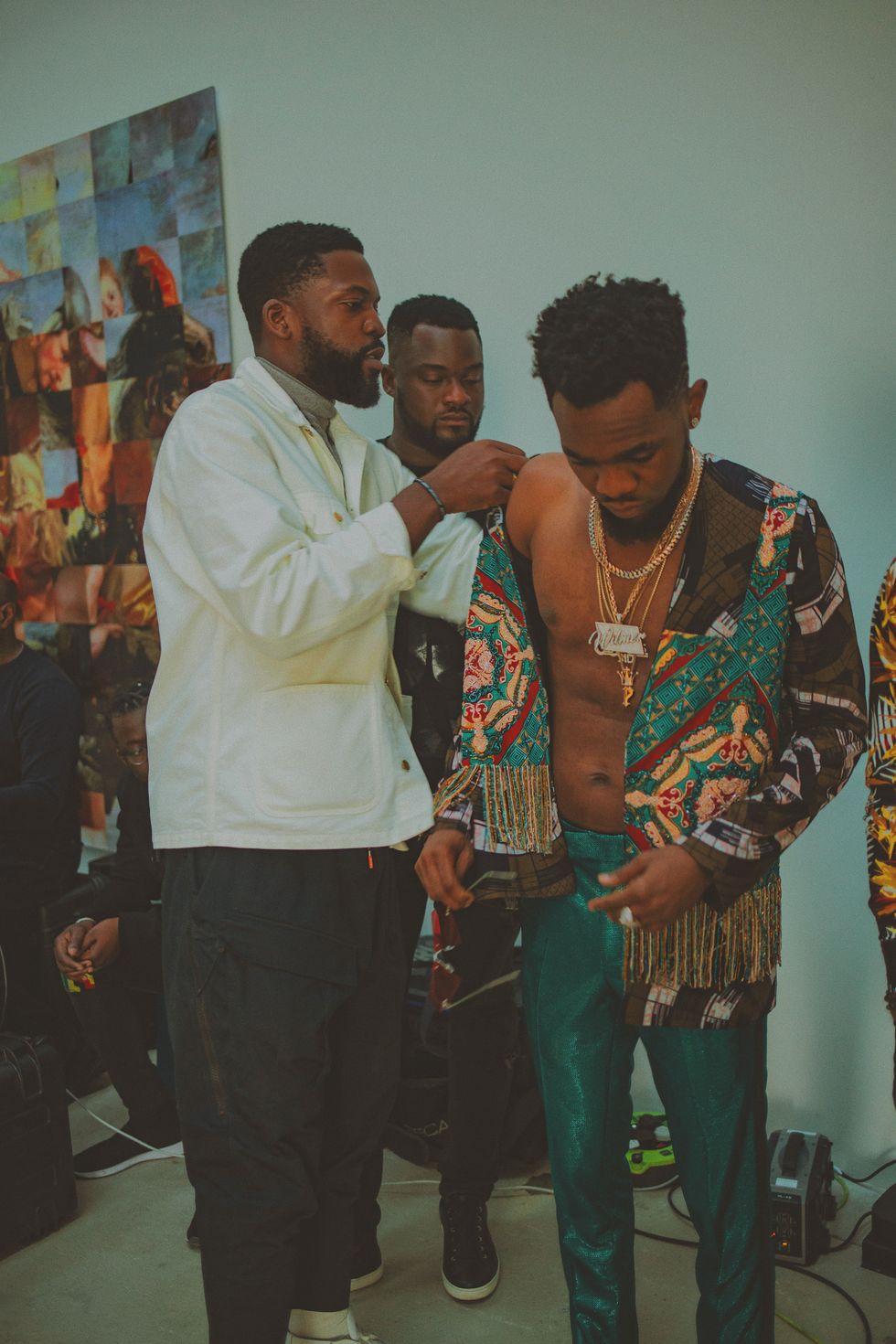 Patoranking in Jewel by Lisa. Photo by Rackz Media.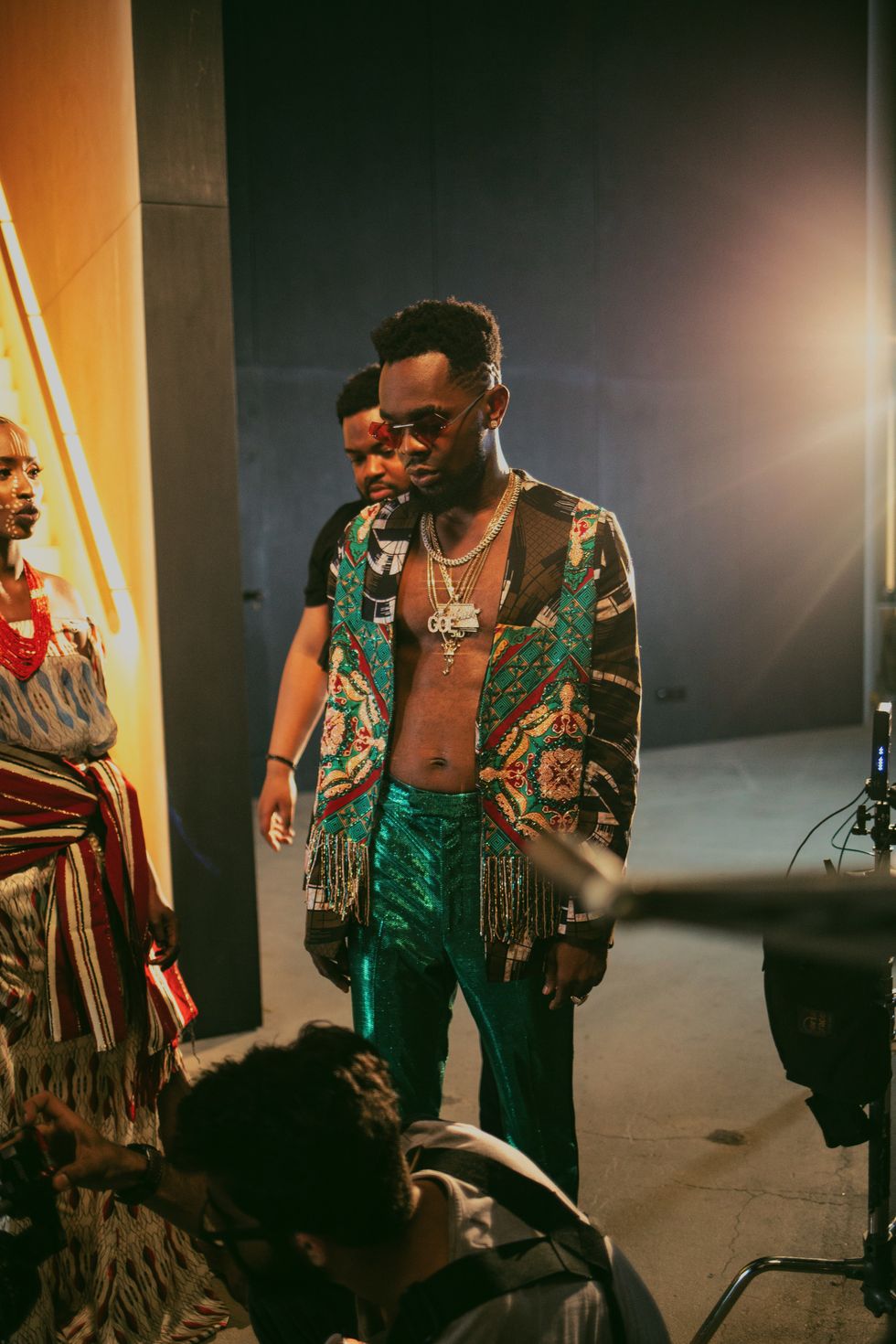 Photo courtesy of Alexander-Julian Gibbson.
Antoinette Isama for OkayAfrica: Can you talk through how you were able to get involved in this project?

Alexander-Julian Gibbson: Someone from Patoranking's team reached out to me a while back to actually style his band for a performance. After half a day of negotiating, they scratched that job and invited me out to come and style his album cover the next day. I met Pato and his team and instantly gelled. A week later, after I made it back to New York they messaged me letting me know they now needed me to style him and 27 women for his music video and I got to work instantly.
Photo courtesy of Alexander-Julian Gibbson.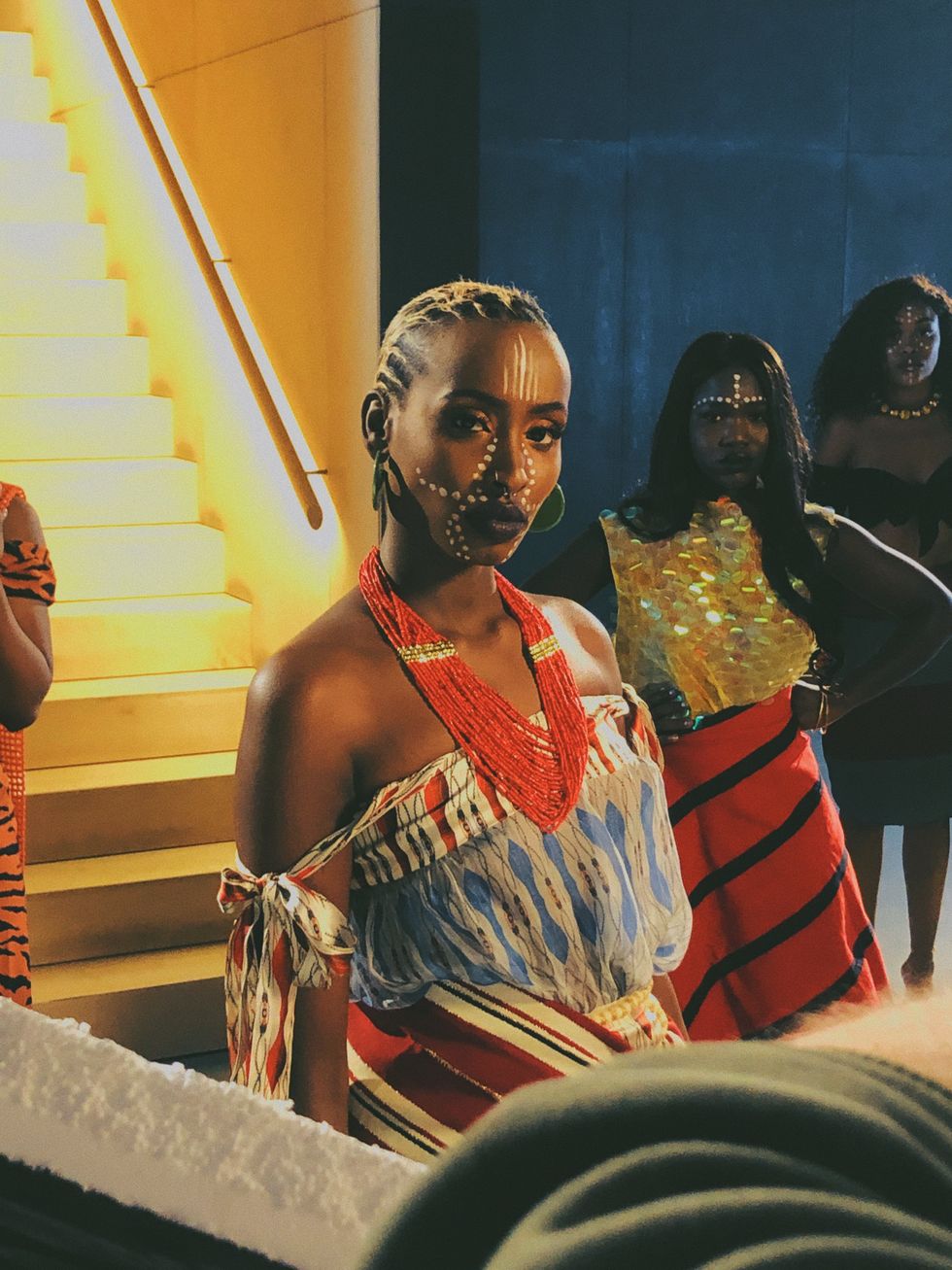 Model in Eki Orleans. Photo courtesy of Alexander-Julian Gibbson.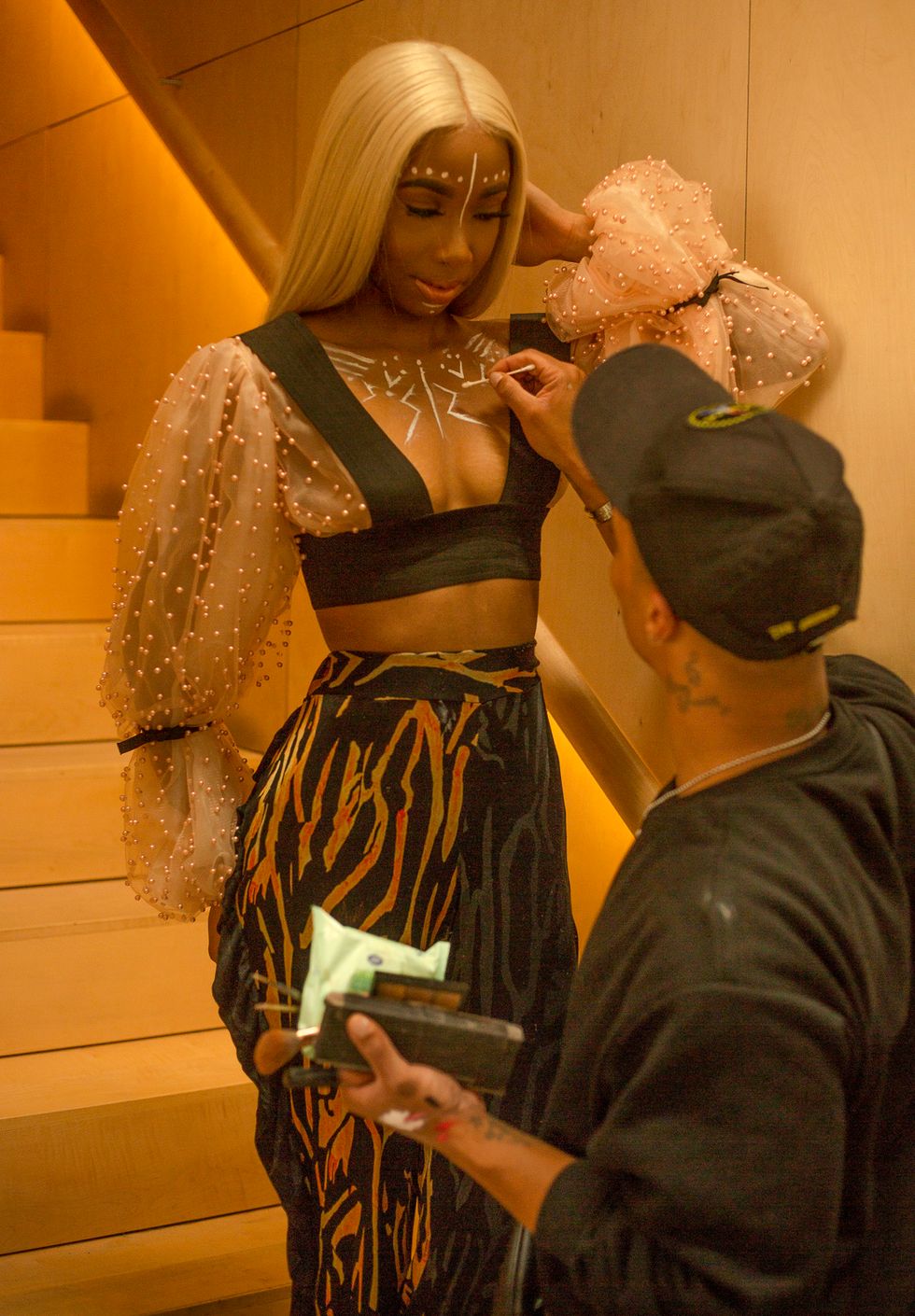 Model in Taylor Goldenberg (top) and Yemzi (bottom). Photo courtesy of Alexander-Julian Gibbson.
What about Fela's dynamic as well as the dynamic of his wives were you hoping to exude through the looks and the whole vibe of the music video?

The Kalakuta Queens were badass. They exuded confidence, strength, and beauty traits that I believe epitomize the African woman. And as they rightly are in society, African women were an influential part of Fela's legacy, and I was excited and honored to bring them to the forefront with this project.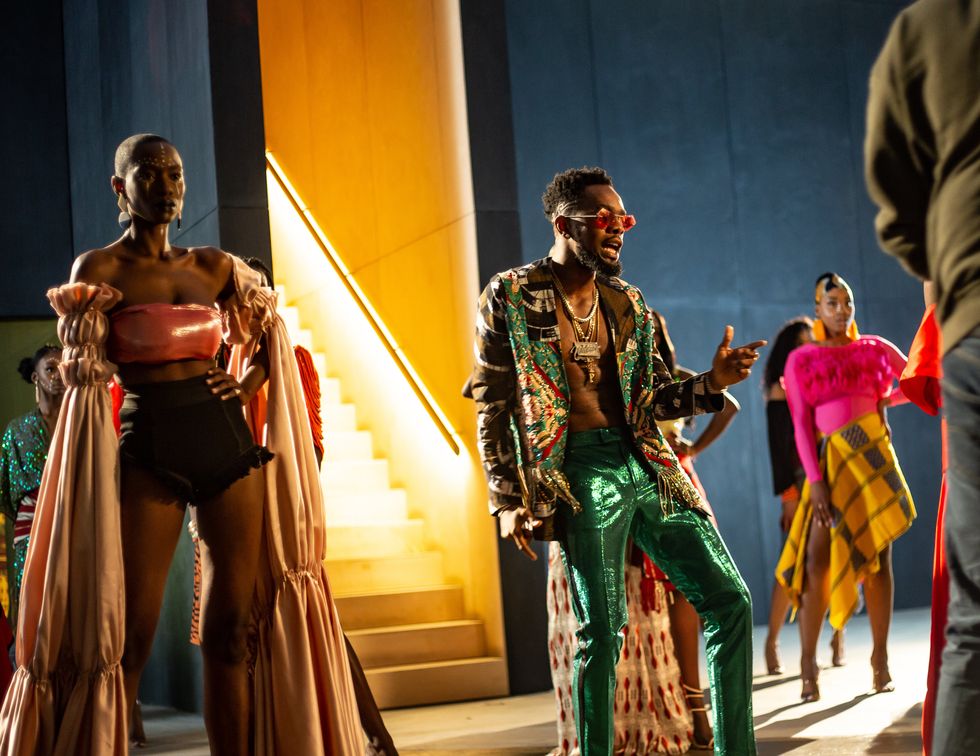 Photo courtesy of Alexander-Julian Gibbson.
Photo courtesy of Alexander-Julian Gibbson.
We don't hear too much from the folks behind the camera who help bring the art (i.e. the music) of our favorite African artists to life through these concepts. How important is it for such collaborations to happen as African culture continues to be amplified on a global level?

I think we're all a part of the aesthetic. As African culture becomes more and more widespread it's important that the story is told in full. African culture is not only about music. It's about fashion, dance, art and so much more and as these artists become globally recognized they will inevitably become the poster children for our rich culture. With that being said, it's crucial to have a supportive team of creatives behind them to help make sure that as they wear their countries on their back, the history these countries hold is portrayed accurately and in color.