Pearl Thusi is ready to be Africa's "Khaleesi." It was a given after tackling the lead role in the upcoming fifth edition of the action movie franchise, Scorpion King. "I learned that I'm actually good at action movies and I didn't know it until this film," she says. "I have never in my life [been able to declare myself as something], apart from saying I'm a really good mom or that I'm something I can prove. It's hard to say I'm a good actress, because I haven't played every person in the world." Not yet, at least. She seeks to tell the stories she would have loved to see as a child. "I could cry, actually," she says, reflecting on her childhood in Durban. "I didn't think the dreams I had [while there] were valid. They weren't ever possible—so it was much easier to [just] dream."
---
Sithembile Xola Pearl Thusi was born in the Durban township of KwaNdengezi, where she grew up speaking Zulu and loving animals. Her first name, Sithembile, means, "we hope." The name came from her father, she says, who was at the time actively hoping for a boy child—a fact she claims gives her a kind of masculine strength. The given names of Pearl and her sisters read like a three-act play about her father's longing for a son. After Sithembile, meaning "we hope [for a boy]," came Silinde, meaning "we're waiting [still for the boy]" and finally Sanilisiwe—"We are happy, it's enough. We are satisfied."

Thusi has been performing since she was in high school, first as a drum major and then as a model in the township. "There I started doing local pageants, you'd win a pack of glasses, or you'd win a little plastic crown. You know? Very much like what is still happening here, where pageants are very popular," she says. At her integrated high school, which she notes was still predominantly white, a model agent discovered her and took her through training to model professionally. Thusi came in second place at Miss SA Teen at 15, where she was the youngest contestant. She continued to model in commercials, and after falling in love with storytelling in high school decided to study drama.
Working in the entertainment industry at a young age helped Thusi financially support her family and herself after her mother passed away. Thusi then enrolled at the University of Witwatersrand in Johannesburg to study speech and drama. All the while she maintained her modeling career, pushing her agent to get her acting roles.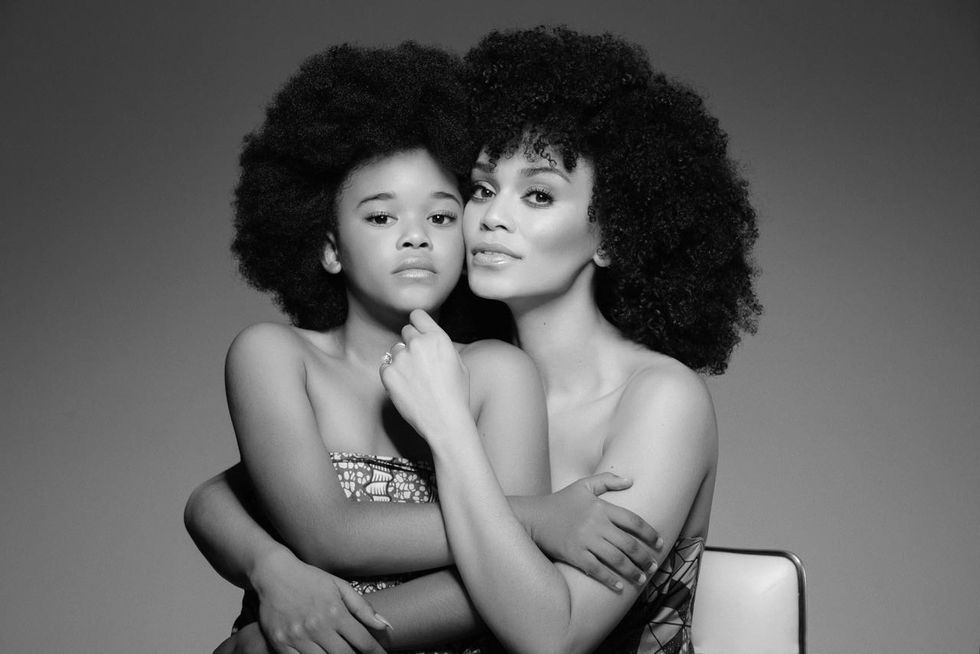 Photo courtesy
However, Thusi's life drastically shifted when she discovered she was pregnant. She eventually had to leave school. "They wouldn't let me work and study at the same time," she recalls. "They essentially were saying to me, get educated or feed my child. I tried to survive but I couldn't. And at the time, I didn't want to depend anymore than what I already did on my daughter's father." Although her circumstance drove her to focus solely on her career, she did so with grace and fervent determination—a combination which subsequently brought her to where she is now.
Thusi feels lucky to be able to make a living doing what she enjoys. Her first big gig was her role as Patricia Kopong on the 2009 show, The No. 1 Ladies' Detective Agency, starring Jill Scott and Anika Noni Rose. From there, her television and film appearances have been consistent, from starring on SABC's popular soap opera Isidingo as Palesa Mataung, to co-hosting Live Amp with DJ Warras. Her first major crossover moment was in 2016, where she was cast as a regular on season two of Quantico, a thriller series on ABC. "It was absolutely incredible; I had a really good time shooting the second season." she says. "I got the email that said, 'Please send us an audition, we want to see you.' It wasn't even through my agent. They googled me trying to find me, which is crazy." Thusi also starred in South African romantic comedy, Catching Feelings, alongside comedian Kagiso Lediga, and played Brenda Riviera in 2017 film Kalushi: The Story of Solomon Mahlangu, which recently showed at this year's Pan African Film Festival in Los Angeles.
"Don't ever share your dream before you've actually covered the seed and watered it."
As the host of Lip Sync Battle Africa, Thusi has been able to meet and collaborate with a good number of creatives from other African countries, including Nigerian artists Patoranking, D'Banj and TiwaSavage. The weekly show is shot in Johannesburg, and for Thusi, shows like this are a prime opportunity to show South Africans the world outside their bubble. "We had some really bad xenophobic attacks in South Africa not too long ago, which was sad. For me, music and entertainment have a big role to play in educating people, informing people and exposing people," she says. "Lip Sync Battle allows me to collaborate with people, but it also helps me expose South African people to our brothers and sisters from other African countries. I think once they see more of them in music, there'll be less fear. There'll be less anxiety and hopefully, we can stop that problem. I just look forward to an Africa without borders, in entertainment and maybe even one day, in politics."
When she's not in front of the camera, Thusi co-owns a natural hair care line, Black Pearl Hair, and plans to continue to give back to her community through Black Halo, her charity that will focus on women, children and education. Thusi has her first associate producer credit in the works and receiving such a credit has been long overdue. She won't say much about it, though, until things are set in stone. "I think there's a lot of jobs I've done where I should've gotten a producer credit, now that I think about it. I contribute a lot more than what I'm paid for. So I'm gonna start asking for my credit," she affirms. "I'm excited to see where I go with producing films. I've got some ideas—the game is to be sold not told. So if it hasn't happened, I don't like to talk about it. Show people results, and maybe show them preparation later, but don't ever share your dream before you've actually covered the seed and watered it."
This article appears as part of OkayAfrica's 100 Women 2018—a project highlighting the impactful work done by African women across the globe. Throughout March, we will be publishing a series of profiles, videos, interviews and feature stories on these inspirational women. Click here to see the entire list of 2018 honorees.