She's snagged a major fashion campaign with Pharrell Williams' Adidas "Pink Beach" line this year, and worked with the cosmetics company Revlon as 2015 came to a close. The South Sudanese stunner Nyamuoch Girwath speaks to Okayafrica about assimilation and fashion favorites.
---
"It's amazing that my first campaign embodied everything that I feel like I try to put out in the universe: very positive, all about love and connecting and being one," Nyamuoch says. Her co-star in the campaign, Nykhor Paul, made headlines after penning a tough letter on the lack of make-up for dark skinned models at fashion shows in the major capitals. "I commend her and I'm very proud that she spoke up about it, because a lot of people are afraid," said Nyamuoch diplomatically.
Courtesy of Nyamuoch Girwath
The 5 foot-11 inch model is headed to East Africa in anticipation of South Sudan's independence day celebrations – a country she's heard so much about but never known – after a two month stay in Cape Town. 25 year-old Nyamuoch is a hit in South Africa with spreads in Glamour, Elle, Cosmopolitan and Marie Claire as well as co-starring in the African luxury brand Mille Colline's latest campaign. As glamorous as her modeling career looks, her life wasn't always so glitzy.
The Girwath family left Gambela, Ethiopia in 1994 as South Sudanese refugees in search of a better future in the U.S. The midwest proved a more favorable place for the family after hearing there was a sizable South Sudanese community in Omaha, Nebraska as opposed to upstate New York where they were first placed. At five or six years old, Nyamuoch acted as a translator because her parents couldn't speak English and she found herself updating them on documents regarding her father's health.
Courtesy of Nyamuoch Girwath
To date, over two million South Sudanese people have been displaced as a result of the civil war, according to a Mail & Guardiannews report.
The second born of six children, Nyamuoch had dreams of posing for pictures like the famous Sudanese model of the 1990s, Alek Wek, who walked runways for Chanel, Yves Saint Laurent, Vivienne Westwood and more. It was the support of another well known model that compelled Nyamuoch to act. "I met this one girl – Atong [Arjok] in California… I remember having this talk with her and she really encouraged me – like, go for it if I really wanted it and she'd help me out. It just went from there, and I finally decided to move to New York." At 20 years old, Nyamuoch moved to the city and found her footing slowly.
2016 has been a good year for Nyamuoch who spoke on her decision to make a personal trip to the continent last year. She shares: "Actually, on a whim, I decided I was going to go to East Africa, Ethiopia, for the first time in my life…I was turning 25 and I was like: 'I need to find balance.'" Nyamuoch decided to head over with "Delta Boys" filmmaker Andrew Berends, who linked up with the beauty in Nairobi after meeting in New York. "I don't know if I want to release it… He captured a lot of raw feelings that I felt when I was there. I'm still debating."
Courtesy of Nyamuoch Girwath
Despite managing her expectations prior to the trip, Nyamuoch still struggled to connect. "I felt so sad that they felt…I was there to save them. I can't save you guys," she says of the overwhelming experience of being asked for money and other favors. The other thing that evokes emotion in the model is the perception that South Sudanese youth are wild: "I feel like the media in the Midwest tarnish the reputation of South Sudanese youth. They are not all bad, they are not getting the guidance they need, they are being left behind," she explains in reference to gang members. "I feel like we just need more integration, where there's an easier transition into the community…There's not much to do to connect the community," Nyamuoch re-iterates, stating: "There's a lot of psychological trauma."
As the interview draws to a close, Nyamuoch wants to talk about how "lit" Africa is because there's so much she is looking forward to, including a trip to Nairobi and Juba in the summer. In the meantime, she is singing the praises of South African menswear designer Mo'ko Elosa and Rwandan label Milles Collines: "They are bringing modern Africa to the world. It's not just about patterns and African prints."
The activist-model is looking forward to re-discovering her Africa in which she doesn't feel like a token and where she is "celebrated and not tolerated."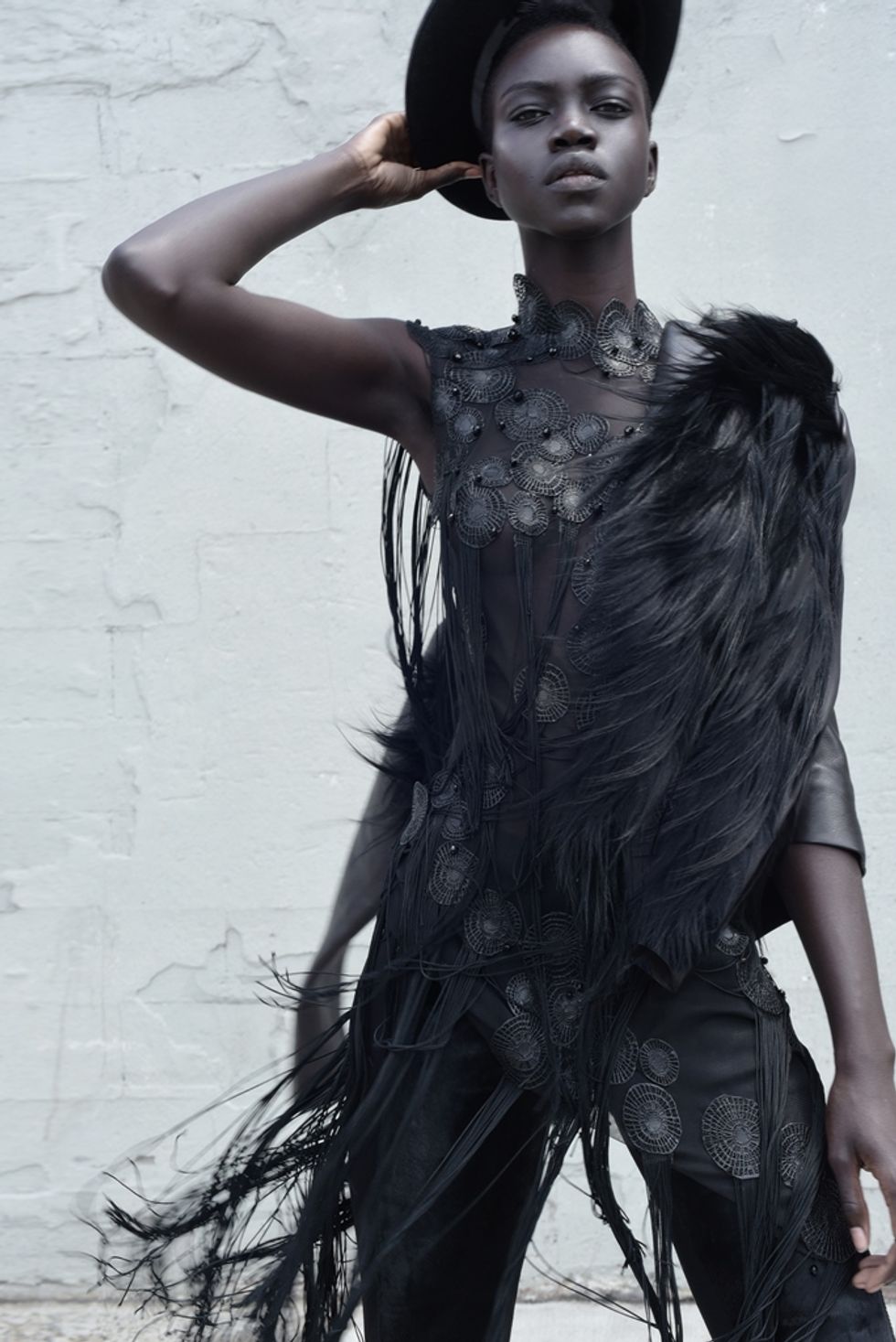 Courtesy of Nyamuoch Girwath