The Schomburg Center for Research in Black Culture celebrates another successful Black Comic Book Festival this past weekend.
---
Well over 6,000 attendees gathered in the heart of Harlem over two days to celebrate the rich tradition of black comics and to connect comic readers, creators, bloggers, nerds, independent publishers and collectors of all ages.
Speaking of all ages, the festival, in it's fifth year, was overflowing with carefree black kids. With wide eyes and infectious energy, the young ones soaked in exemplary examples of how far their imaginations can take them.
"I've seen how we are unlocking the creative potential of the kids, and opening the minds of the parents who have blocked their paths," Jerry Craft, cartoonist and co-founder of the festival, says in the comic book brochure.
The program also featured thoughtful panels, including "Fierce Feminity and Fandom," the only all-female panel at the festival. Featuring Maia Crown Williams (MeccaCon and BSAM), Regine Sawyer (Ice Witch, Eating Vampires, Women in Comics), Ariell Johnson (Amalgam Comics & Coffeehouse), and Micheline Hess (Malice in Ovenland), the packed auditorium listened intently and learned of the important work these women continue to do in this space, as well as exchange in dialogue on how the comic book world as a whole can do better to serve black women and girls.
Have a look at the photos below that show a glimpse of the 5th Annual Black Comic Book Festival—where cosplay and exhibit tables featuring premiere black comic creators were in full force—thanks to photographer Terrence Jennings.
Schomburg Staff attends Day 1 of the Schomburg Center's 5th Annual Black Comic Book Festival held at the Schomburg Center on January 13, 2017 in Harlem, New York City (Terrence Jennings/Polaris)
Publisher Regine Sawyer attends Day 1 of the Schomburg Center's 5th Annual Black Comic Book Festival held at the Schomburg Center on January 13, 2017 in Harlem, New York City (Terrence Jennings/Polaris)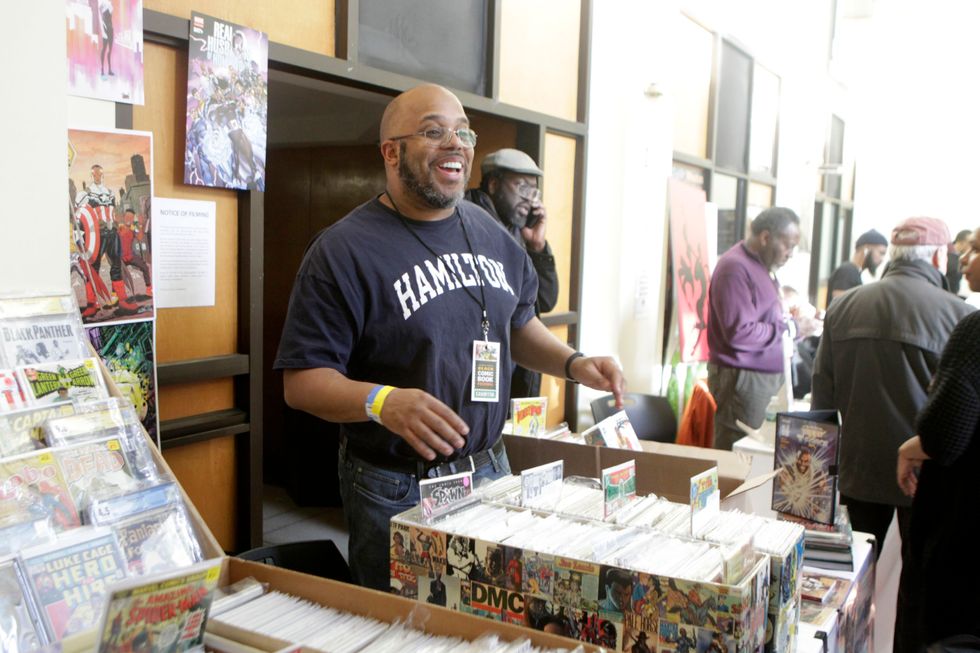 Vendors & Publishers attend Day 1 of the Schomburg Center's 5th Annual Black Comic Book Festival held at the Schomburg Center on January 13, 2017 in Harlem, New York City (Terrence Jennings/Polaris)
Atmosphere during Day 1 of the Schomburg Center's 5th Annual Black Comic Book Festival held at the Schomburg Center on January 13, 2017 in Harlem, New York City (Terrence Jennings/Polaris)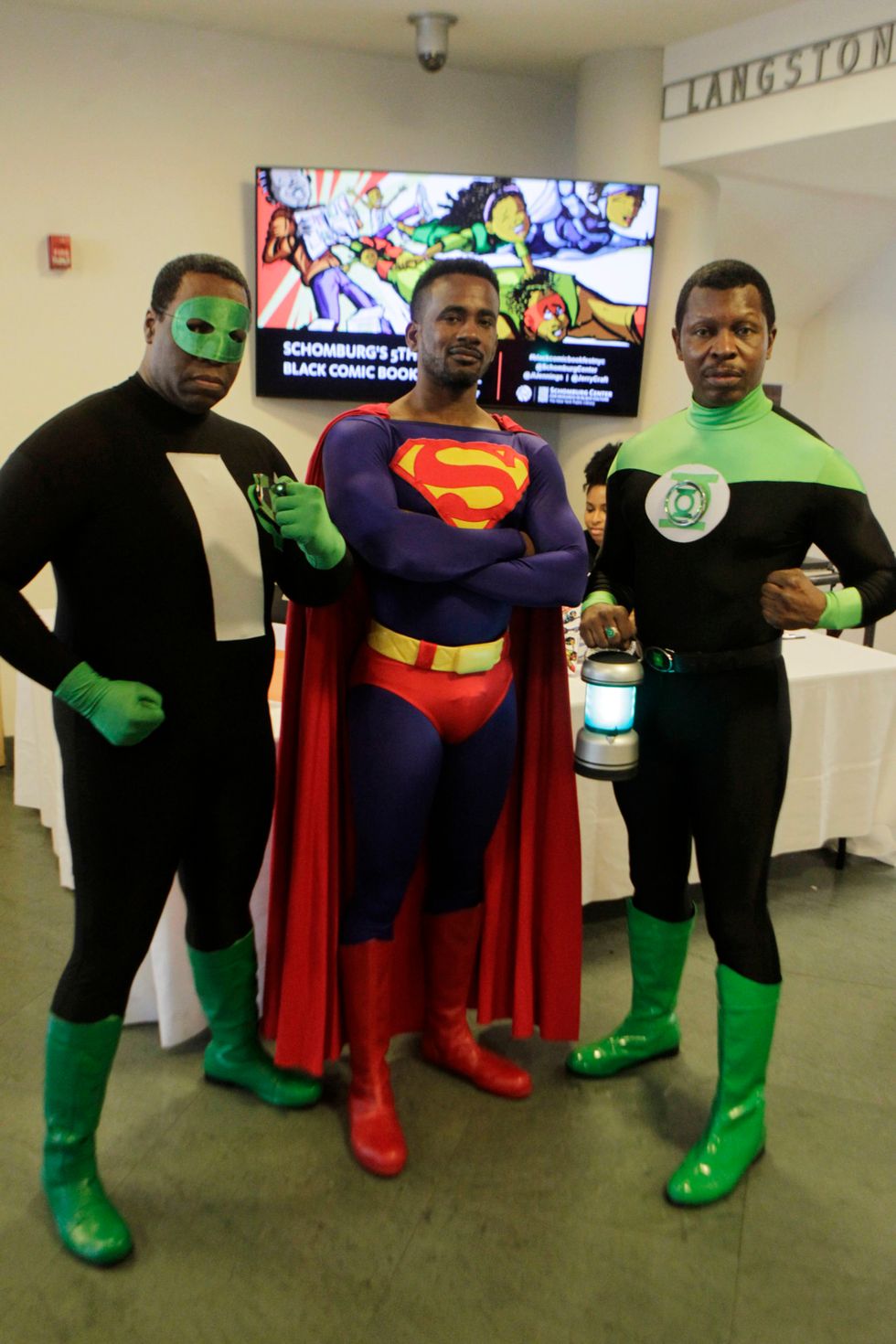 Cosplay Actors attend Day 1 of the Schomburg Center's 5th Annual Black Comic Book Festival held at the Schomburg Center on January 13, 2017 in Harlem, New York City (Terrence Jennings/Polaris)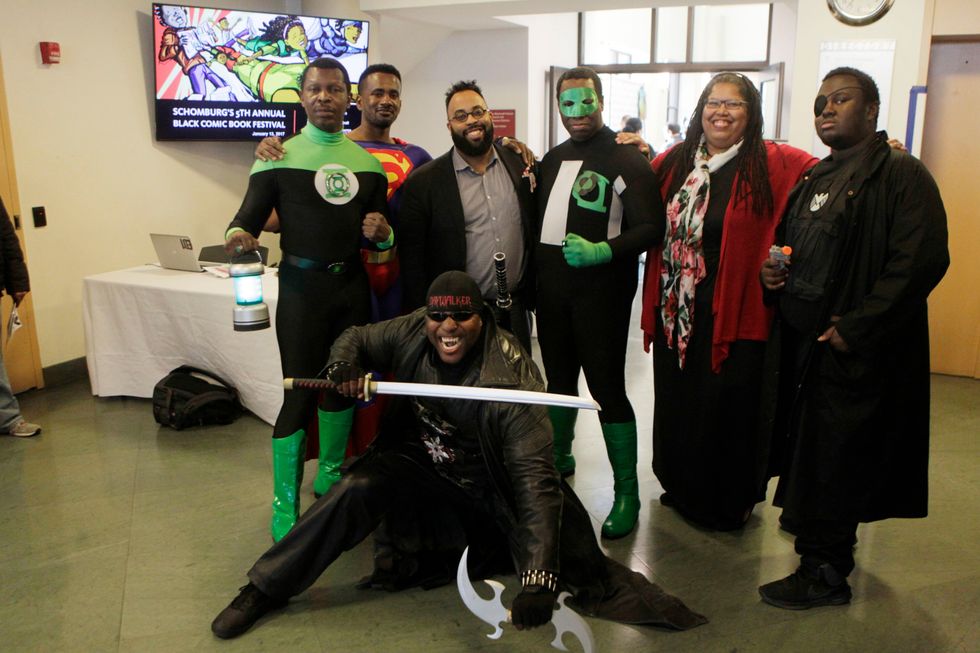 (L-R) Author Kevin Young, Director of the Schomburg Center, Diedre Hollman, Director, Education, The Schomburg Center & Co-founder, The Black Comic Festival along with Cosplay Characters attend Day 1 of the Schomburg Center's 5th Annual Black Comic Book Festival held at the Schomburg Center on January 13, 2017 in Harlem, New York City (Terrence Jennings/Polaris)
Atmosphere during Day 1 of the Schomburg Center's 5th Annual Black Comic Book Festival held at the Schomburg Center on January 13, 2017 in Harlem, New York City (Terrence Jennings/Polaris)
(L-R) Author Jerry Craft, Co-founder, The Schomburg' Center's Black Comic Book Festival attend Day 1 of the Schomburg Center's 5th Annual Black Comic Book Festival held at the Schomburg Center on January 13, 2017 in Harlem, New York City (Terrence Jennings/Polaris)
Festival Attendees attend Day 1 of the Schomburg Center's 5th Annual Black Comic Book Festival held at the Schomburg Center on January 13, 2017 in Harlem, New York City (Terrence Jennings/Polaris)
Author Mshindo Kuumba attend Day 1 of the Schomburg Center's 5th Annual Black Comic Book Festival held at the Schomburg Center on January 13, 2017 in Harlem, New York City (Terrence Jennings/Polaris)
Genicia Francis as Xmen's Storm attend Day 1 of the Schomburg Center's 5th Annual Black Comic Book Festival held at the Schomburg Center on January 13, 2017 in Harlem, New York City (Terrence Jennings/Polaris)
Author Sheeba Maya attends Day 1 of the Schomburg Center's 5th Annual Black Comic Book Festival held at the Schomburg Center on January 13, 2017 in Harlem, New York City (Terrence Jennings/Polaris)
Festival Photographers attend Day 1 of the Schomburg Center's 5th Annual Black Comic Book Festival held at the Schomburg Center on January 13, 2017 in Harlem, New York City (Terrence Jennings/Polaris)
Authors/Publishers (L-R) John Jennings, Damian Duffy, Andrew Aydin, Kyle Baker, Dawud Anyabwile and Johnathan Gayles attend Day 1 of the Schomburg Center's 5th Annual Black Comic Book Festival held at the Schomburg Center on January 13, 2017 in Harlem, New York City (Terrence Jennings/Polaris)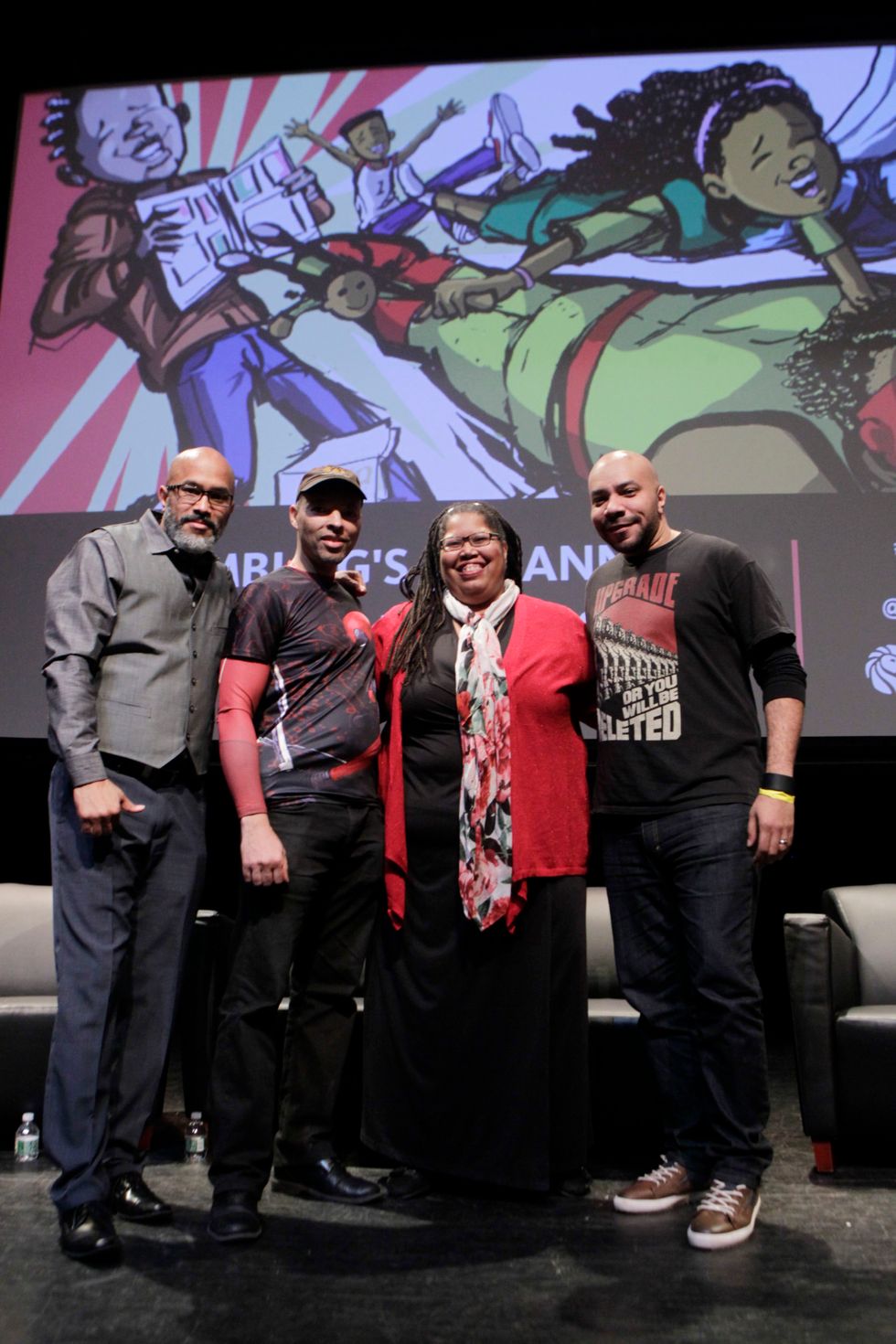 (L-R) Johnathan Gayles, Jerry Craft, Dierdre Hollman and John Jennings attend Day 1 of the Schomburg Center's 5th Annual Black Comic Book Festival held at the Schomburg Center on January 13, 2017 in Harlem, New York City (Terrence Jennings/Polaris)
Festival Attendees & Publishers attend Day 1 of the Schomburg Center's 5th Annual Black Comic Book Festival held at the Schomburg Center on January 13, 2017 in Harlem, New York City (Terrence Jennings/terrencejennings.com)
Cosplay Characters attend Day 1 of the Schomburg Center's 5th Annual Black Comic Book Festival held at the Schomburg Center on January 13, 2017 in Harlem, New York City (Terrence Jennings/terrencejennings.com)
Author Kyle Baker attends Day 1 of the Schomburg Center's 5th Annual Black Comic Book Festival held at the Schomburg Center on January 13, 2017 in Harlem, New York City (Terrence Jennings/terrencejennings.com)
Festival Attendees attend Day 2 of the Schomburg Center's 5th Annual Black Comic Book Festival held at the Schomburg Center on January 13, 2017 in Harlem, New York City (Terrence Jennings/Polaris)
Festival Attendees attend Day 2 of the Schomburg Center's 5th Annual Black Comic Book Festival held at the Schomburg Center on January 13, 2017 in Harlem, New York City (Terrence Jennings/Polaris)
Festival Attendees attend Day 2 of the Schomburg Center's 5th Annual Black Comic Book Festival held at the Schomburg Center on January 13, 2017 in Harlem, New York City (Terrence Jennings/Polaris)
Ariell Johnson of Amalgam Comics at Day 2 of the Schomburg Center's 5th Annual Black Comic Book Festival held at the Schomburg Center on January 13, 2017 in Harlem, New York City (Terrence Jennings/Polaris)
Festival Attendees attend Day 2 of the Schomburg Center's 5th Annual Black Comic Book Festival held at the Schomburg Center on January 13, 2017 in Harlem, New York City (Terrence Jennings/Polaris)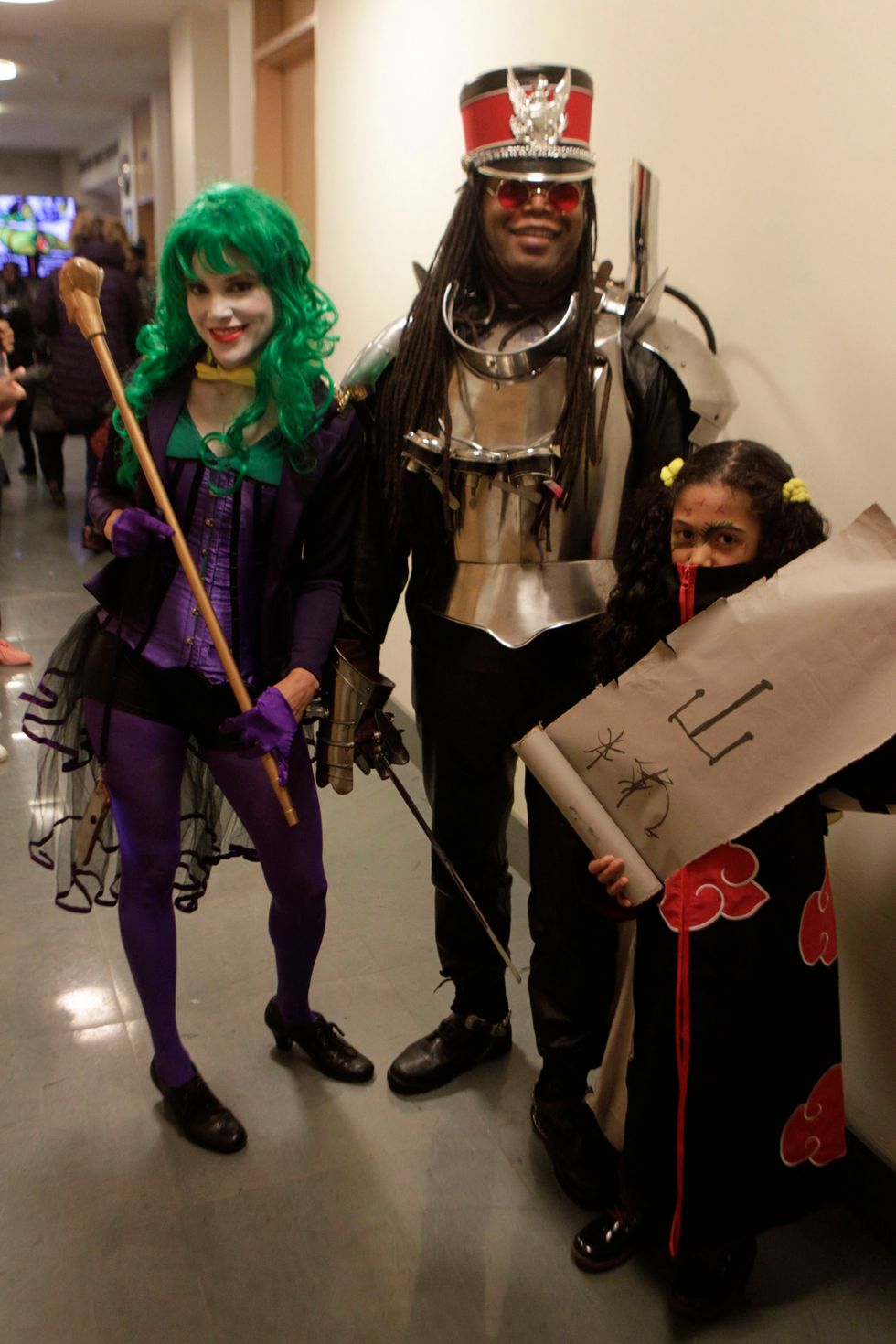 Festival Attendees attend Day 2 of the Schomburg Center's 5th Annual Black Comic Book Festival held at the Schomburg Center on January 13, 2017 in Harlem, New York City (Terrence Jennings/Polaris)
Festival Attendees attend Day 2 of the Schomburg Center's 5th Annual Black Comic Book Festival held at the Schomburg Center on January 13, 2017 in Harlem, New York City (Terrence Jennings/Polaris)
Festival Attendees attend Day 2 of the Schomburg Center's 5th Annual Black Comic Book Festival held at the Schomburg Center on January 13, 2017 in Harlem, New York City (Terrence Jennings/Polaris)
Festival Attendees attend Day 2 of the Schomburg Center's 5th Annual Black Comic Book Festival held at the Schomburg Center on January 13, 2017 in Harlem, New York City (Terrence Jennings/Polaris)
Festival Attendees attend Day 2 of the Schomburg Center's 5th Annual Black Comic Book Festival held at the Schomburg Center on January 13, 2017 in Harlem, New York City (Terrence Jennings/Polaris)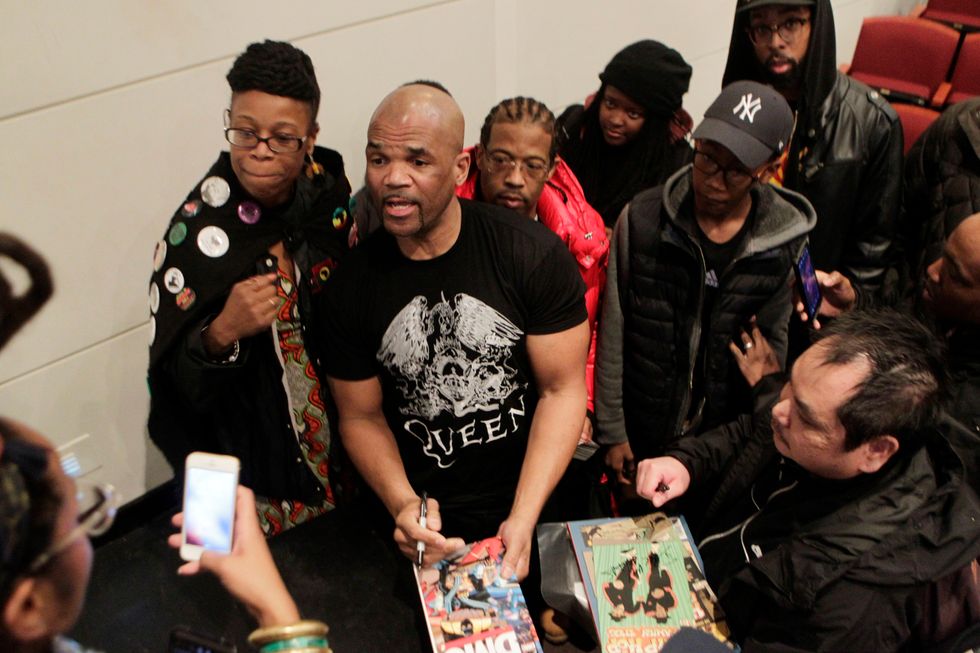 Festival Attendees attend Day 2 of the Schomburg Center's 5th Annual Black Comic Book Festival held at the Schomburg Center on January 13, 2017 in Harlem, New York City (Terrence Jennings/Polaris)