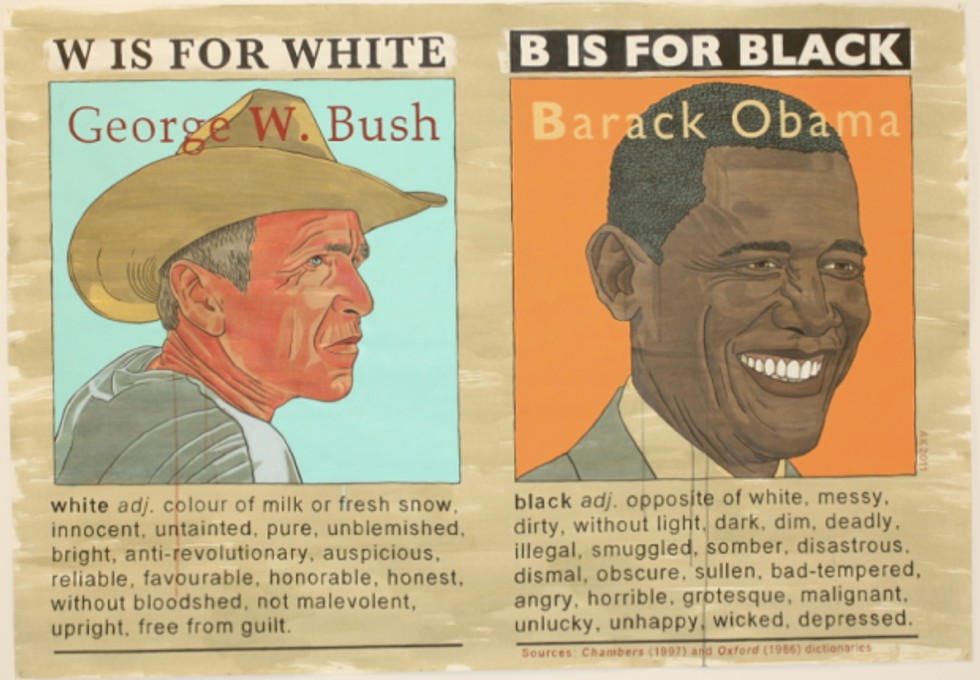 ---
OKA took a field trip to NYC's Jack Shainman Gallery to check out Anton Kannemeyer's "After the Barbarians" exhibit. As we mentioned before, the name of the exhibit is a play on the famous novel by J.M. Coetzee called Waiting for the Barbarians. Kannemeyer's work  manages to exacerbate uncomfortable and often unspoken feelings about race, gender, and class while still making them accessible for digestion. Fellow artist, Danie Marais, writes of Kannemeyer's art that it's no wonder it "makes viewers uncomfortable about definitions of black and white, European and African," adding:
He paints post-colonial Africans as the hell-bent illegitimate children of violent historical rape, both victims and perpetrators. He implicitly asks how the clear-cut categories and neat names expressed by political correctness could accurately describe the violent mess that has spawned the likes of Apartheid, Idi Amin, and the genocide in Rwanda. On the other side, he confronts the affluent South African suburbia where Western luxuries are lined with apocalyptic fear and xenophobia.
Take a look at some of the works in the exhibit in the slide show below. The giant wall-sized paintings of Die Antwoord's Yo-Landi Vi$$er and Ninja are easily our favorites.