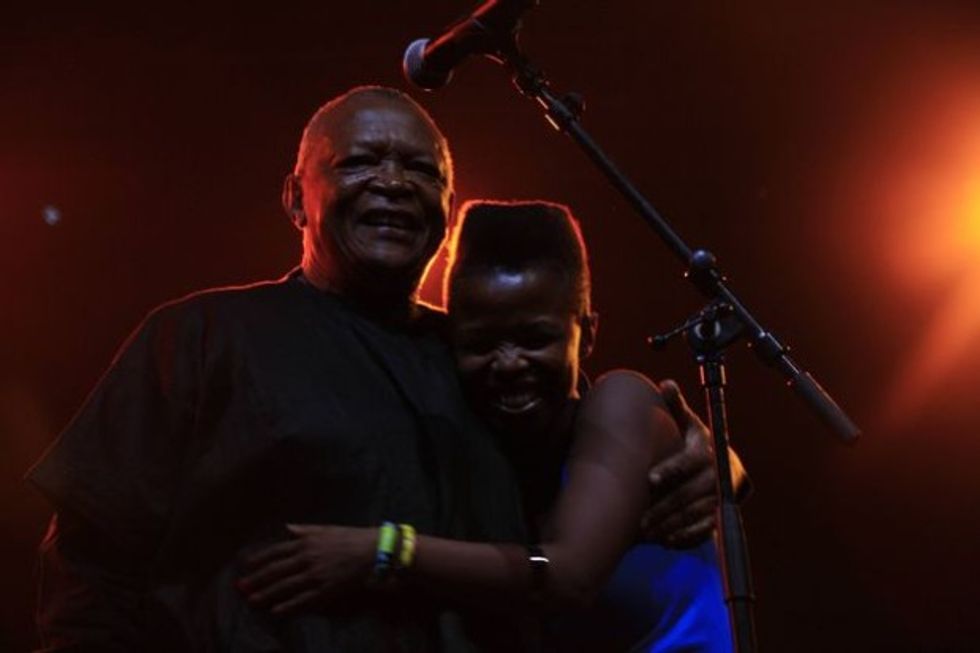 ---
13th Cape Town International Jazz Fest Day 1:
"In time we shall be in a position to bestow on South Africa the greatest possible gift – a more human face" says saxophonist Steve Dyer, quoting his namesake Black Consciousness founder Steve Biko. "When will be that time? Who will be the bestower of the gift if not we?" he asks, eyes searching the crowd.
Nelson Mandela's South Africa has in recent times been sculling troubled water - lingering racism, endemic poverty, chronic unemployment, political subterfuge and other social malignancies - and Dyer's sermon, delivered two songs into his set at the 13th Cape Town International Jazz Festival, strikes a chord with the audience in the Moses Molelekwa Auditorium.  The message is modest; we need each other to affirm our humanity.
It's a theme that threads through the two-day festival, connecting a disparate group of artists (just over 50 in total) from Pharoahe Monch (video below) to Hugh Masekela. The 30,000 strong revellers are too a living, breathing, heaving, embodiment of the 'Rainbow Nation' envisaged 17 years ago after the fall of apartheid: one nation under one groove.
[embed width="620"][/embed]
After Dyer's poised performance of tunes from his latest project, Ubuntu Music (SABC Studios), we manage to catch a glimpse of raspy-voiced Joburg songstress Unathi Msengana at the tail end of her set, right before she gives a pulsating cover of Brenda Fassie's melancholy-soaked 1989 hit "Too Late for Mama." "Ten kilometres barefooted in the bush/started raining on the way to fetch some water/poor woman had a baby on her back/was struck by lightning on her way/to fetch some water": It's powerful, moving stuff.

From one sister to another; Brooklyn MC Jean Grae (below with Pharoahe Monch), daughter of legendary pianist Abdullah Ibrahim, had heads ringing and fists pumped into the howling Cape Town wind for much of the duration of her hour long set (check out her tweet above - her crew didn't want to leave Cape Town!). The high point arrived when she recited her lyrics from "Black Girl Pain"; a heart-felt commentary on sisterhood. "My mama said life would be so hard/Growin up days as a black girl scarred/In so many ways though we've come so far/They just know the name they don't know the pain/So please hold your heads up high/Don't be ashamed of yourself know I/will carry forth till I die."
*photo by Tebesutfu Nkambule
For the remainder of the night, when Mozambican saxophonist Moreira Chonguica and charismatic house music wonder kid Zakes Bantwini each take to the stage, the planets funk out of orbit.
*photo by Tebesutfu Nkambule
DAY 2:
"Activism is alive, ignorance is the cancer" says Jimmy Flexx of Cape Town's premier hip hop crew Ill-Literate-Skill, aka Ill Skillz (above). Backed by an award-winning jazz band, Ological Studies, the group which has built a solid rep on their characteristic gritty realism and socially conscious raps, deliver an emphatic performance to mark their debut at the festival.
The jewel in the crown, however, proves to be living legend Hugh Masekela (pictured at the top with Zolani Mahola) – Bra Hugh as he's affectionately known - and his tribute concert to the late Mama Miriam Makeba with special guests Zolani Mahola (Freshly Ground), Vusi Mahlasela and Thandiswa Mazwai. "Some people die but they never go away," Masekela says of Makeba, his one-time wife, in his trademark husky baritone voice. From the opening number, "Chileshe (tolerance)" straight to the last, 'Thanayi" (a song made famous by Makeba circa-1955) Bra Hugh never for a second allows his audience to slip into boredom. It's a pure class act. Hard to follow as headliner Lauryn Hill (below), daughter of Zion, will attest. A late replacement for Jill Scott, the former Fugees MC was undone by poor sound mechanics and her voice seems to have gone kaput. She gave a performance that couldn't be salvaged. At times there were glimpses of the Lauryn the world once fell in love with but in the end, hers was a disappointing end to an otherwise memorable festival.