The opening line of DJ Arafat's hit song "Maman Sery" plays and the people on stage scream it as loudly as the crowd facing them below. Lighted phones are up in the air. Where some strangers embrace one another, others clutch their chests. The setting? A garden in Abidjan's commune of Cocody on a Sunday night.
Sundays in Abidjan, Côte d'Ivoire had always been reserved for beach trips and family time. All of this changed dramatically in December of 2018 when Fayçal Lazraq, Lionel Obam, Aurore Aoussi, Charles Tanoh-Boutchoue, and Aziz Doumbia, better known as Bain de Foule Creative Studiocreated La Sunday and it took Abidan by storm.
According toCharles Tanoh-Boutchoue, co-founder of La Sunday, "The idea was to create an alternative event for fun amongst friends." The differentiating factor here was these "friends" weren't just anyone; they were trendsetters at the epicenter of Abidjan's bustling creative scene. Shares from these creatives were instrumental in creating the engagement surrounding La Sunday and its subsequent expansion.
---
La Sunday Cam Episode 2www.youtube.com
Beyond this, La Sunday's creative direction was notable with social-media marketing comprised of such things as a recognizable logo, fliers meticulously crafted by graphic designers, and moving video content.

La Sunday quickly went from 50 friends in front of Aziz's shop, Dozo, to hundreds at a venue called Clubhouse, to 2,000 at an art space, Fondation Donwahi, and over 6,000 in July in a sandy grass field next to the Ébrié Lagoon.
So, why the cult following of La Sunday?
Photo by Tora San Traoré
For a ticket priced at 3000 - 5,000 XOF, you're invited to dance your heart out for 7 hours to an eclectic array of music from DJs that vary week to week outdoors atop carpets meticulously placed below you, sitting upon wax-print covered palettes, near wooden stands for beverages and food. More recently, the event has added the appearance of musical guests like homegrown DJ Arafat and Kiff No Beat, Nigeria's Rema and France's Chilly.

Attendees get the day- to-night party atmospheres found in Paris, NYC and LA comprised of good music, good food, good people and good vibes to end the weekend and prepare for a new week. There are no velvet ropes, no dress codes, no guest lists and no VIP areas, except a space behind the stage for friends and family who've been there from the beginning.
The event is a hub for individuals of all walks of life: creatives, young professionals and youth alike. They come as they are from far and wide to bear witness to a movement so free it's set to put Abidjan on the map.
Photo by Tora San Traoré
Contrary to popular belief, this concept isn't one that will soon fade out. Up until now, the 5 founders of La Sunday have held firmly to their air of mystery, but today, they want YOU to know that to pull something like this off they've laid a foundation so strong it will only get better with time. "Nothing about this was luck," says Fayçal Lazraq.

With growth has come a number of challenges but what sets these 5 apart is how proactively they've attacked everything that has come at them. They possess innate grit and hustle. We talk as they continue to work. Over the course of the past 10 months, they've been faced with a number of noise complaints, their response has always been to quickly find a new venue. When they knew the rainy season was upon them, they moved their festivities to a warehouse. When they discovered thousands of fake tickets had been sold, they paid everyone but themselves and created a new electronic ticket system. Beyond the woes above, growth has called for more employees. They've hired hundreds of security guards, bar-tenders, and rental companies and ensured they come back by not only paying them well but making them apart of their expansions to other venues. Most of their employees have been with them since their start. These same employees have mostly come without any past experience and have grown on the job. Faycal tells us how often his phone rings when they cancel a La Sunday event. "We are contributing to our local economy. There's a spirit of togetherness. They support us because we support them." There are several loyal youth ready and willing to contribute to their cause.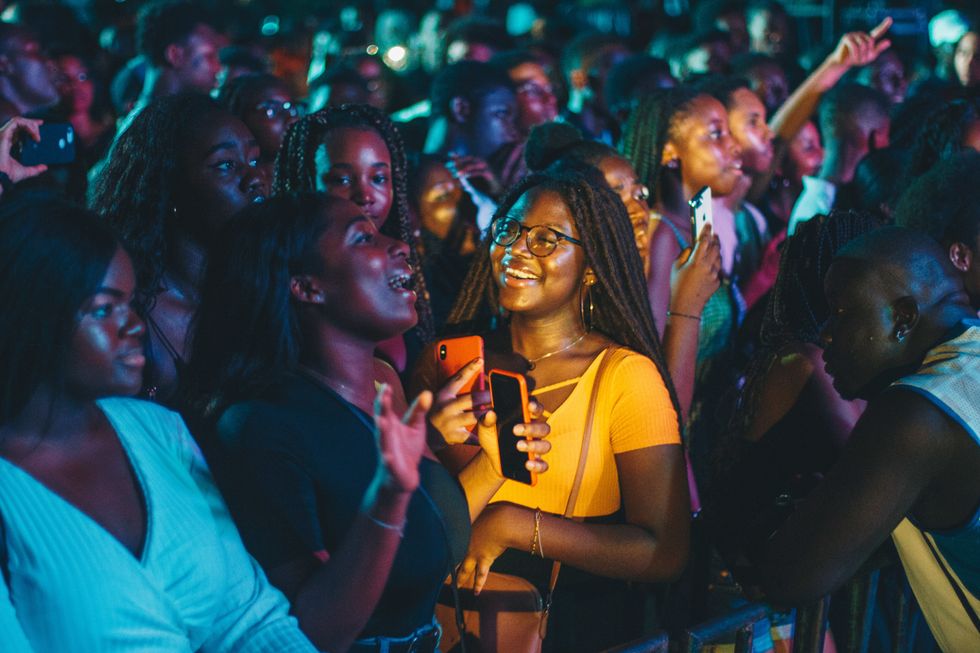 Photo by Tora San Traoré
These 5 individuals are the perfect mix, and they work because everything they've done has lead them up to the creation of their event. Where resident deejay, Lionel Obam, went to business school and has a professional background as an advertising strategist at a number of agencies, Aurore Aoussi, treasurer, studied finance and heads e-commerce for Uniwax, the country's premier fabric manufacturer, and Charles Tanoh-Boutchoue, tasked with deejaying and communications, studied journalism and later created digital content for the government. Fayçal Lazraq, a jack of many trades, is an entrepreneur who owns a gym and crepe shop with a background in logistics and transportation, and Aziz Doumbia, dubbed the group's most creative member, also studied and worked in marketing, and is the founder of an incubator named Dozo hell bent on helping Ivorian brands gain visibility. In reading the aforementioned it should become very clear that La Sunday is only the beginning of what they envision for themselves.

Having grown so quickly, it comes as no surprise that the team has expanded to an alternative lounge called Bazaar and are constructing another at the contemporary art space, Fondation Donwahi. They've even rejected the chance to host their event in other capitals such as Lomé and Douala and to open venues in beach-side cities like Bassam. They're moving slowly and strategically; something they hold isn't, "always a norm for people that scale as rapidly as them," says co-founder Fayçal Lazraq.
Photo by Tora San Traoré
Right now, Bain de Foule Creative Studio has its sight set on a festival Sunday, December 22nd with a prominent bunch of performers and deejays. When this is done, their hope is to be approached by the country's most elite corporations to put on events. Beyond this, being a creative studio creates infinite possibilities: they can create content, sell merch, leverage the connections they have with Abidjan's movers and shakers, assist companies with branding and more. "The sky's the limit," says Aziz.

Despite expansion, La Sunday and the team behind it preserve their energy and authenticity. This sets them apart. As of late, they are often imitated but never duplicated. They've filled a void and are turning heads everywhere.
***
Some of the content in this article has been translated from french, edited, and condensed.* See more pictures from La Sunday via the gallery below.