It's food month here at OkayAfrica and that means that we'll be exploring different African delicacies, sharing recipes, highlighting the best spots for African cuisine, and dropping quick food videos throughout the month of November, so get your taste buds ready.
Plantain is life, so we're not sure why this genius recipe wasn't brought to our attention sooner, but we're glad that Nigerian food connoisseur, photographer, content creator and spice maker, Matse Uwatse-Nnoli not only thought of it, but was also kind enough to share it with us.
---
Plantain bread is a genius recipe that fuses a classic baked good with arguably every African's favorite side dish.
Visit Matse's Instagram for more delicious recipes, and check out the full plantain bread recipe below.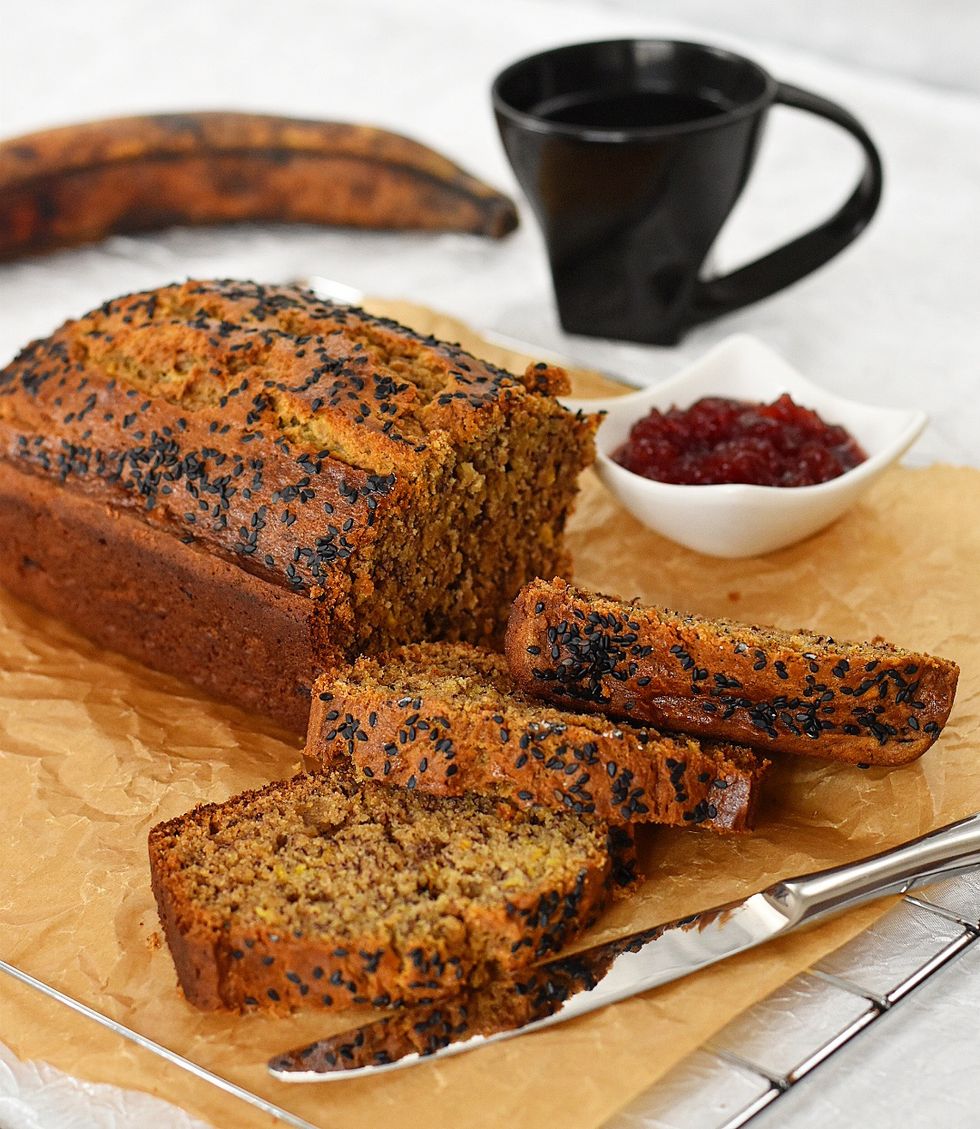 Image courtesy of Matse.
Prep time: 20 minutes
Cook time: 1 – 1 hour 10 minutes
Total time: 1 hour 30 minutes
Meal type: Snack, desert, breakfast
Misc: Serve at room temperature.
Ingredients:
2 very ripe plantain
80g melted butter
140g granulated white sugar
1 egg (beaten)
200g all purpose flour
1 tsp. vanilla extract
1 tsp. baking soda
Pinch of salt
A sprinkle of sesame seeds, dessicated coconuts, nuts etc. as toppings.
Preparation:
Step 1:
Peel the plantain, cut it into small chunks and mash with a masher in a bowl.
Step 2:
Add the melted butter and blend it in with a wooden spatula. Add the salt and bicarbonate of soda and mix in. Follow with the sugar.
Step 3:
After mixing properly, pour in the beaten egg. Mix once more. Add the vanilla essence, continue stirring. Finally sieve the flour into the mixture and properly blend together.
Step 4:
Pour the bread mix into a greased pan and spread evenly.
You could sprinkle sesame seeds, dessicated coconut, nuts etc. as toppings before baking.
Bake in a pre-heated oven ( 350 degree Fahrenheit or 175 degree Celsius) for 1 hour to 1 hour 10 minutes.
When done, that is if your tooth pick or table knife comes out clean, set aside and allow to cool. Serve when cool.
Enjoy!
*
Follow Matse on Instagram, and via her website, MatseCooks.com.