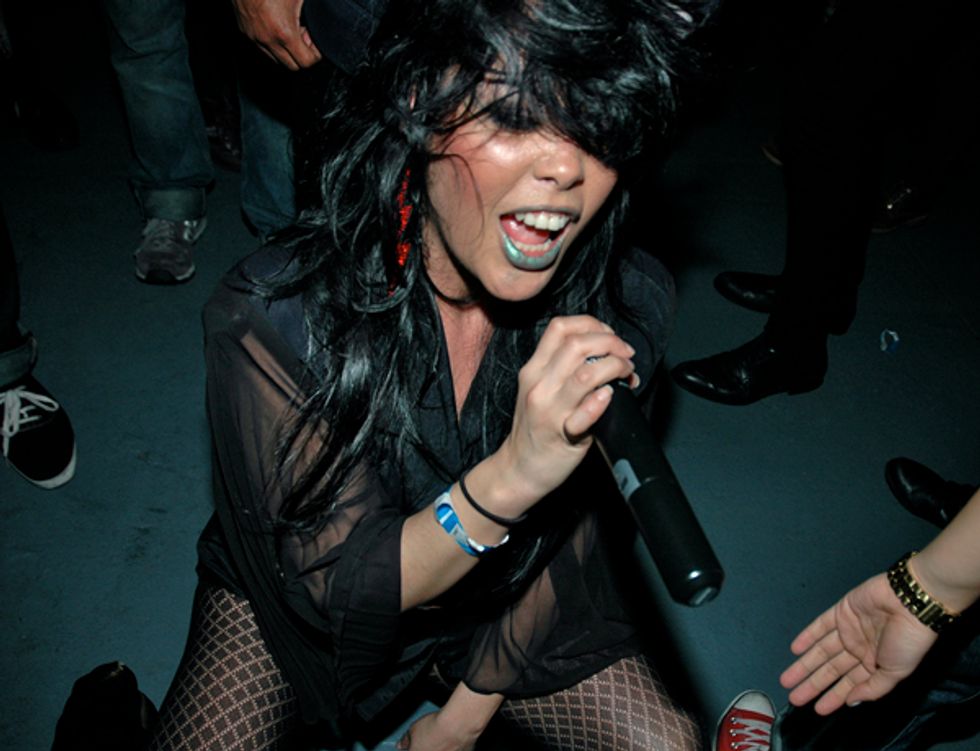 ---
Words by Eddie "STATS." Photo by Sam Dwyer for Cluster Mag.
If you a) are  a DJ, b) F with Brazilian music c) live in New York or d) just like to be up on the latest global sounds you probably already know who Zuzuka Poderosa is. As "warrior queen of her own brand of baile funk" this one-woman army has carved a Zuzu-shaped niche for herself in the tropical music scene by mixing the bass aesthetics and favela rap of a hardcore Brazilian funkball with sounds from Bollywood, Jamaica, Panama, Africa and more--a fitting soundtrack for a child of Rio who grew up in the West Indies and has lived in Brooklyn as long as Brazil. By the same token she is also sort of a poster-queen for the range of sounds we ride for here in the network of affiliated sites--in this case, Okayplayer, Okayafrica and LargeUp--that we loosely call OkayEmpire.
If you're not familiar, OKE is proud to introduce you with this 3-channel World Premiere of Zuzuka's new Carioca Bass mixtape. The mix, by DJ Kush Arora, features some of her classic tracks which circled the worldwild underground the last few years, mixed together with new tracks (heard for the first time) from her upcoming Carioca Bass EP (release Spring 2012). The tape features exclusives from baile funk legends DJ Edgar, and Sany Pitbull, original African sounds from Spoek Mathambo, some LargeUp jams from, Poirier,Mega Banton (!) and Now ThingsLos Rakas, not to mention 5kin and Bone5, Gnucci Banana and more! Like we said; OkayEmpire.
But enough talky-talk. Stream/download this epic mix plus find art + tracklist below. And in Zuzu's words: "Dip muthafucka, dip dip dip DIP!"
TRACKLIST
1. Intro & Drops - Sany Pitbull & Zuzuka Poderosa
2. Zuzuka Poderosa & Kush Arora - Seda
3. Zuzuka Poderosa - Celular (Nego Mozambique & Rio Neurotic Bass)
4. Zuzuka Poderosa - Celular (DJ The CLAW & Rio Neurotic Bass)
5. Nego Mozambique - Surfista Do Pavao
6. DJ Edgar - Le Click Boladao
7. Kush Arora Ft. Mega Banton - Shake Sitten (Stereotyp Remix)
8. 5kin and Bone5 - Reset & Zuzuka Poderosa - Carmen Miranda Acapella
9. Dizzy Wright - Solo Dolo
10. French Fries - Champagne
11. Zuzuka Poderosa & Kush Arora - Boy Next Door
12. Spoek Mathambo & Gnucci Banana - Piggy Bank
13. Blatta And Inesha - Pet Massage (Kush Arora & Bakir Remix vs Zuzuka Poderosa Acapella)
14. Zuzuka Poderosa - Entre e Sai (Bassanovva Alien Disco Mix)
15. Ghislain Poirier - Marathon vs Fausto Faucet Katia Flavia (Zuzuka Poderosa Acapella)
16. Zuzuka Poderosa & Kush Arora - Pisicodelia
17. Zuzuka Poderosa  - Chama o Bombeiro  (Chaach - XAO Productions)
18. Dj Rekha and Sub Swara - Pyar Baile Ft. Zuzuka Poderosa & Meetu Chilana
19. Zuzuka Poderosa & Burt Fox - Baile Crunk
20. Zuzuka Poderosa - Baile Crunk (Sonora Bombando Mix)
21. Slick Shoota - Hit The Flow feat. 5kin and Bone5
22. Jumping Back Slash - Elephant & Los Rakas - Pimpin Smokin Dro Acapella
23. Outro & Drops - Sany Pitbull & Zuzuka Poderosa